5 PPC Certifications You Need & How to Pass Them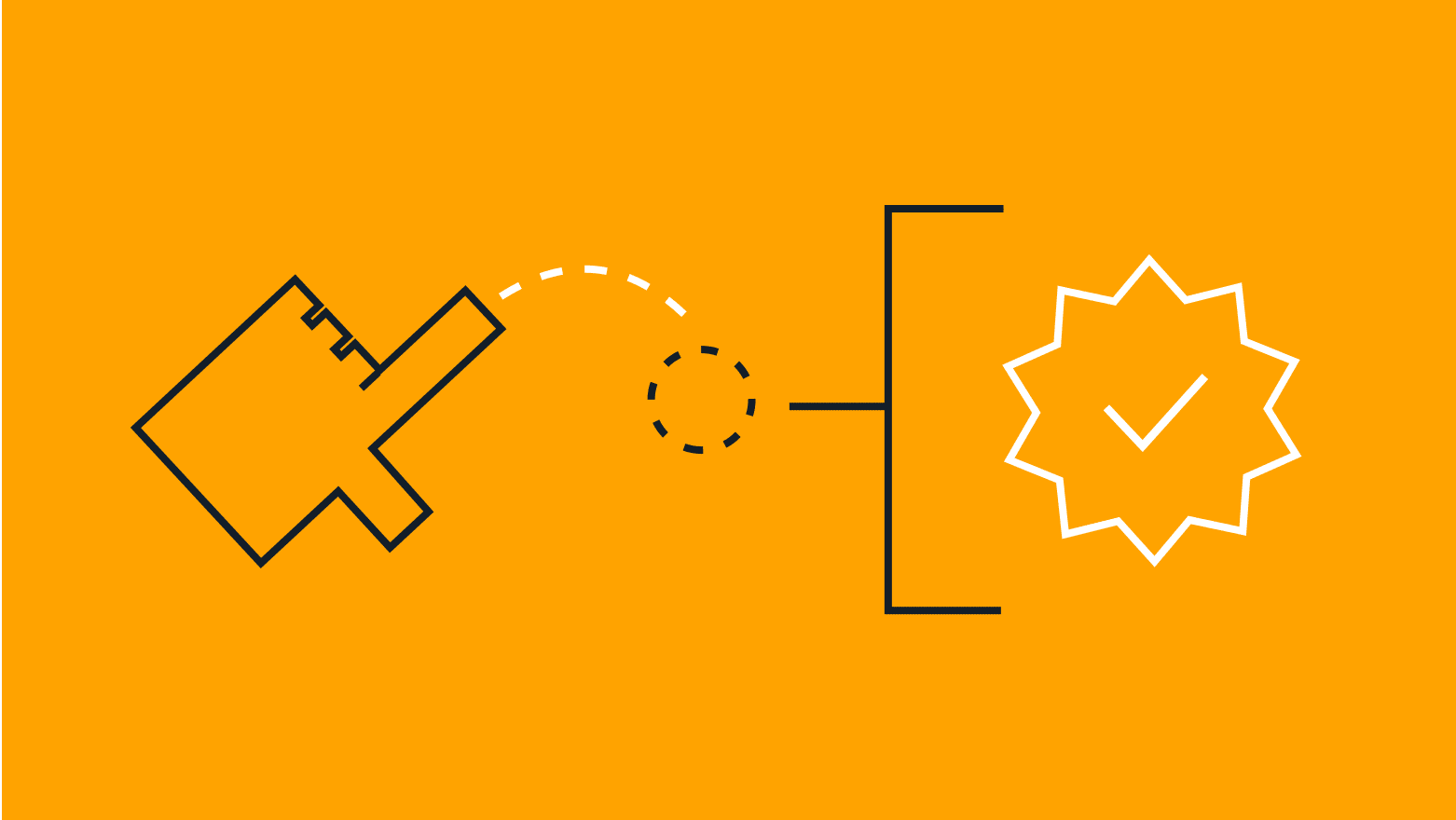 Whether you're searching for new ways to find customers for your business or planning to launch a career in digital marketing, earning a PPC certification online will increase your level of knowledge and skill in online advertising.
You'll build confidence by successfully passing certification exams and you may even receive a personalized certificate to commemorate your achievements and build your professional portfolio.
To help you get started, we've put together this list of the 5 most valuable PPC certification programs available. We'll highlight the key features and benefits of each PPC course, then offer our best tips and advice for navigating the course material and passing your certification exams.
Five PPC Certifications You Need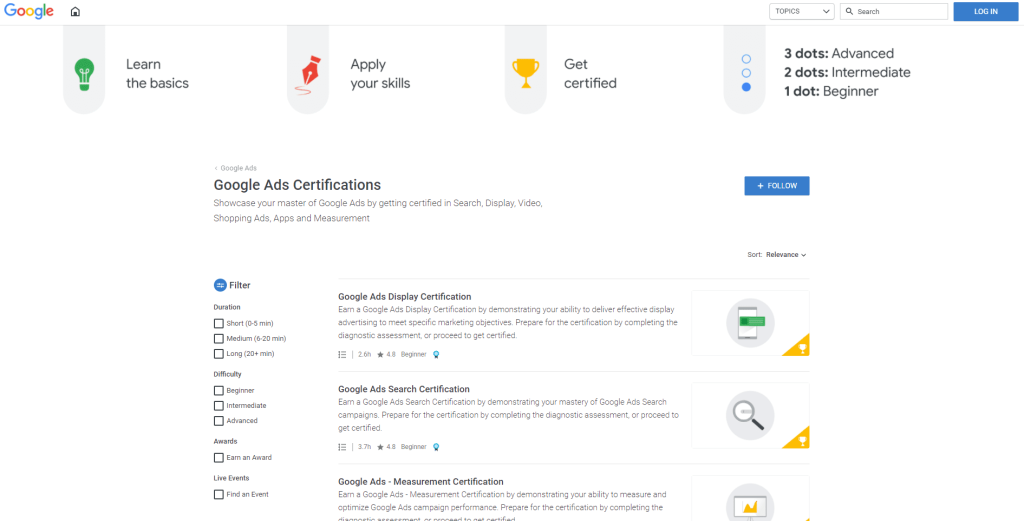 Overview: Google offers plenty of valuable training courses through the Google Skillshop, including a selection of PPC certifications that focus on how to create and manage Google Ads campaigns. You'll find five certification courses with over 15 hours of total content across five subject areas: search advertising, display advertising, measurement, video advertising, and app advertising.
Key Features & Benefits: Each course comes with a knowledge check assessment, several hours of video course content, and a certification exam that takes a little over an hour to complete. You can get Google Ads certified in all five subject areas to demonstrate well-rounded knowledge of the Google advertising platform.
Pricing: Google Ads certifications are free and available to anyone with a Google account.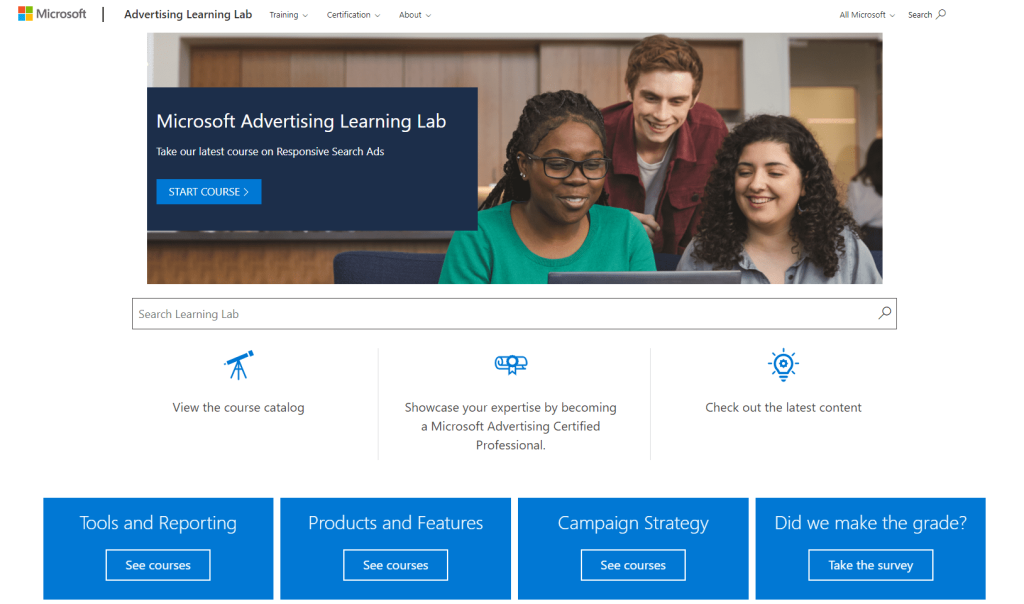 Overview: This certification course will teach digital marketers to strategize, setup, manage, optimize, and report on Microsoft Advertising campaigns. There's a free 231-page study guide that you can download and work through at your own pace before sitting the online certification exam. This course is text-based and all of the necessary materials are included in the study guide.
Key Features & Benefits: Microsoft's study guide for this exam goes into plenty of detail on the policies and procedures of Microsoft Advertising, as well as platform functionality. You'll learn a little bit about every feature that Microsoft Advertising has to offer without focusing too much on any one aspect.
Once you complete the Microsoft Advertising certified professional exam, you'll get a digital badge and printable certificate that verifies your achievement. You'll also appear in Microsoft's member directory along with your company name and location. 
Pricing: This PPC certification course is offered for free to anyone with a Microsoft account.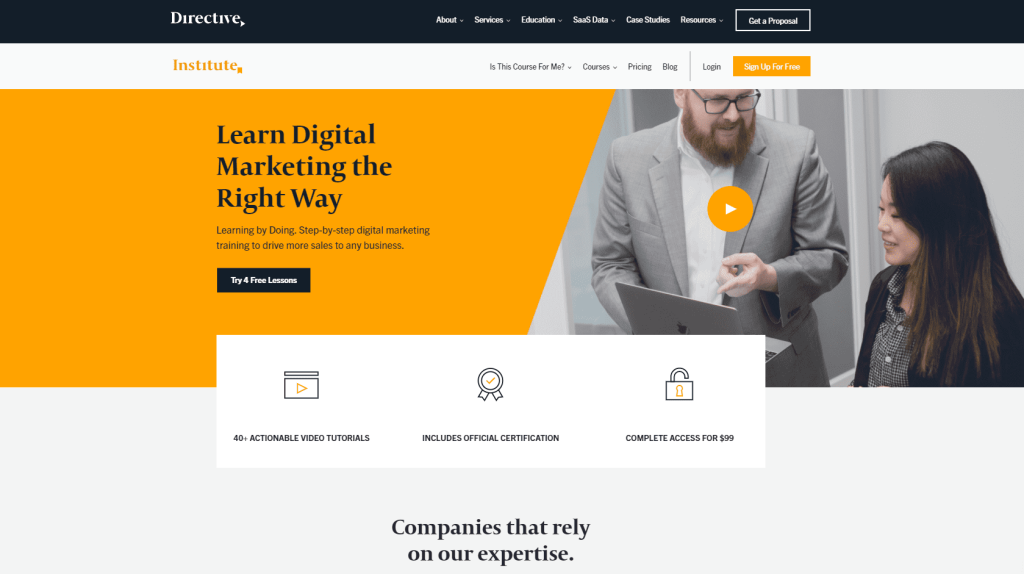 Overview: The PPC Certification from Directive Institute covers over 10 hours of in-depth lessons across 13 modules. Students will discover an end-to-end process for building PPC campaigns and optimizing them to drive enhanced lead generation and sales.
Key Features & Benefits: Directive Institute's PPC certification course is fundamentally different from the other PPC training programs available online. While most PPC courses focus on high-level concepts and platform specifics, Directive Institute's PPC course focuses on helping students develop the know-how to create and execute their own campaigns. 
Lessons include text, images, video tutorials, and templates for advertisements and landing pages that students can use right away to launch their own campaigns and start gaining real experience.
Pricing: Directive Institute offers unlimited access to all of its courses and certifications (PPC, SEO, CRO, and Data Analytics & Optimization) for a one-time cost of $99.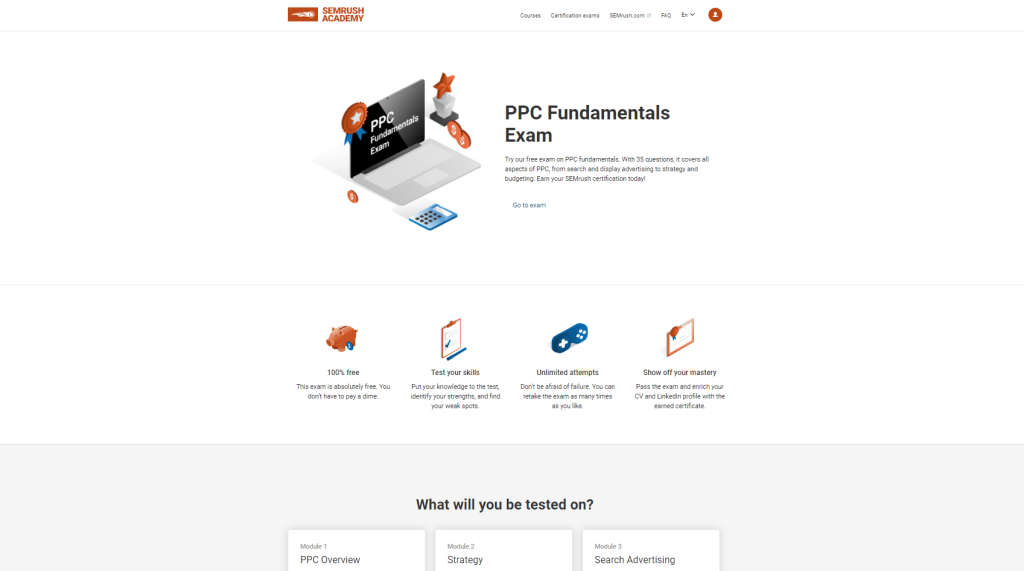 Overview: The SEMrush PPC fundamentals course consists of just 35 multiple choice questions and is geared towards total beginners in search marketing. Applicants will be tested on 8 different topics:
PPC Overview

Strategy

Search Advertising

Shopping Campaigns

Universal App Campaigns

Bidding and Budgeting

Multi-Touch Conversions
Key Features & Benefits: You can prepare for this exam by completing the PPC Fundamentals Course with Joel Bondorowski, available for free on SEMrush Academy. There are 36 lessons spread across 8 modules and totaling around five hours of course material. 
Pricing: This training is available for free to anyone with a SEMrush profile.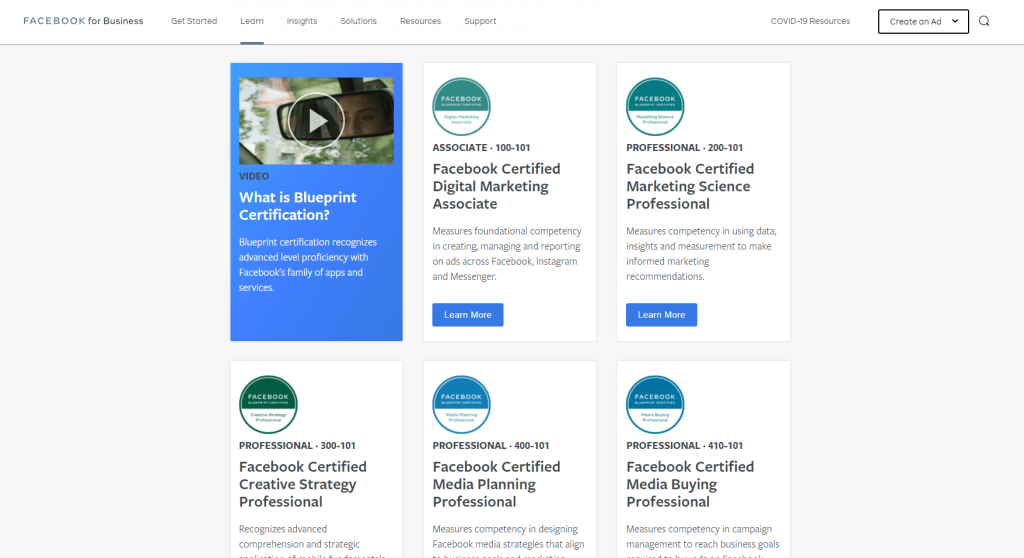 Overview: If you're interested in learning how to promote your business on social media, Facebook offers digital marketing courses that cover paid advertising using Facebook, Instagram, and Messenger. This certification covers five areas of knowledge:
Understanding the Value of Facebook

Establishing Platform Presence

Advertising Fundamentals

Creating and Managing Ads

Reporting
Key Features & Benefits: This is one of the only PPC certifications that focuses on paid social advertising channels. This course includes loads of practical information, tips, and actionable advice that you can use to promote your business through paid social channels. Visit Facebook Blueprint to access course materials and get started.
Pricing: This certification exam and the related course materials are available for free to anyone with a Facebook account.
How to Pass Your PPC Certification Exams – Five Simple Study Tips
Focus on the Fundamentals
PPC certification exams frequently focus on fundamental concepts and principles, so it's important to brush up on the basics. Make sure you can clearly define all the terms you encounter in your lessons. You can use Quizlet to make your own digital flashcards and help you remember the most important facts and definitions.
Pace Yourself 
When working through your PPC certification courses, it's important to learn at the right pace. If you move too slowly and don't apply what you learn, you'll forget things by the time you get to the exam. If you move too quickly, your knowledge retention after the exam will be poor. We'd recommend completing one or two modules each day and leaving enough time to review what you've learned.
Apply Your Knowledge
You should spend a third of your time learning new information and two-thirds of your time applying that information to maximize long-term success. The PPC course at Directive Institute is designed to support enhanced learning through the practical application of PPC concepts and best practices.
Improve Your Test-Taking Skills
To succeed in your PPC certification exams, you'll need to demonstrate test-taking skills like time management, problem-solving, decision-making, and performance under pressure. Most PPC certification courses allow you to take practice tests or repeat tests, so you'll have the chance to practice a few times before you succeed.
Team Up with a Friend
Enhance your learning by teaming up with a friend and working through your PPC certifications together. You can quiz each other, learn by teaching, and get experience by collaborating on paid search campaigns.
Summary
Earning a PPC certification is a great way to increase your knowledge of paid search advertising, but there's no substitute for the experience and skill development that you'll gain by creating, managing, and optimizing your own digital advertising campaigns. We hope you'll choose the PPC certification that gives you the knowledge, tools, and confidence to reach your goals in digital advertising.
Keep reading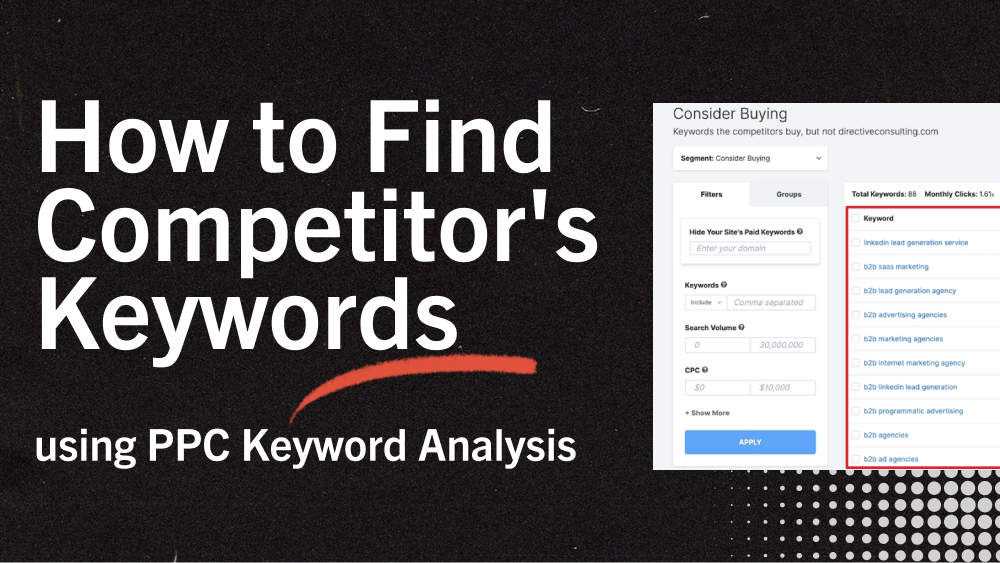 PPC
How to Find Competitor's Keywords with SpyFu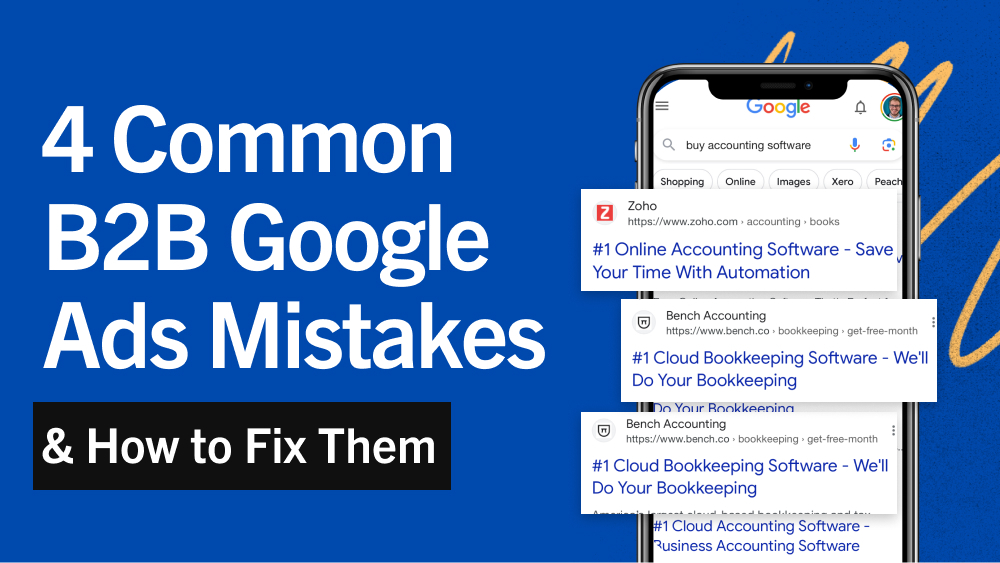 B2B
4 Common B2B Google Ads Mistakes and How to Fix Them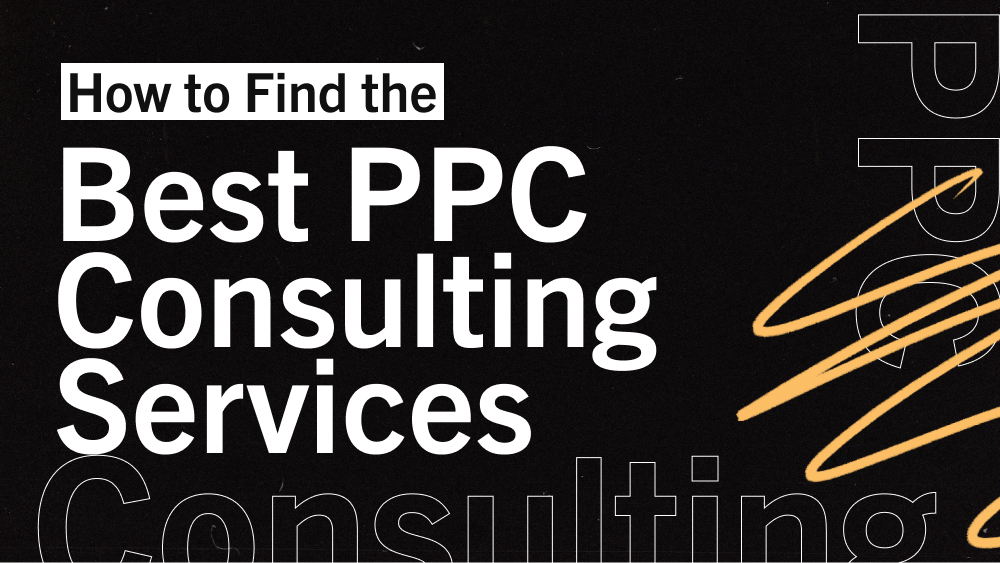 Agency Life
How to Find the Best PPC Consultant Services