SEMrush vs. MOZ: What's Best for You?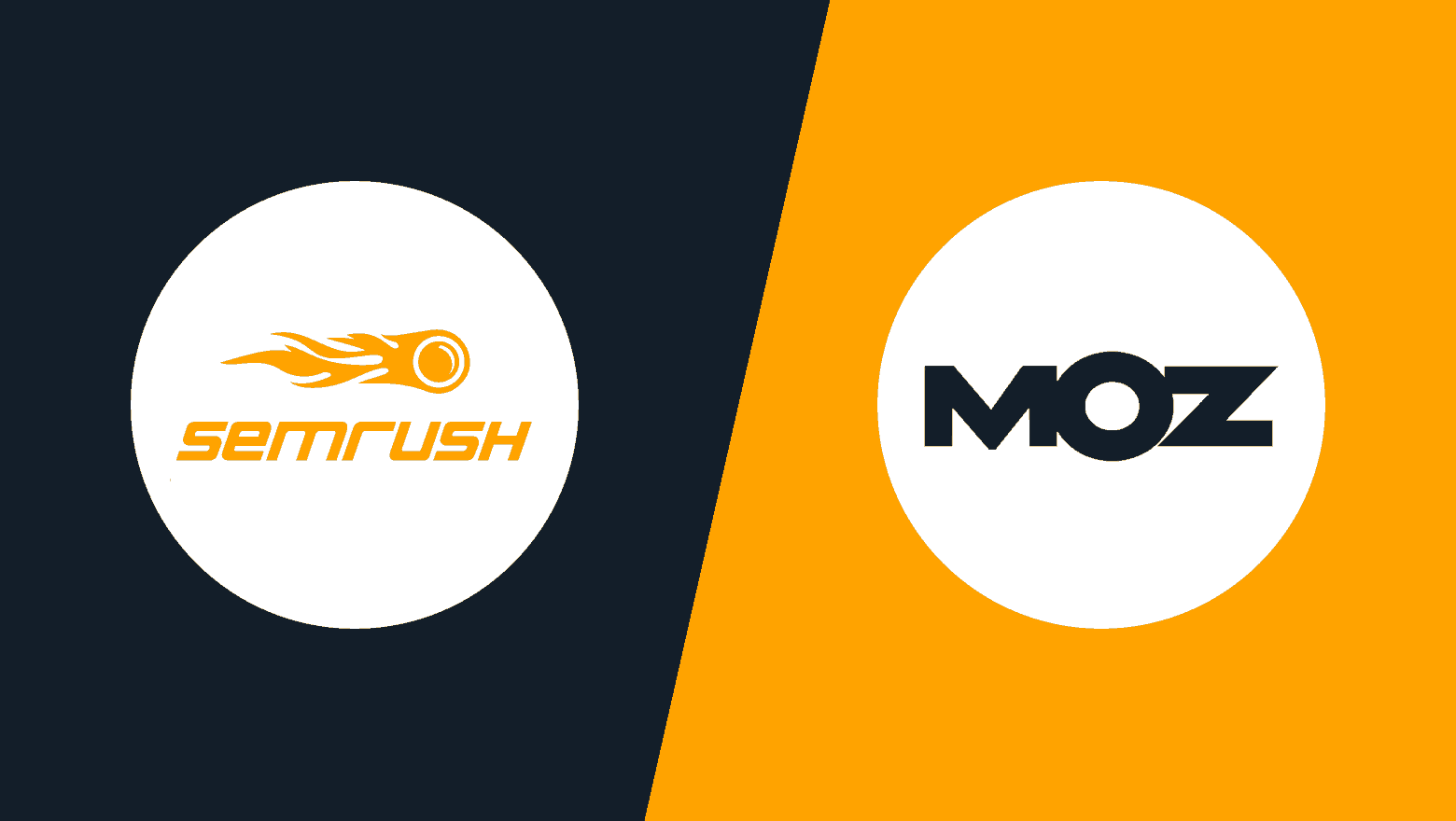 Trying to choose between SEMrush vs Moz to support your digital marketing efforts?
Both of these SEO tools are useful and valuable for digital marketers focused on securing organic traffic through search engine optimization (SEO). They both provide features that support content marketing and SEO in a subscription-based, Software-as-a-service business model and they're both all-in-ones that cover all bases when it comes to SEO and content marketing tools.
While there is a significant overlap in features between SEMrush vs Moz, each one offers something unique that differentiates itself from its competitors. Still, it may be difficult for digital marketers to determine which option is most suitable for their needs.
In this article, we're doing a deep review of SEMrush vs Moz to help you determine which one of these SEO tool kits is best to support your business.
Comparing SEMrush vs. Moz
We've created our very own scoring system to help facilitate our comparison between Moz and SEMrush. To make our assessment as fair and helpful as possible, we're evaluating these SEO tools across five different dimensions that cover all the most important features and characteristics of a complete SEO tool.
With a total of 100 points up for grabs, we've weighted our five categories the same. While these categories may vary in their importance to individual marketers, we think they're equally important when it comes to evaluating the overall performance and viability of an all-in-one solution for SEO. Our five categories are:
Keyword Research (20 points maximum)
Competitor Analysis (20 points maximum)
Link Building/Monitoring (20 points maximum)
Technical SEO Audit Capabilities (20 points maximum)
Pricing and Value (20 points maximum)
As with all rating systems, our organization of categories and allocation of scoring is open for debate – we'd love to know your opinions and whether you agree with our system!
Now, let's go through each of our five categories and compare SEMrush and Moz to see how they stack up. On the way, we'll assign points to each tool based on our rating system and calculate the total at the end.
SEMrush vs. Moz: Keyword Research
Keyword research is a starting point for many digital marketers when building a content marketing or SEO campaign.  Marketers need to understand how to do keyword research for SEO.
Keyword research is also a core feature of any SEO software tool. A good keyword research tool offers insight into search volume, trends, competition and overall performance for a target keyword.
What's the Same?
SEMrush and Moz both offer stimulating visual representations of the most important keyword research data. Here you can see what these results look like side-by-side. With the Moz keyword overview, you're immediately seeing monthly search volume data, a "difficulty" score that measures keyword competition, and the search engine results page (SERP) analysis which highlights information about other domains that rank for that keyword.
Image: Moz Keyword Overview Results
You can see some of the same elements presented in the SEMrush tool: SERP analysis, a keyword difficulty assessment, and estimated search volume.

Image: SEMrush Keyword Overview Results
What's Different?
The biggest difference between SEMrush and Moz is how they deliver keyword suggestions. Keyword suggestions are a very important feature, as they help digital marketers identify more profitable keywords to target with content marketing efforts and SEO.
Moz has a separate search tool with special filtering options for keyword suggestions. Users can customize the types of keyword suggestions they're after, including specific searches for keywords that are questions or keywords that include all terms in the search query. There's also a function that can group keywords by lexical similarity.
Image: Moz keyword suggestions
SEMrush has its keyword suggestions integrated into the main keyword tool, and they're already broken down into keyword variations, questions and related keywords – and available by the thousands. There's also some additional information provided through SEMrush, such as the average CPC and ad history for each keyword, that may be useful to digital marketers doing PPC ads.
Image: SEMrush Keyword Suggestions
Final Score
SEMrush: 18/20
Moz: 18/20
(The tools were basically equal, with each one offering something unique.)
SEMrush vs. Moz: Competitor Analysis
SEO is fundamentally a competitive discipline, as there can only be one website at the top of the search engine results pages for each keyword. Digital marketers use competitor analysis to help identify opportunities to capture the most organic traffic possible for the lowest cost.
What's the Same?
SEMrush and Moz provide several of the same tools for competitor analysis. They both offer a SERP analysis that highlights which competitor pages rank for a specific keyword along with information about page authority, number of referring domains and the total number of backlinks. This helps digital marketers assess the overall level of competition for specific keywords in the SERPs.
As you can see below, Moz also includes on-page features like Ad placements and Knowledge Card in their SERP analysis.
Image: Moz SERP Analysis
What's Different?
There are two dimensions to competitor analysis: off-page and on-page elements. Off-page elements include backlinks, linking root domains and page authority – factors that we see covered in the SERP analyses shown above. The main difference between SEMrush and Moz is in the second category, on-page elements, which deals with how competitors are optimizing for various keywords on their pages.
Moz offers a separate tool where marketers can see what keywords they rank for alongside lists of keywords that are being dominated by their competitors. Marketers can then compare keyword coverage and ranking on their own page to what their competitors are doing and potentially identify opportunities to beat them. While the data supplied by Moz here is very useful, the comparison has to be done manually.
Image: Moz Keyword Comparison Tool
SEMrush offers this great Keyword Gap tool that goes above and beyond when it comes to competitor analysis. In addition to downloading a list of keywords that each competitor is ranking for, this tool also helps facilitate gap analysis so marketers can more easily discover the best opportunities for keyword targeting. There's also a specific gap analysis tool for backlinks that can help marketers optimize their plays to earn more back-links.
Image: SEMrush Keyword Gap Tool
We should also mention the Link Intersect tool offered by Moz that helps marketers parse out which websites are linking to their competitors' pages but not their own. This feature is similar to SEMrush's backlink gap analysis tool and worth checking out.
Final Score
SEMrush: 17/20
Moz: 16/20
(We liked both, but SEMrush delivered a better overall experience. No SEO tool other than SpyFu deserves more than 17/20 for competitor analysis.)
SEMrush vs. Moz: Link Building & Monitoring
Backlinks are the most important signal of your website's authority and have the largest influence on your ability to rank in the SERPs. Backlink tracking and monitoring are therefore some of the most important features for any SEO tool.
What's the Same?
Moz and SEMrush offer some overlapping tools and features related to backlinks. Looking at both tools, we see three essential functions represented:
Backlink Analytics for the user's domain
Backlink Comparison between the user's domain and competitor domains
Link Building management system with monitoring capabilities
Both Moz and SEMrush provide backlink analytics and backlink comparison tools. On Moz, you can access backlink analytics for your website by typing your root domain into the Overview tab under link research. To access competitor data, you'll want to click on "compare link profiles" on the sidebar.
Image: Backlink Analytics from Moz
SEMrush crawls billions of URLs per day to provide the most up-to-date backlink analytics and competitor data for digital marketers. Users can track competitor link-building efforts and conduct deep research into competitor backlink profiles.
Image: Backlink Analytics Tool from SEMrush
What's Different?
The most important difference here is that SEMrush offers a functional link-building management tool that digital marketers can use to track and manage their link-building efforts. Users type in their website, competitor websites and up to 10 keywords they would like to rank for. The tool then provides suggestions for domains that might be willing to provide a backlink. Users can pick the best link prospects from thousands of recommendations, send outreach emails attempting to secure links, then manage and monitor the results from a single dashboard.
 Image: Link Building Interface from SEMrush
Final Score
SEMrush: 20/20
Moz: 15/20
(Moz link building and analytics tools are fairly basic and they don't offer a link building management interface like SEMrush.)
SEMrush vs. Moz: Technical SEO Audit
Without strong technical SEO, even a website that's otherwise well-optimized can fail to rank for the desired keyword. Technical SEO audit tools measure factors like page load speed, crawlability and internal linking to ensure that websites are technically optimized to rank in the SERPs.
What's the Same?
Both SEMrush and Moz offer a great technical SEO audit tool. Each one effectively detects the most common technical SEO issues, educates users on why they're important, and offers simple directions on how to fix them. Importantly, both tools allow users to automate regularly scheduled audits that detect any new SEO issues when they materialize.
Image: Technical SEO Audit Interface from SEMrush
Moz automatically runs weekly audits and SEMrush can be configured to audit even more frequently, as well as send branded reports to the desired email address.
Image: Technical SEO Audit Tool from Moz
What's Different?
Honestly, not much. Technical SEO optimizations are well-known information and both tools do a great job of equipping webmasters with the data that's needed to find the best technical SEO optimization opportunities.
Final Score
SEMrush: 19/20
Moz: 19/20
(Both powerful tools. Choose depending on which user interface you prefer.)
SEMrush vs Moz: Pricing Packages & Subscription Options
Pricing for SEMrush
Image: Pricing Options for SEMrush
Pricing for Moz
Image: Pricing Options for Moz
What's the Difference?
On the surface, pricing for each of these software tools is relatively similar. SEMrush offers three options while Moz offers four. Both start at around $99/month and the best value options are around $200 per month.
However, there's one important detail that you must not overlook when comparing pricing for SEMrush vs Moz. Take a look at the feature breakdown here for Moz:
Image: User Seats Allotted for Moz Pro Medium Subscription
As you can see, the medium package available for $179 per month includes 10 user seats! Perfect for an agency or a small digital marketing team!
Now take a look at the feature list for the SEMrush Guru package below…
Image: User seats allotted for SEMrush Guru Subscription
With the medium package, there's just one user account included, with two additional user accounts available for purchase at $140/month each!
That means you'll be spending a lot more per month for SEMrush if you need more than one user account.
Final Score
SEMrush: 13/20
Moz: 18/20
SEMrush vs. Moz: Final Score
Well, we added up the totals and here's what happened:
We saw feature parity in the keyword research and technical SEO audit categories. We picked SEMrush as the superior option for backlink analytics/management and for competitor analysis, making it the overall best option in terms of features. However, due to the constraints on the usage of SEMrush caused by per-user pricing, we had to give a lower score in that category which very nearly turned the tables.
The final score was…
SEMrush: 87/100
Moz: 86/100
Summary
We hope that our comparison of SEMrush vs Moz helps you decide which of these SEO tools is best for you.
We were amazed by the robust features and functionality of both tools, but it was clear that SEMrush had the edge on providing slightly better features for search engine marketers, even if the additional cost-per-user makes it too expensive for smaller businesses or agencies.
So, which of these SEO tools will you use to power your organic search campaigns in 2020?