Best SEO Metrics You Should Know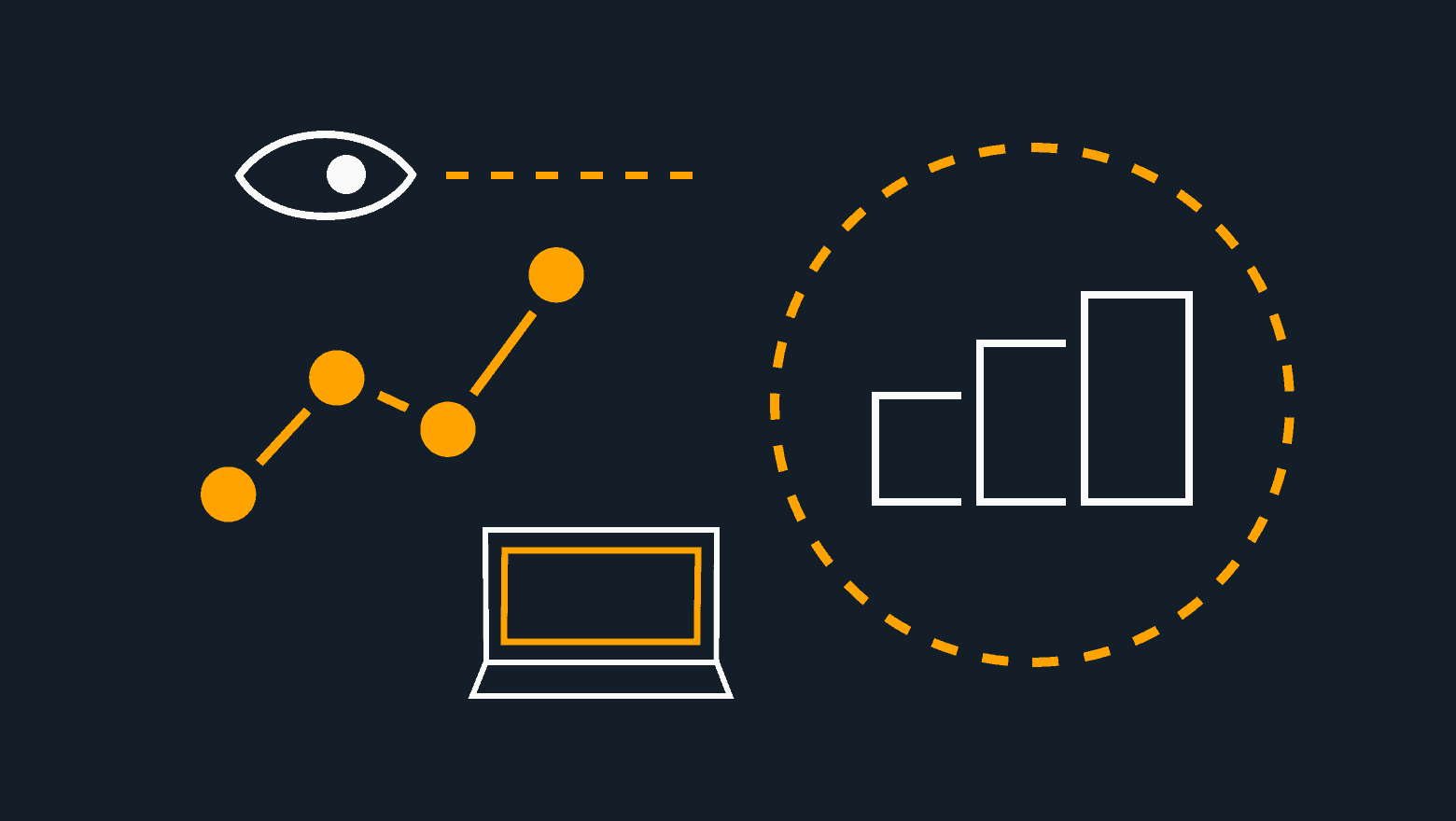 Looking for the best SEO metrics that you should be tracking for your next campaign?
Metrics are measurements that can be used to quantify the success or performance of a business process. In a search engine optimization (SEO) campaign, we can use SEO metrics to set goals and quantify our results. We can even choose metrics to act as key performance indicators (KPIs) and evaluate the success of our campaigns against those specially chosen metrics.
Whether you're new to digital marketing metrics and SEO, or simply brushing up on your knowledge and skills, we've created this guide to get you acquainted with the best SEO metrics you should know.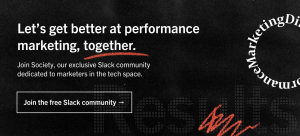 What are SEO Metrics?
SEO metrics are measurements that can be tracked to help quantify the performance and success of a search engine optimization campaign. In this guide, we highlight some of the best and most popular SEO metrics that digital marketers can start monitoring to quantify the impact of their SEO efforts and inform strategic marketing decisions. Our favorite SEO metrics are grouped into five categories:
Search Performance Metrics
Website Traffic Metrics
Off-Page SEO Metrics
Local SEO Metrics
User Experience & Engagement Metrics
Within each category, we will highlight key metrics, explain what they measure, how they relate to key business objectives, and how you can start tracking them.
Best SEO Metrics You Should Know
Search Performance Metrics
Keyword Rankings – Keyword ranking metrics measure how your website ranks in the search results for target keywords. Ranking higher in the results for a greater number of keywords means more organic traffic and more lead generation for your business. Digital marketers can check keyword rankings using Google Search Console.
Organic Impressions – Organic Impressions is a metric that quantifies how many times your website appeared in organic search results during a specified time period. A higher number of organic impressions means that your search result was viewed more times, and more people had the opportunity to click through to your website. Organic impression data is available in Google Search Console.
Organic Clicks – The organic clicks metric is a measurement of how many times a user clicked on your website from the search engine results pages during a specified time period. More organic clicks means more visitors to your website and more opportunities to convert those visitors into paying customers. Digital marketers can find accurate and up-to-date organic click data in their Google Search Console.
Organic Click-Through Rate (CTR) – Organic CTR is a metric that captures how frequently an organic impression of your search result leads to an organic click. Pages that rank higher in the search engine results pages typically enjoy a much higher organic CTR than those occupying the lower rank positions. Digital marketers can find organic CTR data in Google Search Console.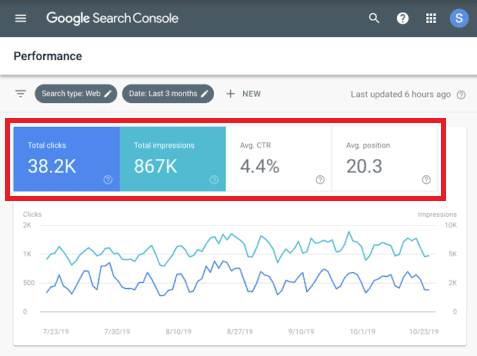 Image: Organic clicks, organic impressions, organic CTR, and average rank position shown on Google Search Console
Website Traffic Metrics
Increasing traffic to your website is always one of the main goals of a search engine optimization campaign. Digital marketers can use Google Analytics to track how many visitors their website is receiving and see growth over time – but it doesn't stop there. Marketers can segment traffic data even further, gaining access to SEO metrics that reveal new insights about where those visitors are coming from.
Traffic by Source/Medium – Segmenting traffic by source allows marketers to understand how users are finding their website – whether on search engines, through social media, or through links on other websites. Understanding traffic sources makes it easier for marketers to focus their SEO efforts on the channels with the most impact.
Traffic by Region – Segmenting traffic by region gives marketers additional insight into the cultural and economic make-up of their audiences. Understanding how people around the world connect with your brand and product can help you unlock new market opportunities that you may otherwise have overlooked.
Traffic by Landing Page – Segmenting traffic by landing page gives marketers a more granular look at which individual pages are generating the most hits. Marketers can then choose to target under-performing pages for optimization or focus on increasing the revenue impact of a specific page or pages that are already performing well.
Traffic by User Type – Segmenting traffic by user type can give marketers a look at the percentage of visitors that are brand new to the website versus the percentage that have visited in the past.
Traffic by Language – Segmenting traffic by language allows marketers to see a breakdown of browser language settings for all visitors. This can help digital marketers ensure that their website works properly for all intended audiences, and identify new opportunities to connect with customers and deliver value.
Traffic by Device Type – Segmenting traffic by device reveals insights into the types of devices that visitors are using to engage with the website. Changes in the performance of a website across different devices can impact on-site behaviors and conversion rate. Traffic data segmented by devices can reveal opportunities to optimize key areas of your website for mobile traffic.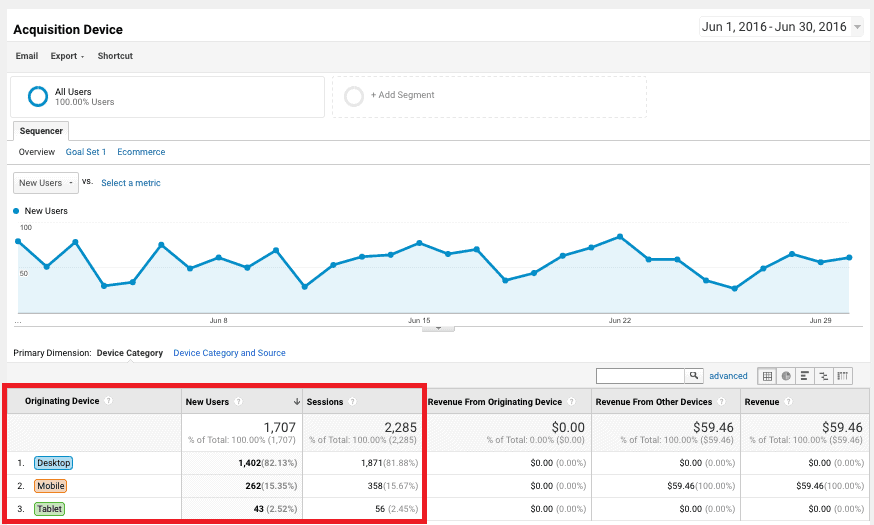 Image: New users and sessions by device type as shown on Google Analytics
Local SEO Metrics
The purpose of local search engine optimization is to increase the visibility of the target website in local search results. While web-based businesses may not focus much on local SEO, businesses that provide in-person services or sell products from brick-and-mortar locations can benefit significantly from tracking local SEO metrics.
Local Keyword Rankings – Local keyword rankings are a measurement of where your web pages appear in the search results for local search queries. Local search queries usually include a product or service, a location, or a phrase like "near me" or "in my area". Businesses that rank highly for their targeted keywords in local search results will have more success generating local business leads.
Business Citations/Directory Listings – For businesses new to local SEO, creating online business citations and obtaining listings in high-quality directories should be a high priority item. Having more citations and directory listings online makes it more likely that your website will perform will in local search, but it's also important to avoid spam directories and industry-specific directories that are irrelevant to your business. A local SEO tool like SEM rush Listing Management can help you start managing citations online.
Google Reviews & Ratings – To take full advantage of Google Reviews, businesses should claim and verify their business profile on Google My Business. Having done so, the business will be eligible to appear in the Local 3-Pack search results. Businesses with more Google reviews and a high average customer rating are more likely to be featured at the top of local search results and in the Local 3-Pack. Businesses can set up engagement campaigns using social media or email outreach to offer incentives for customers who review their experience on Google.
Off-Page SEO Metrics
Total Backlinks – Total backlinks is a metric that quantifies the total number of links that exist from other websites to pages on your website. Websites with a healthy backlink profile and a higher number of backlinks are more likely to rank well on the search engine results pages, resulting in increased organic traffic. Digital marketers can use Google Search Console or a paid SEO tool like SEMrush to discover insights into their backlink profiles, total backlinks, and referring domains.
Referring Domains – Referring domains is a metric used to quantify the number of different websites that link to any page on your website. From Google's perspective, a website with 100 links from 100 different websites is more trustworthy and more authoritative than a website with 100 links from a single website. Websites with more referring domains are likely to earn higher search rankings and capture more organic traffic.

Image: Total backlinks and referring domains as shown on the SEMrush Backlinks Analytics tool
User Experience & Engagement Metrics
Every digital marketer working on an SEO campaign should be keeping an eye on user experience and engagement metrics for their website. These metrics are used to quantify the experiences that users have when they land on your website.
Google captures user experience data through the Chrome browser, and user experience signals are some of the most important ranking factors used by Google to determine whether a site will rank. Digital marketers can use Google Analytics to monitor the performance of their website across these crucial user experience metrics:
Average Time on Site – Average time on site is a user experience metric that reveals how long the average user browsing your website after arriving from a search engine or referral link. Websites with a high average time on site are more likely to perform well in search results.
Bounce Rate – Bounce rate is one of the most important SEO metrics. The bounce rate for your website refers to the percentage of users who land on your page and leave immediately – without navigating to a different page or interacting with on-page elements. A high bounce rate could mean that your content is not relevant or useful to your audience, or it could mean that users are losing interest because your page loads too slowly. Either way, high bounce rates indicate a poor user experience and are correlated with poor performance in organic search.
Average Pages per Session – Average pages per session is a user experience metric that quantifies the average number of pages that users visit during a browsing session on your website. If users find your content valuable and relevant to their interests, they are likely to spend more time browsing on your website and visit more of your pages.
Scroll Depth – Scroll depth is a user engagement metric that you can use to see how far users are scrolling down specific pages on your site. This makes it possible to objectively measure how users are reacting to different portions of content, and to refine the content on your site to make it more valuable for users. Digital marketers can implement scroll depth tracking using Google Tag Manager.
Top Exit Pages – Top Exit Pages is a Google Analytics metric that gives digital marketers insight into which pages most frequently trigger users to exit their website. Marketers can then take steps to improve those pages with better content or more internal links to discourage users from exiting the site.
Page Speed – Page speed is a measurement of how fast a specific page on your site loads its content and becomes responsive to inputs from the user. Pages that take too long to load typically experience a much higher bounce rate, which negatively impacts user experience and organic search rankings. Marketers can use Google PageSpeed Insights to access website performance data, diagnose technical issues impacting page speed, and get tips for making their web pages load more quickly.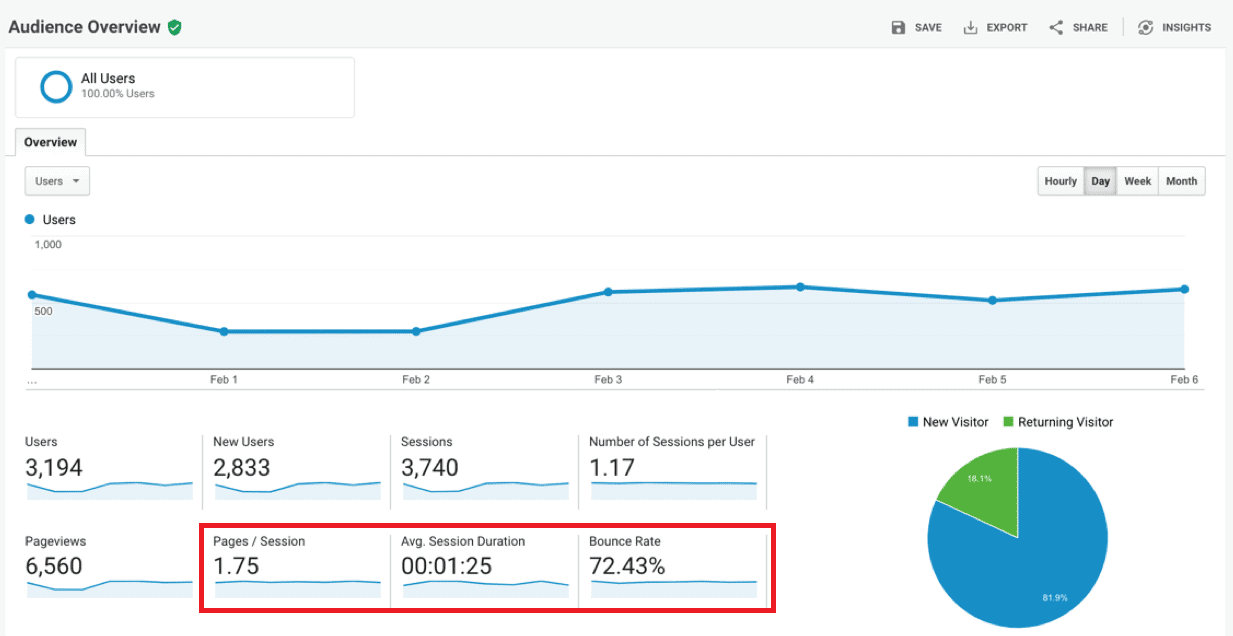 Image: User experience and engagement metrics shown on Google Analytics
Summary
Thanks for checking out our list of the best SEO metrics that you should know!
As a SEO agency for SaaS, we use these SEO metrics all the time to measure the performance of our campaigns, set KPI goals to maximize performance, and inform our strategic decisions to generate more traffic and revenue.
If you want to take your SEO efforts to the next level, book a call with us today to learn how you can gain a competitive edge with Customer Generation.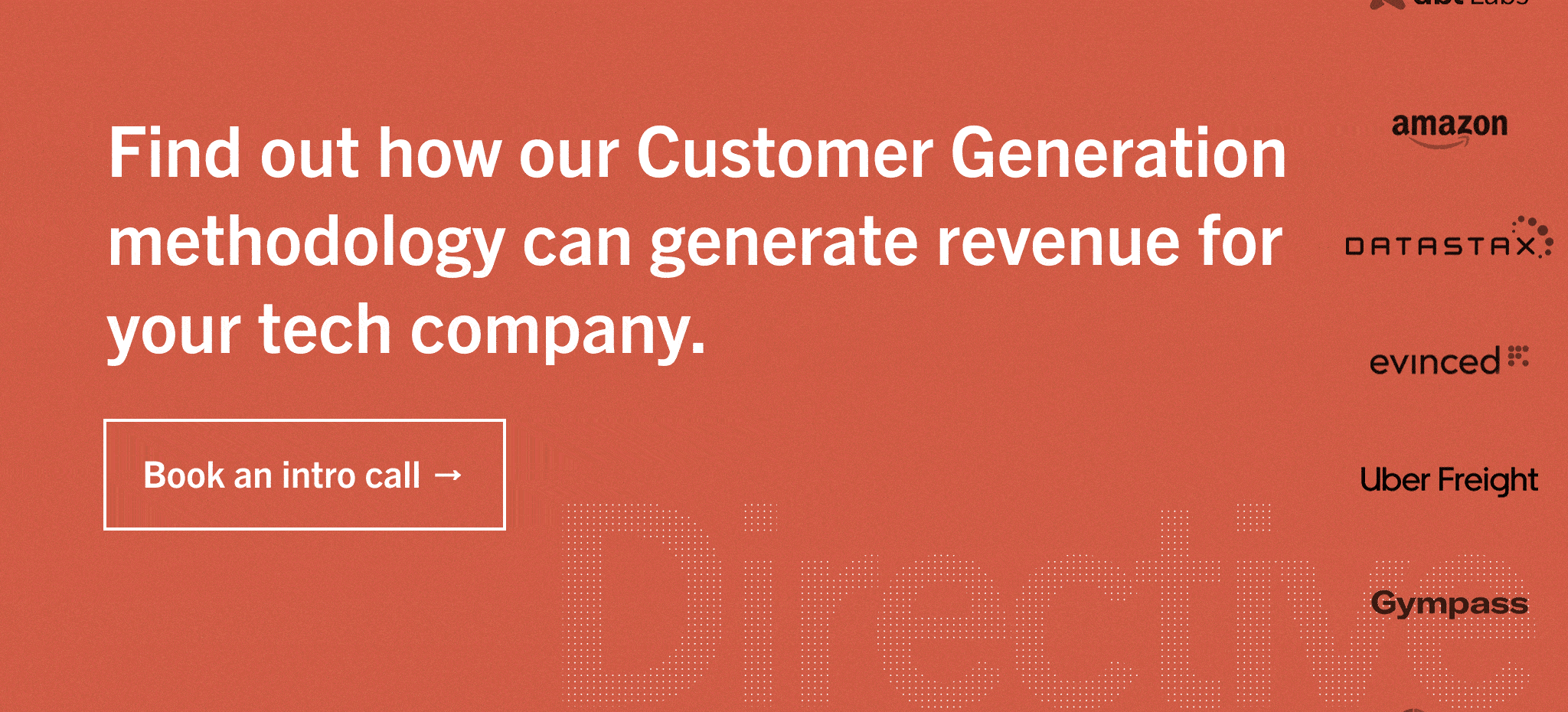 Keep reading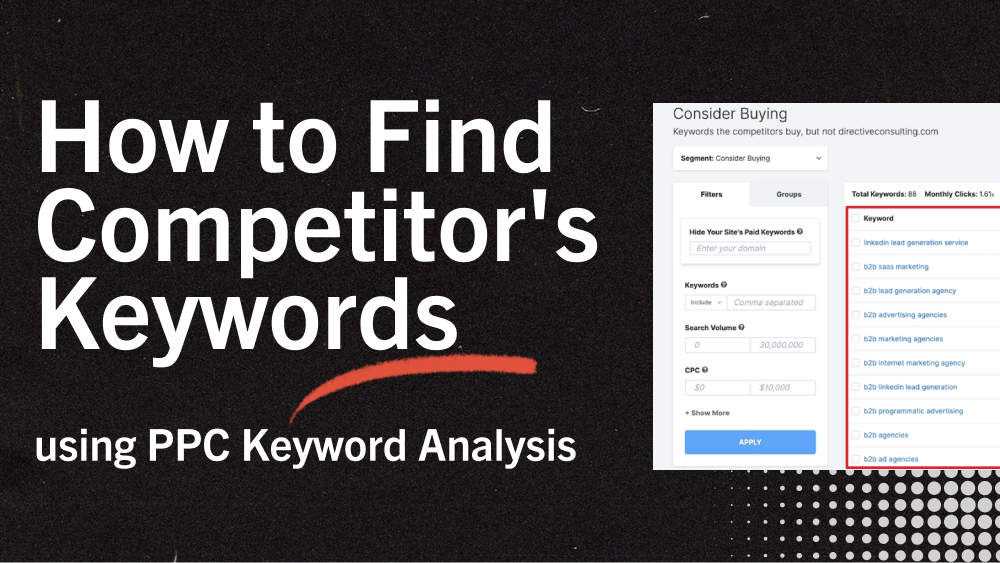 PPC
How to Find Competitor's Keywords with SpyFu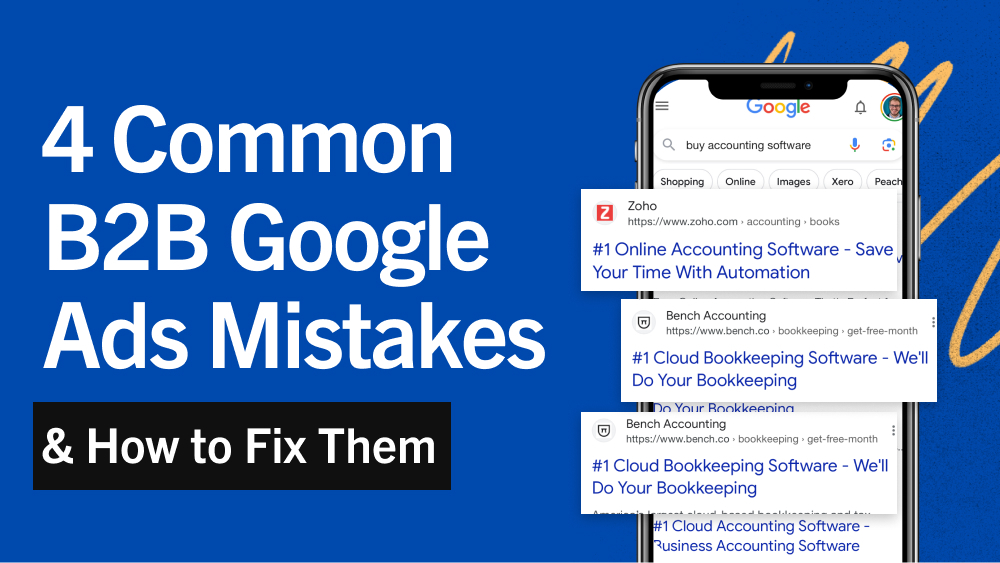 B2B
4 Common B2B Google Ads Mistakes and How to Fix Them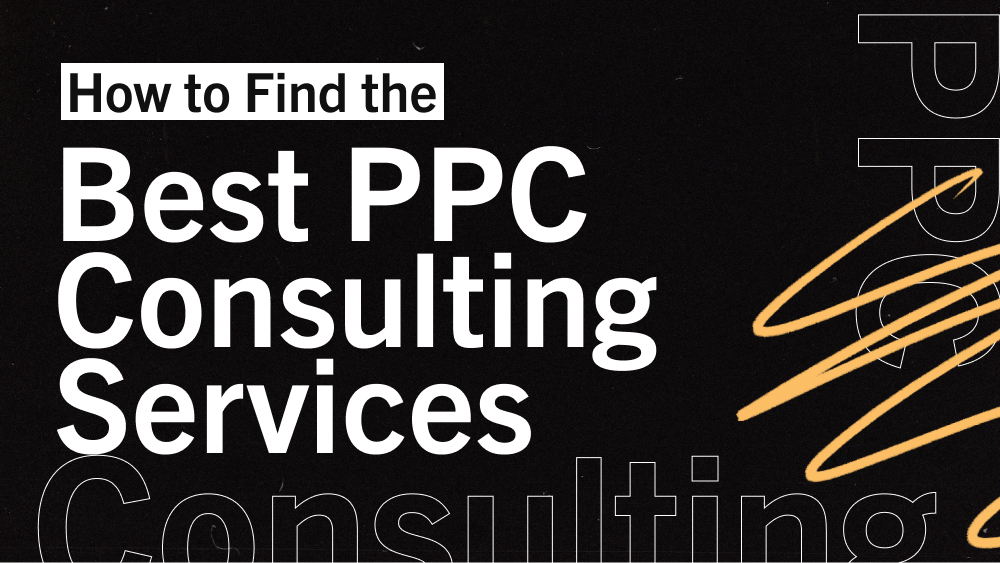 Agency Life
How to Find the Best PPC Consultant Services