SEO Reputation Management: 8 Tactics to Manage Your Brand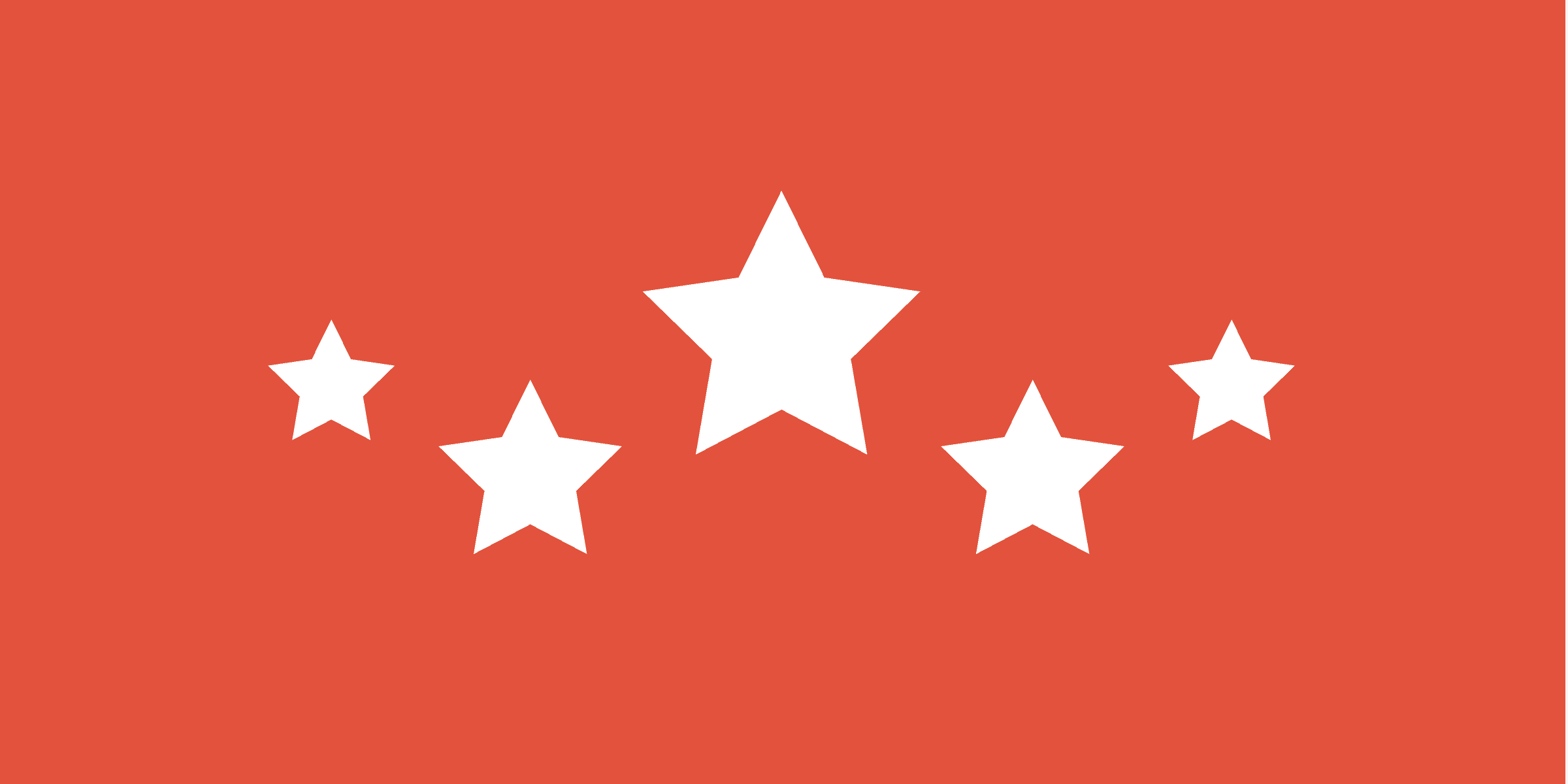 When a user searches for a specific person or company in Google, what comes up? Depending on the environment of the search engine results page (SERP), there are different results that may show.
For example, Google your company's name (we will Google Directive as an example).
What do you see?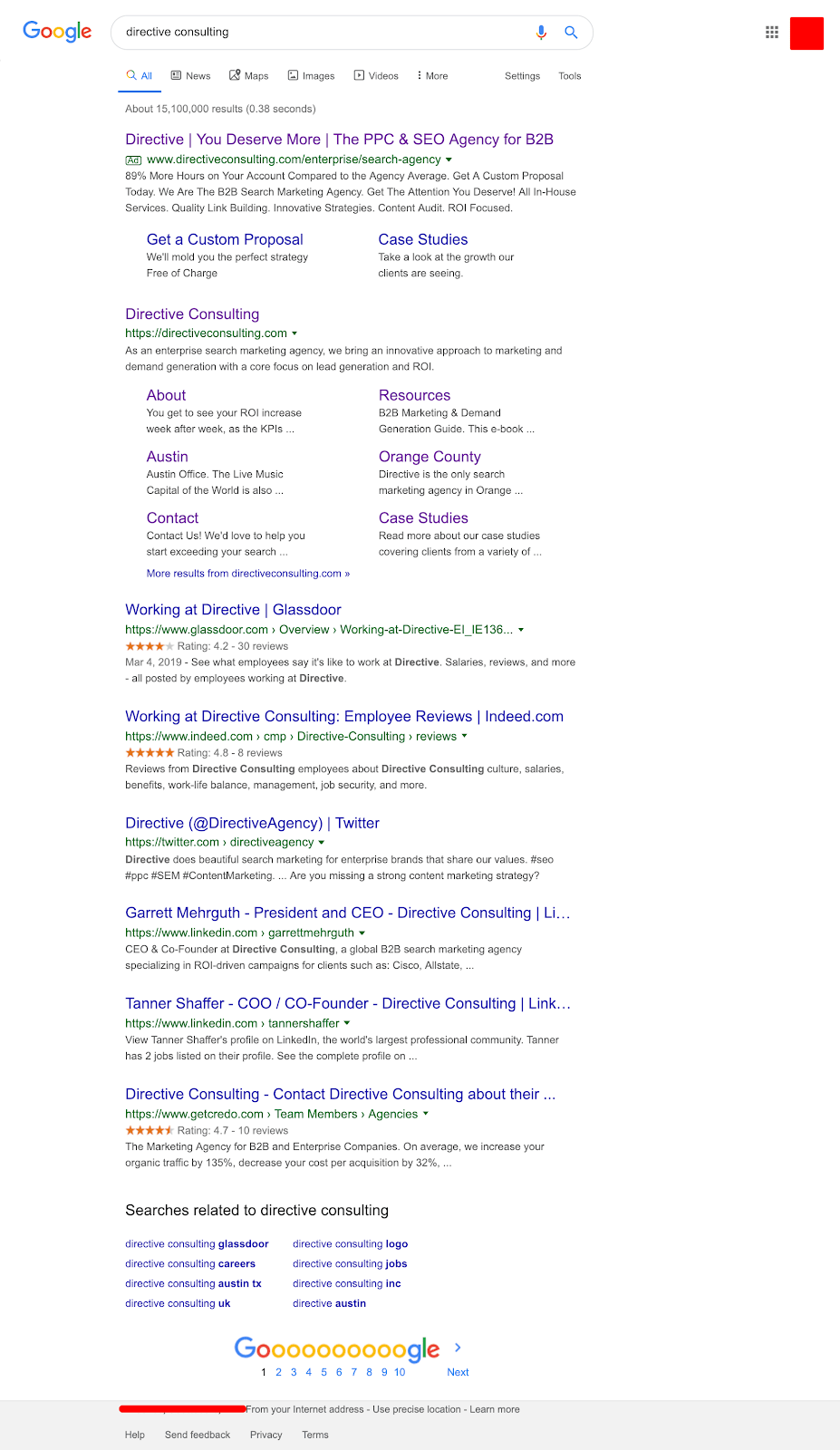 Most of the time, you will find an advertisement for your brand in position 0, your homepage as the first organic result, and several review websites that follow.
But what if you see something different? What if another advertisement is in position 1 for your brand? What if there are several review websites with bad ratings below your homepage?
These are all questions that must be addressed. But first, we will break down precisely what  SEO reputation managment is, and how you can address it.
What is Online Reputation Management (ORM)?
Online reputation management (ORM) is the practice of strategically influencing the public perception of a business or person's brand, service, or product on the internet. A positive or negative perception can largely impact its ability for growth.
For example, if a business currently has 1.5 stars out of 5 on Google Reviews, customers may view that company as having poor practices, a poor product, lousy customer service, or any other negative assumptions that would cause someone to pass on you.
In reality, your business may only have negative reviews because most people who leave reviews tend to be frustrated and want to be heard. To increase the number of positive reviews, there are many tactics that you may apply to increase your review rankings.
This isn't the only important factor in reputation management, however. There are various challenges businesses may face when dealing with managing their brand online.
What are the Challenges in SEO Reputation Management?
Reputation management covers topics across various platforms from social media to search engines.
For reputation management and SEO's influence on your brand's reputation, I will cover what challenges I see on search engines specifically.
When reviewers are upset, they can leave complaints with the BBB (Better Business Bureau), which can get your company in a heap of trouble. Also, competitors can make comparison web pages to take over your brand's SERP, which doesn't play by the rules, but unfortunately happens. Many obstacles on the internet may steer a potential customer away from your product or service.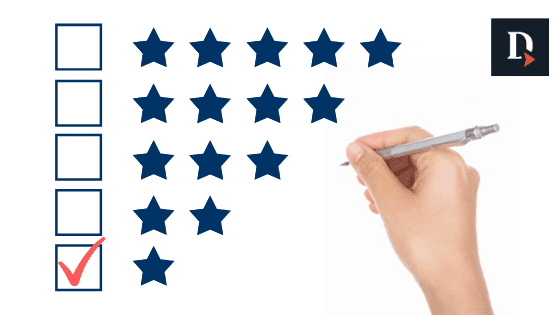 Unfortunately, a lot of third-party websites content are entirely out of your control. Depending on what their sources of information are, and how they perform their reviews, the different websites may say various things about your business practices.
Although there are some ways to influence these third-party sites (which we will go over later), this is an obstacle in your brand's image.
Other challenges faced in SEO reputation management include negative link building campaigns by competitors, poor internal operations and customer service, and misreporting of information on directories and GMB (Google My Business).
These challenges can be overcome through a combination of tactics in online reputation management and SEO.
How does SEO Influence Online Reputation Management?
SEO is the strategy and execution of becoming discoverable on Google and related search engines. Online reputation management is the process of managing your brand's reputation online through reviews, brand mentions, and other brand management tactics.
If you are not found on Google, then there is no brand or reputation to manage! With proper SEO execution, your brand will be seen by your target audience much easier.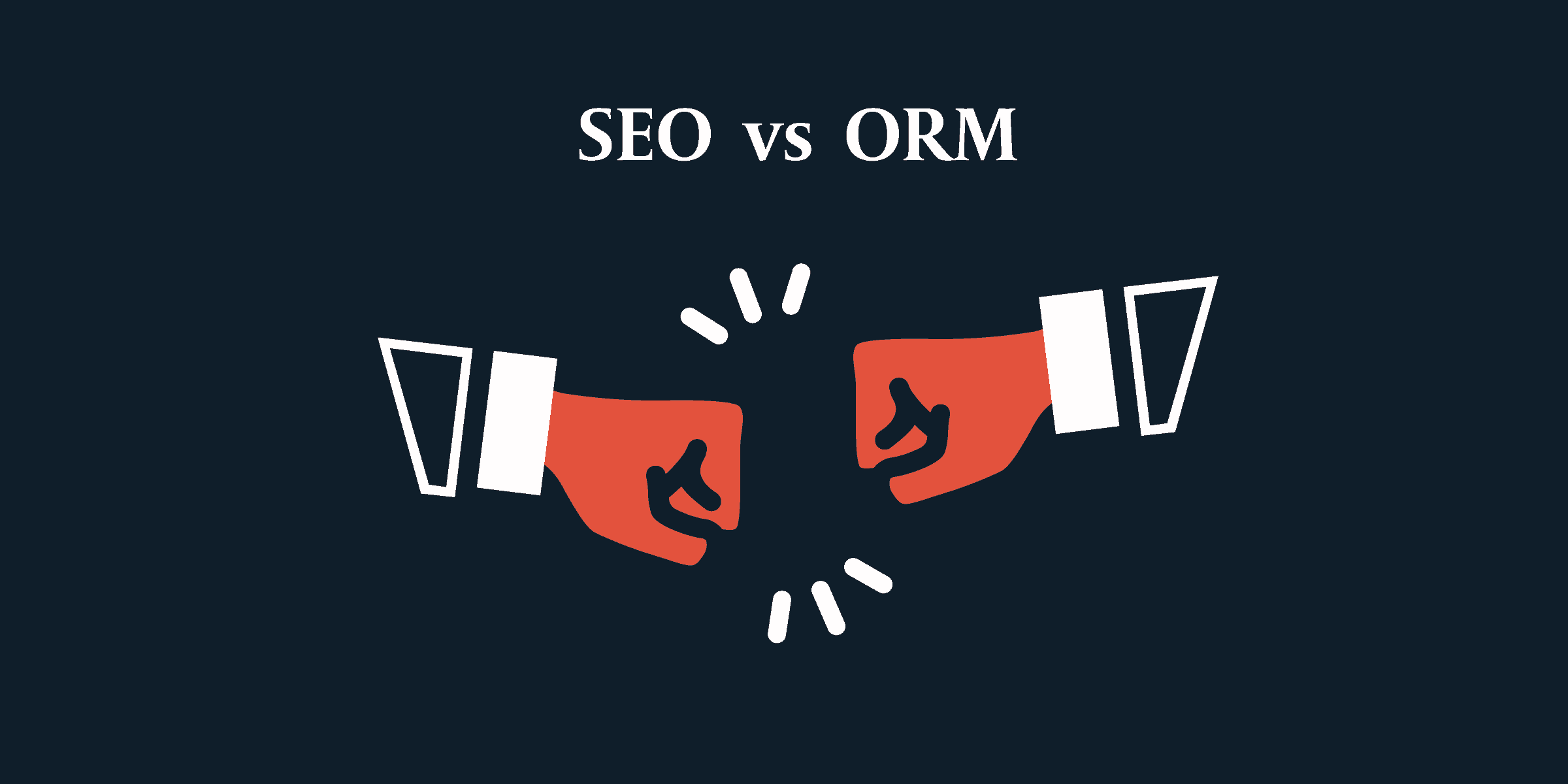 The only issue with this is if you have a large number of negative reviews about your products, services, employees, and more. In this situation, you actually may want to lay low and work out internal kinks first. This can lead to more negative reviews and potentially more negative PR, not ideal.
With the proper combination of SEO and ORM, you also can drive massive amounts of growth online.
In general, reputation management should be a long-term play. However, there are tactics you can do in the short-term to mitigate the adverse effects of bad reviews or negative PR.
8 Reputation Management Tactics to Manage Your Brand
1. Create High-Quality Evergreen Content
Evergreen content is content created for SEO purposes that is relevant and continues to stay relevant for your audience as time goes on. Basically, evergreen content is sustainable!
For example, let's assume you are a massive clothing brand and are writing a content piece on the process of "properly folding clothes". This piece would be considered evergreen because the process of adequately folding clothes as they do in the store does not typically change over time.
If you Google "How to Make Chocolate Chip Cookies", the number one result shows that the article was created back in 2005. Because this piece is considered original and evergreen by Google, it has genuinely sustained the course of time.
Evergreen content's influence of the overall brand develops over time, and you'll start to build a broader audience. If you struggle with SEO reputation management, consider writing a high-quality evergreen piece that reveals your values and shows who your company is as a brand. That way, previous reviews don't hold too much power over you, and potential viewers can hear directly from you.
2. Develop Your Business' Brand
Evergreen content isn't the only way to develop your business' brand. Tactics such as social media marketing, video marketing, and blogging are great ways to show your audience what your company is all about.
There are over 3.2 billion social media users in the world, and chances are there is someone out there looking for your products and services. About 54 percent of social media users utilize the channel to research products.
With this in mind, creating highly targeted and unique social media content can, not only build your brand, but can engage users. You may not be able to engage through your blog or website.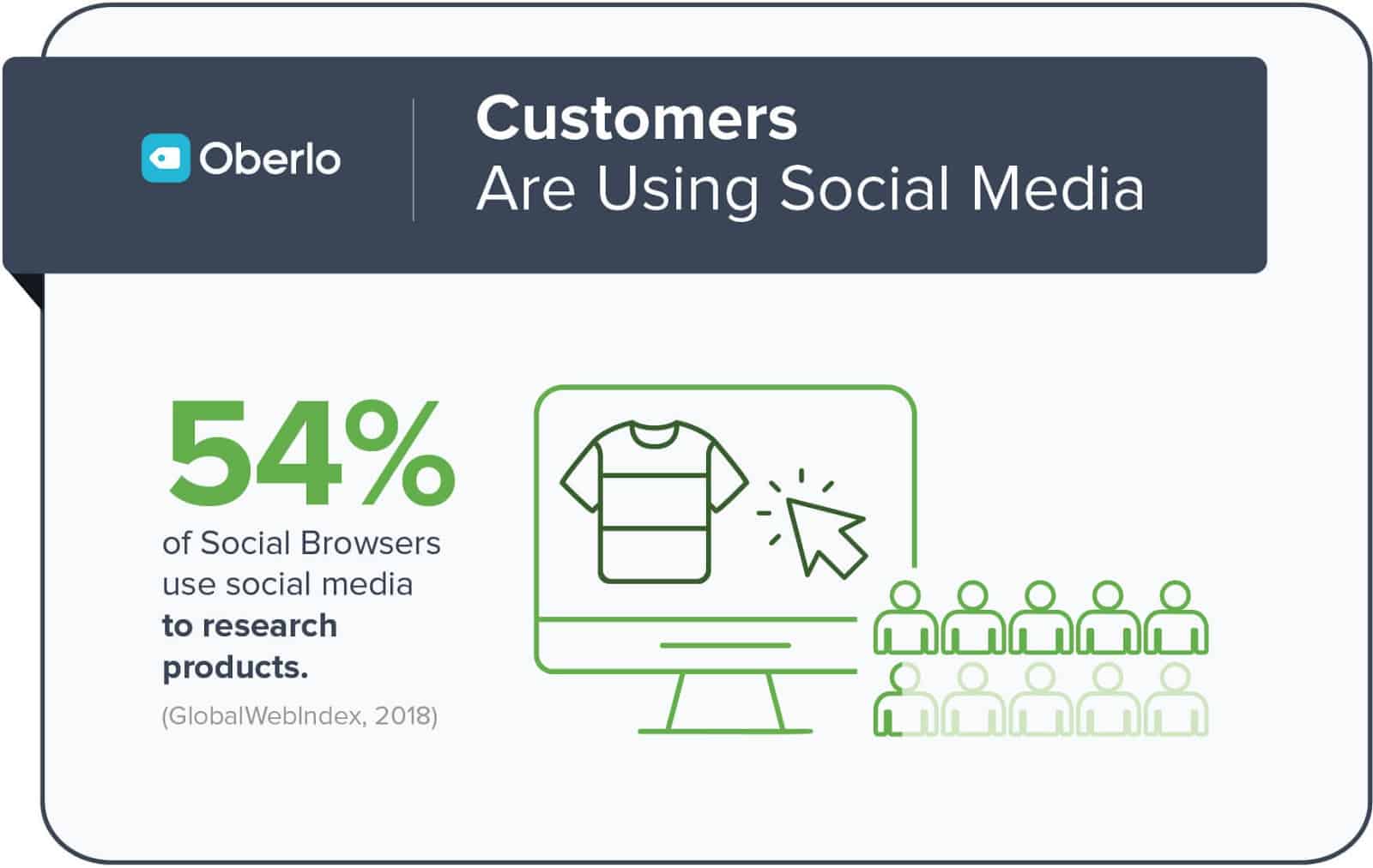 Blogging is another fundamental form of content creation that can generate billions of impressions through Google search, social media, email, and more. Some of the top blog sites in every vertical generate well-over a million users a month just from blog posts.
Not only does it create a brand voice for your company, but it also creates a brand within your industry. If your business is currently struggling with a less than excellent reputation, pushing out high volumes of authoritative content may help create a different story for potential customers.
Video Marketing is another form of marketing that is incredibly versatile. When people think of video marketing, they think of putting up a video on a platform like Vimeo or YouTube and hoping that people find it and enjoy it.
Video marketing can be turned into a blog, a series of chopped up social media posts, or even a podcast as well. With the ability to take video and turn it into any other form of content, video marketing is an important channel to invest in.
3. Respond to Reviews and Complaints
Reviews (or sometimes complaints) about your business can make or break a potential customer's decision to trust your product or service.
Websites you should be aware of include: BBB (Better Business Bureau), Google, Yelp, and other industry-specific reviews with high authority in your space.
Better Business Bureau (BBB)
Although there is some controversy on the ratings of the BBB, a lot of industry-specific review websites use the Better Business Bureau as a source of complaints to identify with the business.
Regardless of the volume of complaints on the BBB, your business can maintain an A+ rating by simply addressing each individual complaint. Once all of the complaints have been addressed, you will receive a grade of A+.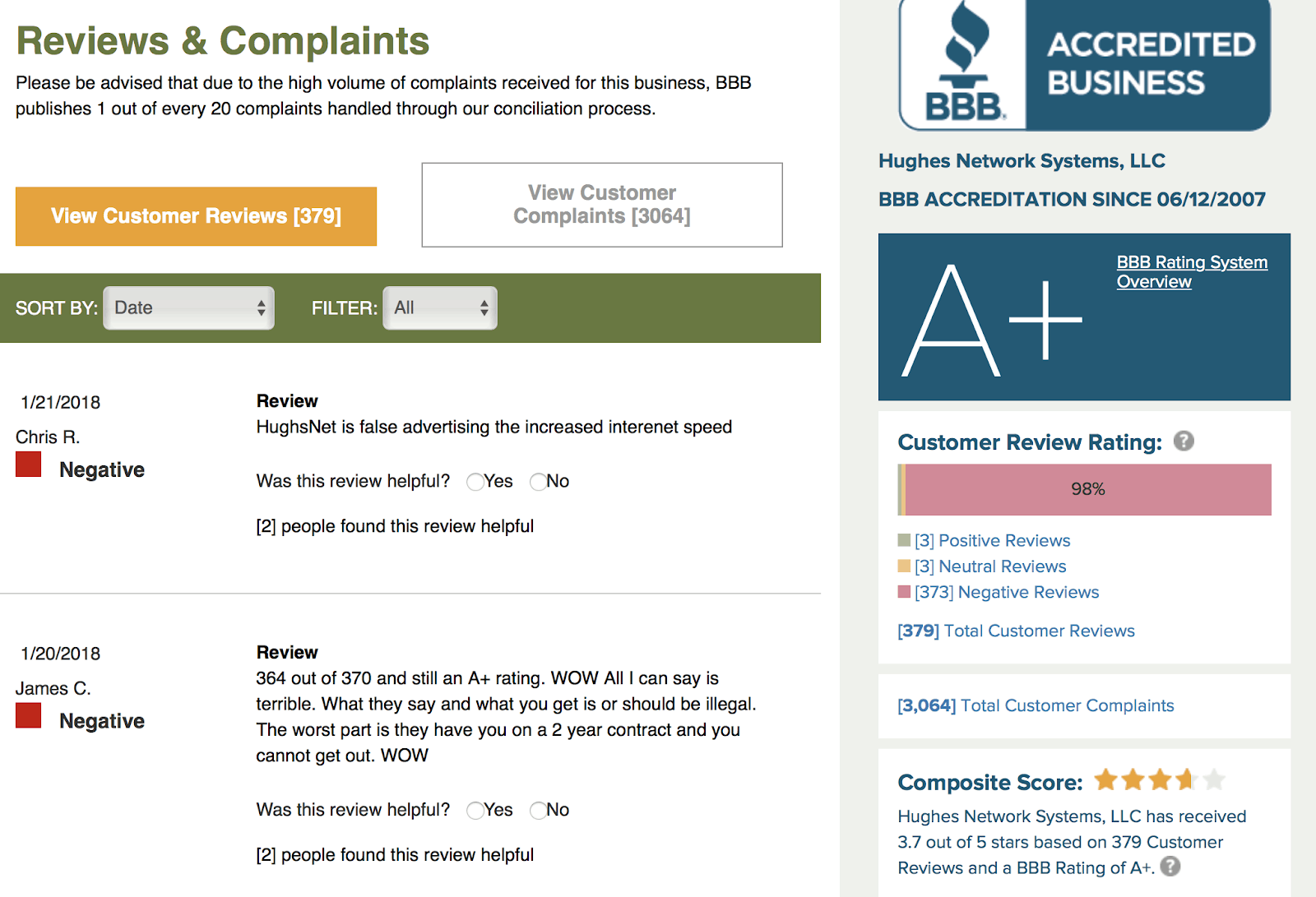 Yelp
Yelp is another highly authoritative review website and application that many people use for local search purposes. When you search on Yelp "New Car Dealerships", a list of sponsored and organic results will pop up.
A potential customer is going to be looking for two things: brand and ratings. Once they find the brand(s) that they want to take a look at, they will decide which company they want to go to. If you have negative ratings on Yelp, customers are a lot less likely to trust you compared to another.
This process of thinking can pertain to any business in any industry, so it is crucial to maintain a positive image on this (and other) review sites. An excellent way to interact with your customers and to find out exactly what it will take for them to change their review, a thoughtful and personalized response could do the trick.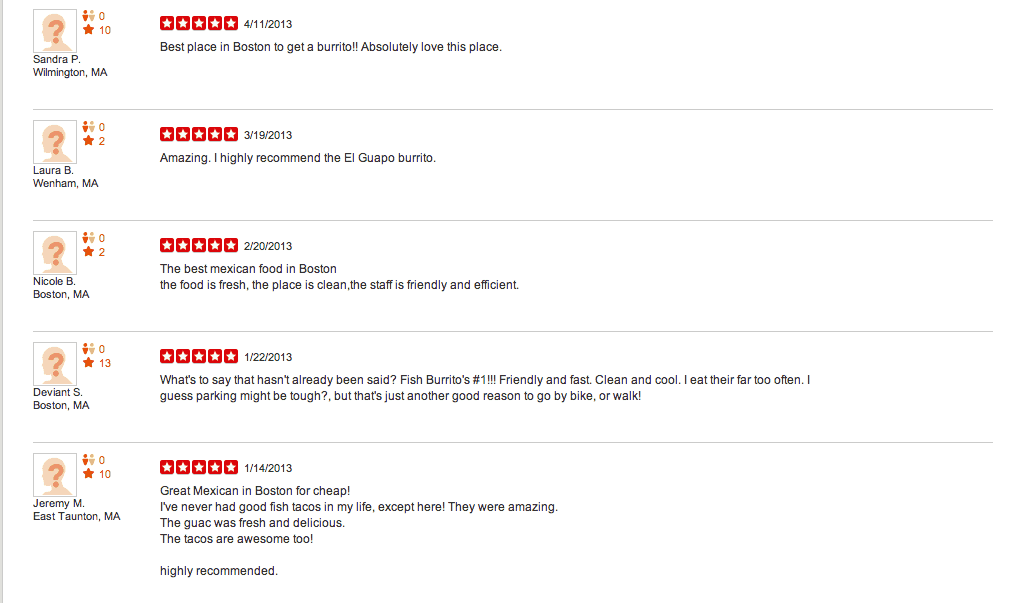 Google My Business (GMB)
Google My Business is a platform hosted by Google that hosts business profiles that can be searched via Google Search and Maps. Local businesses must create and optimize a GMB account for them to become discoverable.
When you Google your business, your GMB account shows up with a set of reviews underneath your brand name.

These reviews have a lot of influence on your ability to perform highly effective SEO. Google takes the quality and relevancy of these reviews and uses it as a ranking factor for local searches. If you have a lot of high-quality and relevant reviews, you are much more likely to show up in the local map pack for your targeted keywords.
Responding to these reviews is another way for Google to recognize that, even if the reviews are poor, you are actively attempting to better them. This can also motivate reviewers to write better notes about your business.
4. React to Customer Complaints Internally
Customer complaints and reviews affect your brand online and your ability to rank, as well as other SEO factors. However, there is information and insights you can gather from these complaints and reviews that can influence internal change.
For example, when you see a review that says a sales executive forgot to disclose an essential piece of information regarding a product or service sold, you may want to speak to that employee. If you see this same review multiple times, you may need to have a more serious conversation.
When you hear an alarming complain on a review, it is your job as a business owner, director, or manager to react accordingly. Not only will this help improve your internal operations, but it can also mitigate the risk of receiving another similar review or complaint in the future. Ultimately, this is a great way to influence SEO and ORM indirectly.
5. Become Proactive Internally through Operations
Another way to indirectly influence SEO and ORM is to be proactive about internal processes that may negatively impact your business online. As a business owner or manager, you have the foresight to see what internal processes may positively or adversely affect the overall business.
With that being said, understanding what operations may cause brand reputation issues can mitigate the risk of negative reviews.
Most negative reviews have something to do with the quality of operations or the products. Although there tends to be a heavy focus on making products profitable, focusing on the quality of internal processes can boost profitability immensely.
6. Perform Digital PR
Digital PR is a strategy used by businesses to develop and grow their brand and online presence through relationship and SEO reputation management, outreach, citation building, and link building.
Relationship Management and Development
Managing and developing relationships is important in life and business. In digital PR, it is what differentiates you from every other company reaching massive publications for a mention, link, exposure piece, and more.
Digital PR is all about how you position yourself, and your potential customers see you. Building a trustworthy brand takes time and effort, and when the media highlights that, your credibility skyrockets.
By properly managing and developing your relationships with these credible publications and companies, you also expose yourself to a broader audience than you previously had.
This is unequivocally valuable for your brand.
Brand Mentions
Brand mentions occur when a website mentions your brand without linking directly to it. Although sometimes challenging to capture links from these mentions, it is vital to understand the value when your brand is acknowledged.
This provides value and context to other websites' visitors, so they understand who you are and how you can help them. Further, it allows a potential customer to Google your brand down the road. If you correctly place your brand throughout Google, brand equity can be generated through simple searches.
Further, brand mentions also provide you with link building opportunities that you may not have had before.
Guest Posting
Guest posting is the strategy of writing content to be published on a quality blog and gaining brand equity and/or link equity from that post.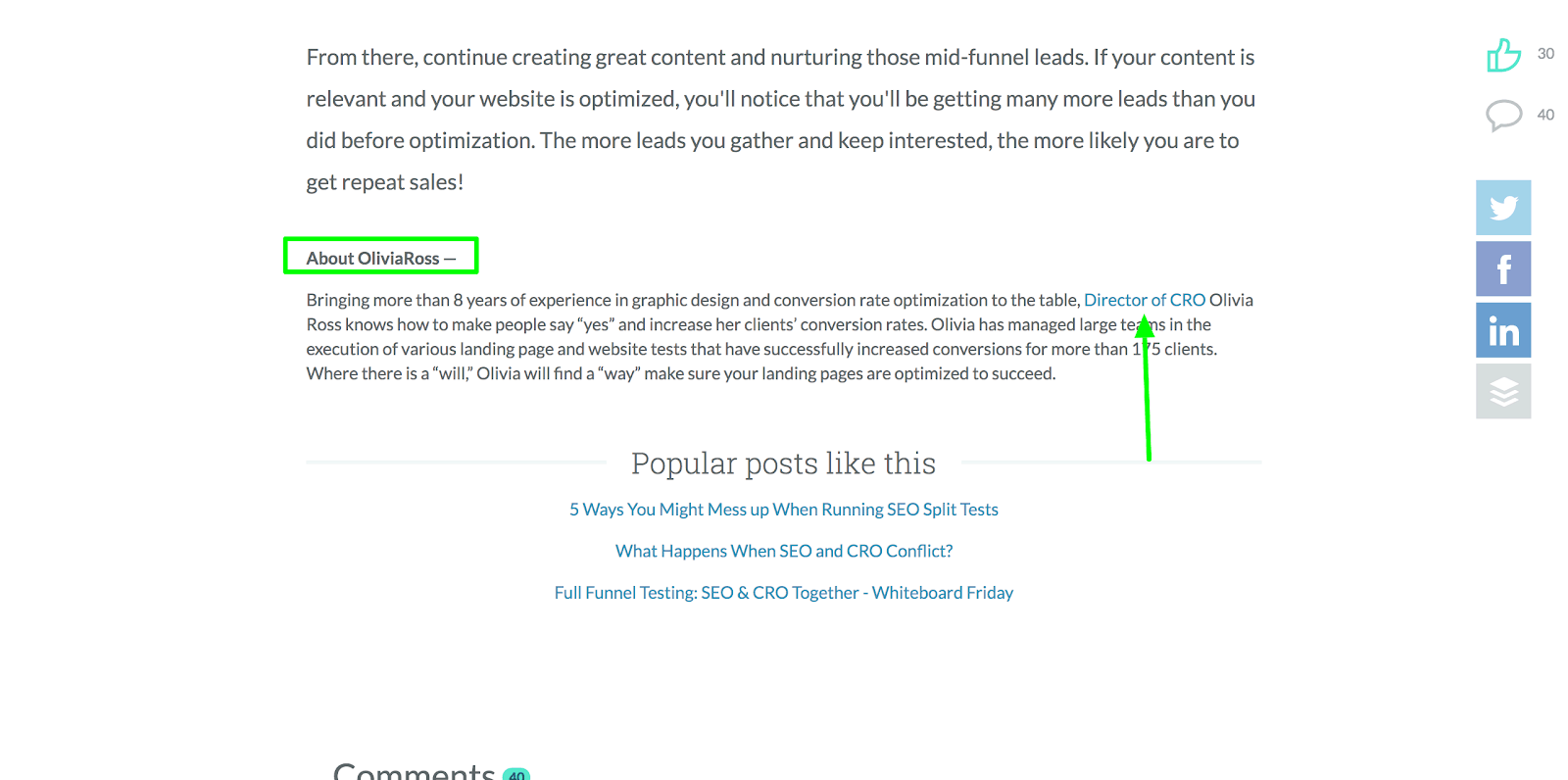 Guest posts help build a community with your industry. Also, they provide opportunities for you to earn backlinks from relevant websites that point directly to your most important pages.
If you accurately target certain websites that have high volumes of users per post, you can use guest posting as an SEO reputation management builder. Highly authoritative sites, such as Forbes, don't just let anyone post, you must have a compelling pitch and high-quality content to be featured.
If your content passes the test, you can use their platform to build up your reputation online.
7. Become Interactive in Google My Business
As previously discussed, Google My Business hosts business profiles for potential customers to find in local and branded searches. Google, as most know, has a sophisticated algorithm that takes a multitude of factors and decides what webpages should rank higher.
For many local searches, Google depends heavily on localized signals such as local links, local keyword targeting, and your GMB account.
On your GMB account, there are several opportunities to optimize your information, as well as create unique content for local users. For example, let's say you are a local clothing brand and you want to inform your customers of a sale happening this weekend. You can create a unique post for that sale and post it to your GMB account.
Unique posts and photos create a positive user experience for visitors, which may have a positive impact on brand reputation and SEO.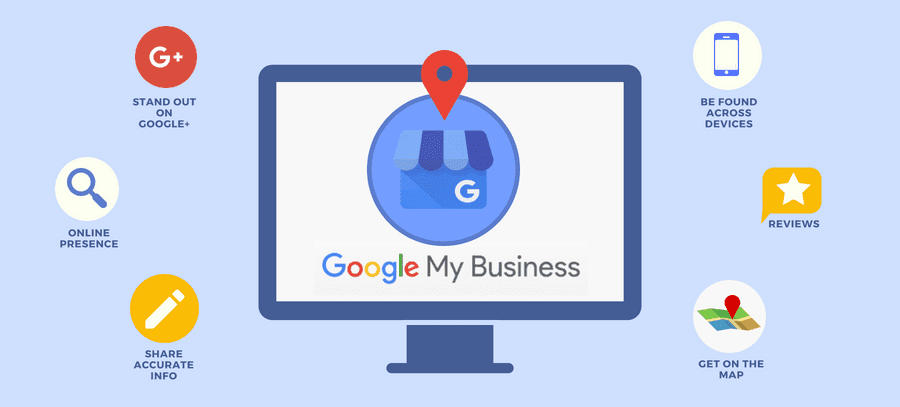 8. Scour the Internet for Third-Party Review Sites
Although it may be easy to optimize websites like Google My Business, Yelp, and other major directories, there are hundreds of different third-party websites out there that hold value in your industry.
For example, websites like Clutch provide a way for users to review and analyze the top B2B firms within any specific industry and contact them directly. In the digital marketing world, Clutch provides significance to companies because they are a separate channel to show off the quality of your products and services and generate leads for future business.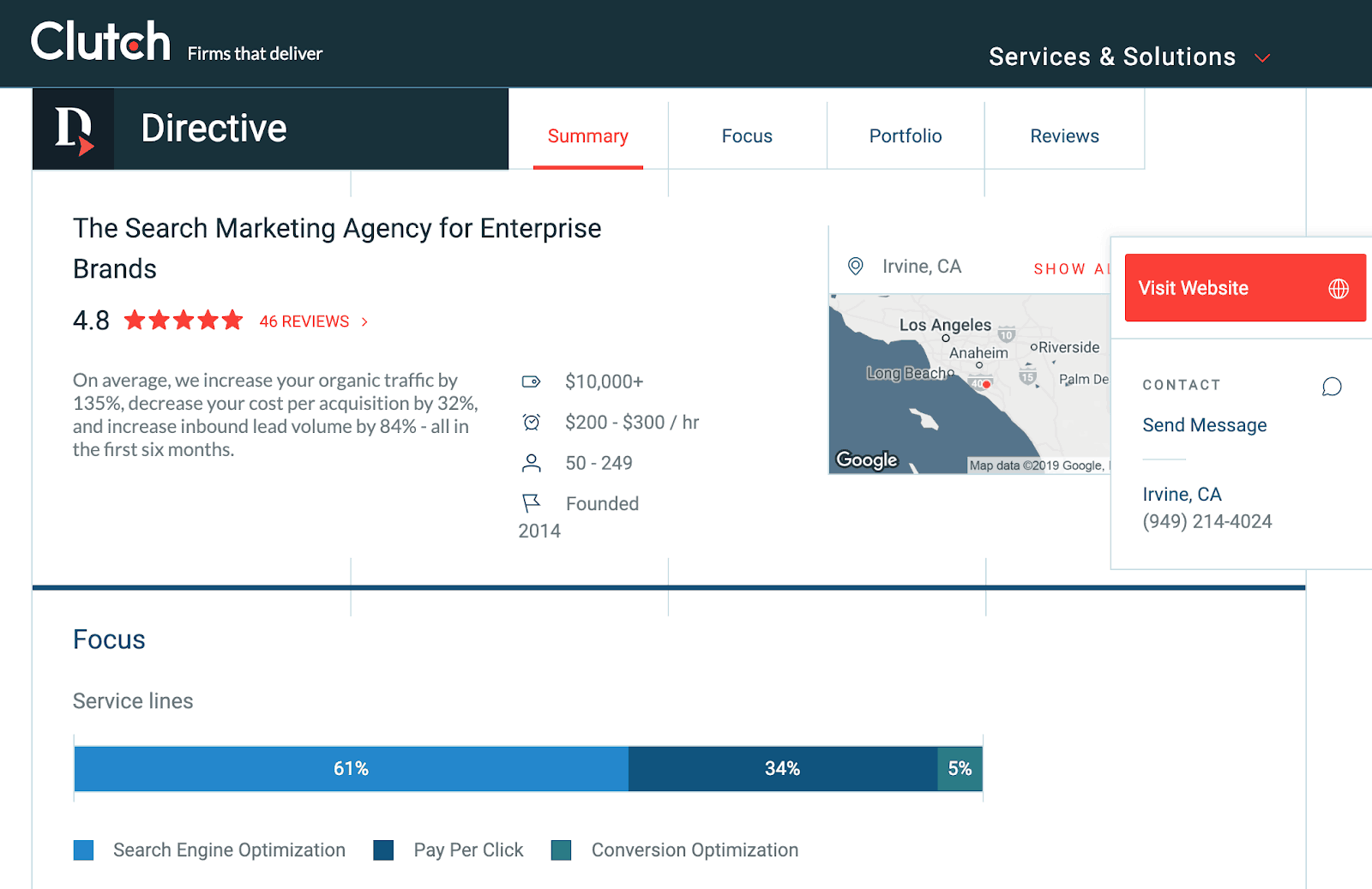 Clutch holds a significant market share for many valuable search terms, so being mentioned on their website is crucial for B2B companies.
When deciding which directories to be mentioned on (if you aren't already mentioned), assemble a list of the critical bottom-of-the-funnel/"buying intent" keywords. Next, pull all of the review websites generated from those SERPs.
From that list, prioritize directories based on their reviews' quality, the number of visitors that website gets per month (which can be done through SEMrush), and the domain authority of that website (which can be found via Moz).
Once you prioritize this list, you can begin strategizing how you will rank higher or optimize the information on that website to manage your reputation on those websites properly. Some third-party sites can have a significant impact on your ability to sell your products and service. Developing relationships with these companies and individuals is crucial to your success.
How Directive Manages Your Reputation through Digital PR & SEO
At Directive, we pride ourselves on our ability to build your SEO reputation management from all angles. We look at every aspect of your business from the entire marketing funnel and through the sales process. We want our tactics to align with your business goals: to drive revenue and growth.
Our digital PR team is dedicated to taking your current brand management strategy and optimizing it, or creating a new approach that drives growth directly and organically. Together, alongside our SEO team, we find the best way to drive your business online.
Want to learn more? Get a free proposal from us today!
Keep reading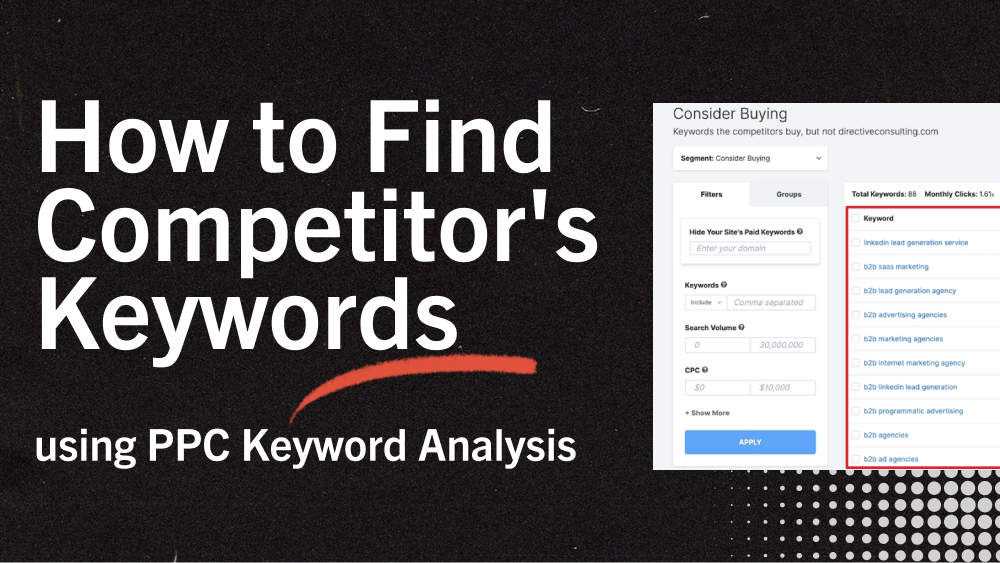 PPC
How to Find Competitor's Keywords with SpyFu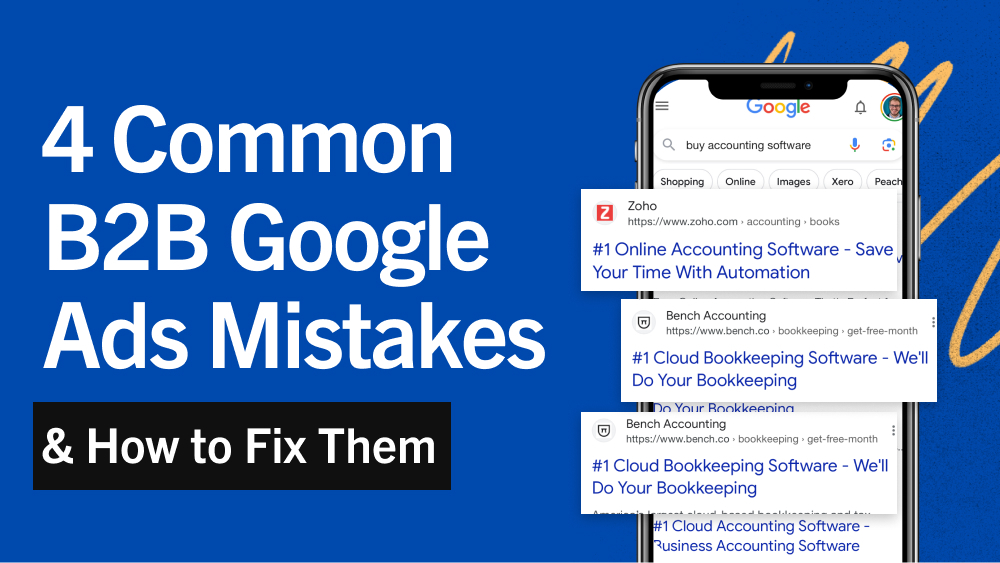 B2B
4 Common B2B Google Ads Mistakes and How to Fix Them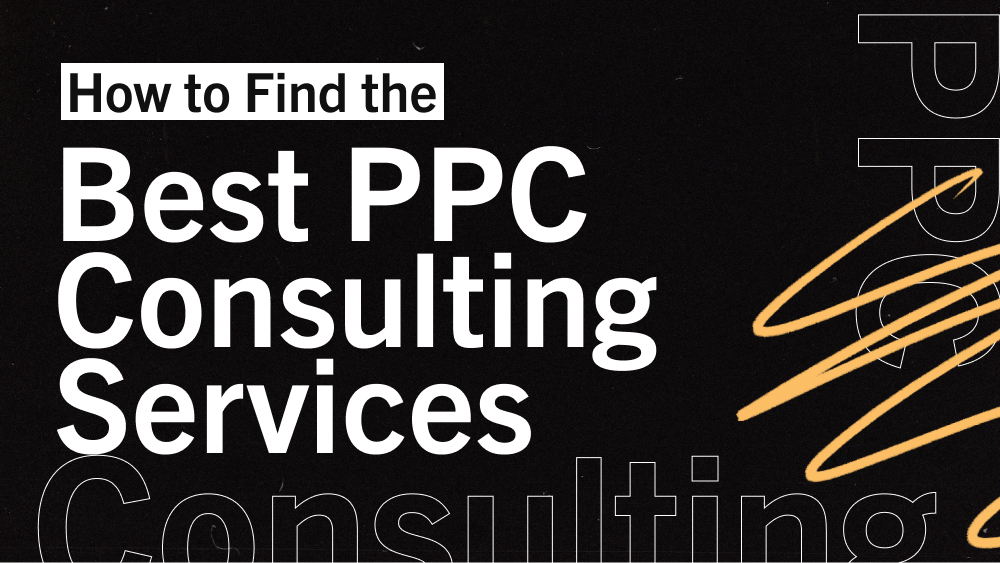 Agency Life
How to Find the Best PPC Consultant Services