Why Your Website Won't Rank – The New Search Engine Reality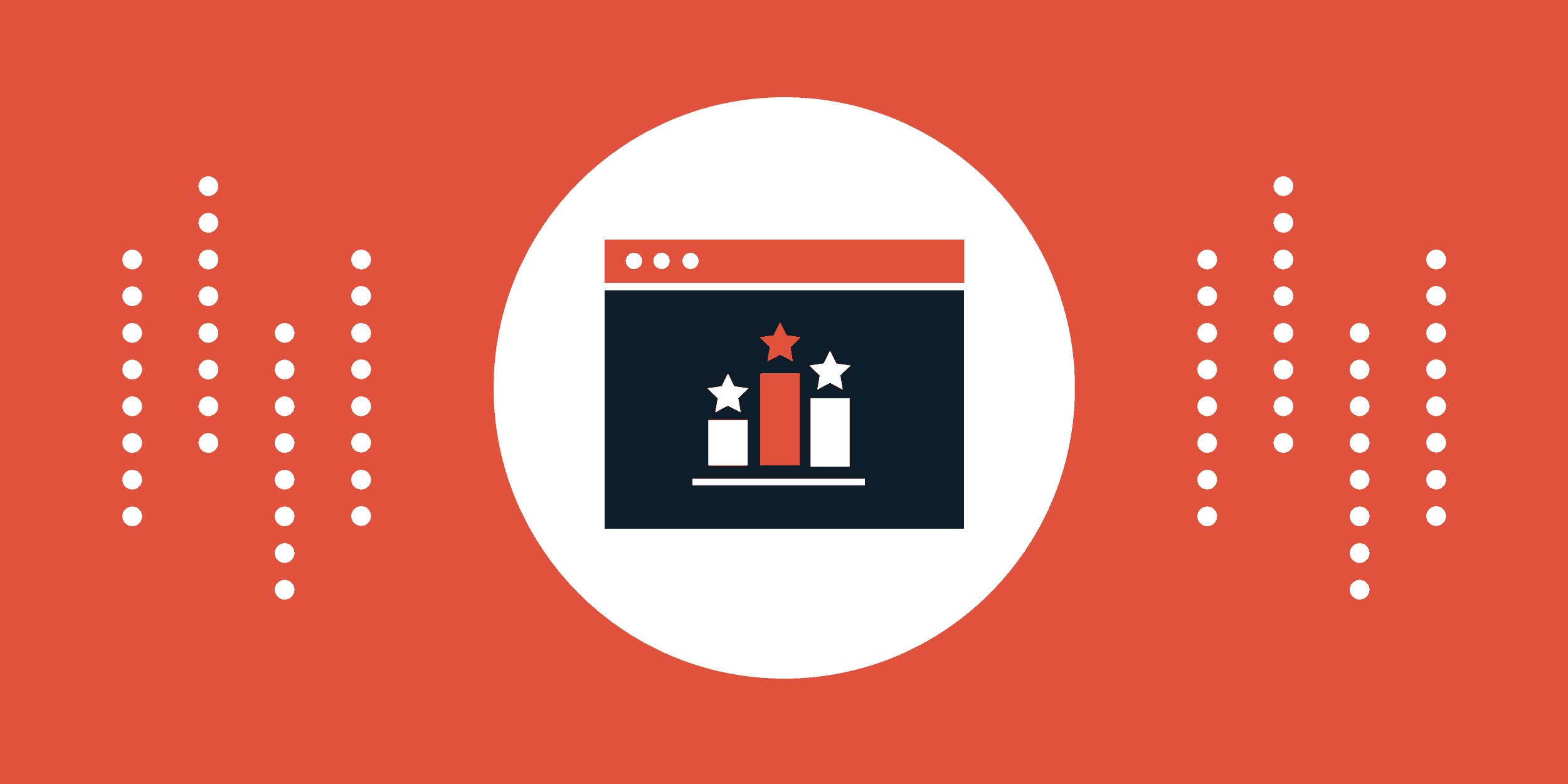 The proliferation of digital information has created a new buying environment. Most buyers do their own research on companies consider in their buying process before a salesperson joins the equation. 
Modern buyers prefer to educate themselves about potential suppliers before engaging directly with a salesperson. Forrester highlights this in a study where it was concluded that more than half (59%) of buyers prefer not to interact with sales representatives as their primary source of research. 53% believe that gathering their information online — via sellers' and third-party websites, social media, ratings, and reviews, etc. — is superior to speaking with sales professionals. 
Additionally, the average consumer is now exposed to thousands of brand messages daily. Deciding what brands are trustworthy is complex, and buyers' basis of trust has evolved. The full availability of information coupled with the amount of competition, installing confidence, is not ideal but required. 
To succeed in this buying environment and improve their website ranking, organizations must focus on providing prospects with information and data that is specifically designed to help them complete their purchasing decision.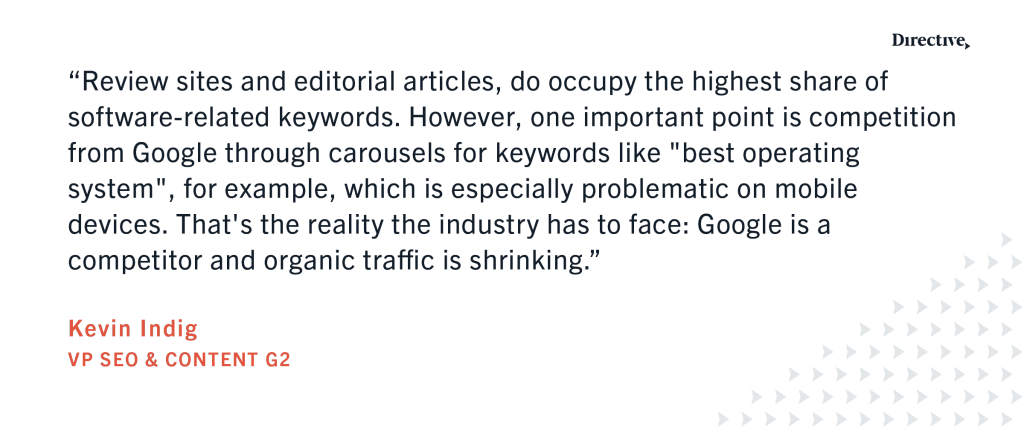 Shifts in the Search Engine Result Page
The objective of Google is to provide users with the most relevant results for their queries. The related search query concerning buyer enablement is known as a commercial investigation. A commercial investigation search query encompasses searchers in the market for a specific product or service but has yet to make a final decision on which solution is right for them. 
In a recent Directive study, 112 software categories were included in a search engine results page (SERP) analysis. The search query used for the research was "Top [insert software company category]" for example, "Top Sales Intelligence Software", as the nature of this query suggests that the user is in the market for the specific product and looking to find the category leader. 
Nearly three quarters, 74.46% of the search results were comprised of some review site or comparison article. The analysis also uncovered that 89 SERP pages out of the 112, 79% of the pages studied, were comprised of either a third party directory or a comparison article of software options in the top three organic search rankings. Additionally, 91% or 102 SERPs had a review site or comparison article in the first organic search result.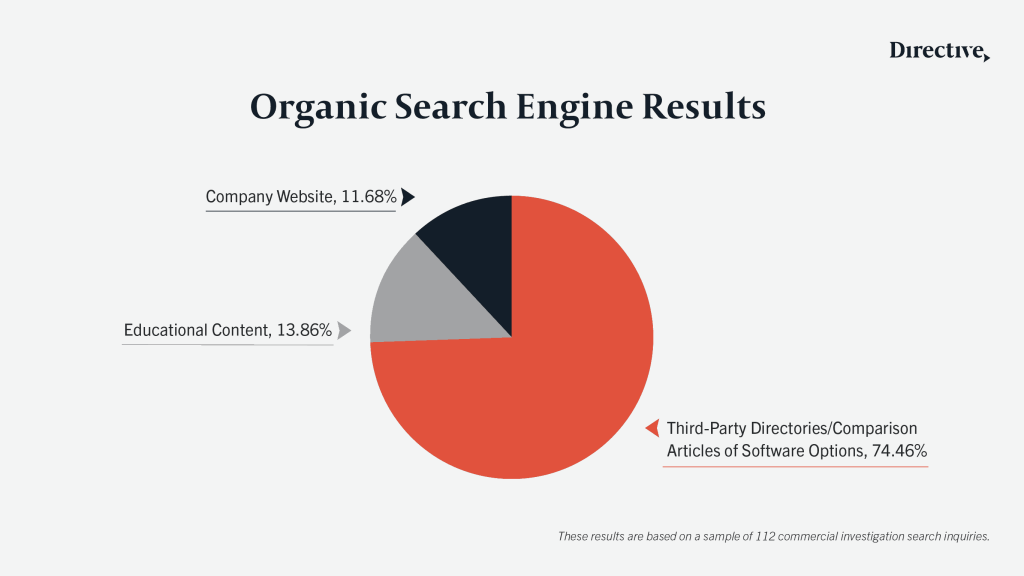 Save our graphic for use on your social media channels and to provide essential data in your reports.
Google is evolving into a list of lists for purchasing intent searches rather than a list of individual companies, pushing companies' website ranking further down. According to our research, third party directories or comparison articles, on average, own 7.5 search results on the first page of Google as opposed to 1.1 that represented a branded website.
The new reality of the search engine results page creates a critical need to invest in directories and review websites to increase your website ranking.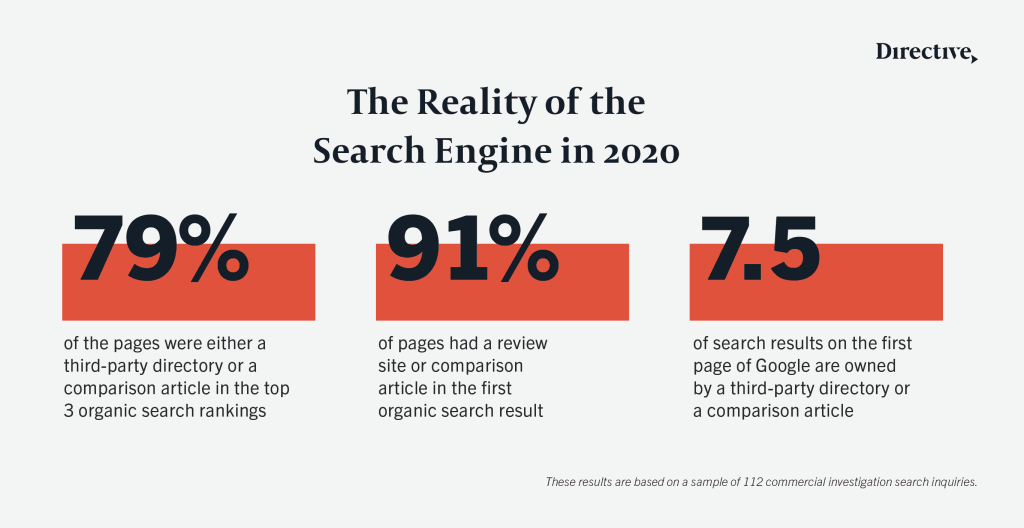 The Search Engine Marketing Reality
We have become accustomed to checking our peers' reviews before furthering any interactions with businesses and products. Peer-to-peer influence creates less access to your organization's website and fewer opportunities to influence customer decisions directly. Buyers are in control with numerous options. We must be aware of comparison shopping.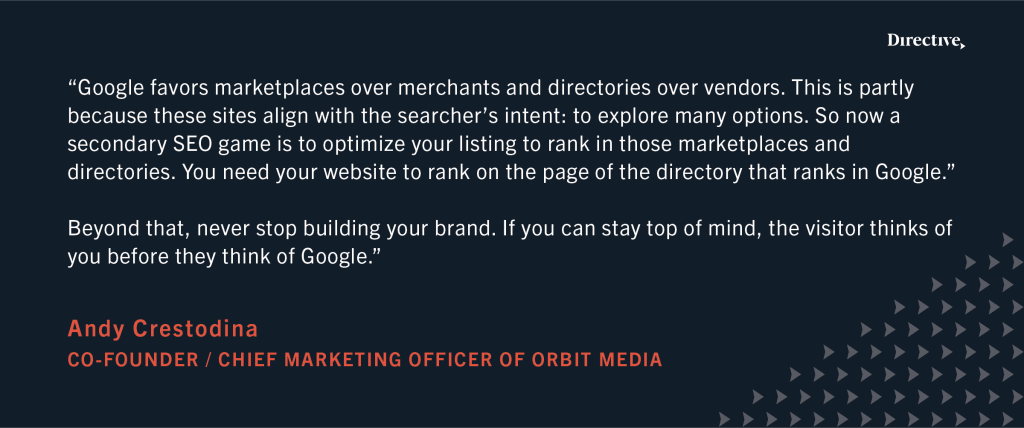 The quicker you can surface references or reviews, the quicker you are positively positioning your brand in the eyes of buyers by giving them confidence in your service or product. 
The shifts in the search engine are going to result in rapid growth in competitiveness, where brands will need to be ready to invest both financial and capital resources.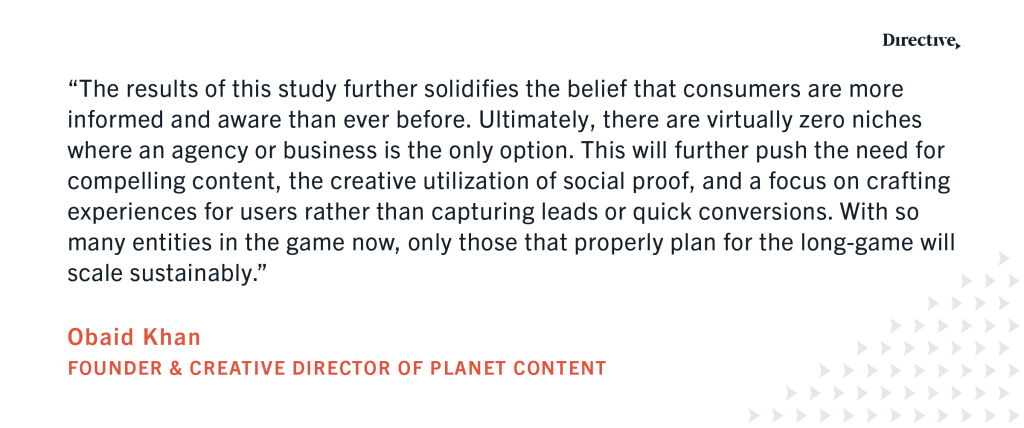 A financial investment is required to be a player within the SERPs today as the majority of third party directories operate on a pay-to-play business model. Additionally, conversion rate optimization expertise will play a key role. Landing pages engineered to counter competitor copy and offerings will be the way of the future.  
Many companies lack a structured process to review collection and ownership. While product and customer success are more involved with clients and product development, there is an opportunity for the marketing department to spearhead the process as it directly correlates to the future revenue of the organization. 
Keep reading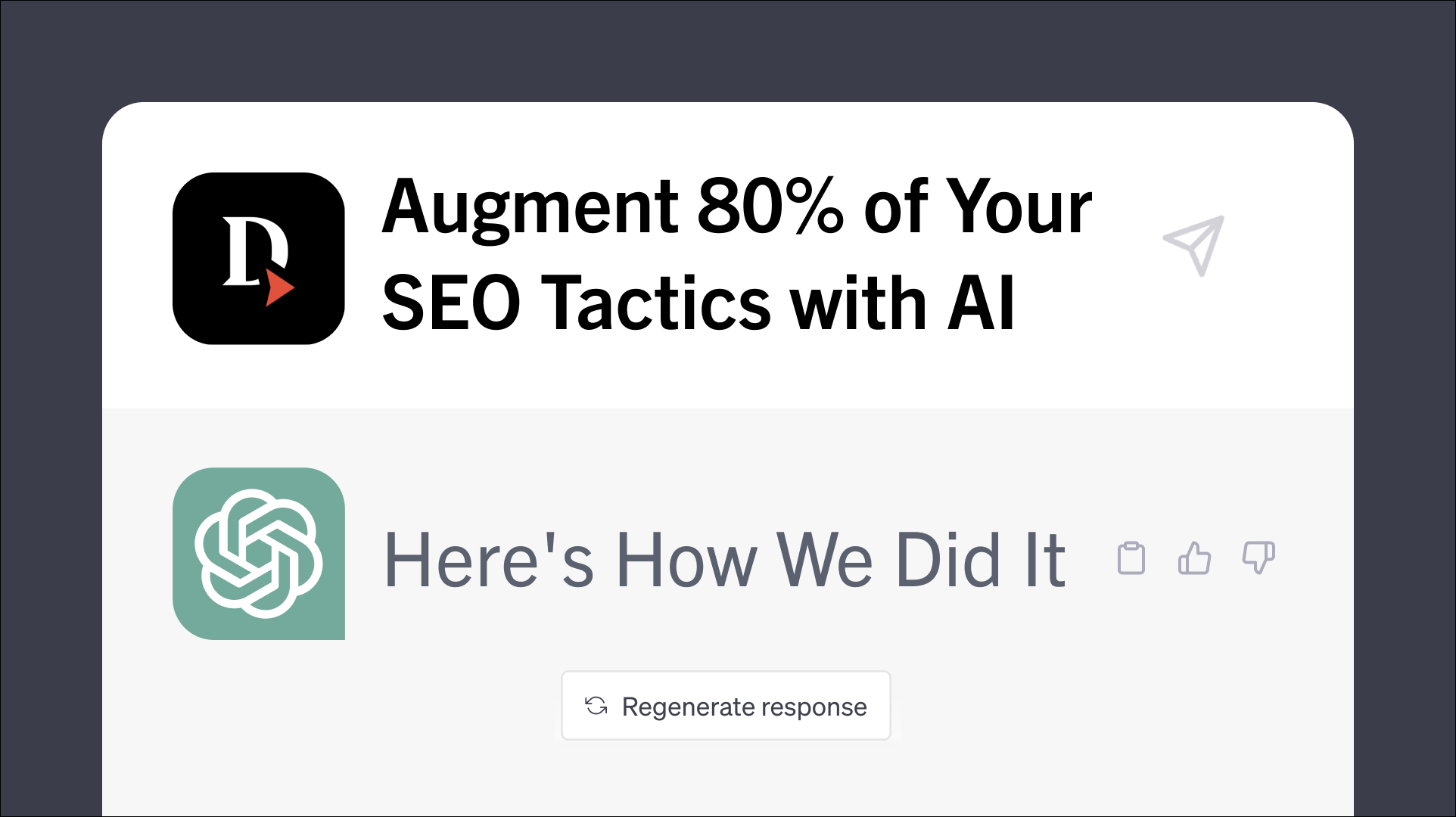 Blog
Augment 80% of Your SEO Tactics with AI. Here's How We Did It.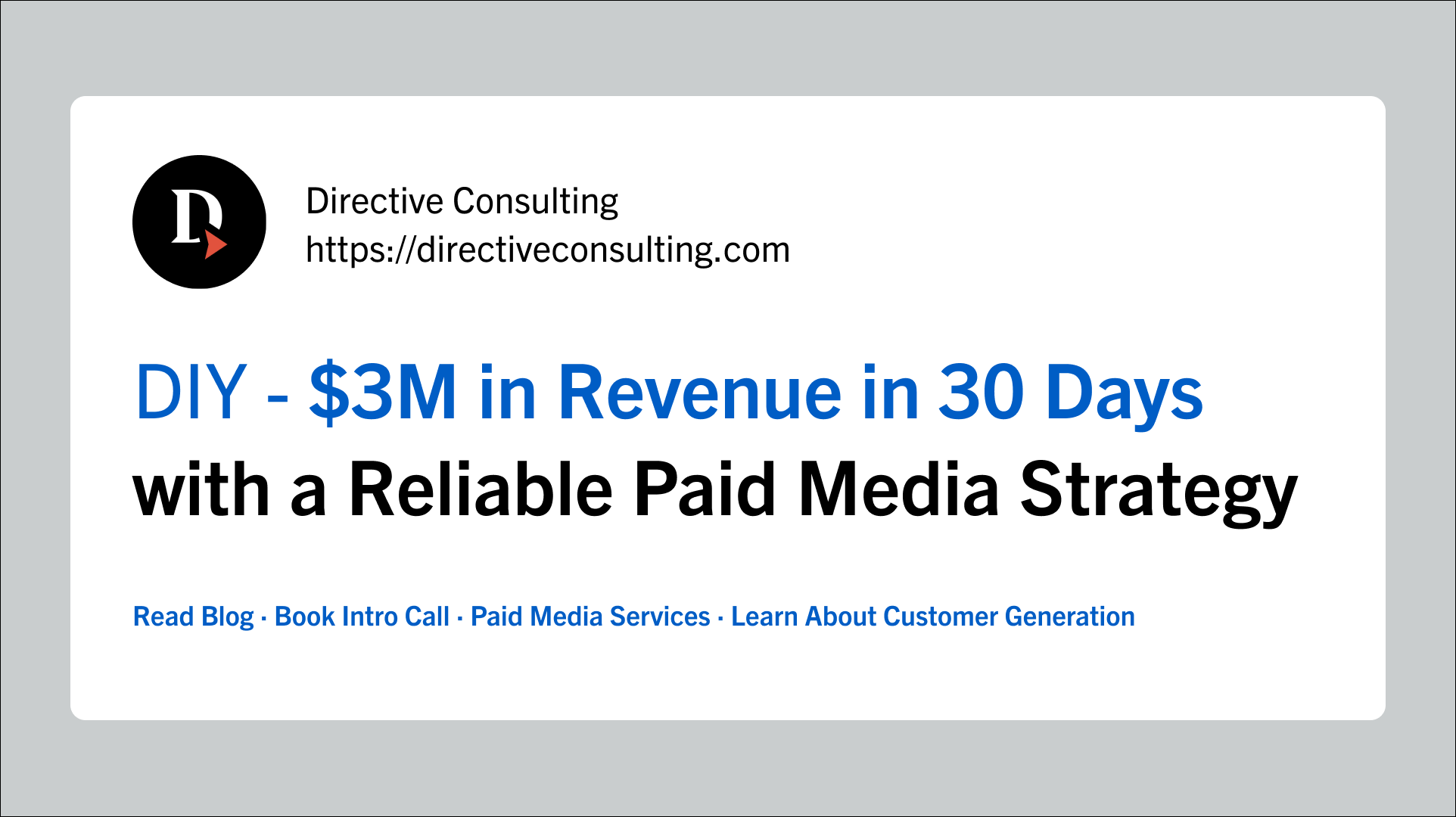 PPC
DIY: $3M in Revenue in 30 Days with a Reliable Paid Media Strategy
Social Media
Boost Your LinkedIn Engagement by 22% with These 3 Content Types