Guide
The New Guide to SaaS Content Marketing To Actually Generate Customers
SaaS Content Marketing for Customer Generation
Believe it or not, ranking number one on Google doesn't equal ranking number one in your customers' minds. Today's SaaS customer journey requires a more sophisticated approach to content marketing.
Demand generation used to run on an old content marketing loop. 
You find the set of keywords related to your SaaS product. You create highly optimized content around those keywords. You make it to the first page of Google… and then pray that customers find it useful and buy from you. 
The problem?
It doesn't work (unless you're extremely lucky).
Modern B2B buyers are more sophisticated. They typically consume 13 pieces of content each month from vendor websites.
SaaS Content Marketing for Customer Generation
The Directive customer-led approach turned traditional SaaS content marketing on its head. Instead, it focuses on SQLs and hyper-targeted customer acquisition instead of going after legacy metrics like MQLs. 
Why? Because in the end, it isn't MQLs that bring customer retention and revenue. It's a comprehensive methodology to SaaS content marketing that takes customer data into consideration to create demand. 
What is SaaS Content Marketing?
SaaS content marketing is the art and science of using content to reel in, educate, and convert your target audience into customers. 
If crafted correctly, it's possible for a SaaS company to win most of its customers through content marketing and forgo the paid advertising route. In return, you'll be in the best position as one of the 32% of marketers whose CMO supports content. 
As you create content for your SaaS content marketing strategy, it generally falls into three main buckets. Each bucket represents the phase of the buyer's journey they're lingering in:
Consideration Phase Content:
These potential customers don't yet have a need to buy your software. Content created for this step in is mainly light-hearted and educational, such as ultimate guides, glossaries, tutorials, or how-to blog posts. They each help your customers along the initial phases of discovering your business through organic search. 
Preference Phase Content:
In this phase, customers know they have a problem. They're beginning to search for a solution in interactive tools, whitepapers, templates, product tours, or even demo videos. (Gusto's payroll tax calculator is a perfect example that brings in thousands of targeted views a month.)
Purchase Phase Content:
This type of customer is tinkering on the edge of the "start trial" or "choose a plan" button. Before they do, they need confidence-boosting content like product comparisons, webinars, testimonials and reviews, case studies, or what we call Validation Pages. (Shopify's Founder Stories is a superb example.)
The SaaS business model makes content marketing for this industry different from others. The main differences include:
It's highly accessible

There are lower upfront costs

It's easily scalable

It's generally easy to use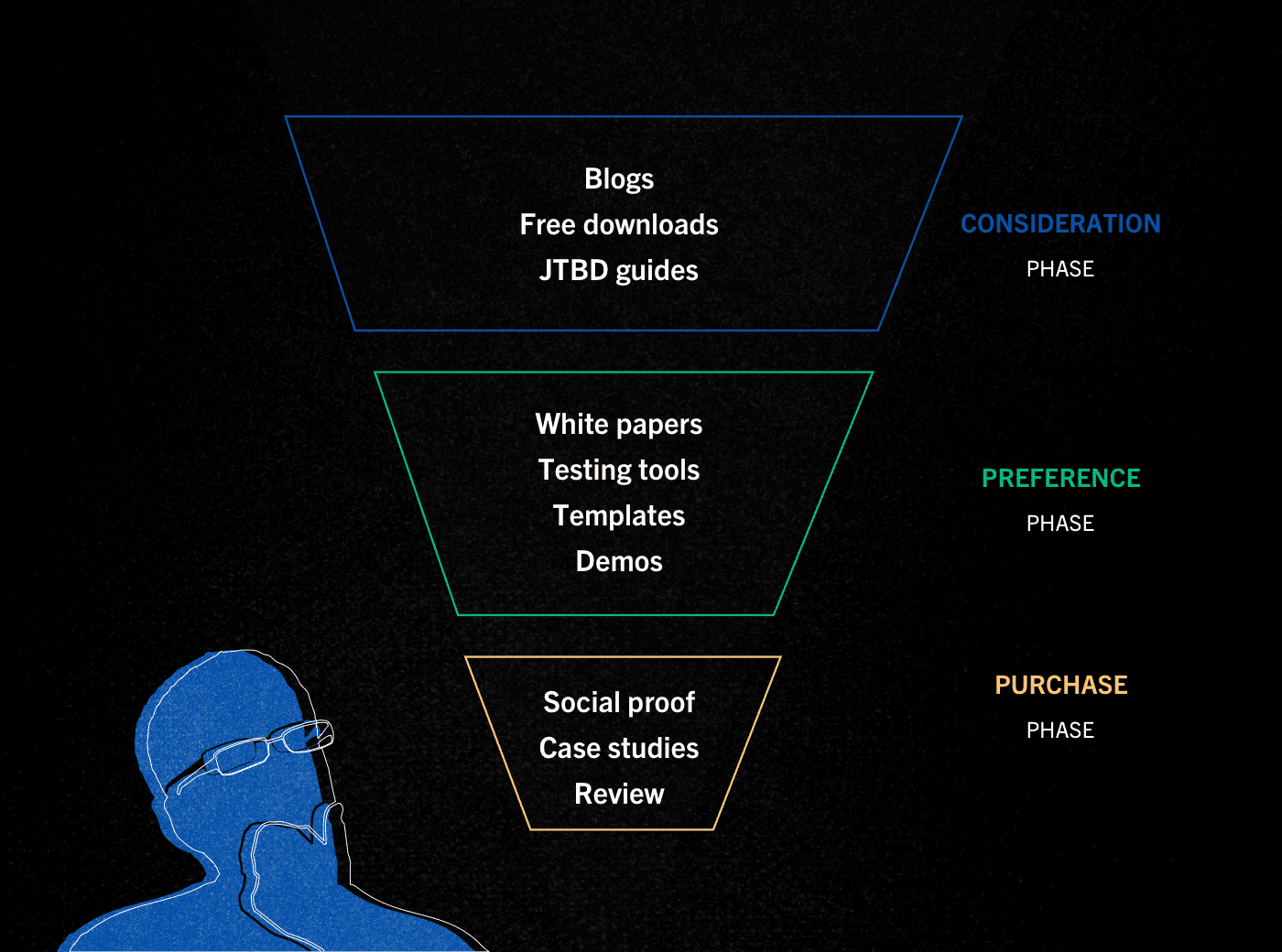 Each of those elements are both blessings and curses. 
Because you're often selling SaaS products to organizations, you have a group of decision makers with differing pain points to get buy-in from before you ever make the sale. This makes for longer sales rhythms that your content marketing will need to sync with. 
Another SaaS perk that creates more work for content marketers? As you can imagine, new or improved features need to be reflected in your content as they're released.
New features mean a frequent need for new content types and marketing material. But it also means the need for hyper-targeted content that speaks to the slew of pain points across stakeholders with different jobs to be done. 
It's differences like these that shape our customer-led content marketing strategy.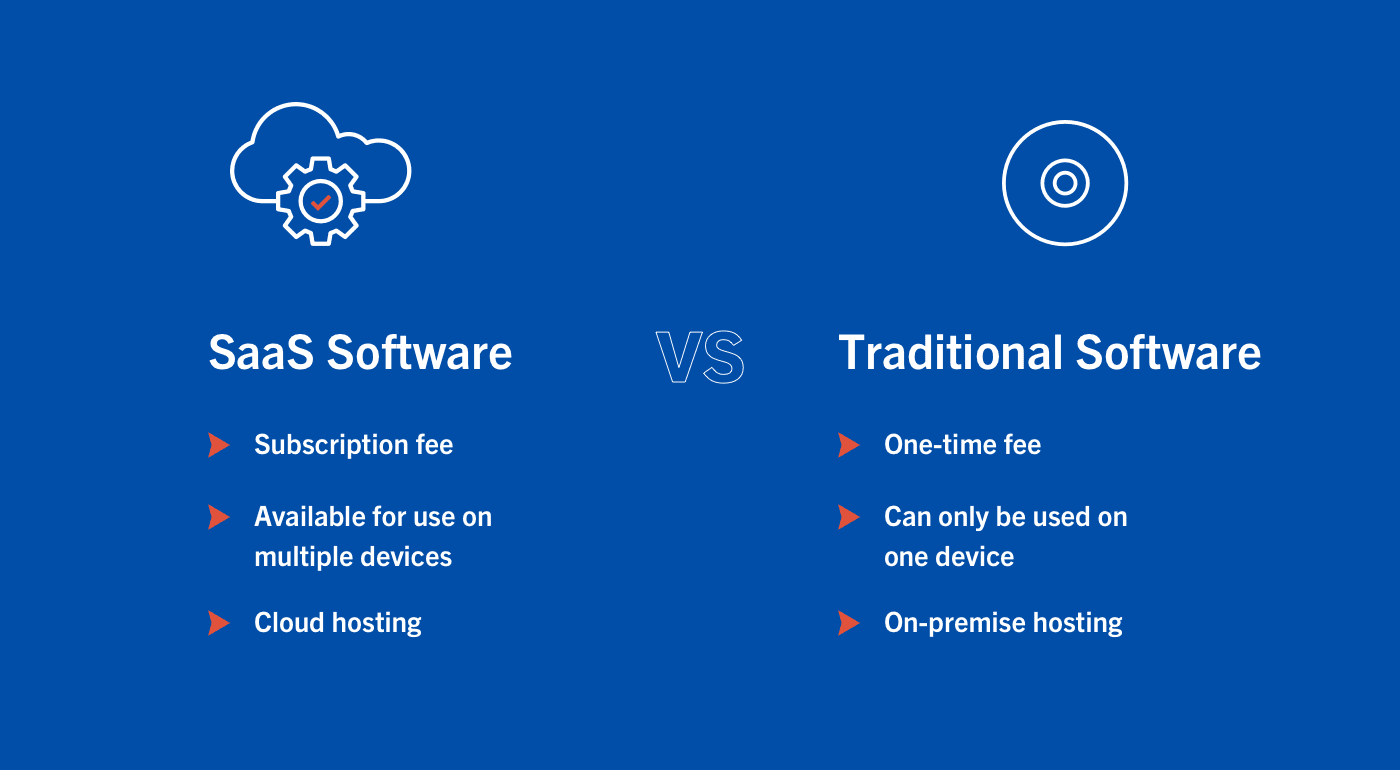 How to Craft a Customer-Led SaaS Content Marketing Strategy
There are clear differences between the traditional SEO approach and one driven by your customers.
At Directive, we move our customer's focus from the traditional pursuit of aimlessly competing for keywords and into a place where they can make decisions from first-party data that speaks to their total addressable market.
Without a customer-led approach, SaaS brands fail to identify their most impactful levers for both revenue and demand generation. This, in turn, leads to slowed growth, lower customer satisfaction, and a stagnating customer pipeline.
Remember: SaaS brands are different from traditional business models because of the unique user perks they offer users. Inevitably, this means a need for a more effective approach to customer acquisition. 
Here's a four-step approach to crafting a customer-led content strategy for your SaaS business.
Step 1: Identify Your Customer Segments
Your customer segments are varied and nuanced. They come with their own mixed set of pain points, outlooks, and jobs to be done. 
Though this might make it sound like it's impossible for content marketers to pinpoint clear segments and map those to your SaaS content marketing strategy, it's made easier with a firmographics framework.
Firmographics help you grasp your customer segments with higher precision. It uncovers how and why a prospective customer would purchase your product. Through that lens, you're able to pinpoint the specifics of a prospective SaaS customer, including their:
Industry 

Location

Business size

Status or structure

Performance

Funding

Business structure

Technical knowledge

Customer job roles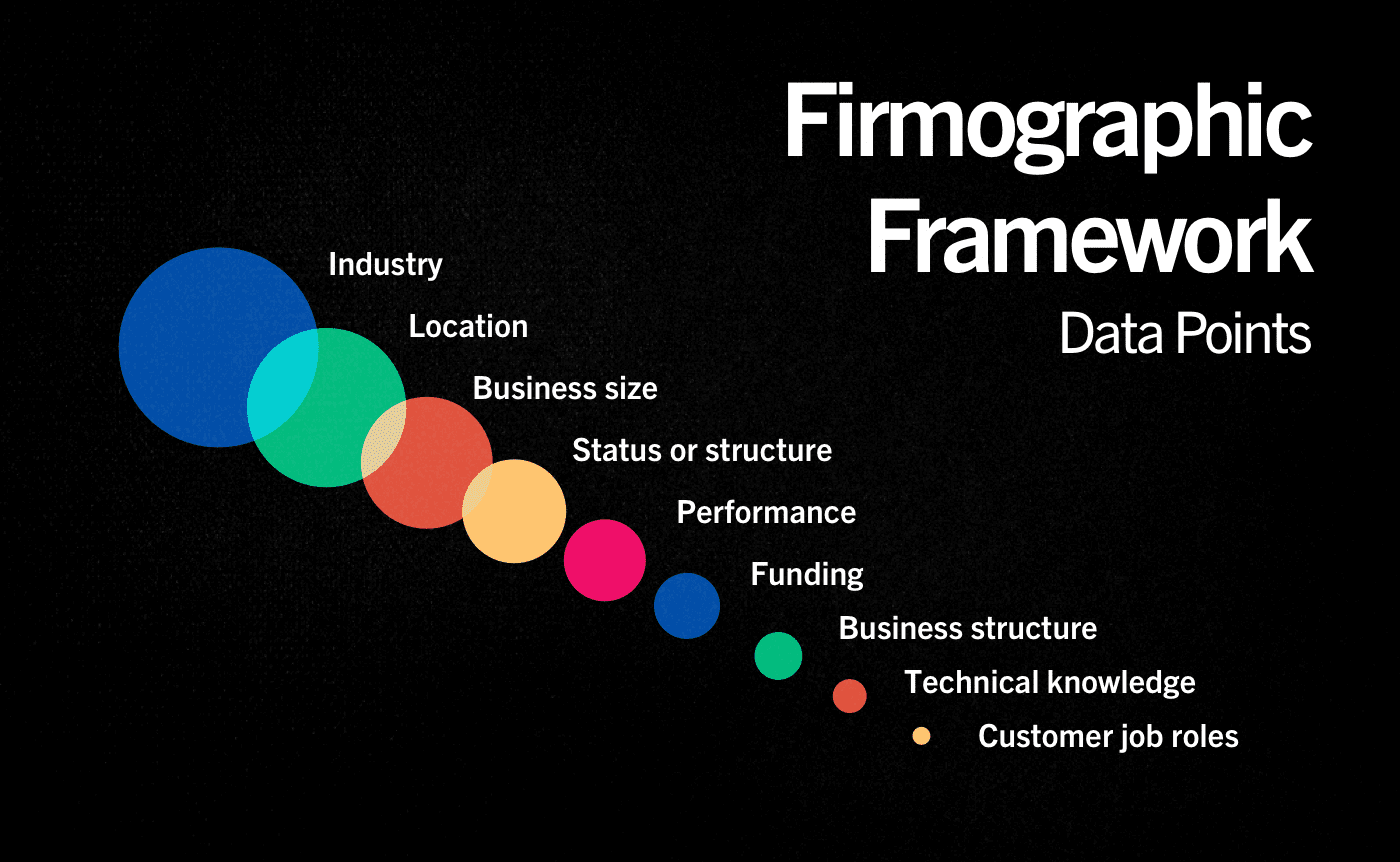 There's no shortage of ways to piece together valuable SaaS insights that'll help you shape your customer segments. 
With the use of tools like SparkToro, it can be easy to get a glimpse of what your customers listen to, who they follow, and what their interests are. 
You can always run a competitive analysis through Ahrefs' Competitor Analysis and Top Pages reports to scope out what terms and pages (as well as where they're positioned in the content funnel) are driving the most traffic to your competitors.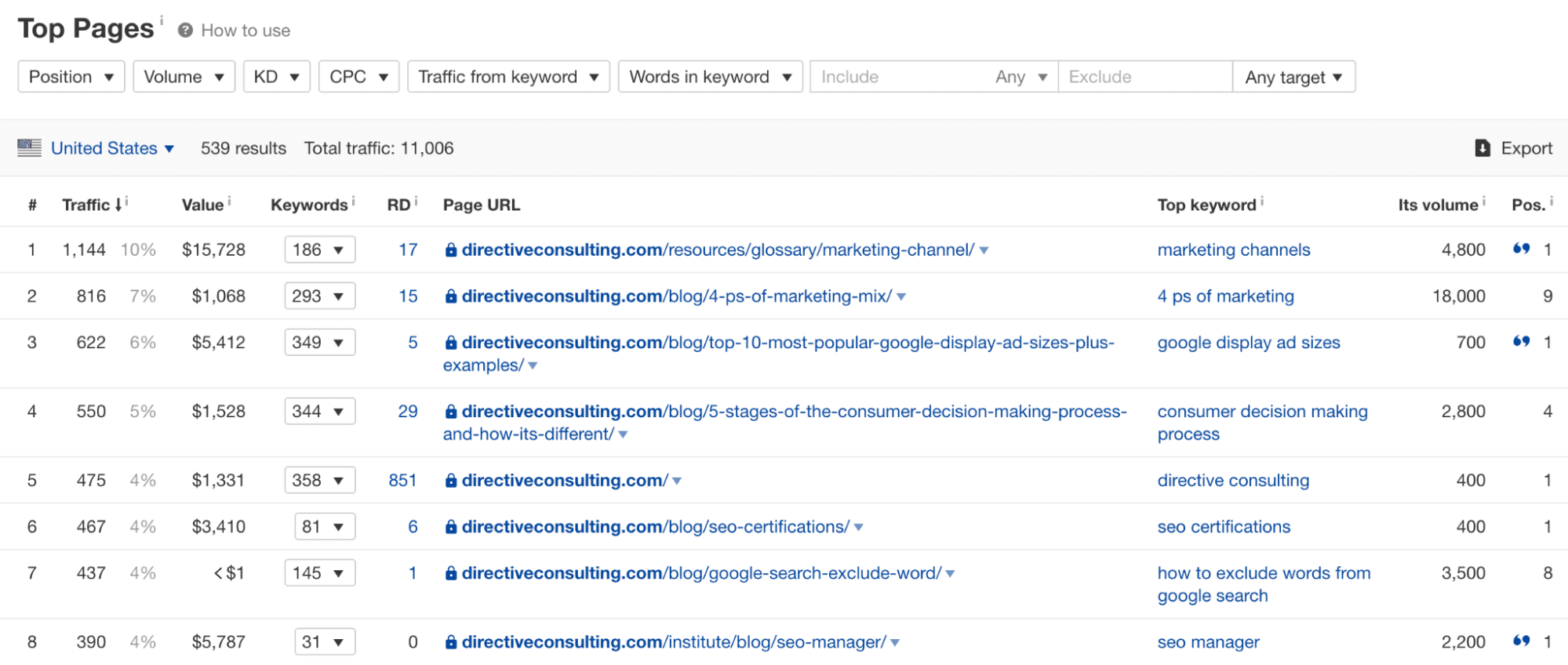 Datanyze is another effective way to secure high-quality business data that can help give shape to your buyer personas as part of your customer segmentation process. It makes it easy to search and connect with prospects and ethically gather key data from social media.
Similarly, ZoomInfo is a B2B business growth tool that zeroes in on key B2B contact data and combines it with engagement software and AI sales intelligence to help you flesh out your customer personas. 
While there are plenty of tools to help you create detailed and more accurate customer segments, let's not forget about the classic customer surveys and interviews as two of the best ways to uncover insights. Incorporating them into your onboarding process can be an invaluable way to learn about the people that are coming in contact with your content. 
Step 2: Identify Their "Jobs To Be Done"
Each buyer persona has a set of jobs they need to do in their role. What are they trying to do with the content you create? What are the likely actions they'll take after reading a piece of your content? 
Identifying their jobs to be done (JTBD) leads to more targeted content creation that doesn't just generate traffic without creating any real leads.
Remember: your customers are ultimately buying your product or service to get a "job" done. 
We can see this in action with a Head of Accounting buyer persona. One of the most important jobs on their to-do list is streamlining accounts payable and ensuring invoices don't run past their due date. Work this into your SaaS content marketing strategy by creating content around that JTBD, such as:
How to handle accounts payable with a larger accounting department

How to create contractor guidelines to streamline your accounts payable process

How [previous customer] receives 50 invoices a day—without running past their due dates
Here's a real life example of Hootsuite's JTBD content. Their audience's JTBD, managing their business' Instagram account on a desktop, is solved through this simple piece of blog content: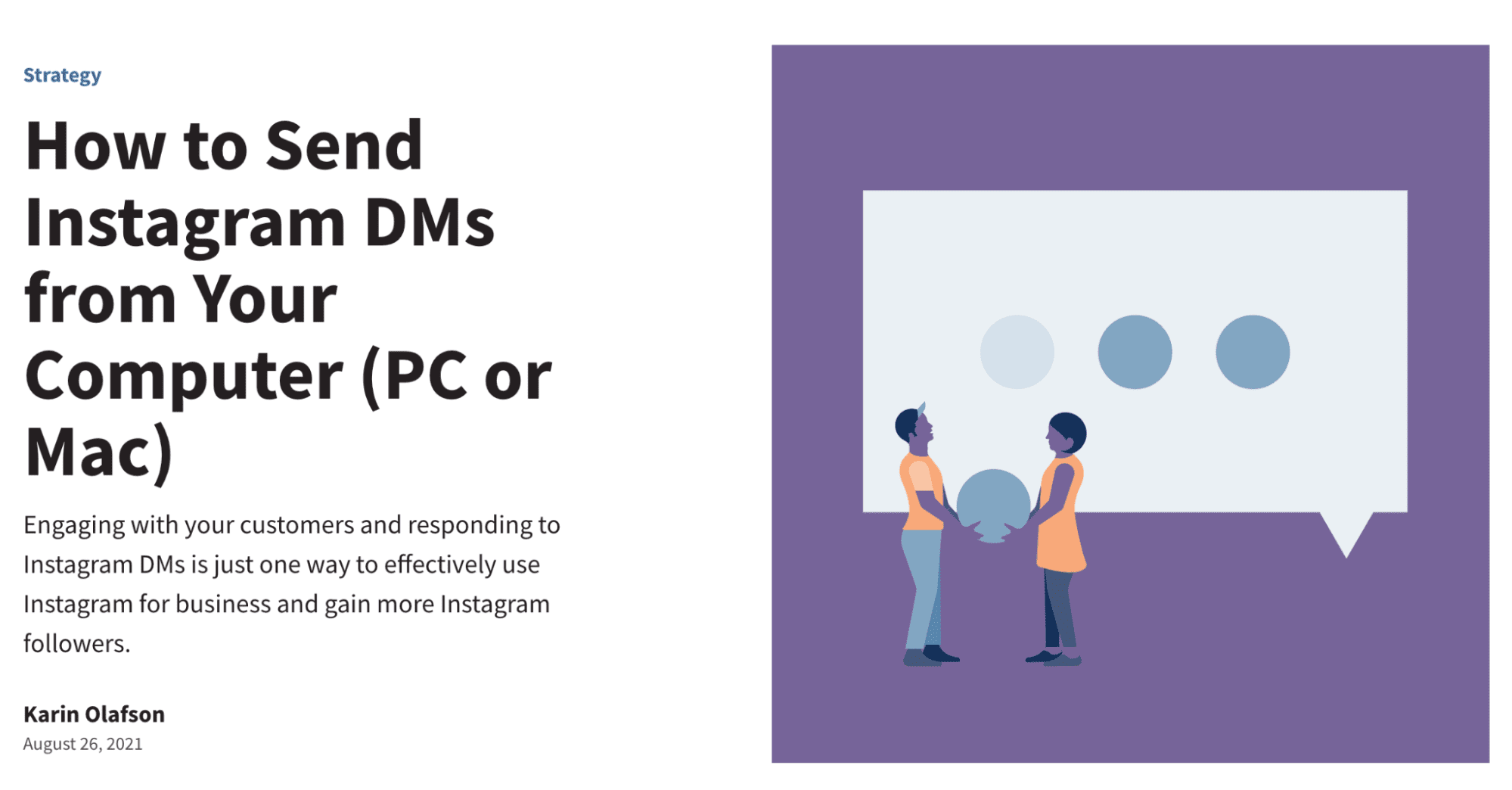 Understanding this takes you from content marketing that speaks about your product to content that sets your customers' jobs to be done front and center. Once you gain a deeper understanding of your customer's JTBD, you empower them to solve their most pressing pain points better and more efficiently. 
A JTBD perspective to content creation is a key pillar for a better conversion rate. In short: you solve their real jobs to be done problems through content, and they'll want more of it. 
Step 3: Identify Their Potential Hurdles, Challenges, and Pain Points
Your customer will have prominent challenges, pain points, and hurdles to overcome that slow them down. It's the reason why your content has to solve a problem. 
Once you've identified your customer's job to be done as well as their pain points, content creation that speaks to them at every stage of their journey to becoming your customer becomes easy.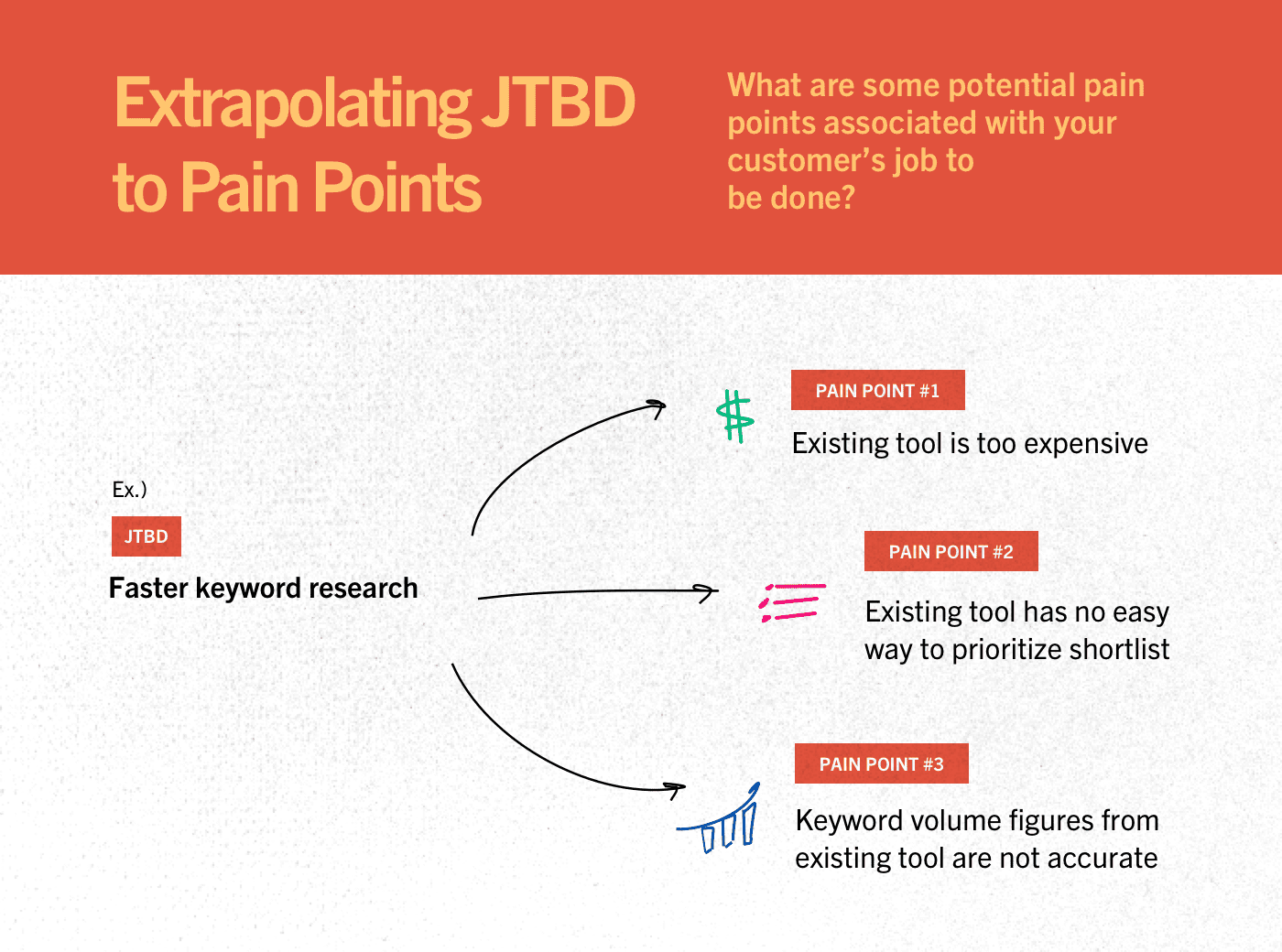 Say your customer's job to be done is faster keyword research. What are the potential pain points associated with that? Their existing tools might be too expensive; they might not show accurate keyword volume figures; or they don't have an easy way to prioritize their shortlist.
Take Ahrefs as an example. It receives organic traffic from content that answers some of the most popular terms its target users search. Its customers want to know about cost-effective free keyword research tools they can use as part of their blogging strategy.
Ahrefs has done its homework in pinpointing the type of content potential customers are looking for and then creating said content. 
In essence, each piece of content acts as part of a sales funnel that walks customers to an eventual purchase of their SaaS product. 
Step 4: Mission Alignment
Much like the north star metrics that can define how you'll interpret the success of any content marketing strategy, mission alignment ensures you're going in the right direction along with your target customer. 
Say you're a podcasting SaaS business. You want to meet customers where they're at, creating content around their jobs to be done and then provoking their pain points. 
Maybe your target customers' JTBD is needing to start a high-quality podcast on a shoestring budget. How can you create content that speaks to that? Can you create an ultimate guide on creating a cost-effective podcast? A long-form comparison blog post that reviews the best cost-effective podcasting tools? 
With a tool like SparkToro, you can find insight on the influencers your target customers follow or what podcasts they listen to, what they're reading or watching: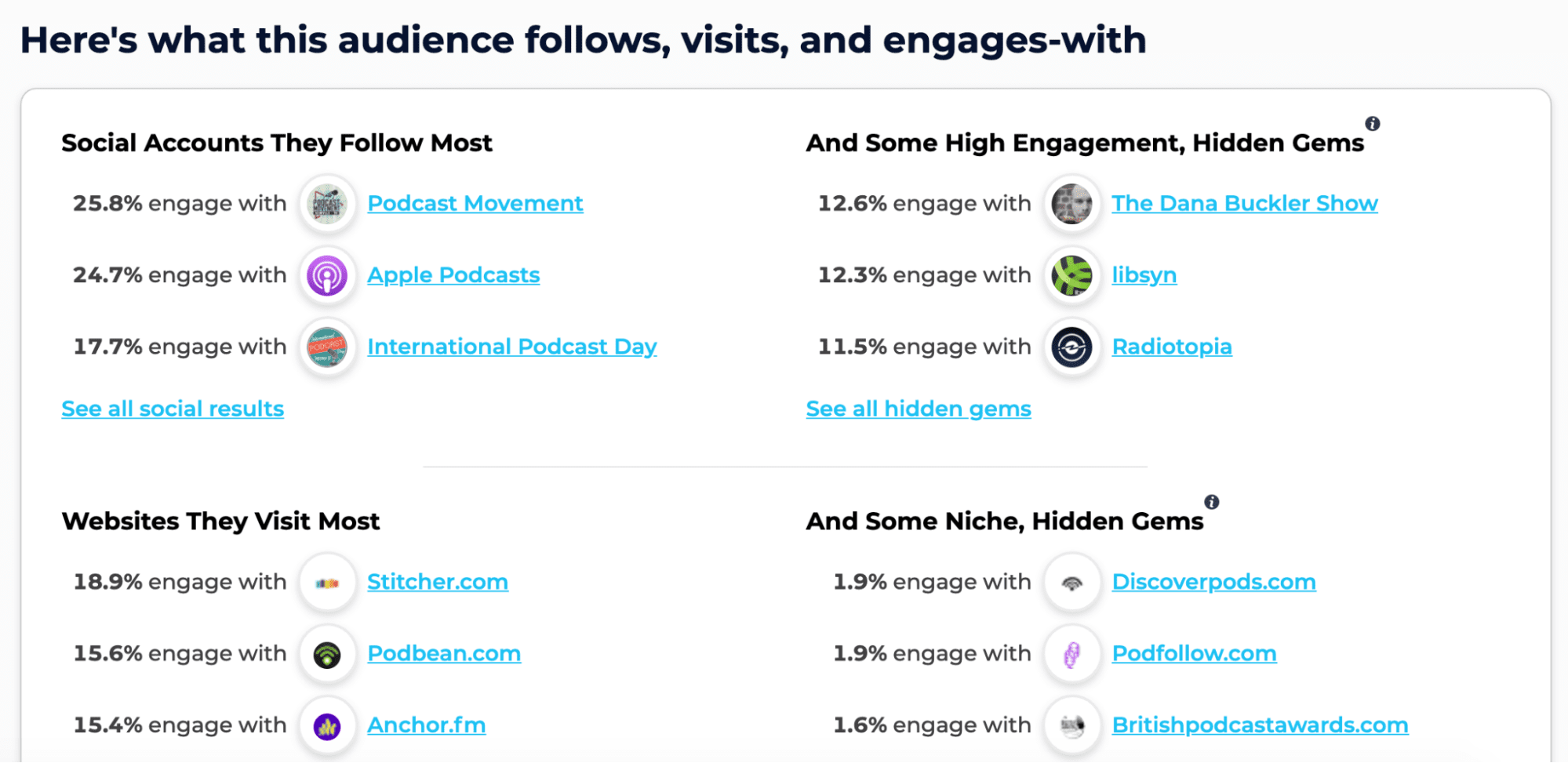 If you find out your target customers primarily hang out on LinkedIn, for example, use the social network as a vehicle to position your content in front of your target audience. 
This becomes especially interesting once we reach the middle of the funnel. The old way to do SaaS content marketing was to gate anything that signaled buying intent—from downloadable checklists to eBooks and industry reports.
The customer-led approach flips that idea on its head. Instead, all content is ungated and searchable by default, removing friction and making middle of the funnel content accessible to whoever needs it.
As you create quality content, you want to start with the most urgent and common challenges your target user is facing. 
It's the foundation for everything: The CTAs that speak to your target audience, the hooks and introductions that start off speaking directly to what they're struggling with, and the free tools that help solve a pain point and further help with lead generation.
Matillion increases Blog Traffic by 268%
Cloud hosting SaaS company Matillion took this approach with its content marketing strategy. 
Working with Directive, the brand landed 31 backlinks from reputable sites across the web—those their target audience was reading. This helped them to build a stronger online presence which was rewarded by Google. 
Step 5: Retention
We've all heard the statistics: It's five times cheaper to retain an existing customer than attract a new one. 
We repeat it here because it's true. Sourcing new customers means the first half of your customer-led SaaS content marketing strategy needs to run like a well oiled machine. But what happens when your content does its job and you have sudden spikes in MRR? 
The content marketing funnel doesn't end at the point of a paid subscription plan. In fact, post-conversion is just as—if not more—important than the content they've read to date. 
Strong product documentation is essential to keeping SaaS users around. Take Zendesk, for example. Its website is home to a library of technical support docs for customers to self-serve answers to their questions.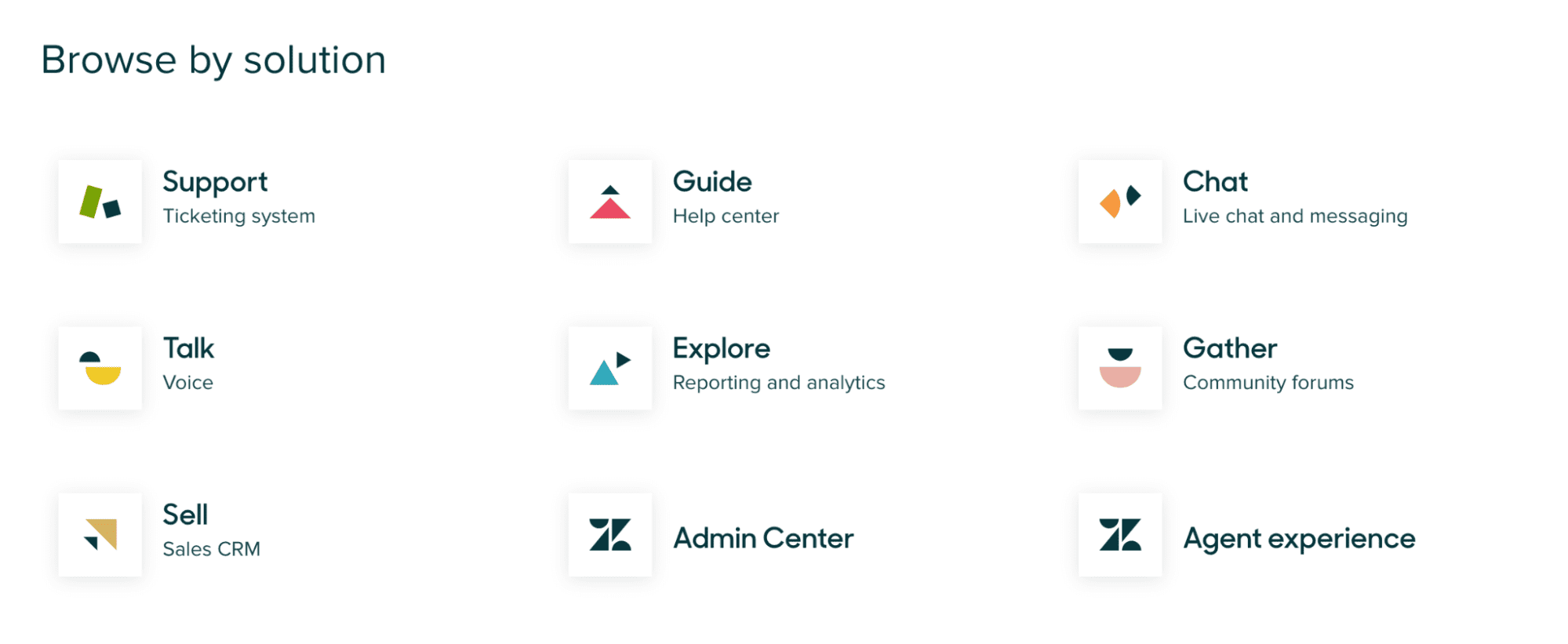 This support portal alleviates pressure on customer support teams. The instant response also builds positive user experiences that often become the biggest differentiators for SaaS companies. 
Highlight the availability of this retention content in your onboarding emails. Check-in with new users and remind them that your on-demand resource library is the quickest way to get to grips with their new tool. 
It'll prevent "I don't know how to use the tool" from becoming the most popular answer in your exit survey.
How SaaS Content Marketing Works: A Case Study
Sumo Logic was grappling with a challenging content optimization question that's common in the B2B SaaS world: When your solution services multiple industries, how do you go about competing with industries that are already well-positioned in those verticals? 
The answer: Sumo Logic needed to establish a brand presence that resonated with a diversified audience at scale.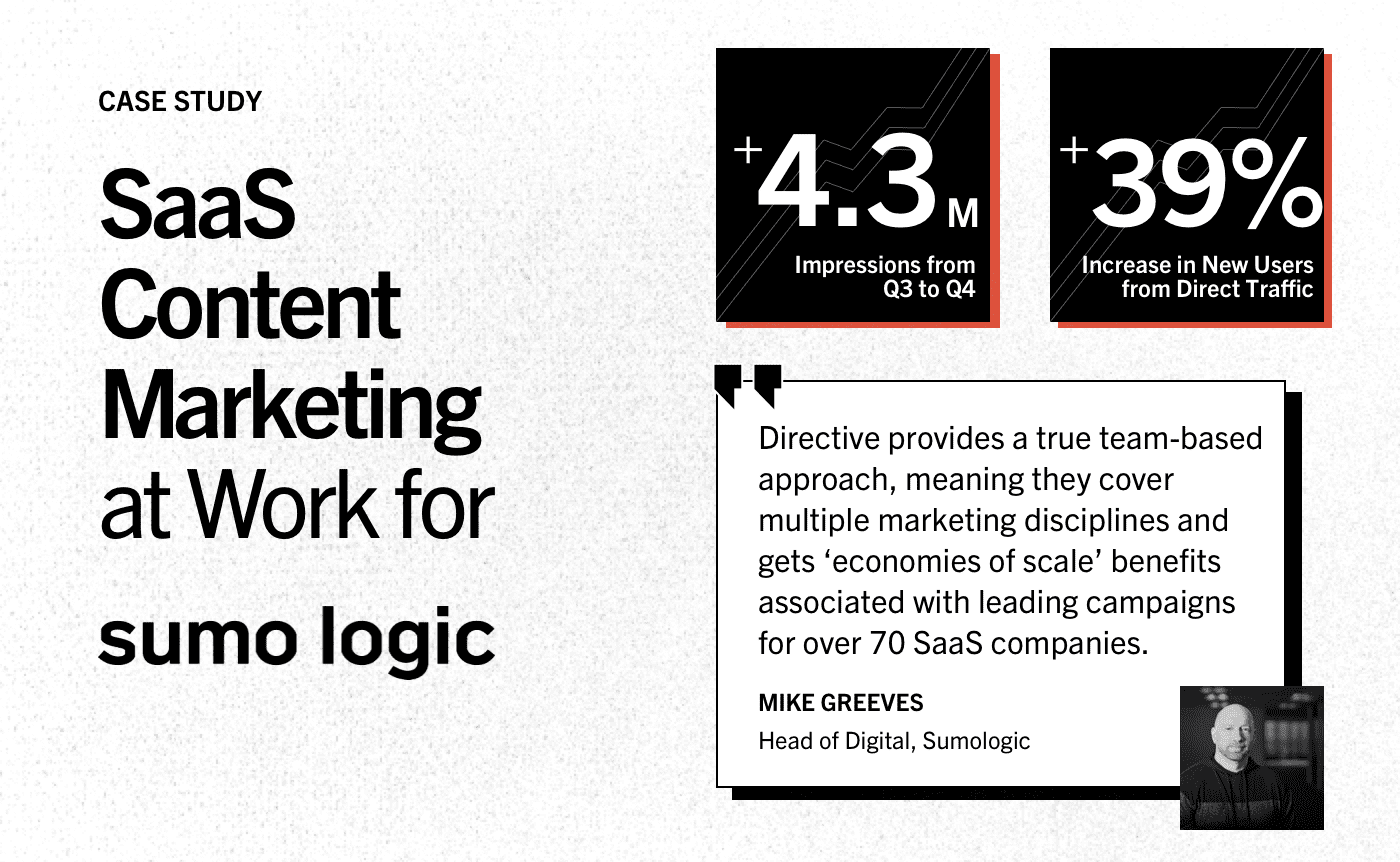 With the help of Directive, Sumo Logic was able to create multiple pieces of content for each stage of their sales funnel to target enterprise and mid-market buyers. They created a comprehensive glossary and targeted application-based content to entice buyers to fill out their sign-up forms. 
The results spoke for themselves: An increase of 4.3 million impressions from Q3 to Q4 and a 39% increase in new users from direct traffic. 
"Directive provides a true team-based approach, meaning they cover multiple marketing disciplines and gets "economies of scale" benefits associated with leading campaigns for over 70 SaaS companies."
Mike Greeves, Head of Digital @Sumo Logic
Such is the power of an intentional content marketing strategy that goes beyond simply ranking for related industry keywords. A customer-led approach can lead to a more targeted marketing campaign to leverage KPIs that truly move the needle.
Incorporating Customer-Led SEO Within Your SaaS Content Marketing
By now, you know content marketing and SEO are intricately intertwined. One hardly functions without the other. 
As SEO has evolved, so has our marketing team's approach to applying it as a means to drive new customers. Executing effective SaaS SEO starts with the customer–with insight driving customer segmentation that then turns into a personalized experience for the different segments you serve.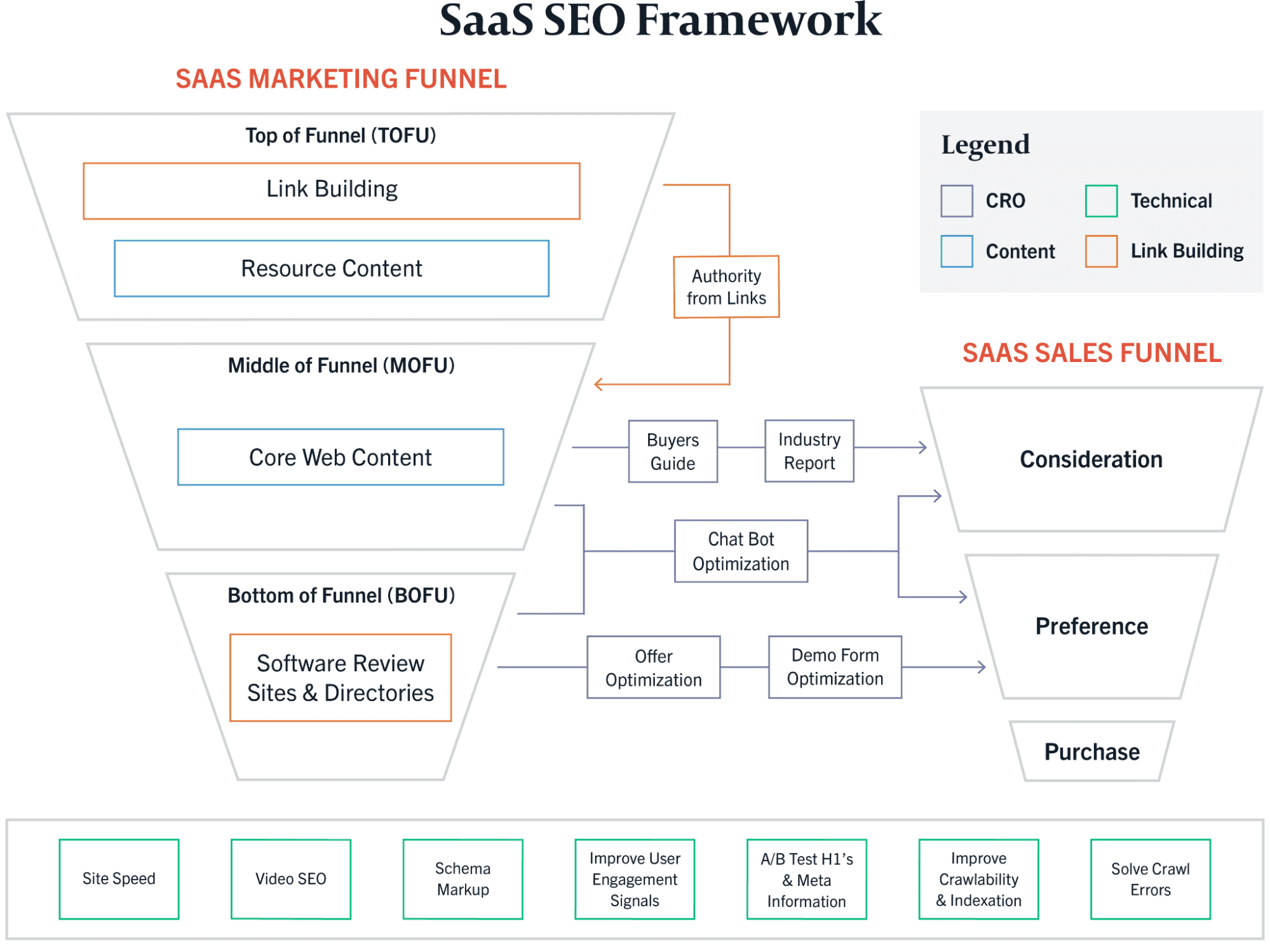 The truth is: The focus of SEO is no longer on keyword rankings and driving traffic, but rather driving the right traffic with a strategy molded around customer segmentation. 
In other words, customer-led SEO revolves around customer-centric content at scale. 
Driving real customer growth means shedding the old way of approaching SEO. Where you once focused on adding "SEO copy" to landing pages, you instead focus on using your customer's language to meet objections, clarify your messaging, and drive conversions.
Where you once created "SEO content" based on keywords you only think will drive traffic, it's replaced with JTBD content that's mapped to your customer journey for each segment. 
Instead of working with data analysis at the forefront, you start and lead with customer insights first. 
As you publish and create your library of content, instead of making technical website tweaks and calling it a day, you iterate, test, implement and continue to grow with a long-term outlook on content. 
In essence, customer-led SEO crafts a better customer experience for all the segments you're trying to target. It's a method that aligns SEO with your content marketing strategy to drive the most important metric of all: new customers.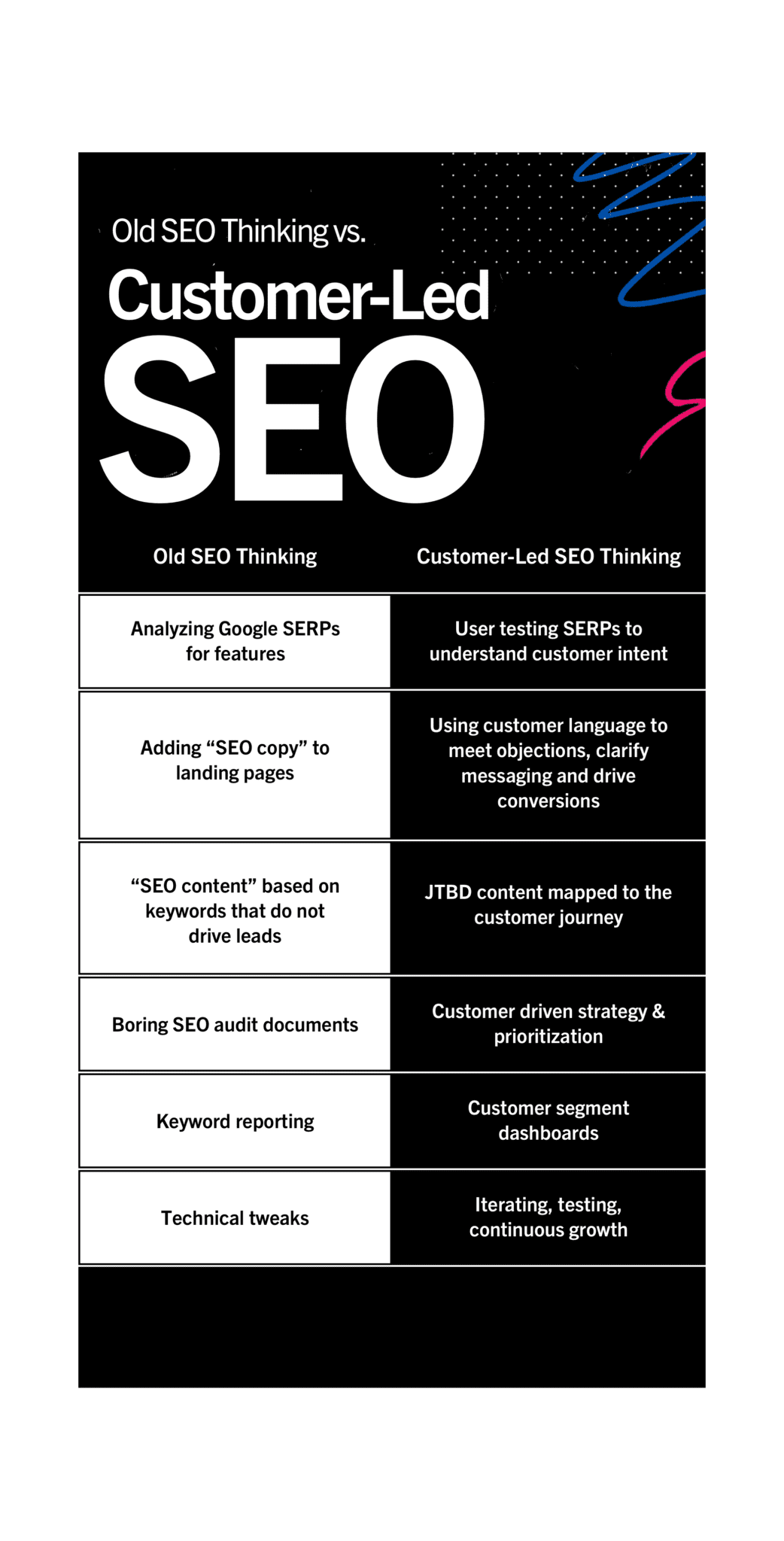 Perfecting Customer Generation Through SaaS Content Marketing
The five pillars of our newly developed customer generation method is how we measure the impact of our marketing efforts.
As a SaaS content strategy agency, we focus on first-party data to inform our customer-led approach. The goal? A lifetime customer value and customer acquisition cost ratio of at least 3x. 
Long gone are the days of using MQLs to judge content performance. Ultimately, our focus on SQLs makes you real money, helping the entire content marketing strategy become more profitable. 
However, that doesn't happen without also creating an emotional experience to sell to a SaaS customer base. 
After all, B2B buyers aren't corporations. They take a B2C (human) approach to buying software and technology. They're still consumers within the business; just buying for the business itself. 
If you've ever wondered, "how do we leave a lasting impression that leads to customers?" At Directive, we make you completely unmissable. Book a discovery call to learn how.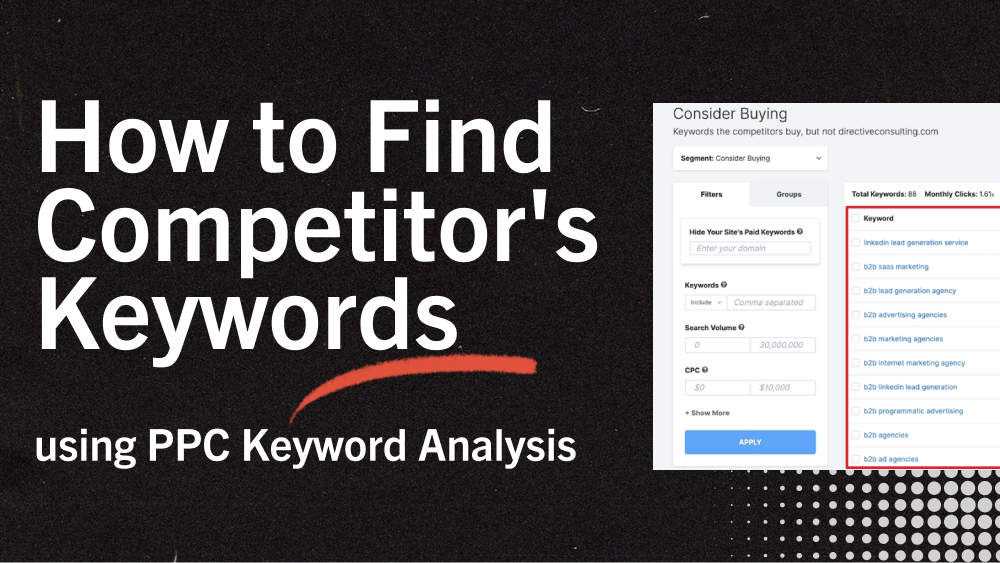 PPC
How to Find Competitor's Keywords with SpyFu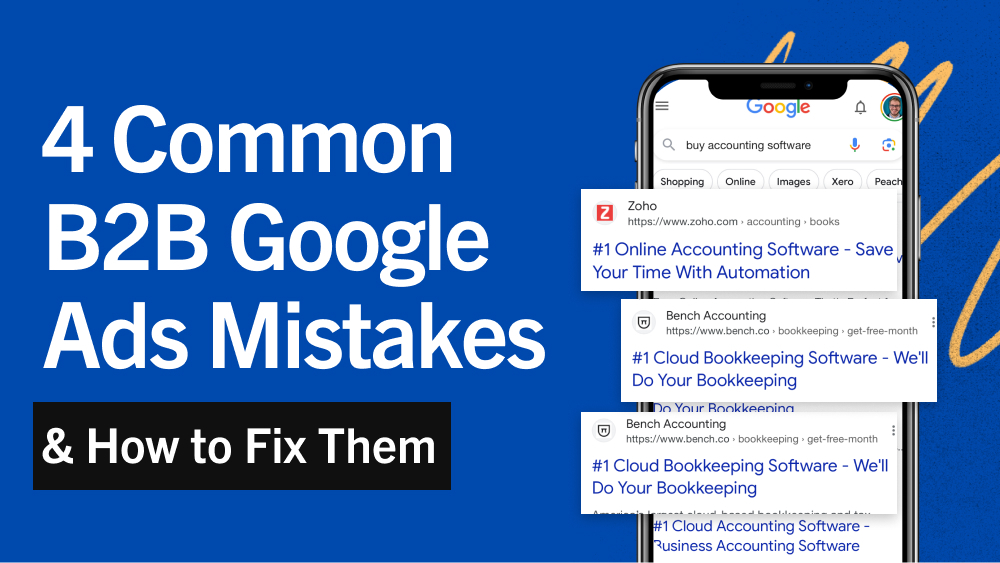 B2B
4 Common B2B Google Ads Mistakes and How to Fix Them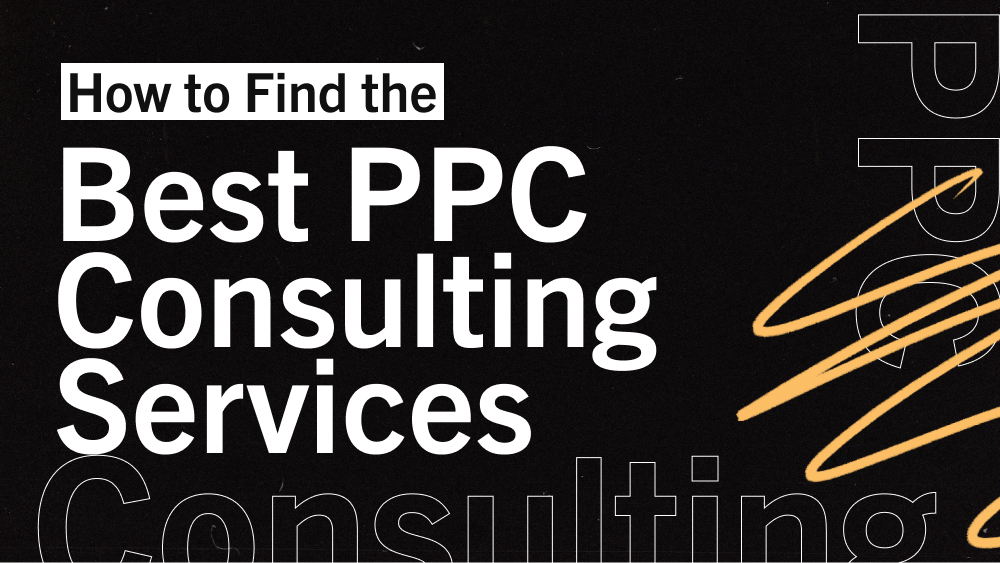 Agency Life
How to Find the Best PPC Consultant Services