How to Write a Content Plan in 8 Steps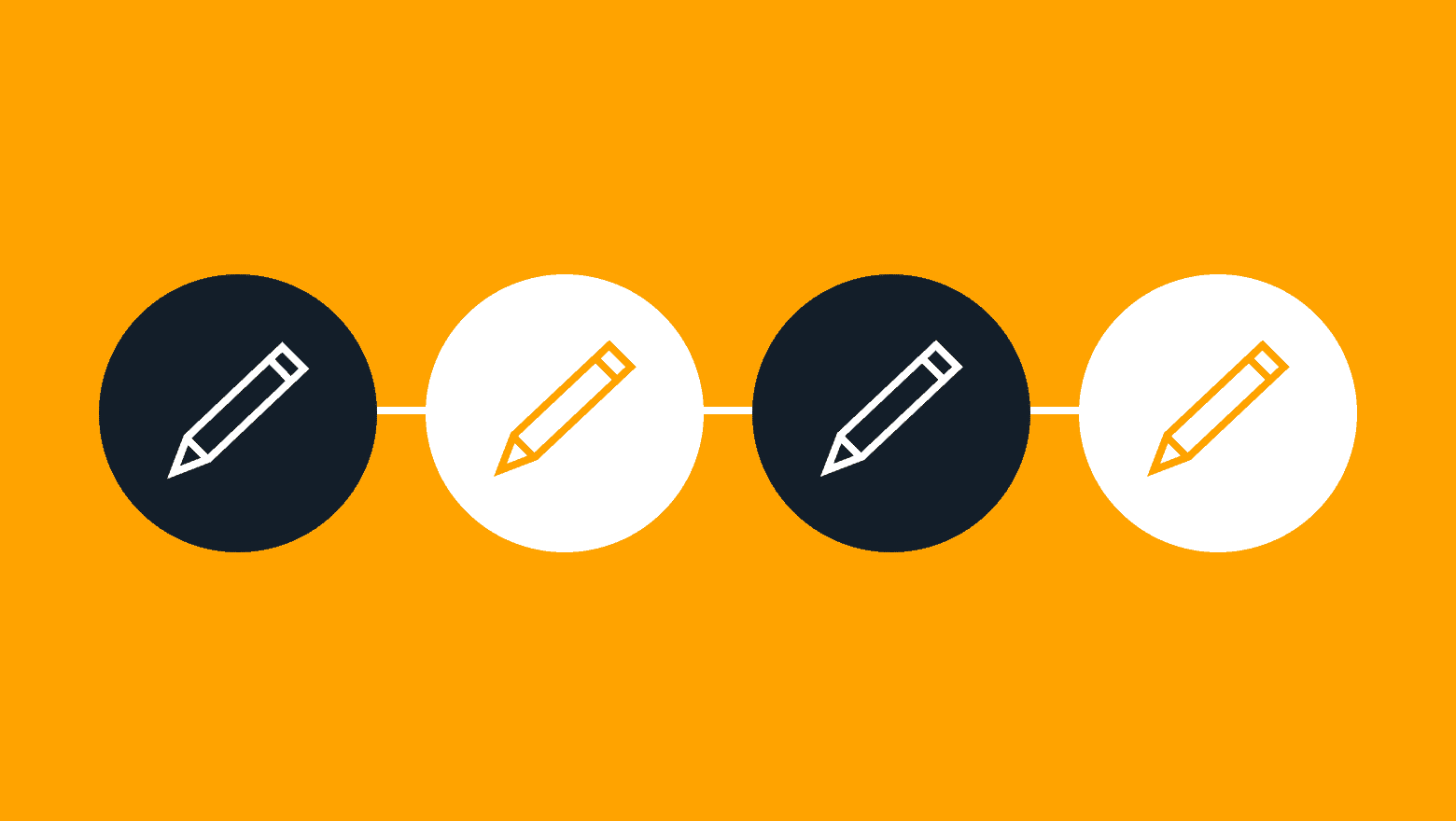 Figuring out how to write a content plan is one of the major hurdles that digital marketers need to overcome on their way to content marketing mastery.
Most digital marketers probably started their first content marketing campaigns without much of a plan at all. Unsurprisingly, we've found that this doesn't usually yield the best results.
Even if you've already mastered how to write content that ranks in the SERPs, an effective content plan helps you avoid keyword cannibalism while effectively supplying useful and actionable content for your valued readers.
You'll get the most benefit from your content creation efforts with a content plan that's designed to maximize the reach and impact of every piece you publish. You'll also ensure that your website is structured properly to receive the maximum benefits in terms of on-page SEO, technical SEO and user experience.
To make your life easy, we've created this guide that shows you exactly how to design a winning content plan in just 8 steps.
How to Write a Content Plan in 8 Steps: Overview
We divide content planning into two separate stages:
Project Definition, where we assess campaign goals and learn about who we're creating content for and why
Content Planning, where we plan out exactly what content we want to deliver
Here's how our 8-step content plan is broken down into these two stages:
Project Definition

Goal setting and campaign design
Identifying buyer personas
Connecting buyer personas with solutions and campaign goals

Content Plan Creation

Content auditing
Keyword rank auditing
Content ideation
Site mapping and funnel design
Now let's dig a little bit deeper into each step and learn exactly how to write a content plan to support your content marketing campaign.
How to Write a Content Plan in 8 Steps
Project Definition
Goal Setting
Goal setting is a natural starting point for any marketing campaign, but especially for content marketing campaigns that can take months to fully implement on your website.
Before you set out on a long journey, it's important to have a clear understanding of where you're trying to get to.
We've seen so many content marketing campaigns fail because digital marketers started their journey without a clear destination in mind and got lost along the way.
Business goals for your content marketing plan could include:
Increasing total business revenue
Driving more organic search traffic to your website or to important pages
Establishing your business as a thought leader in your niche and increasing brand awareness
Earning more shares and mentions on social media
Building your email list by increasing opt-ins on your website
Identify Buyer Personas
Now that we understand the "Why?" behind our content plan, we need to start building our understanding of the "Who?"
The more you know about your audience, the easier it will be to design content that captures their attention, solves their problems and encourages them to engage with your brand.
If your organization sells a product or service, you may have already identified buyer personas that would be interested in purchasing what you offer. A well-constructed buyer persona should include information such as:
Demographics (age, gender, marital/parental status, employment, education)
Lifestyle
Personality
Goals and Objectives
Pain Points
Professional Demeanor/Orientation
Preferred Information Sources
Interests/Hobbies
For a quick example, imagine you're building a content plan for a website that sells security and alarm systems. One of your buyer personas might describe a business owner who needs to secure their commercial establishment to prevent business losses. Another buyer persona might describe suburban mom who wants to make sure her kids are safe when they get home from school.
While both of these buyer personas are great potential customers, the way we would write content for each of them is completely different. They're probably also searching for different keywords and browsing different websites, so we'd have to optimize our content very differently for each audience. These crucial considerations will come into play later, but for now, it's good enough if you've identified some buyer personas with problems and pain points that you can address through your content.
Connect Buyer Personas to Solutions
The last step before you can start creating your content plan is connecting buyer personas to solutions.
For each buyer persona you identify, you should write down the exact problems and pain points they have and how they connect to your product/service. Building on the example above, we might choose the persona of the suburban mom who's interested in purchasing an alarm system for her home.
Persona: Suburban Mom
Pain Point: Wants to protect her family, make sure her kids are safe and secure the home while she is away at work.
Motivations: Peace of mind, control over the unpredictable environment
Solution: Home alarm system
We can also do this for our business owner persona that we identified above:
Persona: Business Owner
Pain Point: Wants to prevent break-ins, avoid business losses and dealing with insurance
Motivations: Avoiding loss and inconvenience, prevent business disruption
Solution: Commercial alarm system
With this simple informal process, we already have some important foundations for our content plan.
By identifying the pain points associated with each buyer persona, we have already identified some of the problems that we can help our audiences solve using our content. In the next step, we'll use this information to start creating a content plan that specifically targets each of our buyer personas with relevant and useful content.
Creating Your Content Plan
Creating a content plan that supports your business goals and connects with your target audience is an iterative process.
That means these five steps don't have to be completed in order.
In fact, if your website has no content or very little content, you may be able to skip the content auditing and keyword rank auditing steps altogether.
Each of the steps we describe below could easily be the subject of one or several massive blog posts, but we'll do our best to give you a high-level overview that's still actionable for each step.
Content Auditing
If you're planning to scrap your existing content wholesale, or if you're starting a fresh campaign with no content to speak of, then you can skip this step.
Otherwise, you'll want to perform a content audit so you can assess how well your existing content is performing.
Use a website crawler to list all content pages on your website alongside performance metrics for each website. You want to see the URLs, page titles and descriptions in a single spreadsheet. You'll also want to pull data from your Google Analytics to see which pages are generating the most traffic and engagements or conversions.
Once you've pulled together all the data, divide your content into four separate buckets:

Image: How to categorize your content in a content audit, and what to do with content piece in each category.
Take your low-relevance content that performs well and remove it from your website.
Next, look at pieces that perform well but don't really match up with your buyer personas and aren't relevant to your product or service. Can you pivot these pieces to make them more relevant? If so, keep them. If not, remove them.
Next, look at any content that would be highly relevant for your buyer personas but has historically performed poorly. You can aim to improve the performance of these pieces by revising them and applying on-page or off-page SEO techniques.
Finally, celebrate any content you have that's well-aligned with the needs of your buyer persona and doing its part to help you reach your business goals.
Keyword Rank Auditing
As part of your website audit, use an SEO rank tracking tool to assess what keywords each page of your website is ranking for on Google.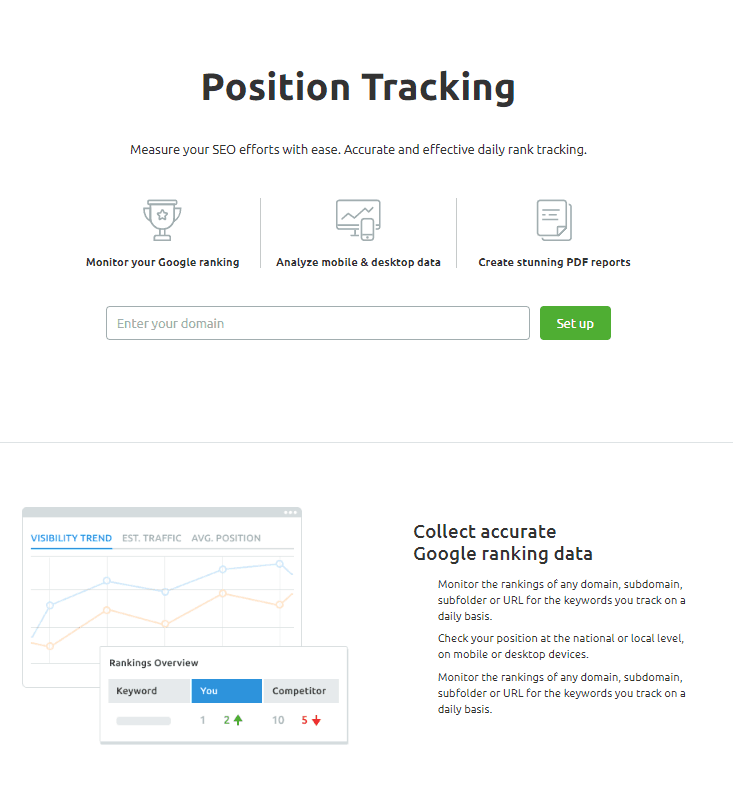 Image: The SEMrush position tracking module is an easy way to get a quick overview of what keywords each page of your website is ranking for in the SERPs.
You may already be ranking for some of the keywords that you would like to target with your content marketing campaign – that's great!
You may also be ranking for some keywords that have nothing to do with your product or service – that's bad!
You might think that any traffic is good traffic, but irrelevant traffic frequently correlates with a high bounce rate on your pages and a poor user experience that negatively impacts your search rankings.
If you have pages on your website that are already ranking for a specific keyword that is also relevant to your product/service/buyer personas, those are the pages that you should be targeting for optimization. Pages that rank for unrelated keywords should be reworked or removed.
Keyword Research
The purpose of keyword research is to determine which keywords you can profitably target with your content marketing campaign.
There are two essential components to keyword research:
Discovery: Finding new keywords that you may want to target with your content
Competitor Analysis: Assessing the competition for each target keyword in the SERPs so you can optimize your efforts to generate the most traffic
We recommend using the Google Keyword Planner to discover new keywords and analyze search volumes for each keyword.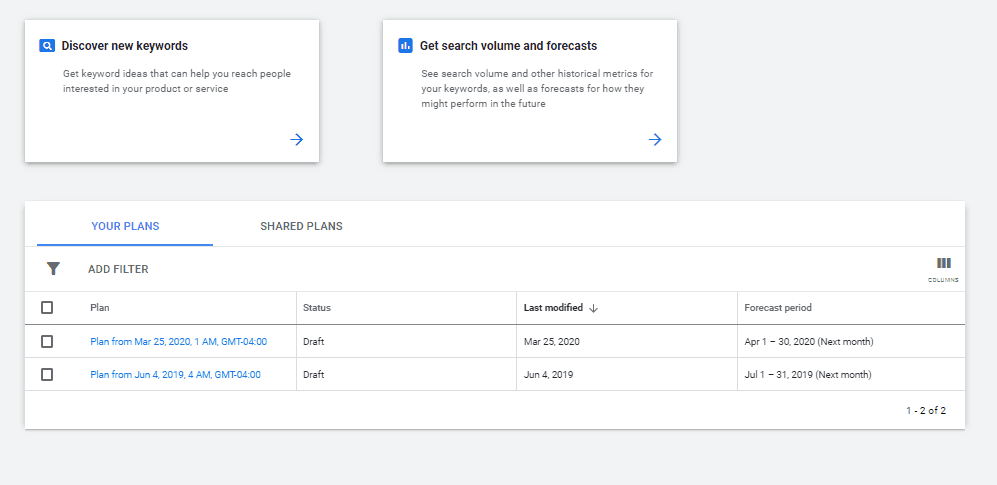 Image: Google Keyword Planner Main Dashboard
There are several methods that you can use to analyze SERP competition, but a simple one we like is using the MozBar extension for Google Chrome. When you're looking at search results on Google, this extension presents an overlay on top of each result that gives the page authority for that result and the domain authority score for the domain.
If you type in a search query and Google returns a lot of results with low domain authority, there's a good chance that you can successfully compete to rank for that specific search term.
How many keywords do you need to launch your content marketing strategy? It depends on your capacity.
Each keyword that you choose to target can be used to generate several different content pieces, so a handful of keywords might keep your production team busy for a few months (depending on their capacity).
Content Ideation & Search Intent Mapping
Now that you've identified a list of keywords, it's time to come up with some real content ideas through search intent mapping.
Google is making a strong shift towards presenting search results based on its perception of the user's search intent, rather than based solely on keywords. Keywords still give Google the most important clues about what users are searching for, but Google is increasingly looking at how keywords are used in each individual query so it can better connect searchers with what they're really looking for.
Google has identified four search intents that are typical for users on its platform:
Informational – The user is trying to find information about some topic
Navigational – The user is trying to navigate to a specific website or service, for example by typing the URL into Google search
Transactional – The user is looking for somewhere to purchase a desired product/service
Commercial Investigation – The user is looking for reviews, comparisons and other information to help them make a purchasing decision
Now, for each keyword that you have chosen to target, you can create a piece of content that maps to each of those search intentions.
Let's go back to our security system example. We entered "home security" into the Google Keyword Planner to come up with some fresh keyword ideas: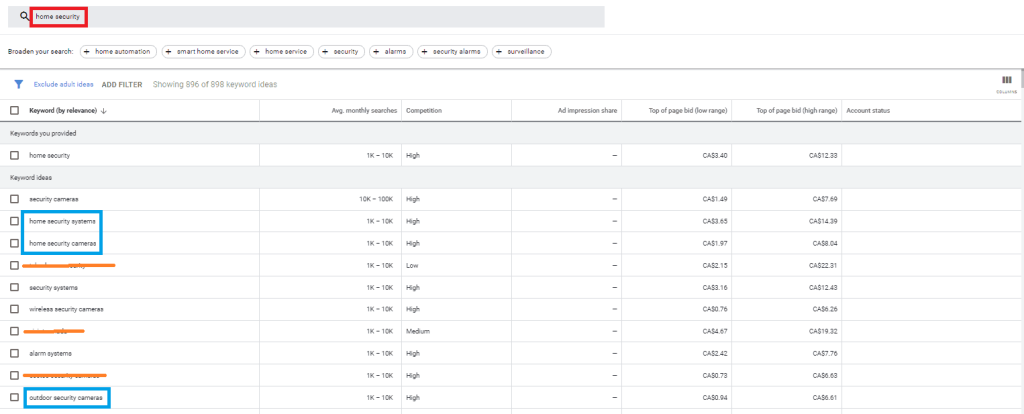 Image: Google Keyword Planner results for Home Security
Since we chose home security, we're focusing on our "suburban mom" customer persona. We crossed out branded search terms which we obviously won't be targeting, then picked out the three most relevant search terms for our suburban mom persona:
Home security systems
Home security cameras
Outdoor security cameras
Now we can choose any one of these keywords and start generating SEO-optimized content titles that address the pain points of our targeted buyer persona. Let's go ahead and do an example with the keyword "Home Security Systems".
Home Security Systems Content Titles
Informational Intent: What is a Home Security System? Everything You Need to Know to Safeguard Your Home
Transactional Intent: How to Purchase Your Home Security System Online: Tips and Best Practices for Peace of Mind
Commercial Investigation: Top 5 Home Security Systems of 2020 (And How They Protect Your Family)
These content titles have a little bit of everything. They include our target keyword, map to specific search intentions, address the specific pain points we identified in our buyer personas and promise to solve problems that are important to our audience. Each of these pieces may use different calls to action, as each one is targeted at users in different stages of our marketing funnel.
As part of your content plan, you can choose whether to create separate pages for each search intention associated with a specific keyword or whether to address all of the search intentions for each keyword on a single, authoritative page. You'll have to analyze competition on the SERPs to work out which strategy gets you the most bang for your buck.
A useful strategy is to create a single, mighty content piece around a specific keyword, then use that as the source material to develop a bunch of smaller content pieces that flesh out the details even more.
Create a Site Map and Marketing Funnel
The final step in creating your content plan is to construct a site map and design a marketing funnel that will be supported by your content.
By now, you should have a list of targeted content pieces that you would like to produce. A site map is a diagram that shows how the content will be organized on your website.
If the goal of your content marketing campaign is to increase conversions or drive more traffic to your sales page, your content pieces should include links that funnel visitors to those pages. If you're building out a specific resource like a blog or a glossary, you may want to create a new category within your site hierarchy where your new content will live. A logical organization of content on your website makes it easier for both human users and crawlers to navigate.
Summary
Thanks for checking out this guide on how to write a content plan in 8 steps!
Here's what you should have completed at this point:
Identified concrete business goals and objectives for your content marketing campaign.
Identified buyer personas to target with your content, including demographic and related information.
Identified the connection between each buyer persona, their individual motivations and pain points, and the products/services/solutions that you provide.
Conducted a content audit of your website to assess the relevance and performance of your existing content to your identified buyer personas.
Conducted a keyword audit to assess which keywords you already rank for and their overall relevance to your product/service/solution.
Conducted keyword research to discover keywords that you should target with your content marketing campaign, assessed competition for those keywords, and created a list of target keywords for each buyer persona.
Written content headlines or titles that incorporate keyword targeting, search intent and buyer persona targeting.
Created a site map that defines how content will be organized and interconnected on your website.
Congratulations, your content plan is finished! 
Now it's time to execute on your content plan. Next steps would typically include:
Content Benchmarking and Project Briefing
Establishing a Work Flow
Capacity Management
Creating an Editorial Calendar
Designing a Content Promotion Strategy
You can read all about how to execute your content plan in our SEO course on How to Create Content that Ranks at the Directive Institute.
Keep reading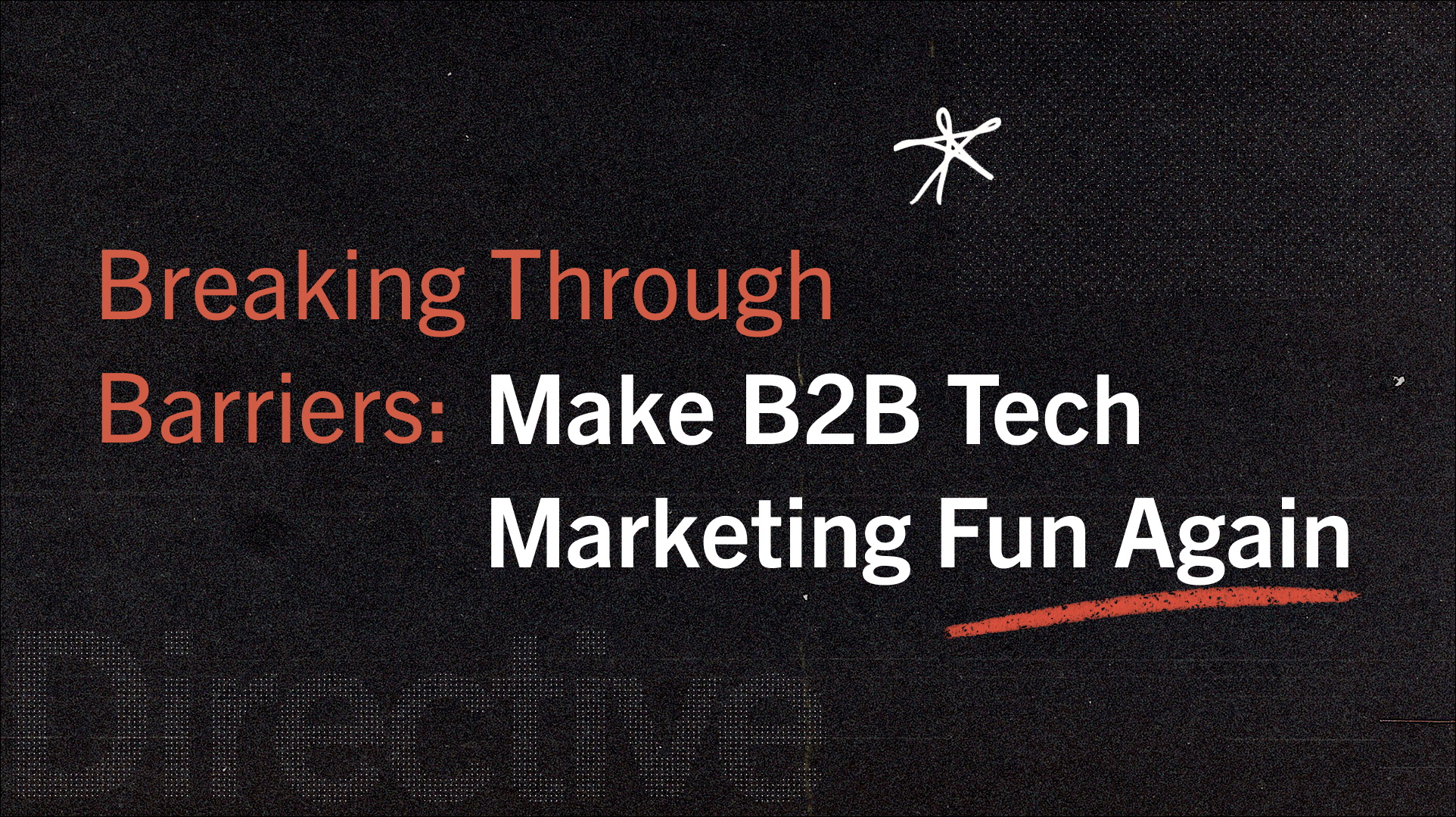 B2B
Breaking Through Barriers: Make B2B Tech Marketing Fun Again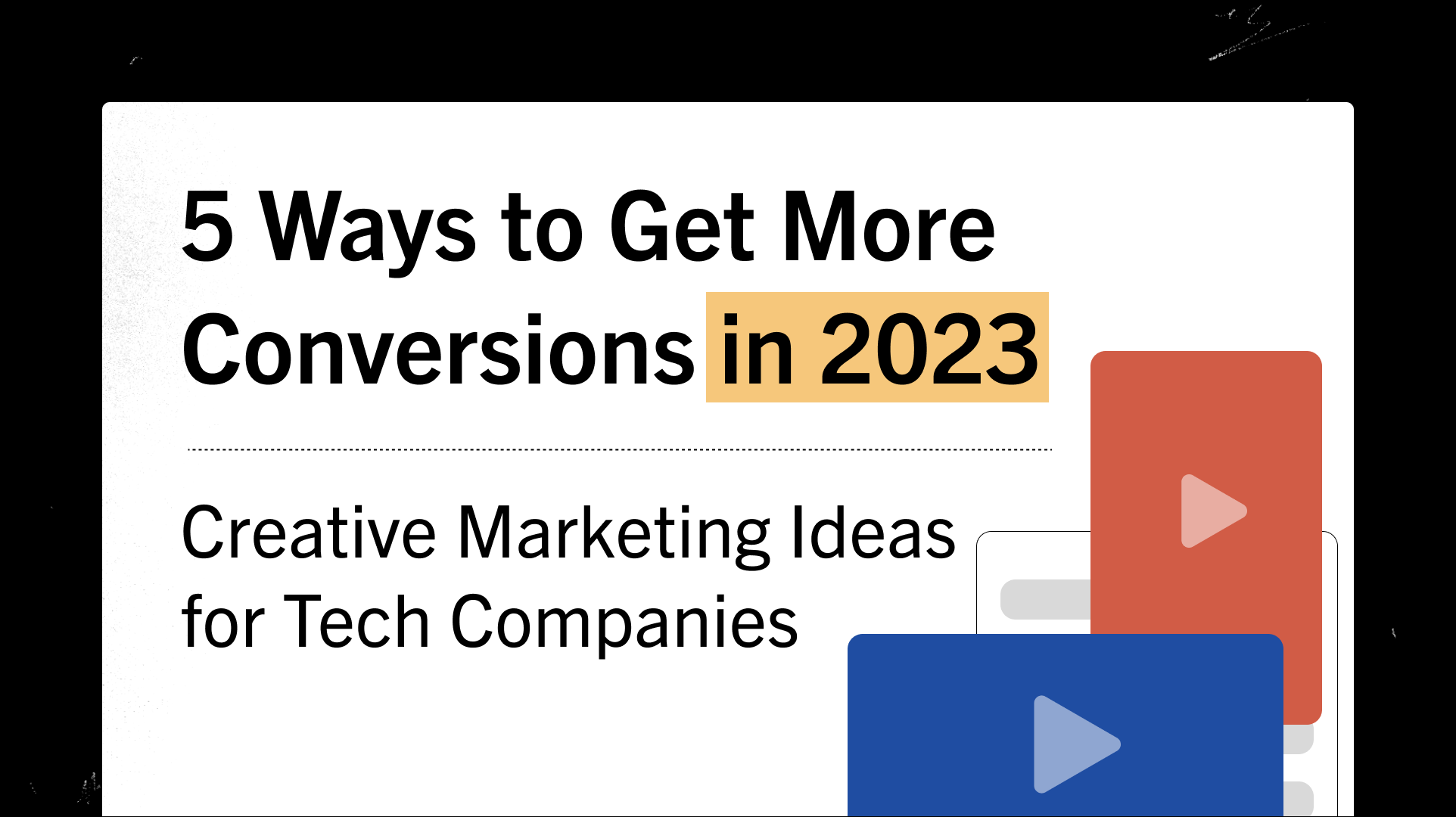 Content Marketing
5 Ways to Get More Conversions in 2023: Creative Marketing Ideas for Tech Companies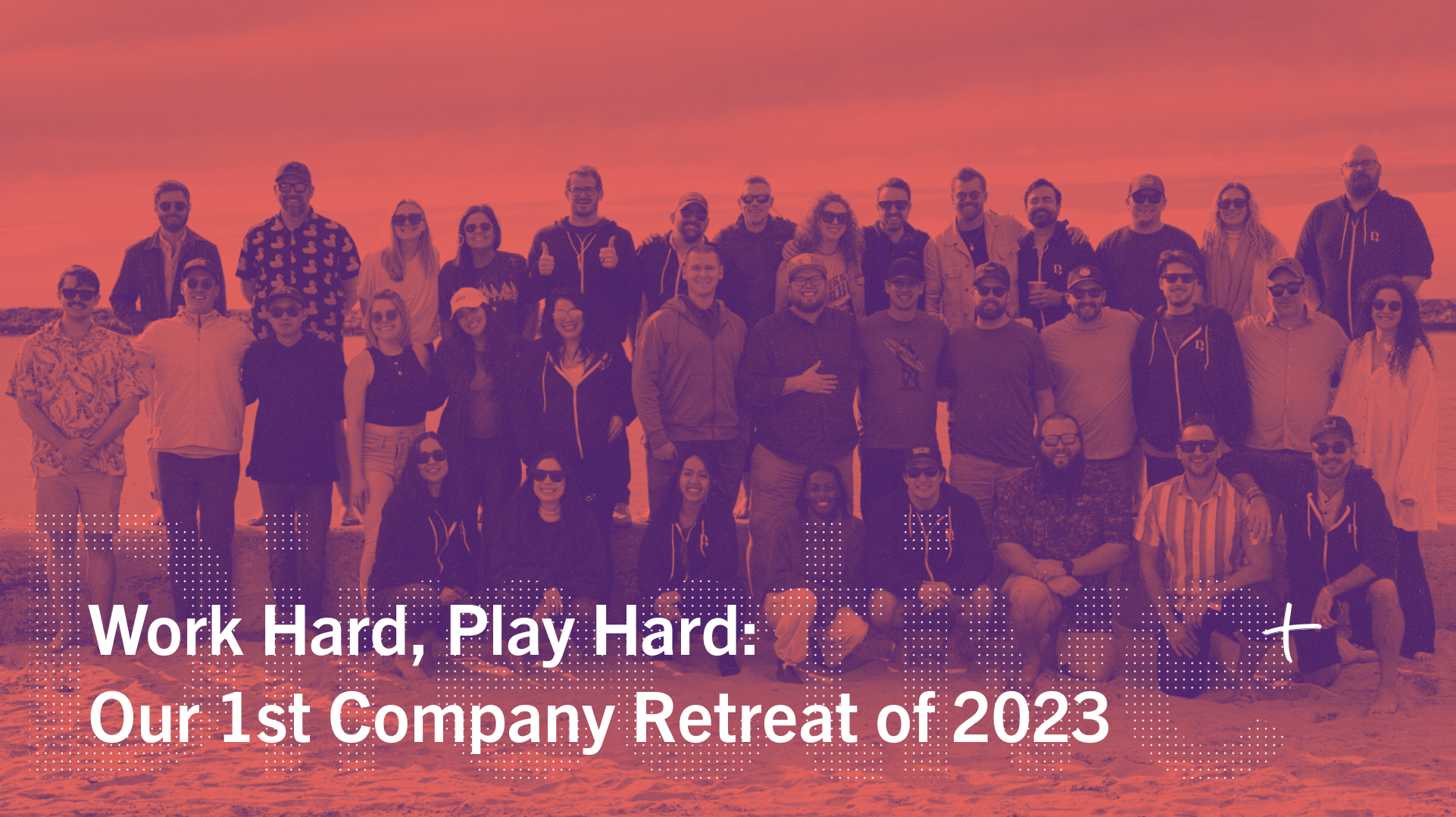 Events
How to Host Impactful Company Retreats as a Remote Team