Make High Impact PPC Optimizations in a Short Amount of Time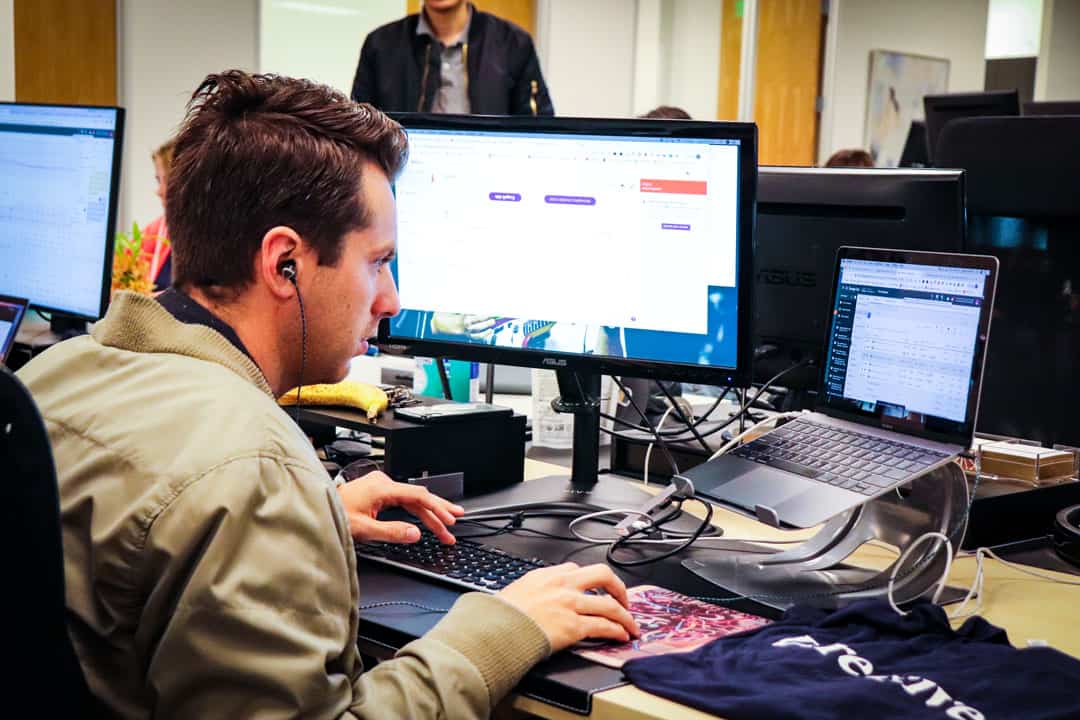 During my time at Directive, I've come across vastly different Google Ad accounts from the way they're set up, to size, to budget and more. I've seen the good, bad, and the ugly to say the least!
With so many metrics to consider, it can get overwhelming, and you may ask yourself "Where do I start? What is my paid search strategy here?"
Look no further. Below are the four areas I tackle first to make quick and impactful PPC optimizations for campaigns. 
Let's get started!
Do You Utilize Search Impression Share?
One of my favorite metrics in a Google Ads account is search impression share. This will immediately help you find out where you need to be spending!
We love to see that, right?
Search impression share is the percentage of impressions your campaign receives based on how many impressions it was eligible to receive.
Below, you'll find the steps to take to view this in Google Ads accurately.
Go to "Columns."

2. Click on "Search impr. share."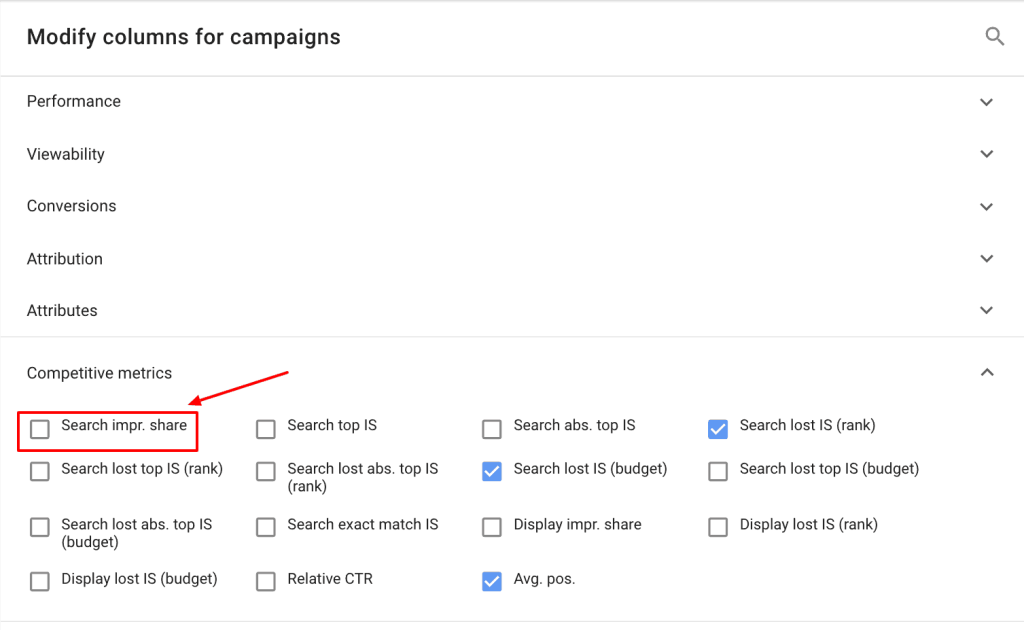 If you have a campaign converting well, make sure it gets a solid budget behind it. Your highest converting campaign should have the highest search impression share.
If you know it converts well, why wouldn't you want it showing as often as possible? Raise your bids and budget here, and watch your lead volume skyrocket.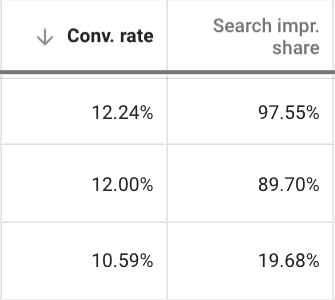 Check your search impression share and ensure campaigns with a high percentage also have a high conversion rate. If they don't, it may be time to adjust campaign budget around and realign with business goals.
Bonus tip: Don't make these 4 Common B2B Google Ads Mistakes that we see all the time with clients.
Are Your Conversion Locations in the Right Place?
If you're not using dedicated landing pages in your campaigns, it is extremely essential to understand where on your site users are converting.
You may have assumptions, but make sure the data backs them up; the post-click experience is half of the user journey. Making changes that affect the post-click experience is a surefire way to make impactful changes in your Google Ads account.   
One of our clients had an exceptional campaign we could rely upon for its steady stream of conversions. Feeling like we tried all we could in the Google Ads platform, we looked outside the box for new insight.
After digging into Google Analytics, we noticed a chunk of users were converting on a different page on the site, not the page we intended and sent them to from Google Ads.
Interesting!
Utilizing this information, we ran an experiment and split traffic between the two pages with the following results: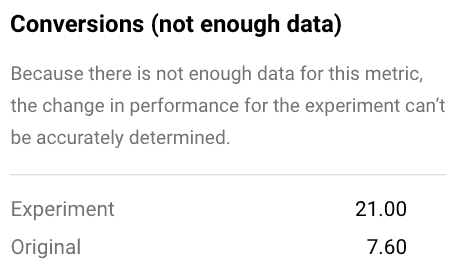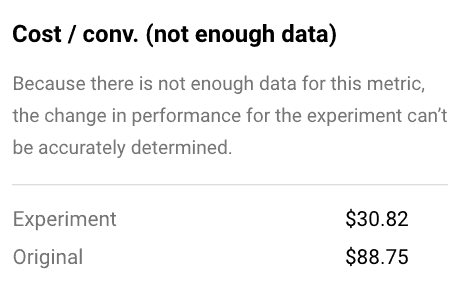 We saw a massive performance spike with the experiment traffic in a short amount of time and permanently applied the change to our campaign. This optimization helped contribute to our best-performing month to date in 2018.
What we learned was that, despite our assumptions, our campaign performed better directed elsewhere, and the intent of the users when searching the keywords was better matched on a different page! 
Be on the lookout for what your users are doing post-click. You can gain useful insight and find new areas to test with plateaued or stagnant campaigns.
Even great-performing campaigns could benefit from a better understanding of post-click behavior.
Do Your Calls to Action Resonate With Your Audience?
Another top post-click optimization is improving calls to action (CTAs); they have a massive impact on your conversion rate.
CTAs are ultimately responsible for getting your users to perform the desired action that they have traveled to your page to do! A strategized CTA can influence user behavior and boost conversion rates. A sub-par one can cause you to necessarily pay for traffic on your page and fall short on conversion goals.
Let's take some time and make our efforts pay off, yeah?
Example:
One of our campaigns recently experienced an immense drop in conversion volume. Targeting remained constant while click-through-rate(CTR) and the budget increased meaning more users were reaching our page…so what happened?
CTA Before:

CTA After:

We went from "Download" to "Schedule a Demo" as well as removing the supporting copy below our CTA. "Download" implies immediate benefit and lets the user know that as soon as they input their information, they can start using the solution.
"Schedule a Demo" is much higher friction and requires the user to think a little harder about their decision.
Do I have time in my day to schedule a demo? Will I be able to schedule it at a convenient time? Can I get a similar solution elsewhere, at my convenience?
Not only did we feel the impact in our Google Ads account, but on the organic side as well: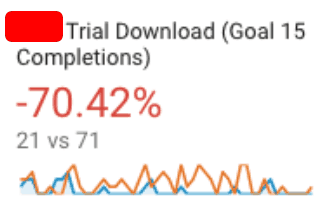 The search engine results page (SERP) can be incredibly competitive, and with most users shopping for the best solution, your CTA needs to be benefit-driven and stand out from the rest.
Take a look around and see what other companies are doing.
How can you make your CTA more beneficial for your audience? How can you offer something different or stand out?
Tinker with your language, and make sure you communicate the value someone will get from choosing you, or you will lose out to your competitors.
Are You Using Alpha/Beta Campaigns?
Capitalizing on traction is vital to ensure you are benefitting from PPC optimizations.
If you notice exact match keywords in a campaign and they are performing well, build a new "Alpha" campaign specifically for these keywords to maximize your impression share and get more granular with your ad copy. The original campaign will become the "Beta." The Beta campaign is for testing new keyword ideas or find new long-tail variations of existing keywords.
This prevents other keywords from taking any budget away from your proven performers. To further add PPC optimizations to your "Alpha," go back to the "Beta" campaign and filter your search terms to only show phrase or broad conversions. See below:
By filtering search terms to only show broad and phrase (and close variants), we see terms people are searching for and converting on, but that are not currently targeted as an exact match.
Add in any phrase or broad match converters with a proven track record from your Beta search terms as exact matches in your new Alpha campaign.:

Above we can see better performance from our Alpha campaign in almost every key performance indicator; conversion rate and cost per conversion are much better, AND our search impression share is nearly 100%.
Questions to consider to ensure this is a useful paid search strategy:
Are these keywords bringing in good leads?

Do the keywords show high user intent?

Are users at the bottom of the funnel in their purchase journey?
If you answered "yes" to these questions, go ahead and create an Alpha campaign! They have a steady history of bringing in good leads and over time will continue to grow your account and account performance.
For more information on Alpha/Beta campaigns, check out the following article!
Takeaway
Whether you're working on a new PPC account or trying to find ways to optimize your current one, the tips above should provide you with quick ways to optimize your paid search campaigns and find new ways to grow.
Your leads are going to be seeing a whole lot more of you.