Our Unique Approach to Content Marketing in 2017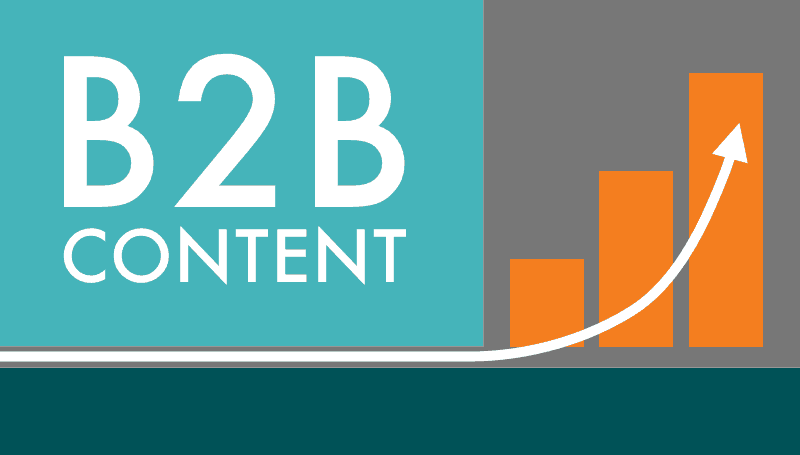 B2B content marketing is no walk in the park. In fact, most B2B marketers report content marketing lead generation as one of their leading pain points. Why is this? Because when it comes to B2B demand and lead generation, content is one of (if not the) hardest to track and correlate. Let me explain.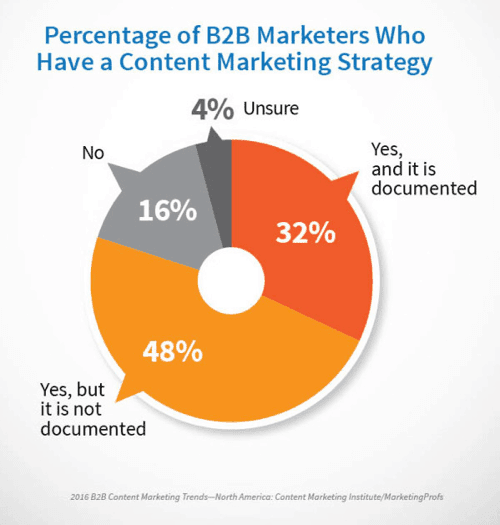 B2B marketing is all about how to best manage your ROI. Yes, you want to maximize the visibility of your brand, but you don't want to burn money doing so. As opposed to 1-1 tracking campaigns like PPC, attributing marketing wins to content can be tough. In PPC, it's easy to see where you are spending your money and where it's working/wasteful. You are either generating conversions or bouncing users away. Simple.
But, in content, you are working with metrics like read length, engagement, and – to simplify – how much your readers liked the piece. This isn't an easily quantifiable metric, which makes tracking and reporting difficult. Which in turn makes optimizing an even bigger headache. In fact, most B2B content marketers report that creating "engaging" content is one of their leading issues.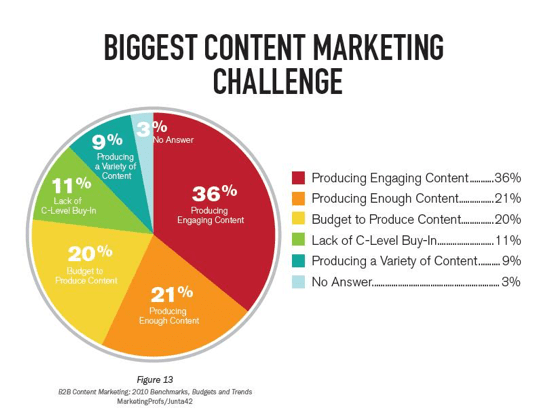 B2B content marketing has lost its way. Some point along the line the concept of "targeted, value-driven content" was replaced with content built around search queries. Content promotion degenerated from reaching your ideal end customer to sending out blind twitter blasts every time you publish a new piece.
In turn, content has become one of the biggest issues for B2B marketers. Which is painfully ironic considering how much our end-customers rely on quality content to convert.
The New Approach to B2B Content Marketing
"Content is king." "Creating content around user queries is king." "Content that converts is king." You've probably heard one of these platitudes (or some variation) at some point. But these pithy little quotes can tend to put content marketers in the wrong mindset from the get go, in my opinion.
When you embrace the "content is king" approach you are liable to fall into some serious content marketing pitfalls. If you don't take the time to consider how your end-customer is truly engaging and interacting with your different posts, you'll end up wasting a lot of time publishing content that impresses Google instead of your readers. Why not cut out the middleman?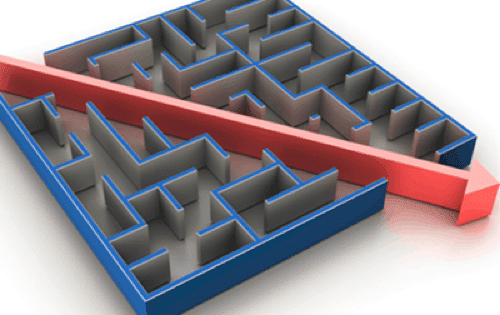 B2B content marketing needs a new approach. One that reminds creators that they aren't publishing content for the sole sake of broadening their visibility with page-one rankings. But that they are writing for actual readers who have needs and questions of their own.
Keyword Research Means Market Research
Why is it that you are building your different blog posts around keywords? So you can rank for these search terms on Google and users can easily find your posts on page one of the SERPs. But, take a moment to consider, how Google-savvy are your end-customers?
In the B2B space there's a good chance that your end customers aren't necessarily searching your primary or even long tail keywords. You can't hold keyword search volume as the end-all-be-all of which search terms you will target. This will just propel you down the road of blind optimization and you'll end up optimizing vanity metrics instead of genuine reader engagement and conversions.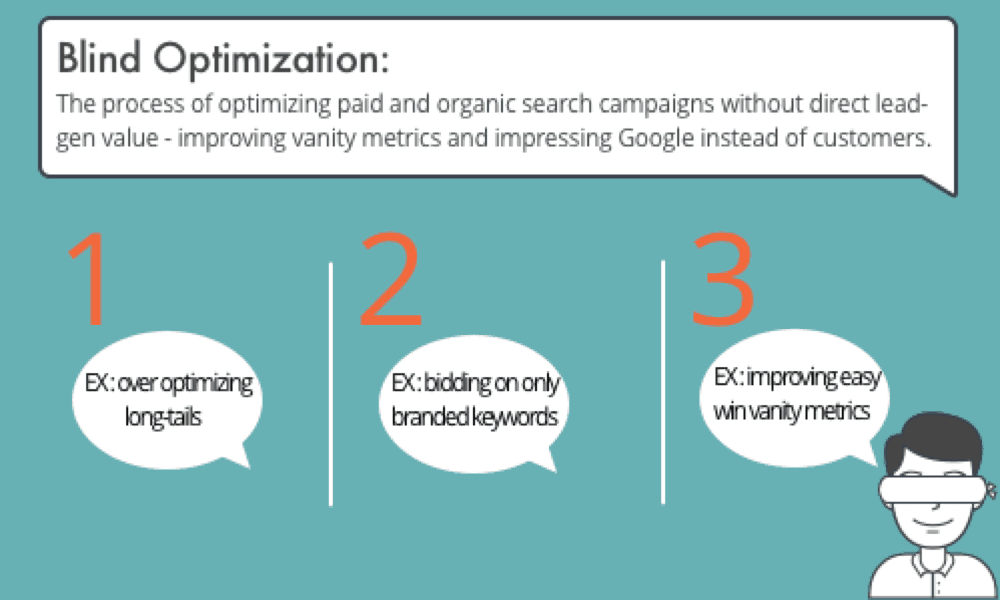 Keep in mind that keyword research is meant to inform your market research. You are only targeting keywords for the sake of reaching the right readers. So, instead of relying solely on your keyword research to inform your decisions, be more creative.
Start identifying pain points that your existing clientele share in common. For example, here at Directive we noticed that some of the leading pain points of our portfolio (prior to partnering with us) were generating demand for their brand, and generating high ROI once they have built said demand. Often times new client's lead gen campaigns are hemorrhaging money and failing to fill their pipeline – which is where we come in.
We identified these industry pain points as the priority issues of our target audience. Then, we built our keyword list and content calendar around these pain points. This way, while we were still creating content to rank for keywords, we knew they were more relevant to our ideal end customer.
Consider the Medium of Your End Reader
It's also important to consider how your end customer is consuming information. This takes the position of your ICP (ideal customer profile) into consideration. You need to make sure that you aren't just targeting the right companies with your content, but the right readers at those companies as well.
For example, a CEO of a Fortune 500 company isn't going to be consuming information the same way that a marketing manager at your competitor's digital marketing agency would. We found this out the hard way.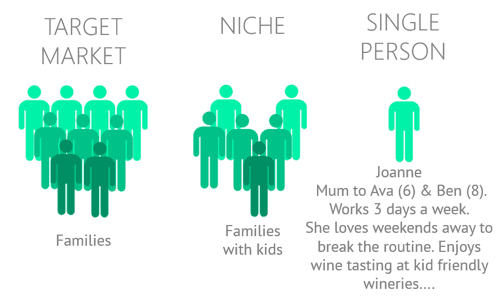 Be careful with not only who you write to, but how you write and what medium you present that writing in. C-level executives aren't interested in "how-to" guides or step by step tactic pieces. They want strategies, trends, and stats to help them better manage their company.
However, marketing managers are your competitor digital marketing agencies would love a how-to guide that can help improve their own skill set. Make sure you aren't writing for your competitors.
Taking the position of your ICP into consideration will also help you determine which content they'll most strongly engage with. Youtube channels work for many hands on marketers working in the trenches of campaign set up and optimization.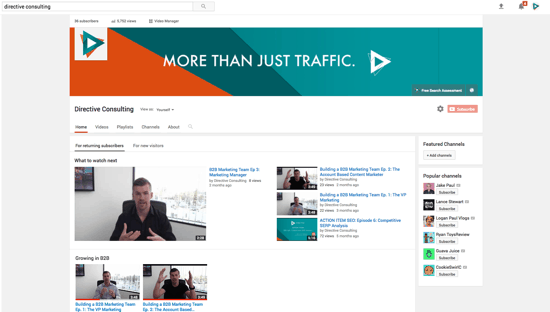 On the other hand, when target C-level executives, we've noticed that Podcasts and more passive forms of content consumption work best. Probably because CEOs and CROs alike are constantly on the move and less tied down to a singular laptop or desktop.

Building a Strong Site Architecture Around Resource Hubs
The best way to convert and nurture B2B leads is to convey value with data-driven, value focused content. If you really want to create a comprehensive search/site experience, you should build your site architecture around that content.
You want your site to be easily navigated. The more you can control and streamline the buyer's journey on your site, the more you'll be optimize it. In the screenshot below, you can see an example of a weak site architecture.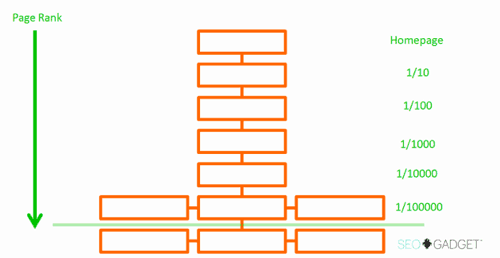 With this setup, users can't view necessary information until three or four clicks into the site. Which is bound to generate a high bounce rate. The site is also not built around resource hubs so users with different intents have no way to differentiate their on-site experience. You should have a site architecture that accounts for each of your different user's search intents.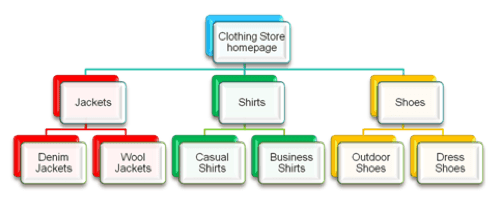 Creating a resource hub containing your different content types should make it easier to segment your traffic based on your different ICPs. B2B users are looking for ways to improve their business.
This means that you need to come across with a "help, don't sell" approach. Make sure you have all the resources to help you need end customers. And make sure those resources are easily found and navigated on your site.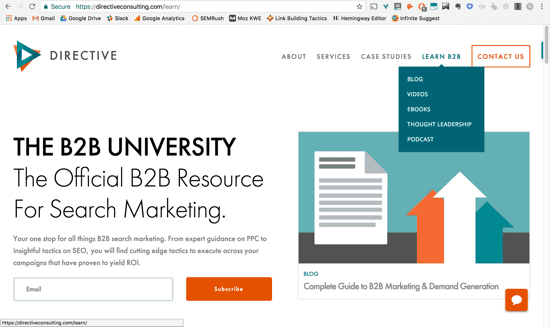 The Four Horseman of B2B Content Marketing
Now I've discussed how you should fuel your content research, the different content mediums you should use, and how to organize your site for maximum engagement, let's take a look at what type of content you should be creating.
B2B content marketing goes far beyond just blog posts. To best engage with your end customer you need to create helpful content for multiple stages in the B2B sales cycle and buyer's funnel.
This means publishing blog content for your early-stage readers. But it also means creating downloadable assets to inform your more qualified readers. As well as creating diverse social media content to help spread brand awareness. All in all, there is a wide array of content types to choose from.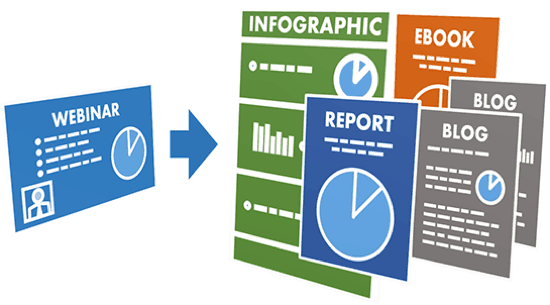 But, when it comes to maximizing your ROI and making the most of your content campaigns, there are four types of content that will consistently work best for you. Each has a different purpose, from lead gen to demand gen. But you'll need a healthy mix of all four to truly revamp your B2B content marketing campaigns for 2017.
Keyword Focused Content
Now, I've already said that over-prioritizing keyword performance is an easy way to steer your content marketing off track.
But that doesn't mean that keywords aren't important. In order to grow your brand's visibility across the SERPS, you need to rank for the right keywords.
The best way to identify which keywords to target is to run your existing content through a content audit. This way, you can have a better picture of what keywords you are already doing a good job of ranking for and which need to be optimized.

As I keep repeating, in B2B it's all about maximizing your efforts and spend for the highest ROI. So you don't want to waste time chasing keywords you already rank for. Likewise, you don't want to waste time chasing keywords that won't generate a high ROI.
It's important to consistently publish keyword-focused content to continuously grow your visibility. Your content calendar will also help keep your publication queue in check.
But keep in mind, keyword content is far from the only type of content you need to be creating. In fact, of the four, each type of content I will discuss is more valuable than the last.
Which means keyword content is simply you covering the basics of brand awareness.
Link Building Content
Ranking for new keywords with new blog posts can be a hassle. On top of that it can take a great deal of time to boost your post up to page one of the SERP where it can start generating reads. Because of this, many a content marketer turn to guest blogging to make more of their content campaigns. The reason is actually two fold:
First, publishing your content on high authority blogs other than your own can help spread awareness and visibility of your posts. Which can be huge if your own blog doesn't have a strong following yet.
Second, publishing guest content is a great way to build highly relevant, high authority backlinks to your domain to improve your DA and rankings overall.
Remember that you are publishing your tactics and content on other digital marketing blogs. Which means that your readers will consist of your fellow marketing managers as well as your ICP. This means that your content has a split audience to engage with.
Keep this in mind while you write – as if you are creating guest content on "how to" guides instead of the "why" behind your tactics, you may've been impressing your competition instead of your end customer.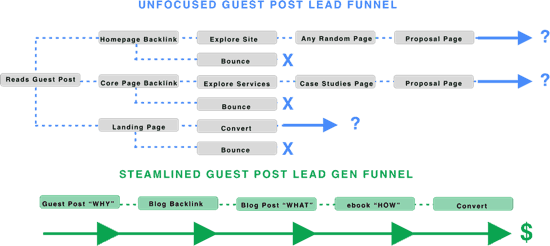 You want to make your ICP's journey through your content and site as streamlined as possible. The smoother the slide you build, the easier the path to conversion and closed/won deals.
Gated Content
Speaking of conversions, this is where you gated content comes into play. You'd be surprised how many lead gen campaigns we come across without an actual offer in the transaction.
If you are running a lead gen campaign without any downloadable take home asset, you are assuming that the users you reach are already at the conversion point in the funnel. And without any extra content to entice them, you'll be bouncing users away if they aren't at the very bottom of the funnel.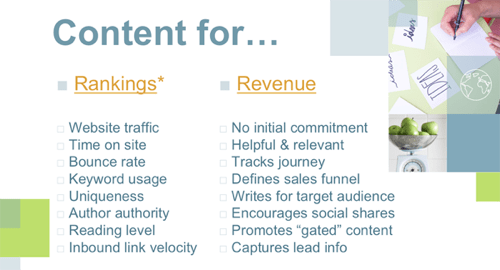 Content campaigns focused on rankings are going to prioritize vanity metrics and useless hand waving. But content campaigns focused on generating revenue will actually focus on providing value to your users in order to generate conversions.
It's key that you know the difference between B2B demand generation and B2B lead generation before you put the cart before the horse.
The Future of B2B Content: ABC
The last type of content for B2B marketers in 2017 is a bit of a new kid on the block. Here at Directive, we noticed a great deal of our content campaigns failing to hit the bar in terms of brand awareness and lead gen. So, we decided to apply the same methodology so many B2B marketers use in their account based marketing to our actual content marketing campaigns.
And so – Account Based Content (ABC) was born.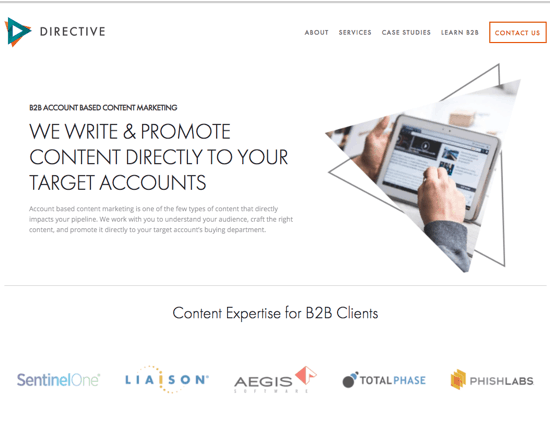 ABC is a new approach to content marketing based on the idea that your end customer wants insights on their own business, not general tactics the entire industry can benefit from. So, as opposed to creating "how to" guides about the entire industry, we isolate the audience we want to reach ourselves.
With ABC, you develop a set list of 100-200 accounts you are focusing this blog post on. You create a gated data report on a key pain point all these accounts share in common and write a blog post about that paint point. Not the how-to's, mind you, but the "why" behind the value and need to optimize this B2B issue.
Here's an example of one of our ABC data reports: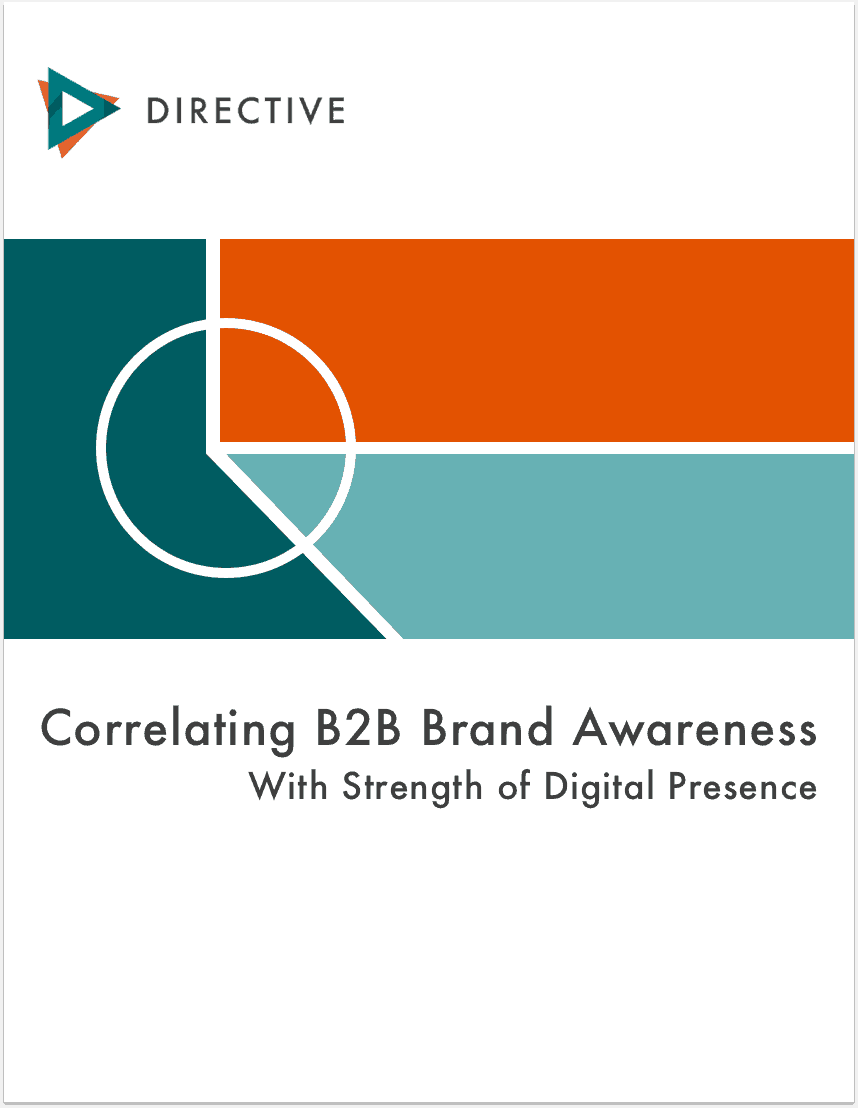 Next, as opposed to simply blasting this post out via social networks and hoping it generates enough engagement to rank, we went straight to the source. These data reports take a massive amount of data collection, so we outsources using VA (virtual assistants) via UpWork. We had them collect the necessary data for the report.
But, on top of that, we had them collect the contact info for your target accounts as well. This way we can directly promote the ABC post via email to the right people at the right companies. Our emails would also CC our sales reps to make sure that they were immediately included in the conversation.
This way we were no longer publishing content to vaguely engage with out audience to capitalize on later. We were creating content on our target accounts, for our target accounts, and promoting it directly to those target accounts to get the conversation started right away.
This elaborate content system requires a fully dedicated team to your B2B content marketing. You can check out who you need in that team by reading this Marketing Land post on the 6 Roles you Need in Your B2B Marketing Team.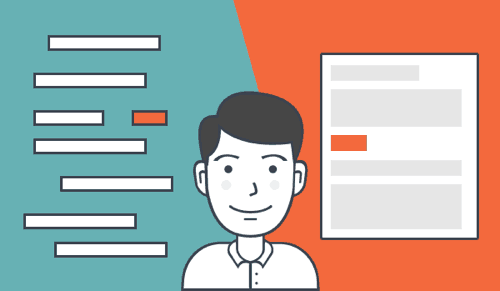 B2B marketers are constantly dealing with an elongated sales cycle. This means that they need to connect with and nurture these leads over a long period of time. As opposed to casting a wide net via search engine rankings – why not cut out the middleman and create content on your target accounts to send straight to those accounts.
The Egyptian Method: Reach the People that Count
No blog post on B2B content marketing is complete without discussing the importance of content promotion. Promoting and syndicating your content across different B2B platforms is absolutely vital to grow your brand's visibility.
Think of it this way – you spent the time to create the piece – why wouldn't you spend an equal amount of time (or more) ensuring that it gets read?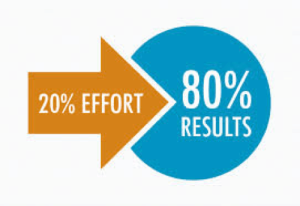 The Egyptian Method is Directive's unique approach to targeted, organic content promotion. Not everyone can afford to shove hundreds of dollars into their PPC or social advertising campaigns. Which means that your content promotion may suffer if you are trying to balance a budget.
Not to worry, the Egyptian method focused on targeting the most highly engaged organic pages to syndicate your post on. Via Quora, social media, and different google + groups, the Egyptian Method is the best way to comprehensively promote your content for every drip of juice it's got.
To learn the full step-by-step guide to B2B content syndication, check out Directive's blog post on the Egyptian Method below!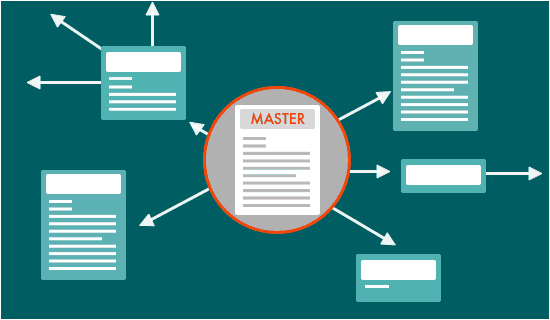 Takeaways: Looking Back at B2B Content in 2016-2017
Looking back at B2B content over the years, we've seen the growth of two distinct trends.
First, the more data-driven and value oriented your content, the better it will engage readers. This may very well mean the death of listicle, tactic driven "how-to" guides for most B2B writers. Your readers don't want roundups and updated tactic driven pieces that can boost your brand's ego. They want three of for tangible ideas that will truly impact their business.
Second, the better Google gets at adapting to user intent, the more you should ignore Google and focus entirely on your user. I know, it may seem counter-intuitive, but at the end of the day every B2B marketer is trying to reach another human being on the other end of the line. Google knows this and is working to rewards those who better cater to users, not search engines.
Stop focusing so much on the platform on which you are trying to reach the, and start trying to provide the most valuable, human interaction you possibly can. Remember that digital marketing is simply a means to connecting different B2B companies. Don't get caught up in the game of B2B Content Marketing – focus on the end goal of reaching that ICP.
Keep you eye on the prize, bide your time, and focus on platitudes that will truly improve your strategies and business. Not the other way around.
Keep reading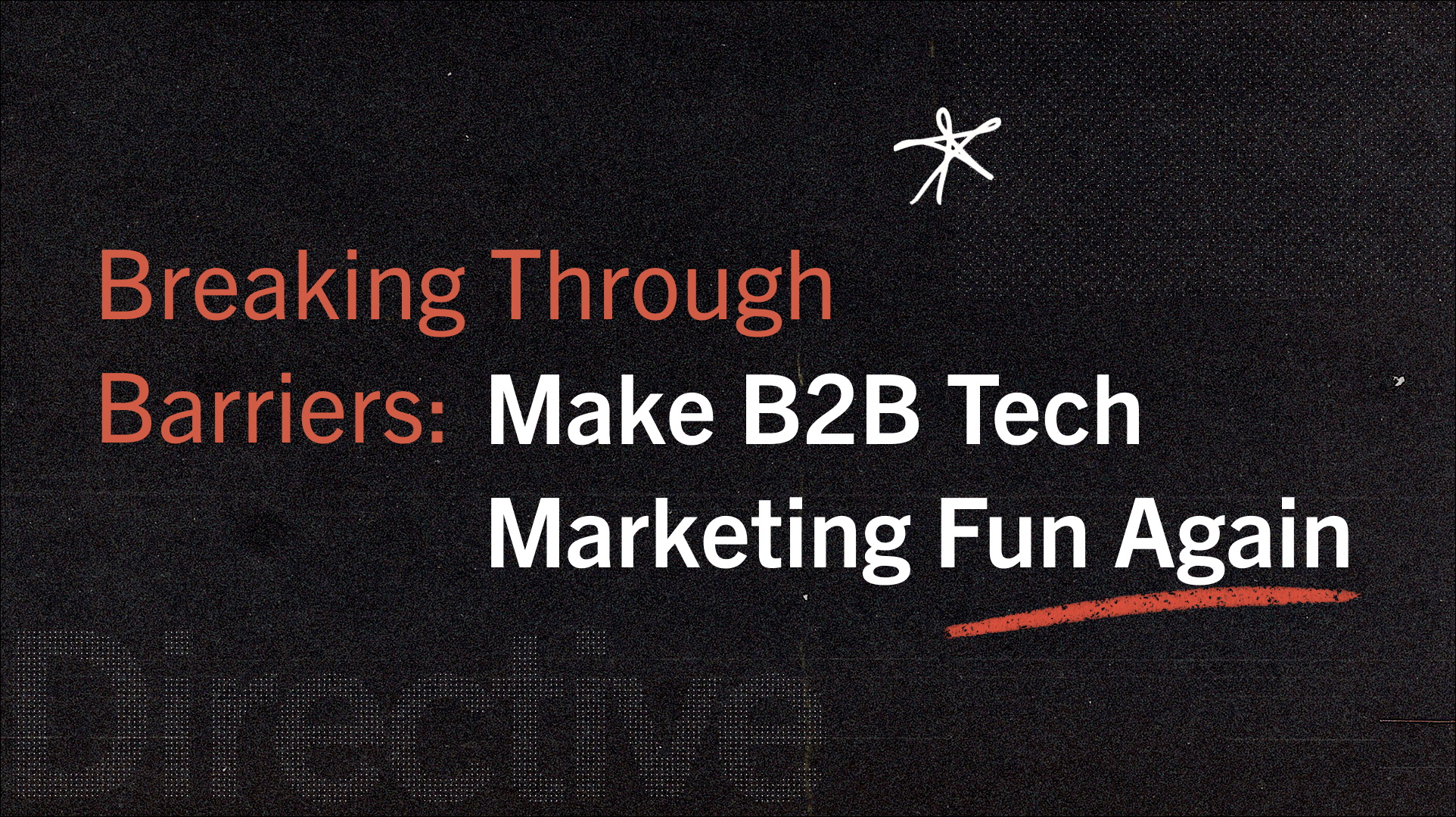 B2B
Breaking Through Barriers: Make B2B Tech Marketing Fun Again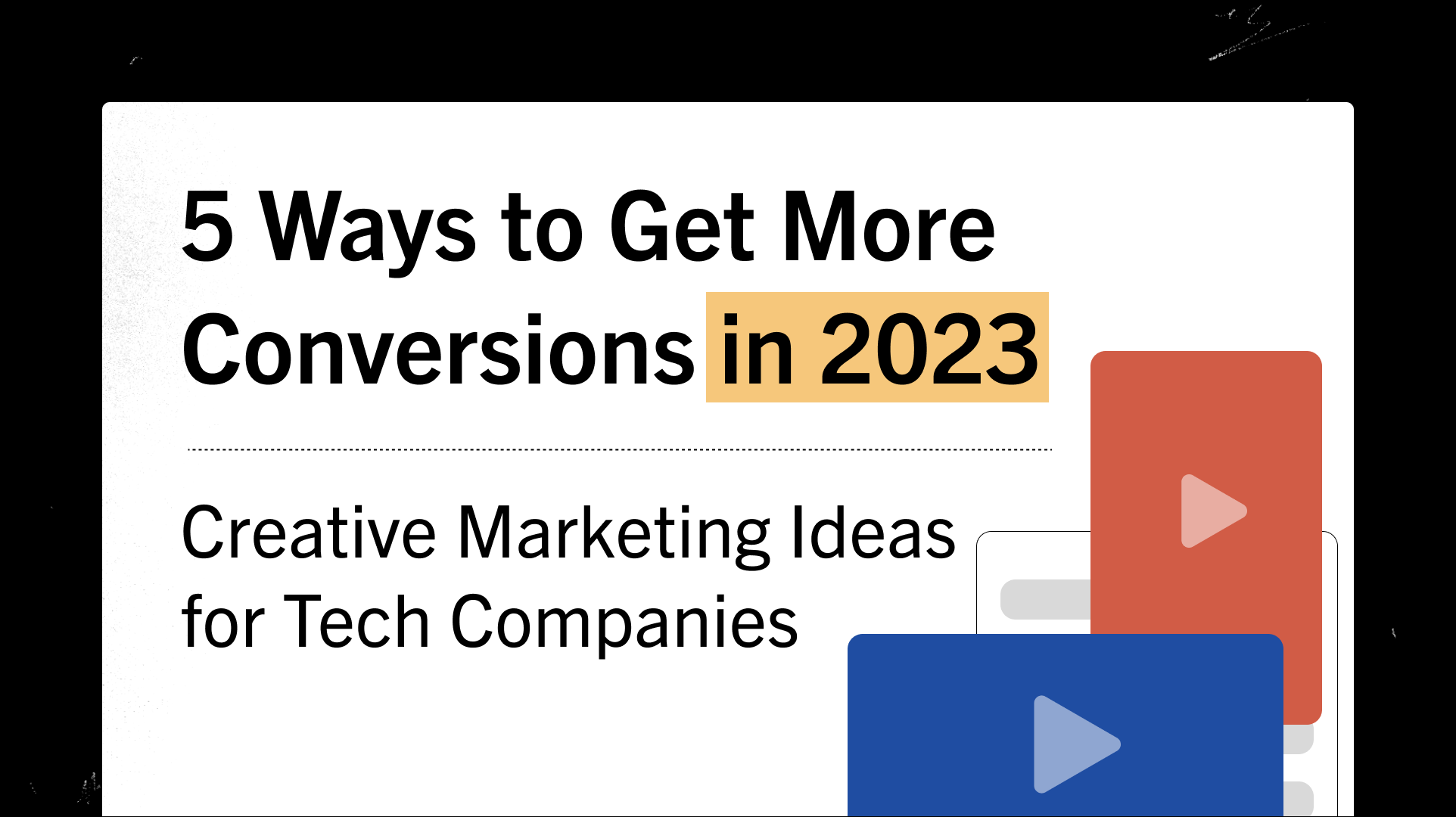 Content Marketing
5 Ways to Get More Conversions in 2023: Creative Marketing Ideas for Tech Companies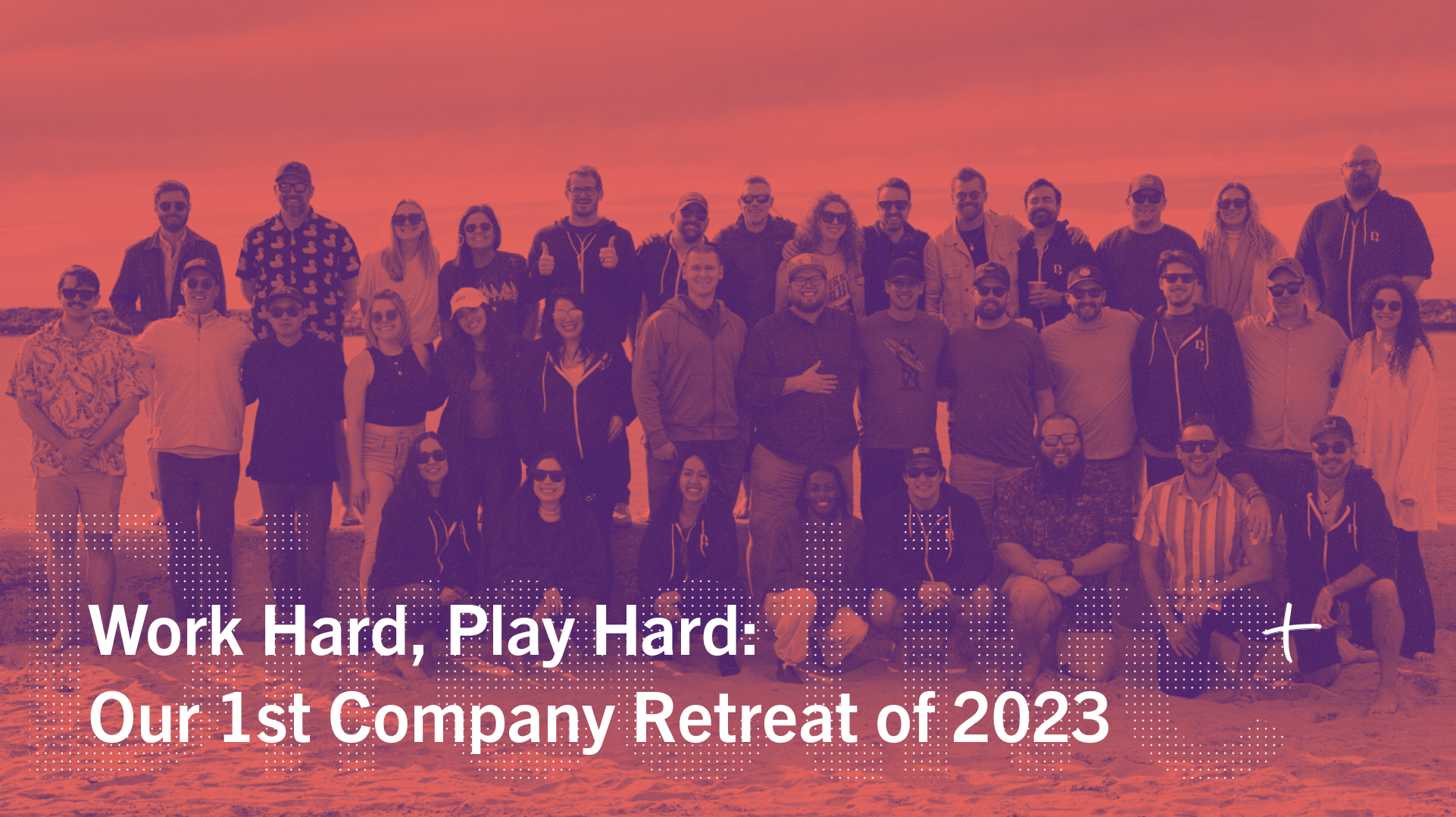 Events
How to Host Impactful Company Retreats as a Remote Team