The Pillars of Demand Generation for SaaS Companies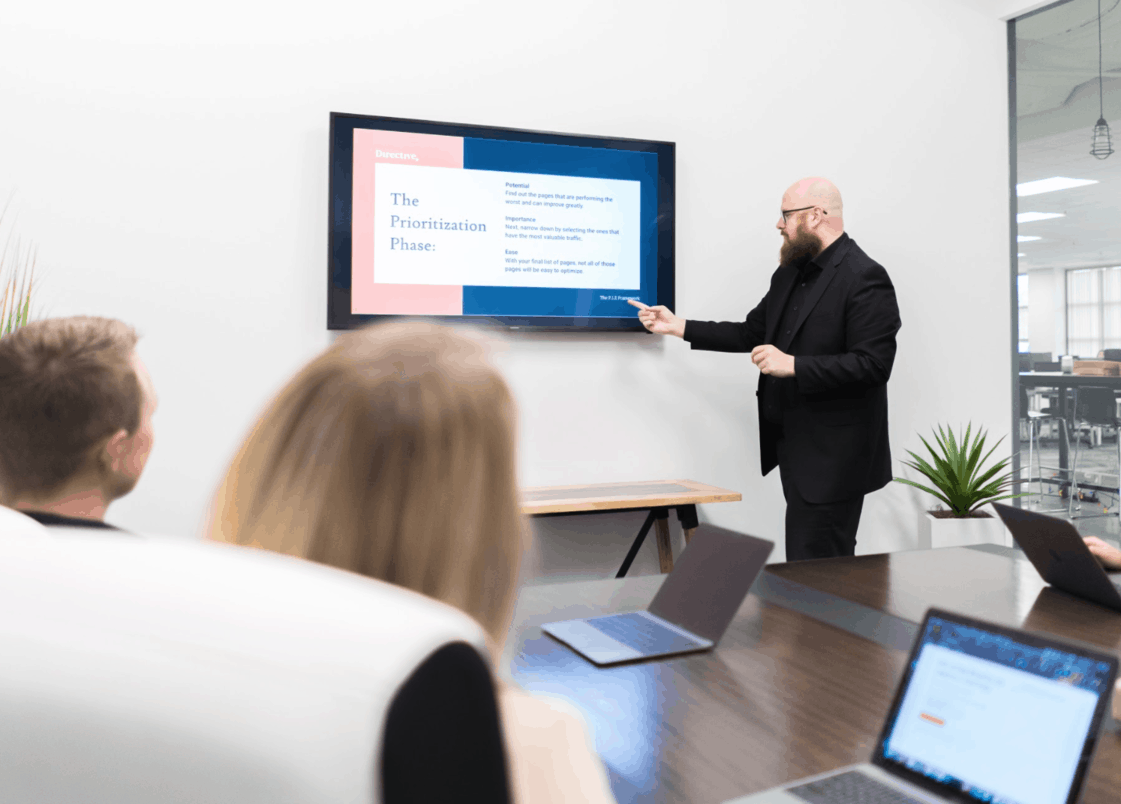 Key Points:
SaaS and Cloud Software industries are primed for at least a 17% growth this year.
The top SaaS companies are all leaders in demand generation.
Discoverability at every step of the buyer's journey improves brand awareness.
Consistent brand activation is necessary when your target buyer isn't ready to purchase.
Be able to communicate your value quickly and concisely.
If you are unable to manage your demand generation campaigns effectively, you may be wasting money and missing growth opportunities.
The Cloud Application Services (SaaS) industry is forecasted to grow almost 17% in 2020 (according to Gartner).
Take a look at the companies we traditionally think of in software: Microsoft, Oracle, SAP. These giants continue to dominate the market share of revenue generated by the overall software industry.
However, when you look more closely at the companies commanding the most attention within the SaaS space, you notice a theme throughout: they are all leaders in demand generation.
We decided to examine a few of the SaaS companies that stood out to us from HubSpot's Top SaaS Companies report: Shopify, Box, and Slack.
We generated data from a series of reports from SEMrush and Pulse (our own performance marketing benchmarking tool), and were able to determine a series of demand generation tactics that these companies dominated in, including:
Discoverability
Activation
Conversion Rate Optimization(CRO), or user experience optimization
We coupled our insights generated from these companies and added our analysis of why your SaaS marketing team should be executing these pillars of demand generation on all cylinders.
Take a look at what we found.
Discoverability
Discoverability is measured by your company's ability to be found on Google, or other search engines, at every step of the buyer's journey. Now, to truly understand the importance of this, break down discoverability into the various functions of demand generation and search marketing:
Organic Search (or SEO) and Paid Search (or PPC).
Organic Search
Demand generation in the lens of SaaS is about building awareness of your company's software and services. There are different levels of awareness, based on the search intent of the user.
Impactful SEO strategies are built around becoming visible for the right keyword, at each level, to maximize the amount of awareness your business generates over time. For these various levels, different kinds of content and link building strategies can be useful.
This includes:
Content with high monthly search volume for relevant terms at the top-of-the-funnel
Thought leadership across all stages of the marketing funnel to cement your expertise in the subject matter
Gated or semi-gated content that entices users to interact with your company
Unique performance-centric content such as case studies that touch upon the pain points of the target audience
…and more.
When you take a look at Shopify, they are generating an estimated 3.26 million users per month, and 2.1 million of those users come from non-branded searches.
They generate an estimated $12.2 million in organic traffic value, which is the estimated cost to rank for those keywords, based on their CPC in Google AdWords. Shopify can gain $12.2 million, in what I like to call "free advertising space", at a dramatically lower cost.
Some of their highest volume search queries include dropshipping, ecommerce, and business name generator.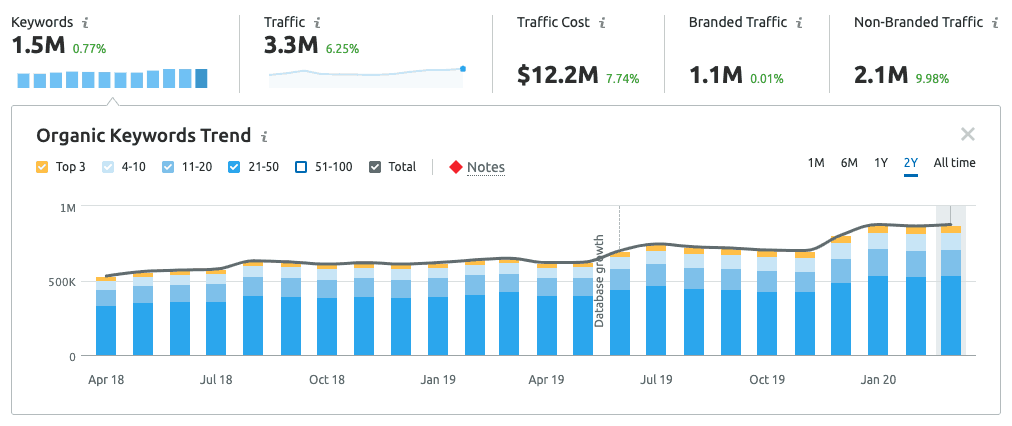 Each of these search queries has different search intent and awareness (refer to Eugene Schwartz's Breakthrough Advertising via ActiveCampaign):
Dropshipping → Problem Aware or Unaware
Ecommerce → Problem Aware or Unaware
Business Name Generator → Solution Aware
Shopify dominates organic search by reaching their target audience at various levels of intent and generating almost 100,000 monthly users from ranking in the top 3 for just three keywords.
Being able to market to your target at a significantly lower cost compared to paid advertising is a pivotal part of demand generation.
For a helpful example of how Directive grew organic brand awareness through strategic content for a cloud operations partner, review this case study.
Paid Search
Demand generation, in the lens of paid search, is centered around effectiveness and efficiency. Unlike SEO, the cost of "missing" is usually a lot greater. Quite literally, it can cost an exuberant amount of money to launch an ad campaign that doesn't resolve in clicks, conversions, or sales. Whereas, in SEO, the only thing you can lose is time.
In paid search, numerous factors influence a click: keyword targeting, messaging, ad copy, and more. Following the click, you must have an optimized landing page that positively shows off your brand quality and nurtures the user enough for them to want to fill out their information and submit the form.
Your advertising budget is typically predetermined quarterly. You must be able to take "X" amount of money and turn it into "Y" number of MQLs, SQLs, and customers. Having specific goals will help you stay on track and monitor what's working and what needs to be changed as you go.
With all of that being said, effective and efficient paid search is about proper and creative targeting.
For the following example, we are under the assumption that Shopify is spending money on keywords that convert and are profitable for them as a business.
Shopify spends an estimated $1 million in monthly ad spend on around 21K keywords. They spend an estimated $606 on the keyword "side hustle" at a CPC of $0.39 and an estimated $4,900 on the keyword "affiliate marketing" at a CPC of $2.58. Both of these keywords generate between 1,500 and 2,000 clicks per month.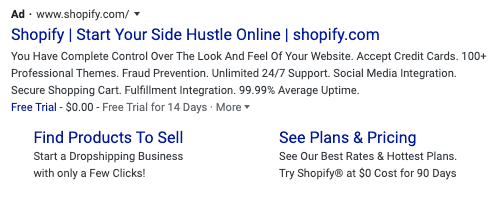 Both examples of the keyword have vastly different intents, but the buyer persona of the user that is searching these keywords fit perfectly into their target audience.
The paid team at Shopify focused on looking past the search intent of the "keyword" and understood that their target audience would be searching those keywords. This kind of creativity in targeting leads to effective and efficient paid search campaigns, and ultimately business growth.
For a great example of how Directive utilized created targeting through remarketing display ads to increase ROAS by 282%, see this case study.
Activation
In a marketing leader's perfect world, your SaaS company is 100% discoverable, and your audience is 100% aware of who your company is, what your company does, and what value your company provides.
The issue with this is two-fold:
We don't live in a perfect world.
Not everyone in your target audience is in the market for your software.
When your target buyer isn't ready to purchase your software, you must continuously interact with them.
Why? When they are in the market, you can activate them at any moment in time.
There are various ways to do this. For example,  LinkedIn remarketing campaigns, conversational marketing, organic social media campaigns, sales enablement strategies, etc. However, the most potent way for SaaS companies to activate their target audience is through email marketing campaigns or drip campaigns.
According to Campaign Monitor, email marketing has the highest overall return on investment, with $38 generated for every $1 spent, and beats social media by 40x when it comes to customer acquisition.
The purpose of lead activation is to create conversations around the overarching topic that your SaaS product is contained within. Email marketing is an impactful way to send a weekly, monthly, or quarterly reminder of what your software does well, how it can improve the overall effectiveness of their business, and why they should trust you.
Email Drip Campaigns
Recently, we reviewed a drip email campaign from Box, who walks you through how to use their software. They provide blog posts, video demos, and use personal copy that offers actual value to users of their software. Here is an example of a basic drip email sent out by their team: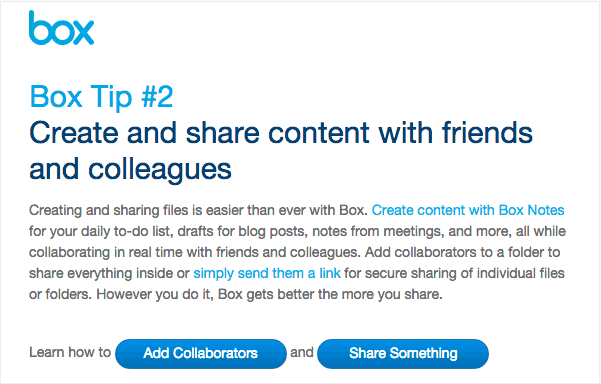 You must make your drip emails valuable for the reader. They should not have to click on the email to be able to get the general message behind what the email entails.
Drip campaigns are supposed to increase the interaction between the reader and your brand, and to do that; you must provide value first (share the content you want them to read in the email; don't leave a link!), and entice them to interact second.
Think about all of the emails that you read. What made you take time out of your day to read them? Which emails did you immediately move to your trash bin?
When you think of some of the best daily newsletter companies (Morning Brew, NextDraft, theSkimm), they provide you content directly in the email copy.
It is time for all SaaS marketers to follow suit.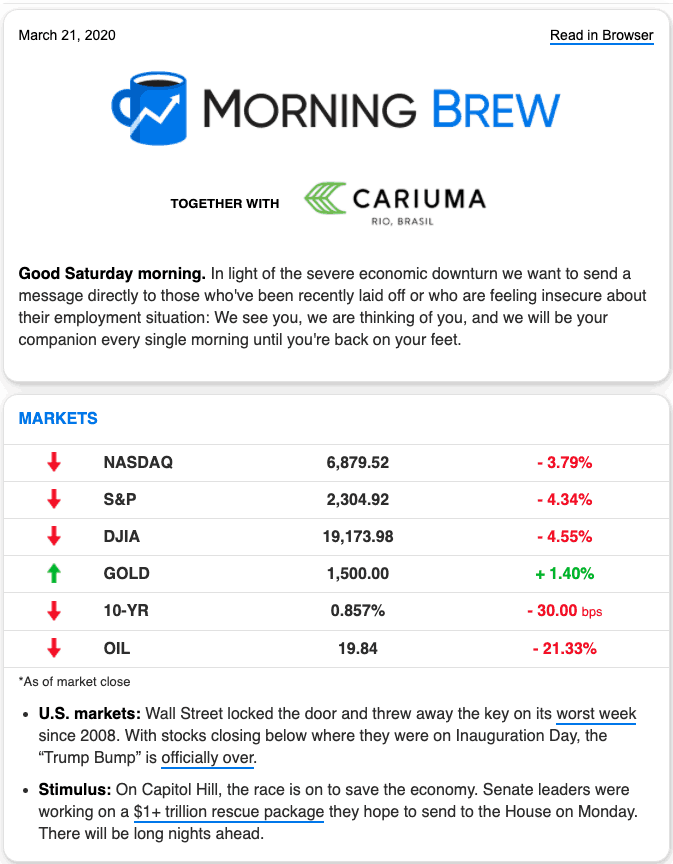 Email campaigns can also lead to free webinars, white papers, and other high-quality content that improve the overall lead nurturing process.
The ultimate goal of email marketing is to take your already qualified leads and encourage them to take action. Ensuring that your content is aligned to the audience, as well as including enticing email copy, will maximize interaction and overall effectiveness of your drip campaigns.
We work hard to practice what we preach. Go to our homepage and sign up for our newsletter. You will receive SaaS-focused performance marketing content every week through our email marketing campaigns.
CRO & User Experience Optimization
For those target buyers who are ready to purchase your software, you must effectively communicate your value quickly and concisely. Managing the user experience through CRO is the essential way of improving inbound lead volume.
CRO, especially for B2B SaaS companies, follows a series of best practices that you must follow to manage user experience, including:
Avoid testing that does not provide a more significant impact of conversions.
Avoid testing too many things at once (this can skew data).
Create tests based on data (not opinions).
Write copy that is direct and matches your business goals.
Slack does a great job of optimizing for a positive user experience.
Their unique value propositions are clear and concise, and they do not incorporate confusing copy. For example, their header is "Slack brings the team together, wherever you are."
This header clearly communicates their ability to unite a team through their application, regardless of their location.
They go even further in the subheader to explain the header and communicate their unique value proposition that "all of your communication and tools" are within the application itself.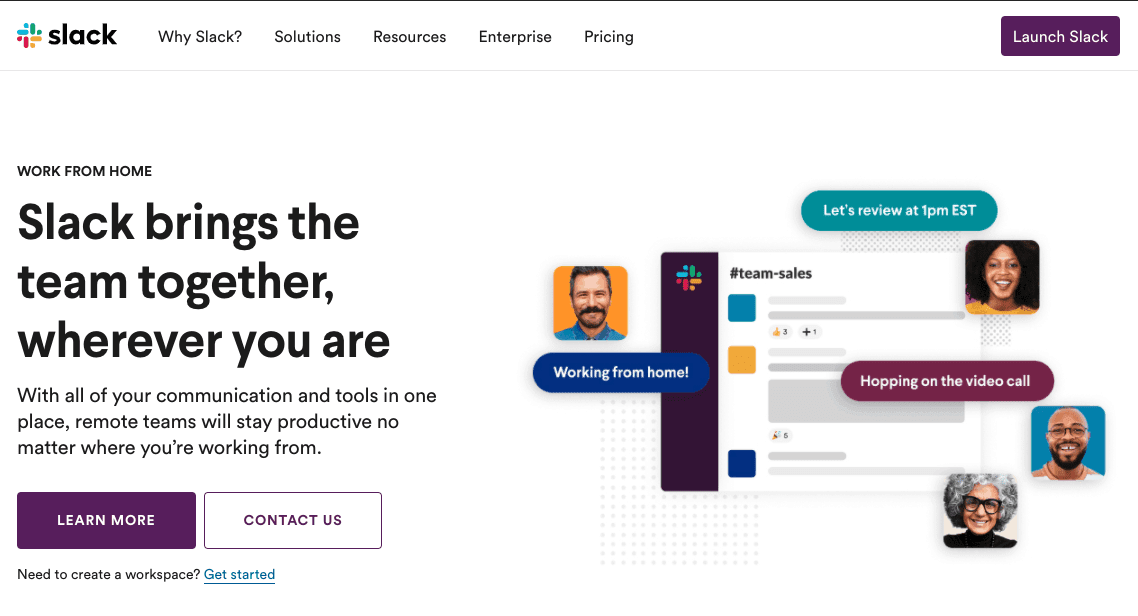 Slack uses real images of the application throughout the homepage, and also provides a video explaining why they created it. This video increases the users' time on page, as well as their interactions with the website altogether.
Slack uses social proof to show that other large enterprise businesses work with them and their platform, which instills trust in potential customers as well.
See below: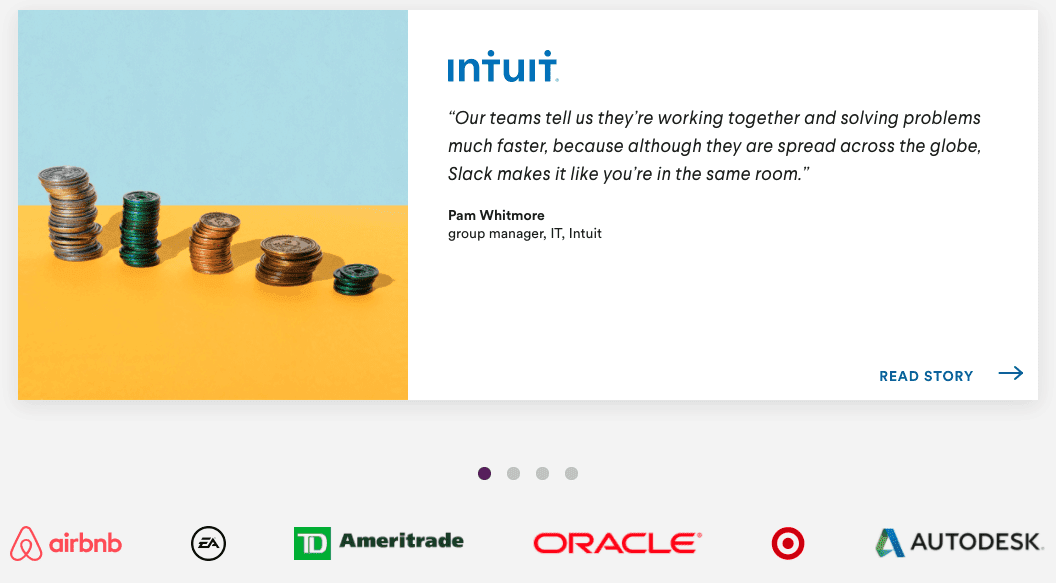 Through a combination of conversion optimization and design best practices, Slack adequately captures leads well and maximizes their demand generation efforts overall.
Why Efficiency is Crucial in Demand Generation
Demand generation can be pricey depending on what kinds of tactics you use, what platforms you choose to market on, how creative you are with your strategy, and how effective you are with your execution.
In paid search, platforms like Google Ads can show you exactly how much you are spending, and how much it costs to acquire a lead.
The question you should ask yourself is: do I know the same information about the other channels I'm investing in?
If your digital marketing team is given a specific budget each quarter, and you are tasked to divide up each dollar by department, are you confident that you are allocating that budget in the best way possible?
Our team at Directive uses a CAC-LTV (customer acquisition cost to customer lifetime value) model that calculates exactly how much it costs to generate a marketing qualified lead, an opportunity (or sales qualified lead), and a deal.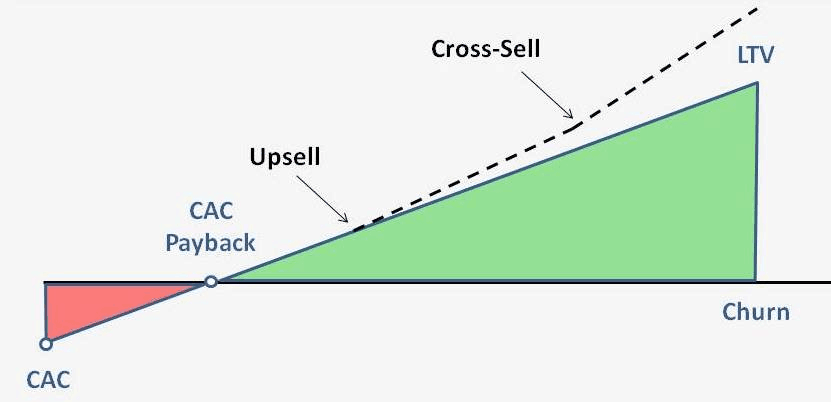 This model can be run across SEO, paid search, LinkedIn, email marketing, event marketing, media relations, and more. Depending on the CAC-LTV ratio, which is a predictive measure of future growth, we determine what channels in marketing are not running efficiently, and double down on the channels that are.
Demand generation is SaaS digital marketing. If you are unable to effectively manage your demand generation campaigns at each of these pillars, you may be wasting money and missing a massive opportunity to grow your business.
To learn about more powerful ways Directive can generate demand for your business, review our case studies.
Keep reading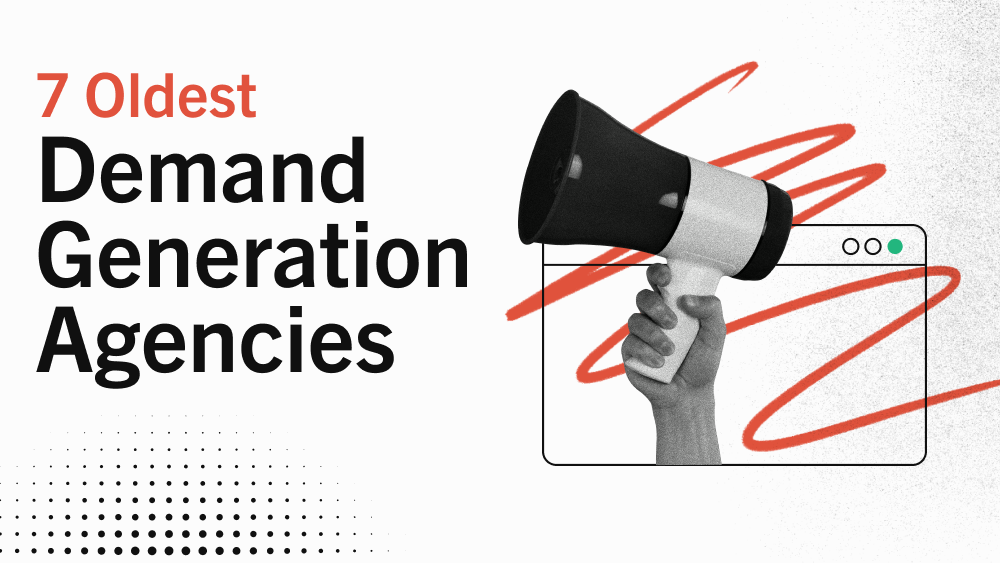 Agency Life
7 of the Oldest Demand Generation Agencies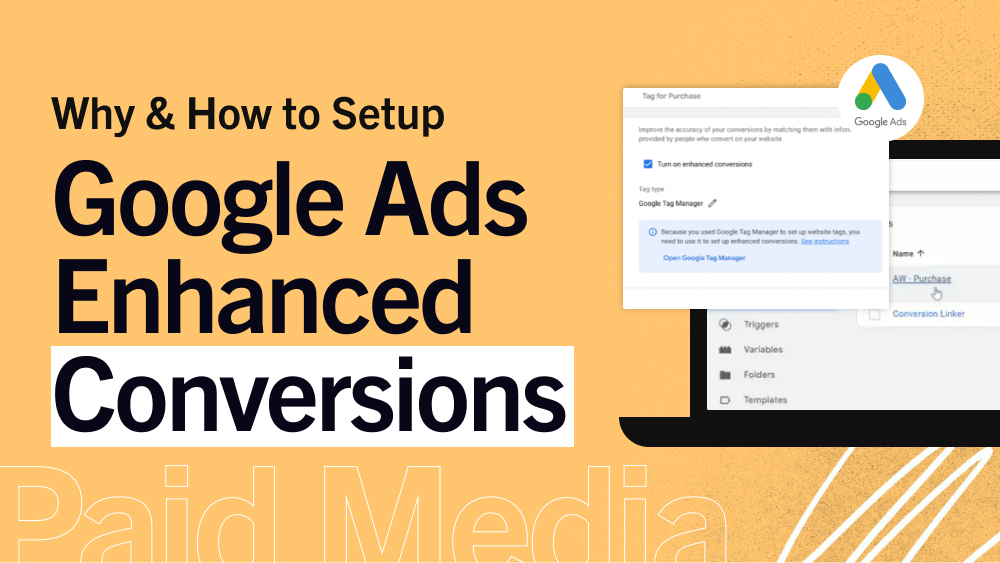 PPC
How to Setup Google Ads Enhanced Conversions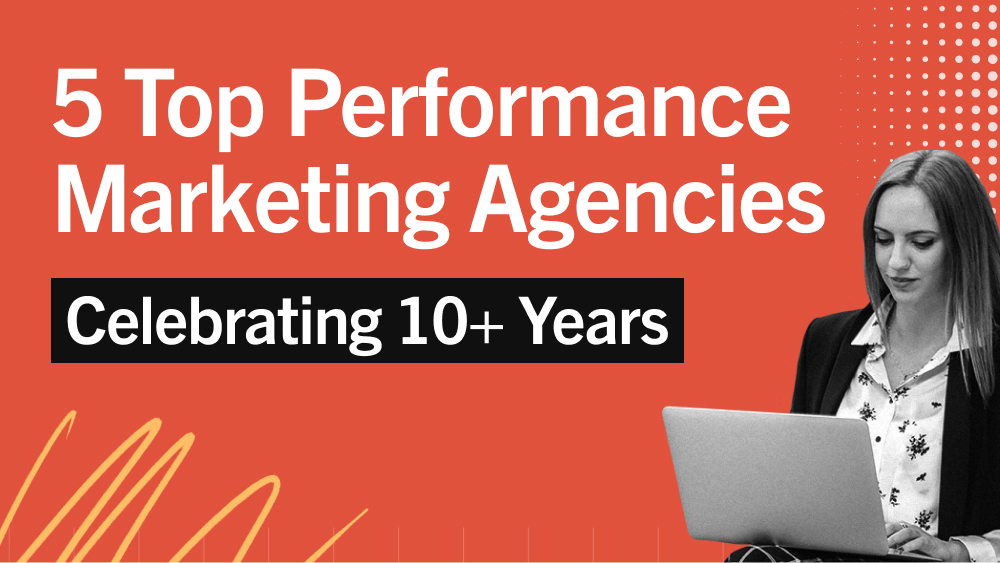 Agency Life
5 Top Performance Marketing Agencies Celebrating 10+ Years