B2B SEO Tactics To Reduce Marketing Spend This Year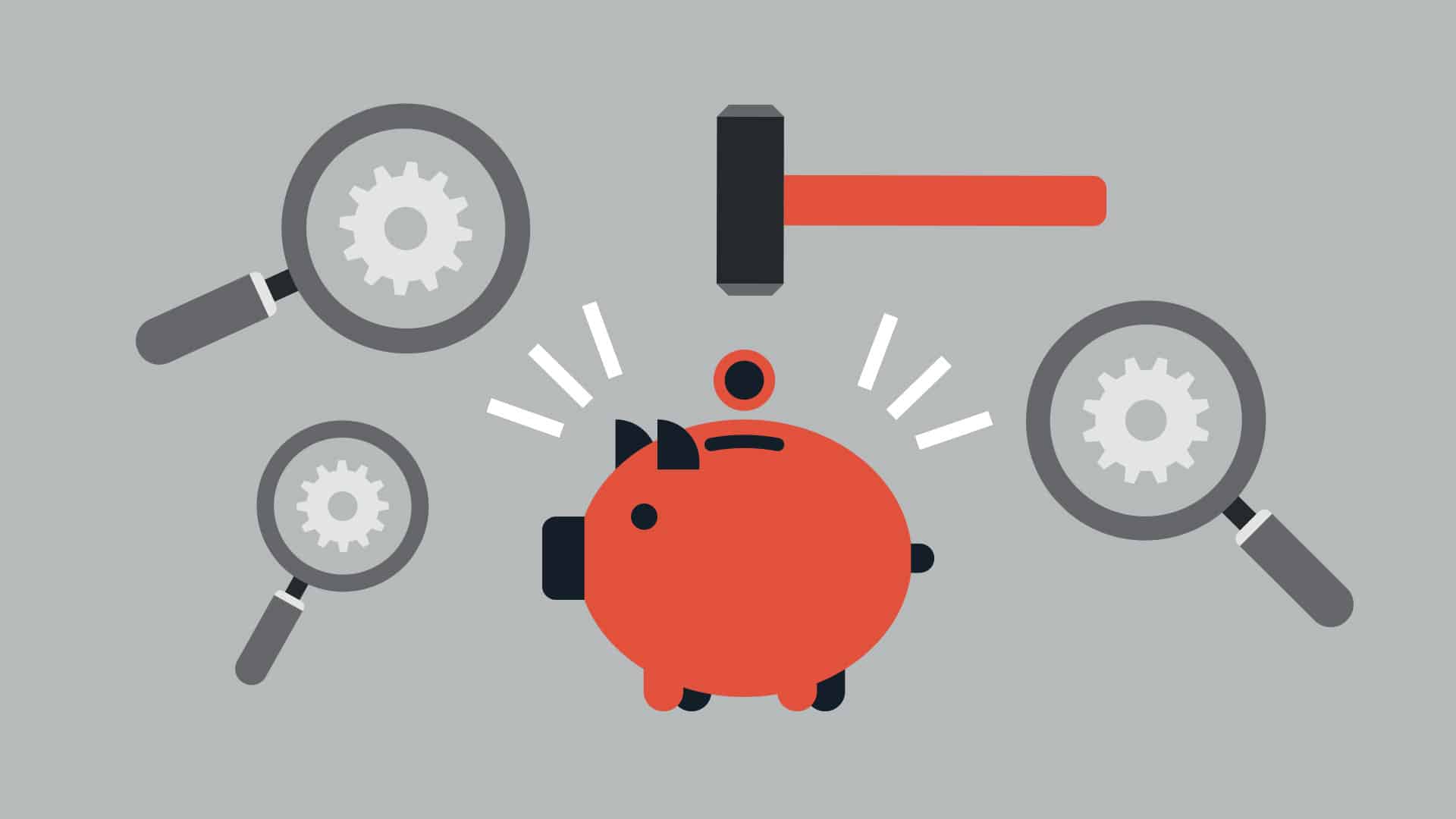 In the world of B2B SEO, strategies are constantly changing. Factors that play a role in our ever-changing industry include Google's algorithm, user behavior, new platforms, and new features!
For B2B marketing organizations looking to get started with a tight budget, I'm here to help!
I've provided you with 10 B2B SEO strategies to meet your budget limitations that require little to no money. 
1. Perform A Competitor Analysis
To get set for B2B SEO success, start by looking at one of your competitor's websites.
Focus on the homepage, core/product pages, and your blog pages. Check for usage of meta tags (meta titles and meta descriptions), heading structure (H1 to H6), internal links, images, and call to action buttons.

By diving into a competitor's site, you'll be able to compare key SEO differences ASAP. You'll also be able to compile a list of advantages you use that your current competitor isn't implementing or vice versa.
Find what works and run with it!
2. Implement Keyword Research
Keyword research is an extremely significant process for any B2B SEO agency company.
Below, you'll find a list of free keyword research tools to get you started:
Each tool will provide you with various metrics, such as keyword search volume, the competition of the word, cost-per-click (CPC), keyword difficulty, and more, depending on what tool is used.
From there, you'll be able to see if the current keywords you are using on your website have a high search volume and a keyword difficulty that allows you to rank easily.
CAUTION: During your research, you may find keywords on your site that have little to no volume. This is an opportunity for you to gather a strong list of keywords that you need to start using strategically!
3. Run a Site Speed Audit
Google's algorithm uses a website's pagespeed as a ranking factor. Therefore, a site speed audit is necessary to find areas that need improvement!
If your website is taking longer to load then your competitors, there's a good chance your competitors may steal some of your business.
Take initiative and work out kinks that may be slowing you down…literally!
I highly suggest using Google's free pagespeed insight tool to check your speed score on both mobile and desktop.

Depending on your speed score, this tool will provide you with a list of opportunities to increase your speed.
Below, you can see the list of issues where you can figure out how to make improvements: 

4. Research SEO Tools
The internet has provided us with endless amounts of online resources. There are no excuses for having poor SEO when getting started is this simple!
With just one online search, you can find SEO tools available for you – at no cost. 

One hindrance to testing out various SEO tools is that takes time. Although, when successful, you'll find tools that are affordable and deliver high-quality results. In-depth tool research is definitely worth the try!
Time an issue? You can always reach out to the SaaS SEO experts at Directive who know exactly which tools to use and are able to get you on track for success – faster.
5. SEO-Optimized Website
Now that you've researched your competitors, implemented keyword research, and conducted a site speed audit, you'll be able to fully optimize your website!
Below are a few recommended B2B SEO best practices during your optimization:
Include keywords in your meta tags (meta title and meta description)

Include keywords in your H1 heading

Use proper heading structure (H1 to H6)

Include keywords within your content multiple times

Include internal links

Include images

Include keywords in your image alt text

Include call-to-action buttons
According to Neil Patel, meta tags help you reach your organic audience. Search engines use meta tags and heading structure to better understand your page as well as crawl that page.

Keyword targeting within your meta tags, H1 headings, and content is essential to rank for a specific keyword on the search engine result pages (SERP) and drive organic traffic to your site.
Internal links navigate you to different pages on the same domain, which helps establish website hierarchy and spread link equity.
Let your audience know your website is multi-faceted and a "one-stop shop" for all their needs.
Quality images are used to make your content appealing. Yoast provides tips on how to fully optimize your images. For instance, add an image alt text and title text to all your photos. There's more that goes into your images than just the pretty pictures!
Call-to-action (CTA) buttons are strategically created and used to generate conversions, but not all CTA buttons are guaranteed to work. CTAs can become effective when words and colors are used strategically.
Below is an example of a CTA text change that was done by our team at Directive to help increase conversions by 15%.
Before:

After:


By following these free suggested tactics, you can make your website SEO friendly for you and your visitors!
6. Create Quality Content
Before you begin writing your content, it's crucial to define your target audience in order to appeal to your readers.
To start, the recommended blog post length for SEO is 1,300 words (the longer, the better).
More text allows you to provide in-depth explanations of your topic, and add a sense of quality. Google is able to better understand what your content is about this way!
During your keyword research, you'll define your primary keyword as well as compile additional keywords to target within your content. I suggest using your primary keyword at least three times within your piece to have a higher chance to rank for that keyword.
Also, don't forget to include your primary keyword within your H1 heading. A proper heading structure makes it easier for your users to read your content as well as break up text and guide them along.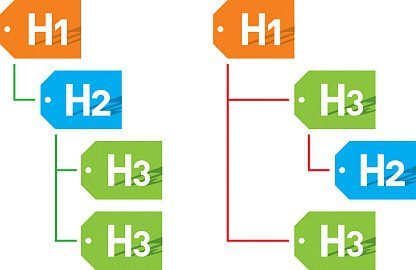 Photo by Advanta
Internal links help Google find the value and relation of your content. Therefore, it's important to include at least two in each blog piece you produce.
As said previously, images make your content more interesting. Each image requires alt text, which is another opportunity for you to use your primary keyword.
Sprinkle them in there!
Alt text describes the appearance of an image when that file is unable to load. This also helps search engines better crawl that image properly as it provides a detailed description of it.
Calls-to-action invite users to learn more about your product or service. How well these are created may be the deciding factor in obtaining the conversion you are looking for. 
Each content piece should include at least one call-to action-button to make sure you don't miss this opportunity! 
7. Re-purpose Old Content
Fresh content is proven to be crucial to driving organic traffic.
Why?
Old content becomes stagnant and slowly decreases in value with time. An update on old content is free, quick, and easy. By updating this material, you'll be able to better rank and improve your piece so it stays relevant.
Google will recrawl updated content, which will help bring in organic traffic once again!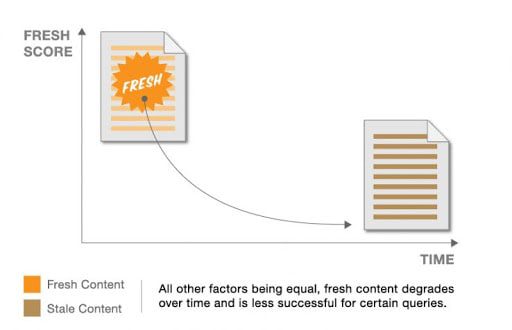 Photo by Moz
Content freshness also helps Google determine if your site is relevant and quality enough for your audience. To get started, choose previous articles that have shown to bring in traffic before.
These specific pieces will most likely bring your target audience in when updated with recent news or trends.
Let's get moving!
8. Build Strong Social Media Accounts
Social media platforms (Facebook, Twitter, YouTube, LinkedIn, etc.) give you an opportunity to create a powerful online presence for your company. These channels let you build a community with your following and communicate with them by the touch of a button.
Pretty cool when you think about it!
When creating an account, fill out as much information about your business as possible (company name, address, website, business description, photos, etc.).
Don't be afraid to show your authenticity! By optimizing your profiles, your visitors may become potential customers!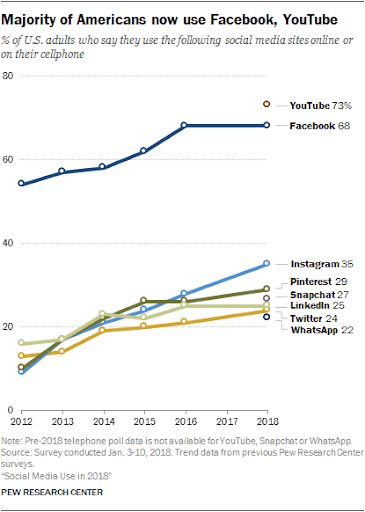 According to Pew Research's chart above, the majority of Americans spend about 70% on both YouTube and Facebook. That is well above average ladies and gentlemen.
The remaining 20-35% is spent on Instagram, Pinterest, Snapchat, LinkedIn, Twitter, and WhatsApp. Keep in mind, your target audience may be more active on a different one of these platforms.
Keep researching and make sure you're up-to-date on who exactly you're trying to target!
With so much time being spent on these free social media platforms, posting quality content and posting consistently is essential for success.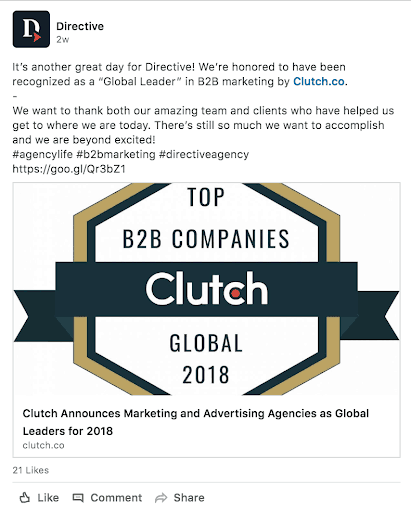 With a high peak in user interaction from 2012 to 2018, we expect this growth to continue to increase due to new features.
Many platforms, such as Facebook and LinkedIn, have been forming third-party integrations that allow their users to share their content. For example, Instagram allows you to link your account to Facebook in order to share your pictures.
Social media applications are also beginning to share user data. This data actually helps B2B marketing companies gain more information about user behavior to provide better services to meet their needs.
Ultimately, social media can help drive organic traffic to your site and even help earn conversions when used regularly.
The best part?
You don't have to spend a dollar.
9. Track Metrics with Google Analytics
Google Analytics is a free tool used to track your company's metrics to learn details about visitors on your website. Many B2B SEO agencies utilize this tool to check month-over-month traffic, compare yearly conversion rates and even set up personal company goals.
See an example below:

Google Analytics is quick to install and requires you to input a code into the backend of your site. Once installed properly, Analytics will be able to collect various data, such as page sessions and bounce rate from your site, which will help your build useful reports.
These reports will help you better understand user behavior and make decisions based on your findings. You'll see which content brings in organic traffic and also uncover data about your target audience, such as age, gender, location, and more!
Another cool feature available in Google Analytics is the conversion tracker. This allows you to create multiple goals to collect data on your site.
For instance, you can create a goal that tracks how many users have completed your Contact Us form:
Step 1: Click on Admin > Goals

Step 2: Click on '+ NEW GOAL' tab

Step 3: Click on Template > INQUIRY: Contact us > Continue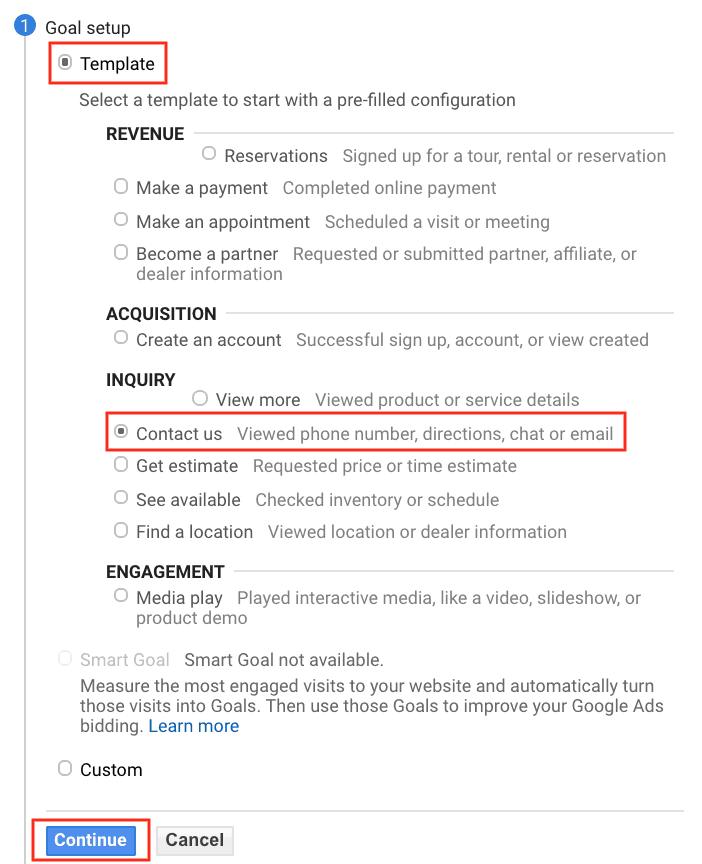 Step 4: Enter Goal Name > Destination > Continue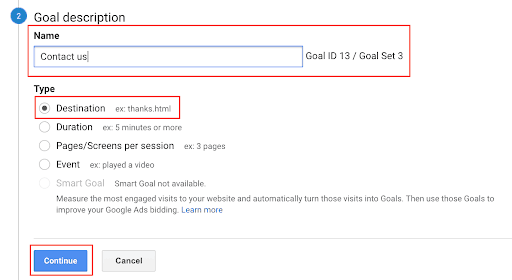 Step 5: Enter web page destination > SAVE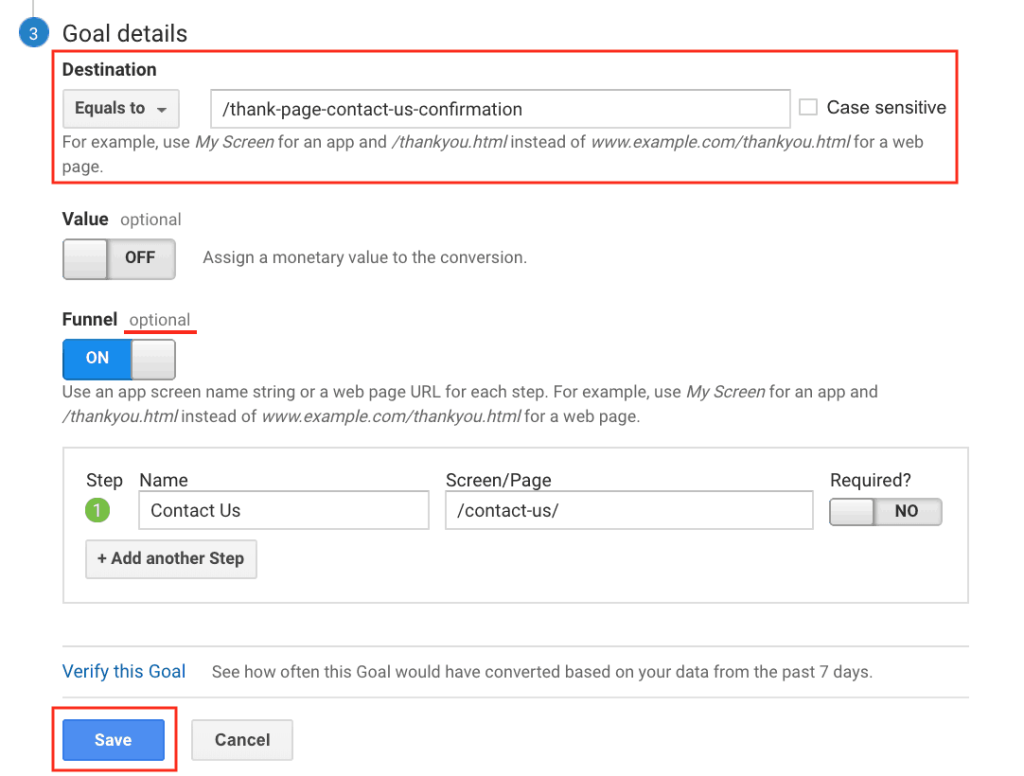 Once you have successfully added this goal, you'll be able to identify exactly how many users have completed your Contact Us form on your website!
10. Read SEO Articles
Google's algorithm is changing constantly, whether we like it or not. An impactful strategy that was used today may not work tomorrow.
It's up to us to learn how to deal and continue hitting goals.
These rapid shifts and updates are why we must continue to educate ourselves. By reading SEO articles, we understand why there were fluctuations in metrics after implementing new tactics.
Below are a few recommended blogs to follow:
Time to Reach B2B SEO Success!
As you've learned, all SEO tactics provided above are easy to implement for any B2B company looking to cut costs. Each strategy simply requires time in strategic research and analysis that will pay off in the long run.
For those of you searching for professional B2B SEO expertise, Directive offers free custom proposals including competitor insights, a free audit, and custom strategies.
It's time to start saving money and increasing conversions in 2019.
Keep reading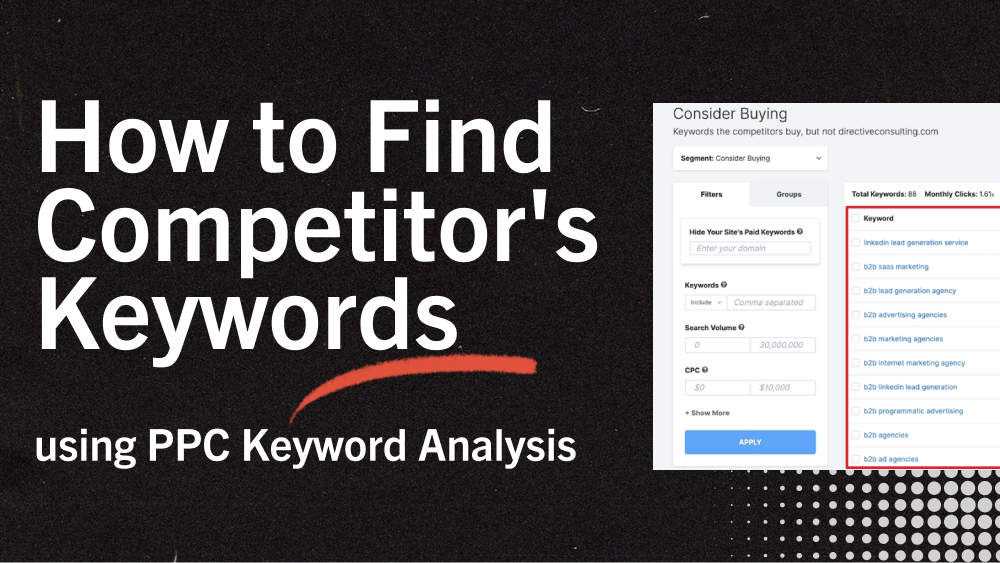 PPC
How to Find Competitor's Keywords with SpyFu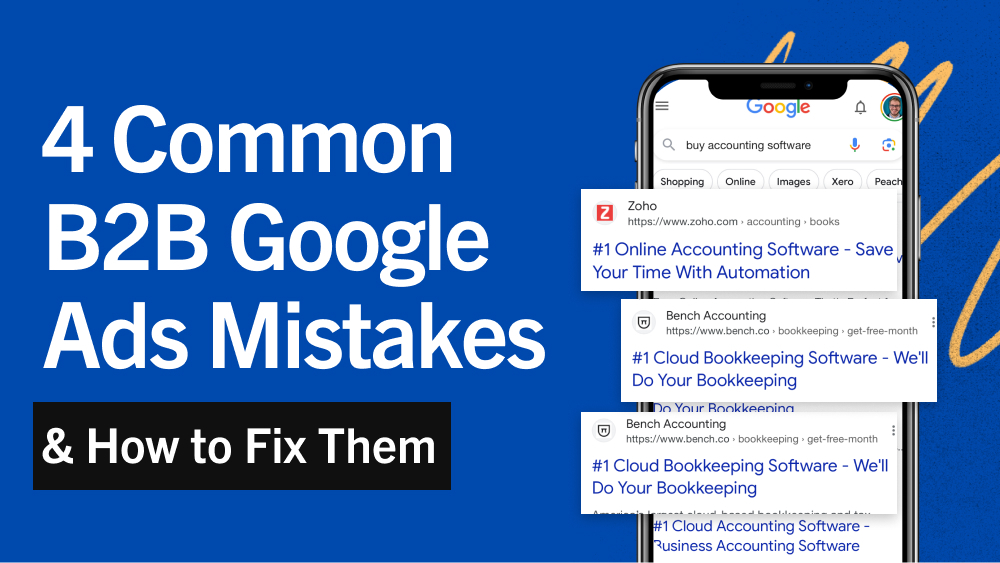 B2B
4 Common B2B Google Ads Mistakes and How to Fix Them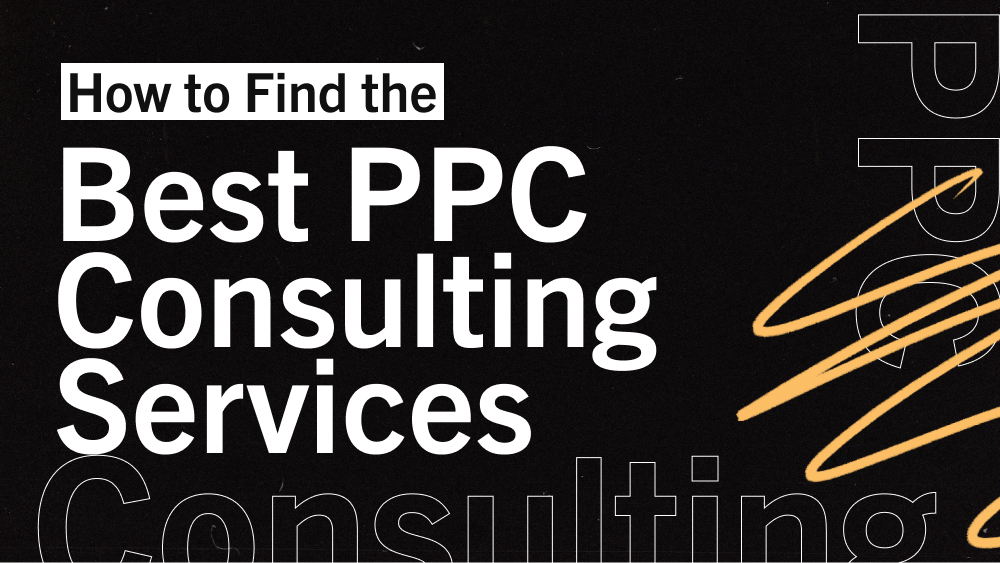 Agency Life
How to Find the Best PPC Consultant Services