Top 6 SEO Certifications You Should Consider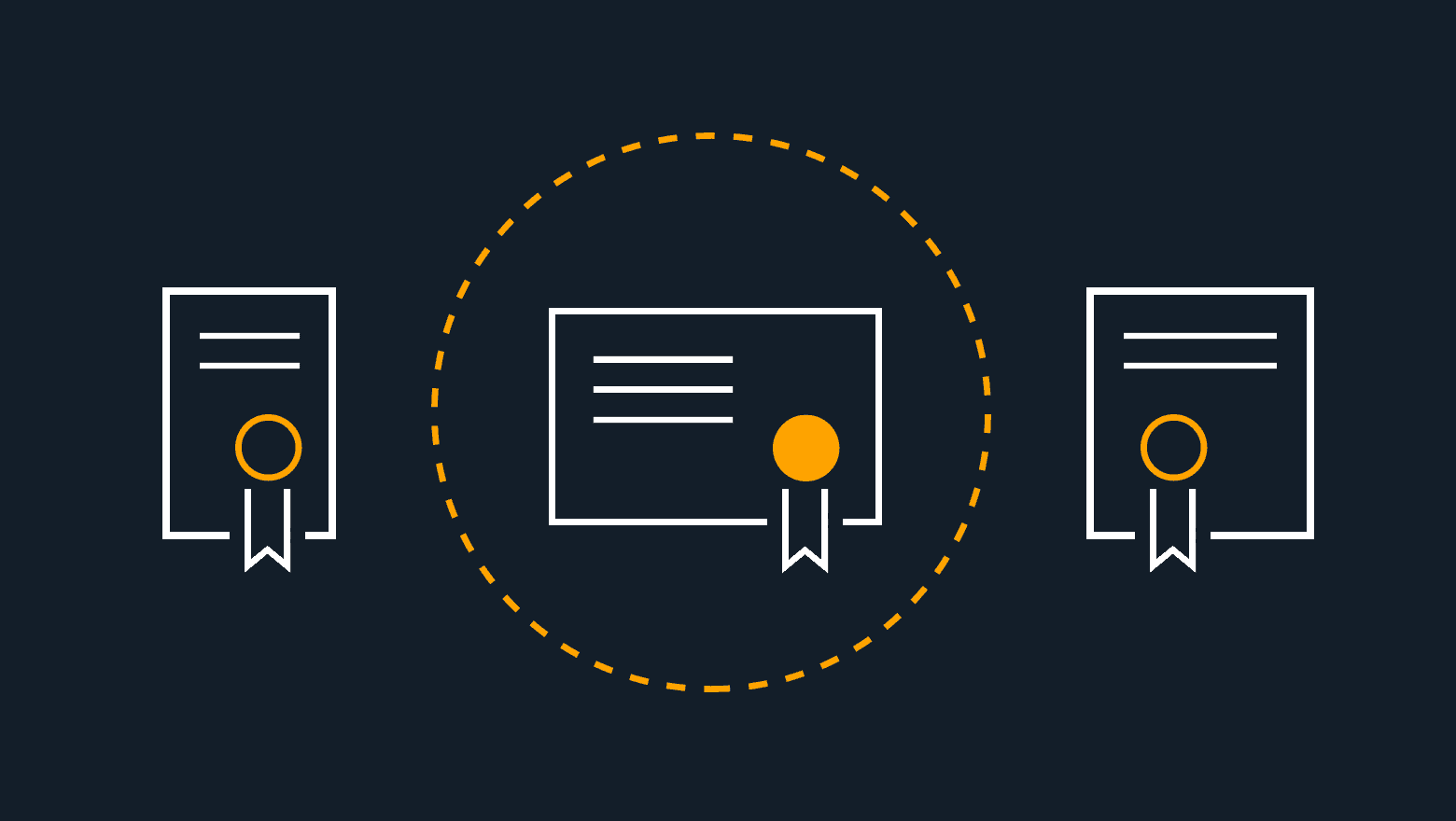 Completing an SEO certification is a great way to gain more marketing knowledge, update your skills, and learn new techniques and methods to enhance your online marketing results. 
If you're interested in learning search engine optimization from an online SEO course and obtaining an SEO certificate that validates your achievement (for yourself, and for potential employers), the hardest part of getting started is figuring out which SEO certification program is right for you.
To help you get started, we've put together a list of the 6 most useful and reputable SEO certification courses that you should consider.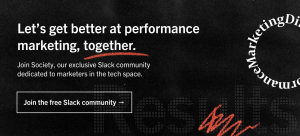 Top 6 SEO Certifications You Should Consider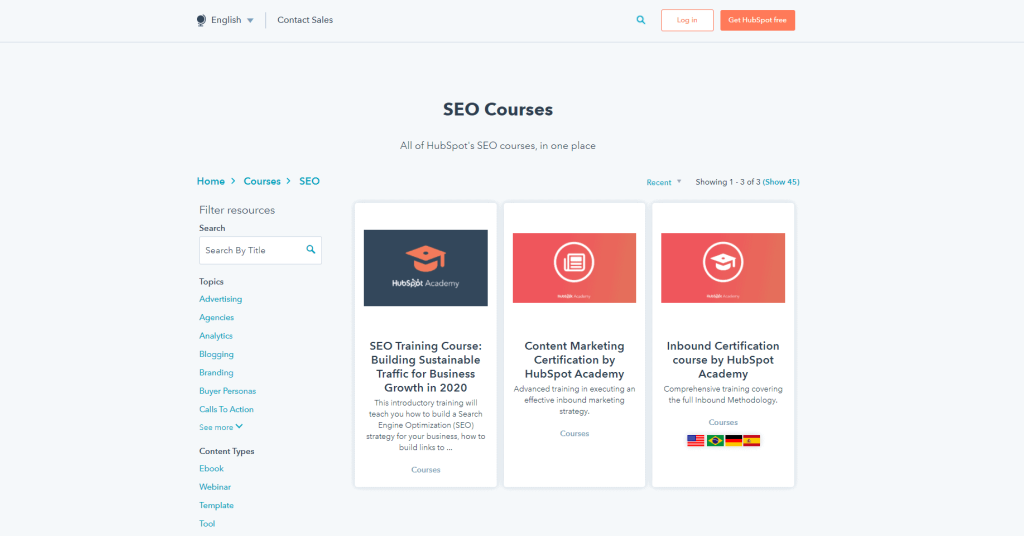 Overview: Hubspot's SEO course consists of three lessons spread across 15 videos, There's about an hour of total content and you'll be able to test your knowledge by completing 2 quizzes.
Key Features & Selling Points: Hubspot's SEO training course includes details on SEO strategy development, how to scale up your link-building efforts, how to build authority and select topics for content, and how you can use blogging to increase your rankings in Google Search. HubSpot also offers certifications in Content Marketing and Inbound Marketing.
Pricing & Value: This SEO course is available for free, which is probably a fair price. You'll get a decent overview of SEO and an introduction to high-level concepts, but there's not too much course material and you'll likely be left with more questions than answers.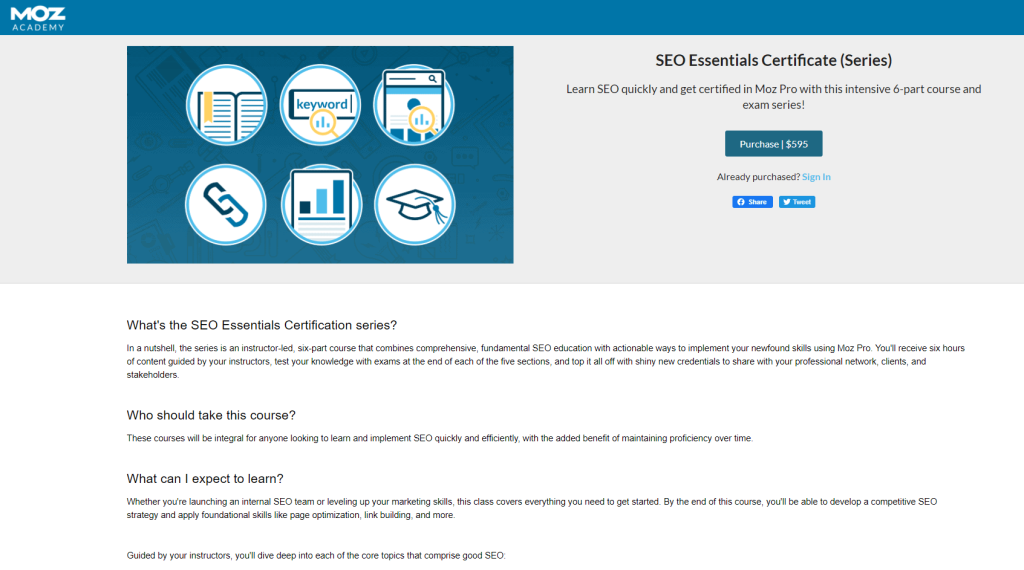 Overview: This SEO course contains six different video modules with a total of over 6 hours of content. Students will spend around 8 hours viewing course material and completing five exams to earn the Moz SEO Essentials Certificate.
Key Features & Selling Points: This course goes into detail on the essentials of SEO, providing students with the knowledge they need to start running their own campaigns. Course modules will teach you the fundamentals of SEO, how to develop keyword strategy, how to optimize individual web pages for search, how to build links effectively, and how to report results efficiently using Google Analytics.
Pricing & Value: To start earning your SEO Essentials Certificate, you'll need to pay a $595 registration fee. With just six hours of course content, most of the value here comes from the Moz name and reputation – not from the course itself.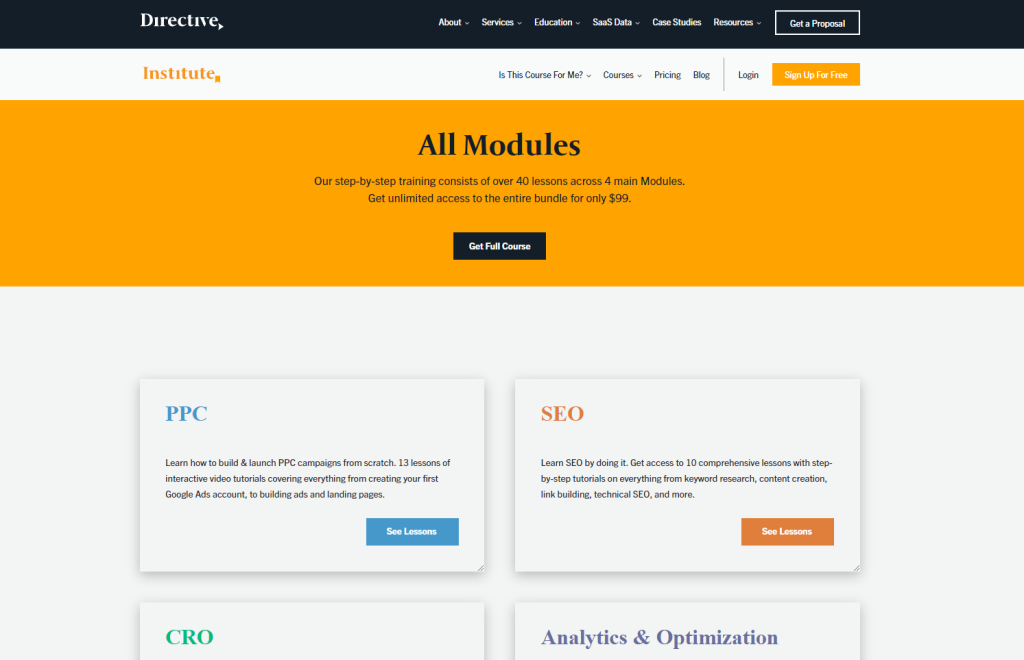 Overview: Directive Institute offers digital marketing courses for business owners, students, agency and in-house marketers, and marketing beginners looking to expand their online marketing skillset. 
Key Features & Selling Points: Course creators at the Directive Institute realized that while there were plenty of SEO courses available online, most of them focused on high-level theoretical concepts and didn't create enough opportunities for students to practice skills and apply what they learned. 
With that in mind, Directive Institute developed its SEO course to help students develop real marketing skills and know-how by combining theoretical instruction with practical exercises. This SEO course offers hours of instruction across ten modules designed to help beginner-level or experienced marketers start improving their SEO and online marketing results.
Pricing & Value: Students at Directive Institute can enjoy unlimited access to all course materials across four modules – SEO, PPC, CRO, and Data Analytics & Optimization – for a one-time course enrollment of $99. Ongoing access to tools and templates, interactive quizzes, Directive Institute certification and practical skills development make this one of the best-value SEO courses available.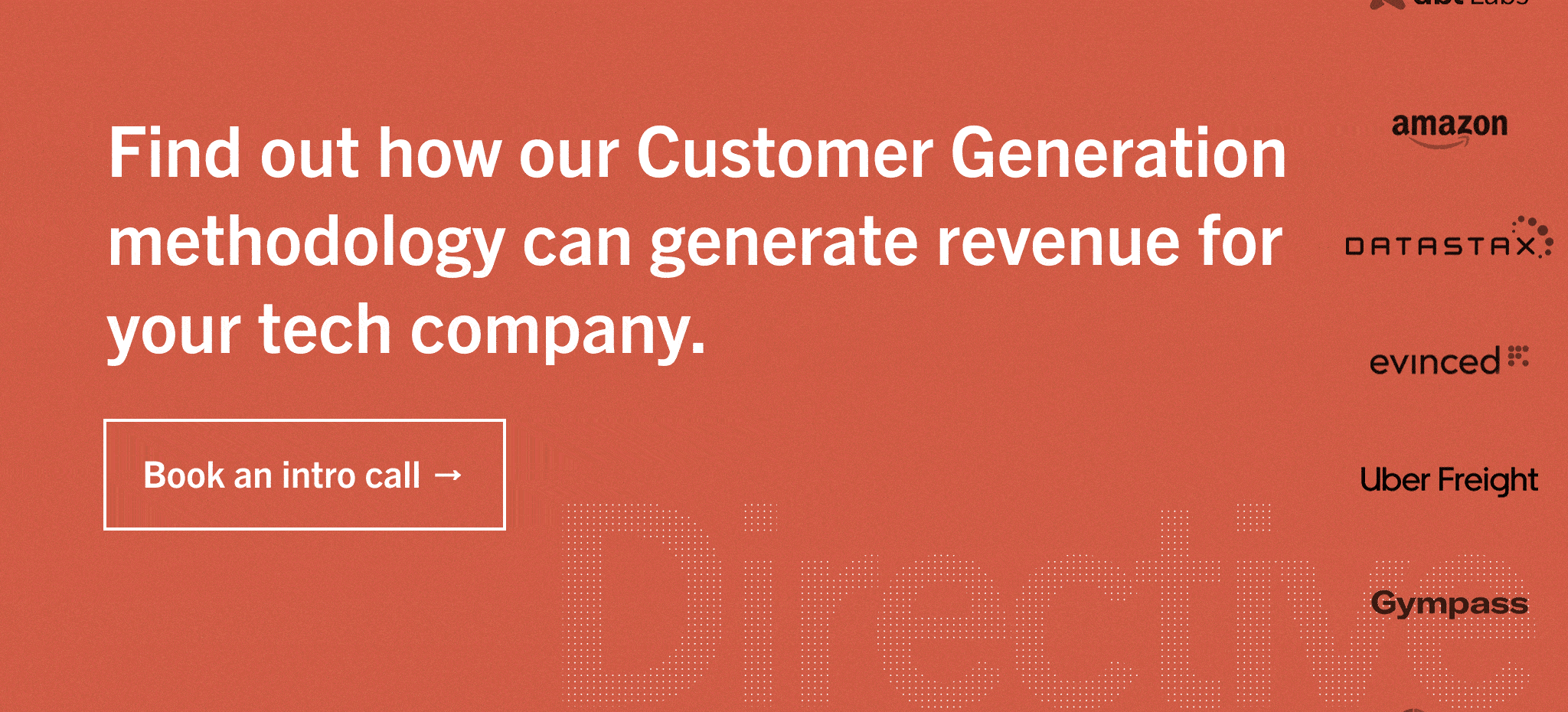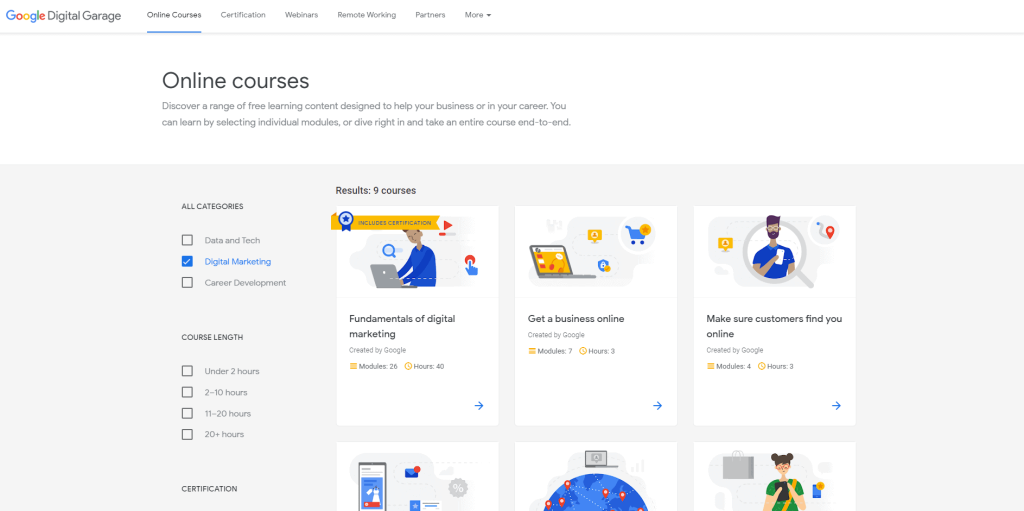 Overview: Google Digital Garage offers a certification program in "Fundamentals of Digital Marketing" with 26 modules and over 40 hours of course content.
Key Features & Selling Points: This fundamentals course is geared towards beginners and aims to describe a broad range of digital marketing strategies and concepts without going too in-depth into any one thing. Topics covered include website design, online business strategy, organic and paid search marketing, local search marketing, social media, mobile marketing, content marketing, display advertising, analytics, and eCommerce.
Pricing & Value: This course is available completely for free! Digital Garage offers great value and high-quality information for beginners, but advanced SEO practitioners should choose a course with a narrower focus and more SEO-specific tactics and methods.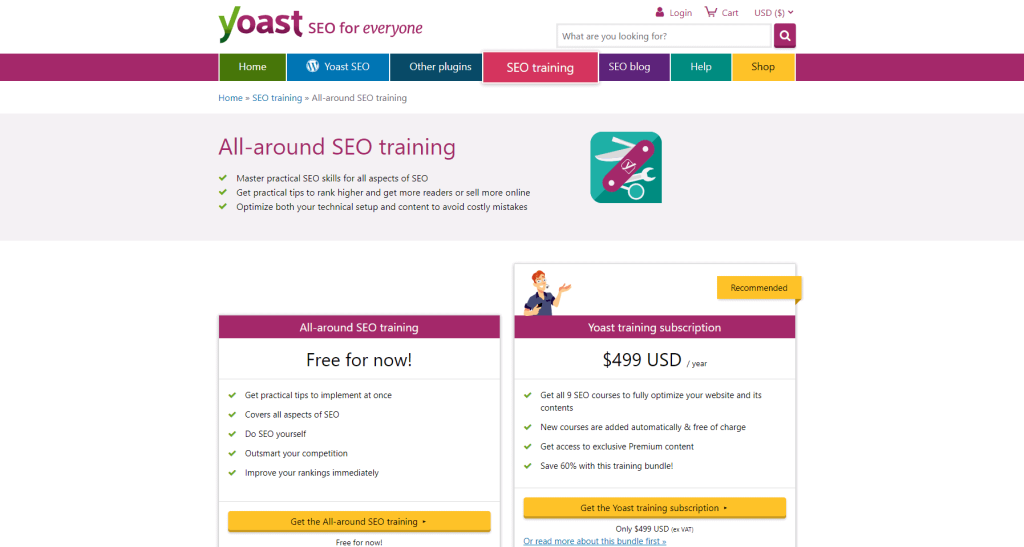 Overview: Yoast makes the most popular SEO plug-in for the popular WordPress platform. Yoast also offers a selection of SEO courses for marketers hoping to improve their skills in search engine optimization. 
Key Features & Selling Points: Yoast currently offers nine different SEO courses for digital marketers:
All-around SEO training

Site structure training

Keyword research training

Yoast SEO for WordPress plugin training

SEO copywriting training

International SEO training

Free SEO training for beginners

Structured data training
Pricing & Value: Individual SEO courses from Yoast cost $299 for a one-year subscription, but there's usually just 8-16 hours of content per course (not the best value). To get the best value, you'll need the Yoast training subscription – it costs $499 for a one-year subscription and includes all nine SEO training courses. You'll have the opportunity to complete all nine courses, earn the corresponding badges and certifications, and access exclusive premium content and newly released courses.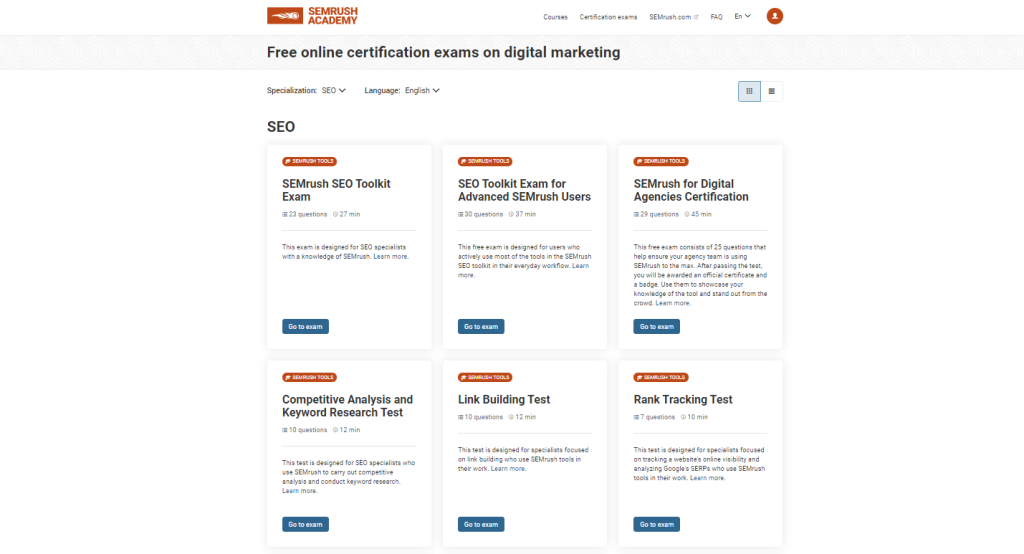 Overview: SEMrush is a leader in search engine marketing software tools. Through the SEMrush Academy, aspiring marketers can enroll in over 25 free marketing courses and earn certifications by taking free exams.
Key Features & Selling Points: SEMrush Academy touches on many different topics that are important for digital marketers in SEO, including rank tracking, link building, competitor analysis, keyword research, technical optimization, and more. Many courses are just an hour in length, but several are 4-5 hours or more and feature instruction from recognizable SEO experts like Greg Gifford.
Pricing & Value: All courses and certifications offered on the SEMrush Academy are free! The quality of information is great, but marketers should be aware that these courses are geared towards beginners and place a strong focus on theoretical knowledge vs. practical experience. Still, SEMrush provides one of the best free courses and certification programs available online today.
Summary
An SEO certification can be an excellent way to enhance your knowledge and credibility in the field of search engine optimization. There are numerous certification programs available, each with its own strengths and weaknesses. It is essential to evaluate your goals and priorities before choosing a program that best fits your needs. Moreover, it is crucial to keep in mind that certifications are not a substitute for hands-on experience, and the field of SEO is constantly evolving. Therefore, keeping up-to-date with the latest industry trends and best practices is essential to excel as an SEO professional. By leveraging SEO certifications and staying current with the latest developments in the field, you can establish yourself as a trusted and skilled SEO practitioner.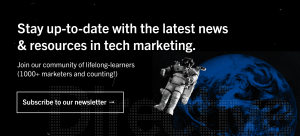 Keep reading
Agency Life
Top 5 Oldest Performance Marketing Agencies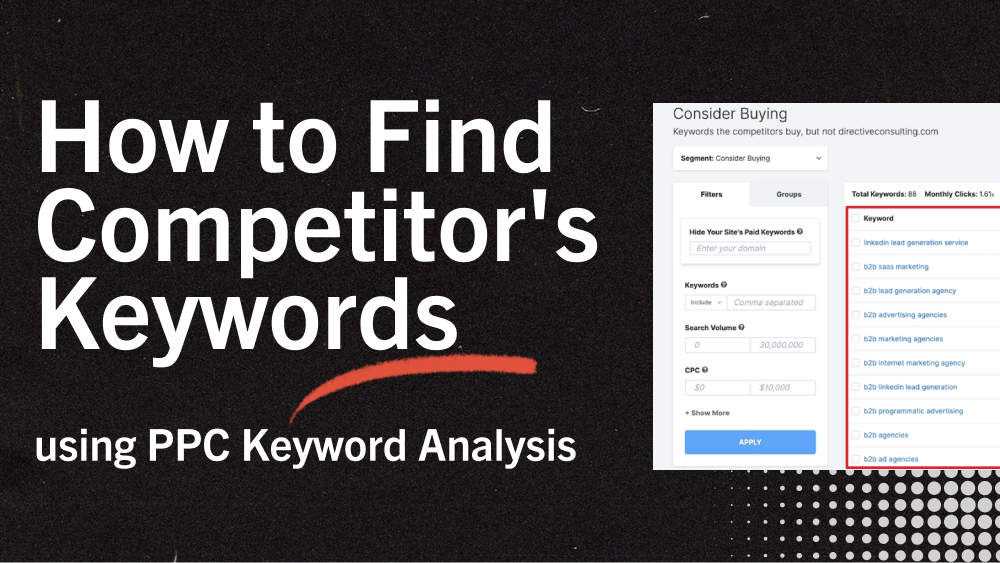 PPC
How to Find Competitor's Keywords with SpyFu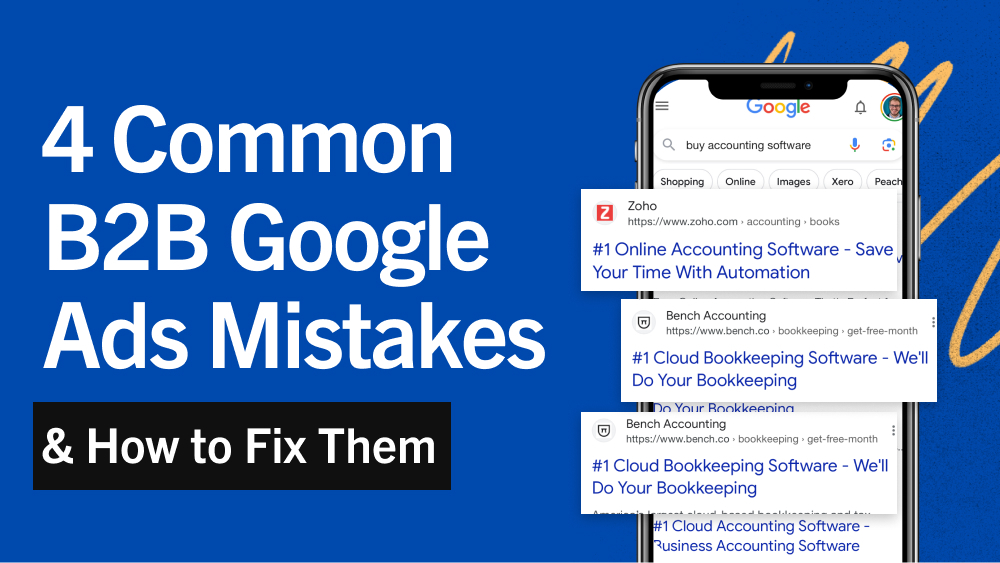 B2B
4 Common B2B Google Ads Mistakes and How to Fix Them