B2B Demand Gen Best Practices: 4 Lessons We Learned From Niching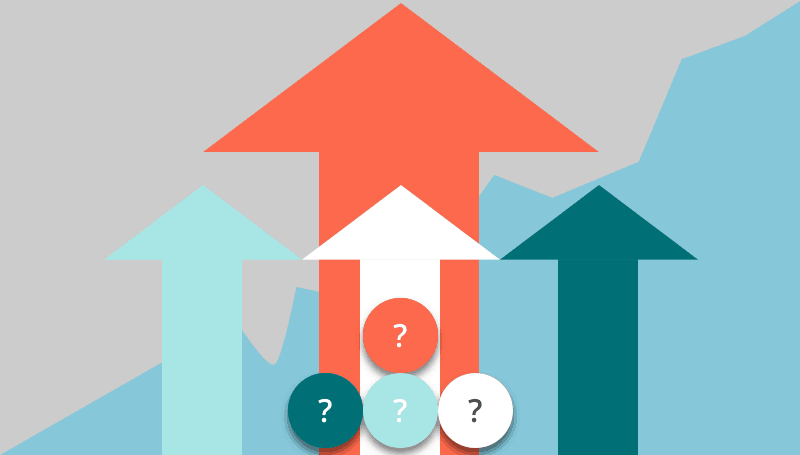 Demand generation is one of search marketing's leading pain points for a reason. Ideally, search marketing is meant to build brand awareness and drive interest and sales for your unique product/service. But there is a huge difference between a functional search marketing campaign and a cost-effective one.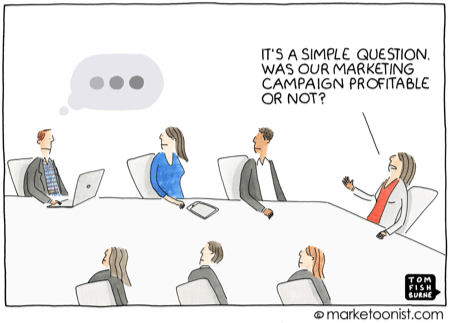 A cost-effective search marketing campaign requires a balance of many different factors. You need to consider:
The efficacy of your pipeline (volume)
The average ad spend and time spend (cost)
The average lifetime value of a closed lead (value)
The type of leads your campaigns convert (quality)
The price points of your closed accounts (revenue)
To make more out of their digital campaigns, many companies have niched their service or target market. For example, we here at Directive Consulting niched our business to focus on B2B. The logic behind niching is fairly straightforward. Ideally, by targeting a smaller section of the market, you can more effectively distinguish your brand and your unique value offer.
Focusing your entire business model towards a single niche should theoretically make demand gen easier. i.e. It's easier to build brand awareness for "B2B & Enterprise SEO" than it is for all of "digital marketing." Niching your business can also help solve issues like lead quality and price points.
But, keep in mind that niching comes with its risks and rewards. Segmenting your entire target market to only a small sector effectively tells the rest of the market that "we don't want your business." Which isn't going to make demand generation any easier for you.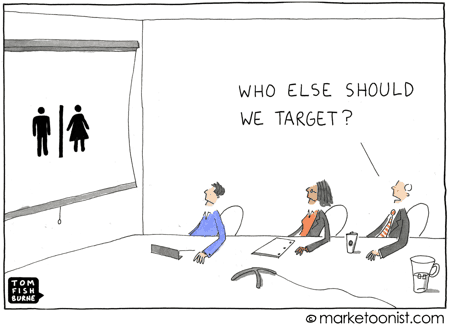 We rebranded our entire online presence and niched our business towards B2B about two months ago (March, 2017). And while it's been a bit of a bumpy road while we've transitioned, we sure have learned a lot.
To make sure that you don't have to wait as long, here are five demand gen best practices we've grown to embrace. On top of that, here are four demand gen lessons we learned from niching towards B2B.
B2B Demand Gen Best Practices
It's important that you know the difference between demand generation and lead generation before we get started.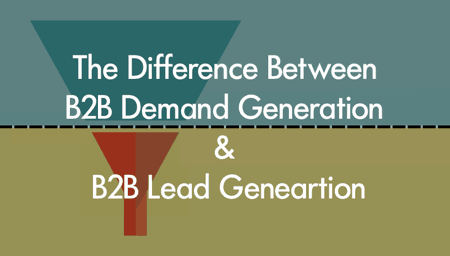 Demand generation focuses on building awareness and intrigue in your brand and service. Lead gen campaigns capitalize on that interest by collecting contact information with form submissions for your sales team to follow up with.
The key here is to remember not to put the cart before the horse. Converting leads is going to be difficult if you can't generate enough demand to get them on your site. This is why most search marketers end up rubbing their temples as to why their optimized campaigns aren't converting the leads their CEO is looking for.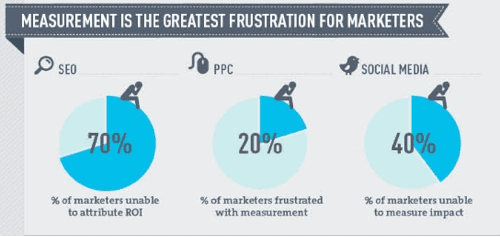 Especially if you have recently niched your business, generating demand for your newly specialized service is going to be a long, tough road. Building brand awareness from scratch is no cake walk – especially as seeing ROI from these campaigns usually takes some time. Here are a few best practices to keep your demand gen focused.
Best Practice #1: Keep Active Social Media Accounts
Social Media has been a tangential part of search engine marketing for some time now. But when it comes to B2B, there's nothing tangential about it. If the screenshot below (courtesy of Hubspot) proves anything, it's that social media is a must for B2B demand generation.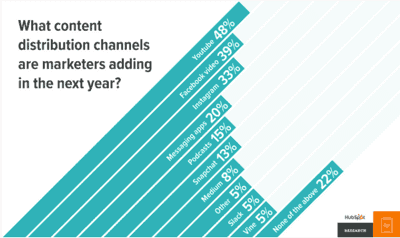 From promoting content to interacting with C-level executives in multi-touch marketing campaigns, social media is a must for any 2017 B2B marketing campaign. The B2B space is known for its elongated sales-cycle.
As opposed to fast-win digital campaigns like eCommerce, B2B campaigns require multiple touches with your prospects over a long timeline. The key is to be ever present in the search experience until your user is ready to commit and/or convert. You may be interacting with a potential lead for months over email, LinkedIn, Twitter, and phone calls before they ever reach out to actual schedule a demo or get in touch.
Leveraging social media for these multi-touch interactions is a must for three reasons:
Social platforms like Twitter are rapidly becoming marketplaces for thought leadership content
The "help don't sell" mantra for marketing works best in short, casual, social media interactions (as opposed to sales emails)
Taking advantage of social media's targeting capabilities can help enhance your strategy and keyword targeting
Now B2B social media marketing is far more complex than three bullet points. So for those of you who want to learn more about how to generate demand for your business via social, check out the post below: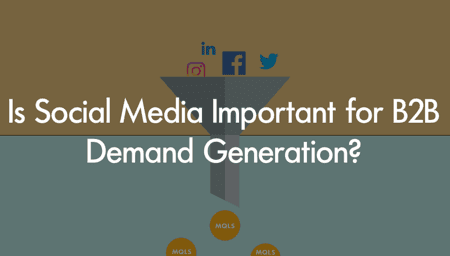 Best Practice #2: Invest in a CRM Platform
As I said earlier, the B2B space requires adjusting your campaigns for longer sales cycles.
If real-estate is all about "location, location, location" than B2B is all about "timing, timing, timing."
For more granular reporting and analysis of how you are interacting with potential leads, you should consider implementing a customer-relationship-manager. At Directive Consulting we use Salesforce as our CRM (as I'm sure many agencies do).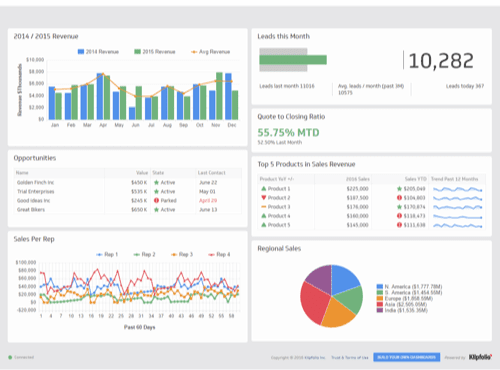 Saleforce is great for managing your different level leads and where they are in your marketing funnel. As you test new campaigns and strategies and nurture different leads, Salesforce will help you keep track of who is engaging with your outreach and when. Keeping focused and knowing where to double-down on investments is key to efficient B2B growth.
Best Practice #3: Integrate Sales & Marketing
Siloed systems are a thing of the past. As Google becomes more universal and adaptive to users' search intent and desire for personalization, our campaigns need to do the same. For this reason, your sales and marketing teams should be sharing their data.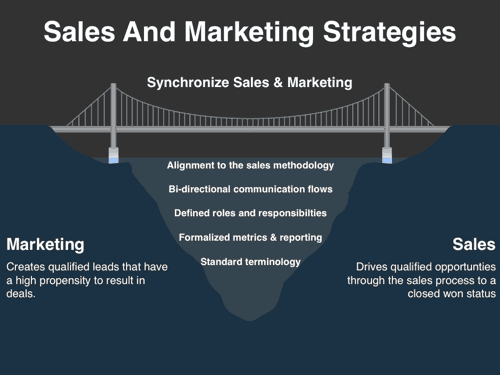 This is where the "help, don't sell" mantra comes back into play. You marketing team should be creating content that engages and educates readers. This is in hopes that they users will move further down the funnel. In a strong campaign, you will have lead nurturing strategies in place to help promote the right, targeted content to different level users to help move them along.
Here, your sales team takes over and starts handling your marketing team's content. They can leverage high-quality blog posts and content assets to nurture leads for different accounts. And here is where the integration becomes key.
Your sales team will have direct contact with your prospective accounts (if you've been prospecting right). This means that they can ask for feedback on how your marketing team's content was helpful or not.
You can not only use your marketing data to inform how you approach sales – you can use sales feedback data to improve your marketing.
Best Practice #4: Map Out Buyer's Journeys
The search engine landscape is a long and winding road. Your ideal user can find your brand on multiple different channels – each which requires addressing and optimizing.
Direct visit to your website
Click through visit from organic result
Landing Page visit from paid ad
Landing Page visit from display ad
Click through from directory link
Click through via social media profile
Click through via a backlink and/or forum post
Maps
Reviews
Roundups
Press releases
The list goes on but I'll stop for brevity's sake…
To keep your demand gen campaigns focused and efficient it's important you avoid the pitfalls of blind optimization. You don't just want to improve rankings for the sake of ranking. You need to prioritize which channels generate the most qualified leads for your pipeline. These are the campaigns that you emphasize optimizing.
Tracking, reporting, and analyzing the different conversion paths of your different users is a great way to reverse engineer the buyer's journey. You can then optimize your entire site for the ideal user experience – one that encourages conversions at a high rate.

If you want to learn more about how to streamline your buyer's journey, or how to track/optimize conversion paths, check out this post on Crazy Egg for more tips.
Best Practice #5: Get Serious About Email Marketing
Regardless of how omni-channel or comprehensive search marketing becomes, email isn't going anywhere. Over 60% of companies today still report that email marketing works and reports a high ROI.
Especially in the Enterprise and B2B verticals, where you are interacting with high-level C-suite executives, email is still a trustworthy medium for communication.
It's important to note that most email campaigns see the most success when they are accompanied by a multi-touch social strategy. Your email campaign should also be responsive – adapting what content you send to leads depending on how they interact with the previous.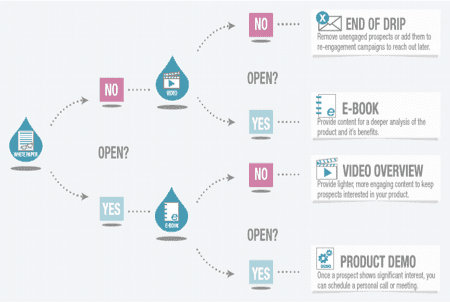 Your email should be the consistent starting point of your outreach campaigns. One cold email isn't going to do much for a cold lead. But if that email has their name in the subject line and is coupled with a Twitter follow and a LinkedIn InMail – you'll probably start to see some replies.
For more tips on how to empower your email outreach you can check out this case study on How We Increase Our Email Response Rates from 8%-34%.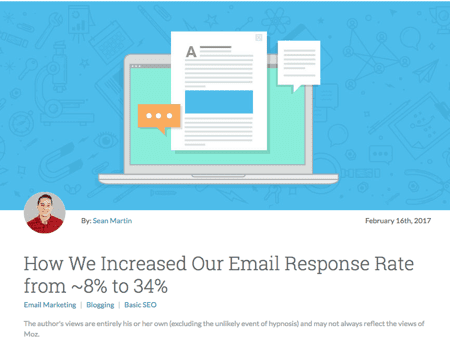 But these are just the basics – if you really want to supercharge your demand generation – you'll keep reading 😉
4 Demand Gen Lessons We Learned From Niching to B2B
Now, we understand that you have to learn how to crawl before you learn to walk. But the most valuable insights rarely come from general best practices and tactics. True value comes from contextualized data that accompanies tangible examples for us to learn from.
While we at Directive learned a great deal about each of the best practices above, we didn't stop there. Below are the five truly insightful demand gen lessons we learned from niching our agency towards the B2B vertical.

In the image above you can see what Directive's site looked like before and after we niched/rebranded. After a great deal of analysis and deliberation, we decided as a company that our best accounts (both in terms of success and revenue) were high-level B2B companies. So, we decided to double down on what we were best at.
We niched our entire business model to target enterprise level B2B agencies in the tech, software, cloud computing, cybersecurity, etc… industries. If you take a look at our case studies page you'd notice that each falls into one of these types.

While these case studies may reflect the success we've had in the B2B space, it wasn't easy won. We've dealt with our fair share of ups and downs in rankings, traffic, and leads.
But don't worry – we want you to avoid the rankings rollercoaster – so keep reading to find out what we learned on our ride.
Lesson #1: Consider Lead Quality & Price Points with Growth
One of the biggest agency pain points that encouraged us to niche in the first place was lead quality. We found that the more we grew and the more clients we signed at the wrong price point, the more stretched our employees became without generating enough revenue to justify additional help.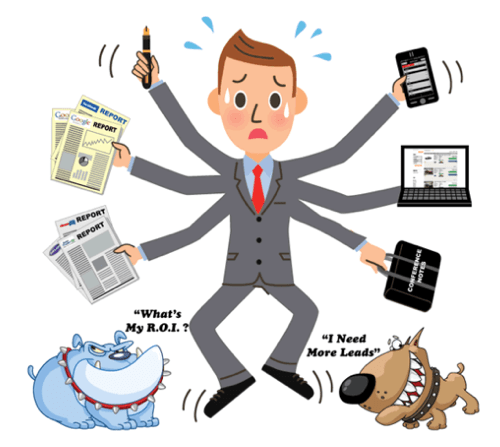 If you have a team working on 8-10 accounts at a time and you have a pipeline that is continuously bringing in 2 new accounts per week, they need to be at the right price point. If they aren't, after a month you'll have a full new team's worth of accounts but not enough revenue to hire that new team.
Which means that your original team has to do the work of 20 accounts in the same time they previously had been handling 10. Which is going to come back to bite you in the end.
This is where lead scoring and improving your lead quality comes in. By niching towards high-level B2B companies, we were able to raise our price points to generate more income per account for the quality of work we were doing. This way, as we bring in more accounts we can afford to hire ahead.
This allows us to specialize our team members to focus on the right demand generation and lead generation strategies. B2B marketing is all about staying cost-effective and generating leads with a profitable ROI, after all.
If you want to learn more about how to build your B2B marketing team efficiently, check out the Marketing Land post below.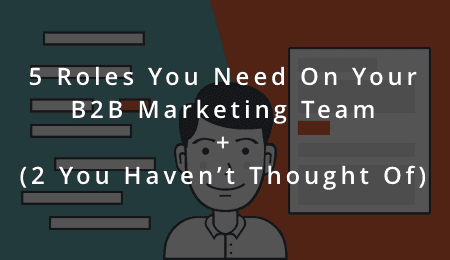 Lesson #2: Re-Think How You Approach Guest Blogging
Now, most blogging best practices guides will tell you to write "high level content for low level readers." What exactly does that mean? It means that our content needs to lay out the step-by-step processes of our tactics and strategies, explicitly.
As my former editor used to say to me, and as I say to each new writer that we bring on:
If you tell your reader to do something, it better explain how to do it. If tell your readers the importance of something, you better tell them why it's important.
This is nuanced translation of blogging's golden rule. Most search marketers today spend constant hours creating content that explains the how-tos of their service. They reach out to industry leading blogs to write guest content explaining how they ran this test or how to create X type of ad campaign. The logic is that giving away this tutorial-esque content, you can market yourself as a true industry expert. For example: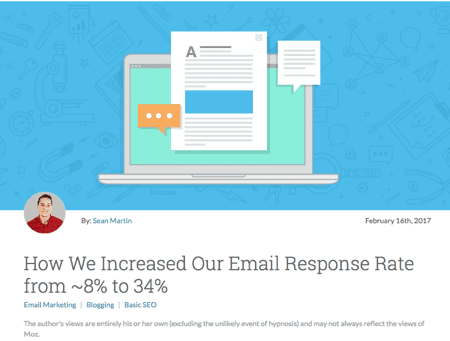 But what we noticed after niching towards B2B was quite the wake up call. We found that our guest content was catering more to our competition than it was to our end customer.
While it's great for the ego to publish high ranking, high authority content about how good you are at your job, it's not what your customers are interested in.
In the B2B space, we are targeting executive decision makers like CMOs, VPs of Marketing, and Marketing Directors. These individuals aren't interested in how-to tactics – they aren't the ones building campaigns. They are interested in trends, in ROI and business strategies. They don't need "how." They need "why." So we started publishing guest content expressing the "why" behind our unique services:

We also revamped our promotion process to start promoting our larger content directly to our end customer. Instead of relying on search engines and ranking, we emailed it straight to our prospective leads. But I'll save the Account Based tactics for Lesson #4.
Lesson #3: Capitalize On Already Existing Demand
Demand generation is often sited as one of the primary pain points of B2B agencies. What's problematic is many marketers often confuse demand generation with lead generation.
Demand generation focuses on building awareness of your brand and service.
Lead generation capitalizes on that demand with conversions to gather contact info for your sales team.
If you are looking to create the most cost-efficient campaign, than demand generation could be a problem. Which isn't your fault – B2B demand gen is no cake walk. Often times it can be smarter to target already existing demand with a well built lead gen campaign.
For example, we realized that battling for a highly competitive keyword like "PPC Agency" can take months. But, by looking at the search intents around that keyword, we identified SERPs that we could target with long-tail content.
By taking up more market share on the same SERP for multiple search intents, we can increase our demand without having to build it from scratch.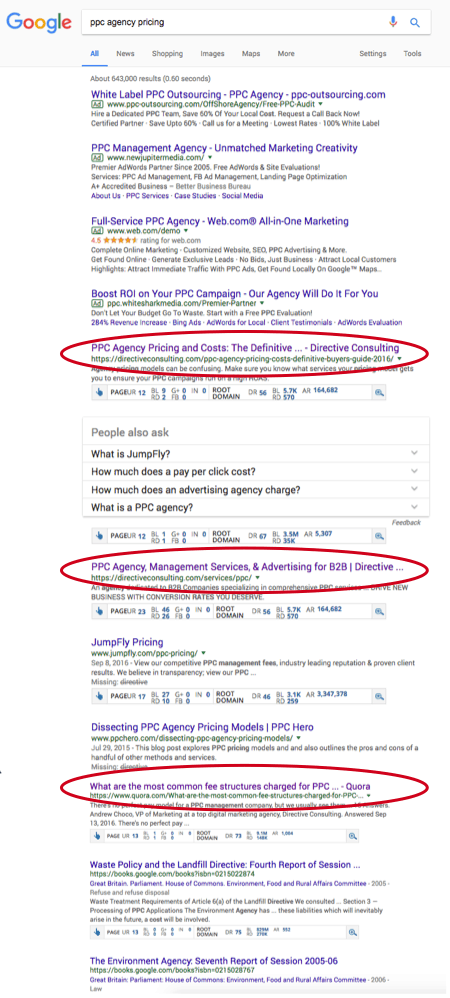 As you can see in the screenshot above, we take up three different results on the same SERP for this query.
Our core PPC service page
Our "Guide to PPC Agency Pricing & Cost" blog post
Quora (forum) question/conversation that we answered and was one of the more popular answers
Without having to battle for the super general and super competitive primary keyword, we were able to take up valuable market share on the same SERP.
Lesson #4: ABC: The Future of B2B Content Marketing
Another leading pain point for B2B search marketers is attributing ROI to their different campaigns. Especially when it comes to organic strategies like SEO or content marketing.
It's difficult to say, sometimes, when your content marketing is working or your SEO rankings are. The truth is, these different organic tactics are meant to generate demand and leads through somewhat indirect means. Ideally, the process looks like this:
Step 1: somebody reads our blog post and enjoys the piece
Step 2: they subscribe to our blog newsletter/email list
Step 3: they enter into a drip cadence and receive consistent, high quality content
Step 4: eventually, when they are interested in purchasing, they decide to click through your link and visit your site
Step 5: once on your site they find a piece of gated content
Step 6: in order to download the asset, they convert on your form
Content marketers rely on heavy promotion to ensure that these new posts have enough initial traffic to even get this process started. But often times we end up promoting our content to mass audience with a "wide net" approach.
Regardless of how well targeted your Twitter audience is, it's not as targeted as your prospective account's inbox. And this is where the magic of Account Based Content (ABC) enters.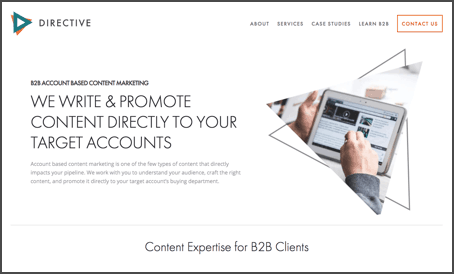 As opposed to the "ol' spray n' pray" approach, ABC is a super targeted model for content marketing. While topics and titles are still keyword researched, the focus of each piece is not your ordinary blog post. Each ABC piece has three different features:
The data: ABC pieces are data driven reports that focus on a set sample size of your target accounts. For example, we've published pieces Analyzing the Keyword Value of Series C Software Companies. These assets are available for free download – so there is no friction bouncing readers away.
The article: Each spreadsheet or asset is accompanied by a blog post analyzing the data within it. This is of course where your content marketer gets to shine as a true expert. Data-driven insights and analysis always make for the best content.
The list: while you mine the miscellaneous data necessary for the spreadsheet, you will also be mining contacts on the different companies as well. As I mentioned earlier, these companies are your target accounts – so you should already have some list-building endeavors in place. This is where the direct promotion comes from.
You can see how we write our ABC pieces by reading some of our examples pieces below.
The true power of our ABC model essentially comes from super-targeting. We are creating content about our target accounts, for our target accounts, and promoting it directly to our target accounts.
When you see your name in the spreadsheet and your campaigns under analysis in the blog, you're more likely to be receptive to remember that agency. And more likely to say "yes" when they ask you to talk later on down the line.
Takeaways: Don't Count Who You Reach, Reach Who Counts
Niching is never easy. But it's almost always worth the squeeze. The truth is that with the massive resources and budgets in the B2B space, a manageable ROI is everything.
The true marker of success can often be seen as cost-efficiency over simple revenue.
To effectively generate demand and capitalize on it with active lead gen strategies, "wide net" tactics will no longer cut it. B2B marketing and its elongated sales cycle requires a comprehensive brand presence. And a high quality one at that.
But always remember, "comprehensive" doesn't mean "wide net" – it means ever present in the eyes of the right users.
For more tips on building your B2B marketing team, targeting your ideal customers, and creating comprehensive search campaigns, check out our Complete Guide to B2B Marketing & Demand Generation.
And subscribe to our blog for more helpful lessons coming soon!
Keep reading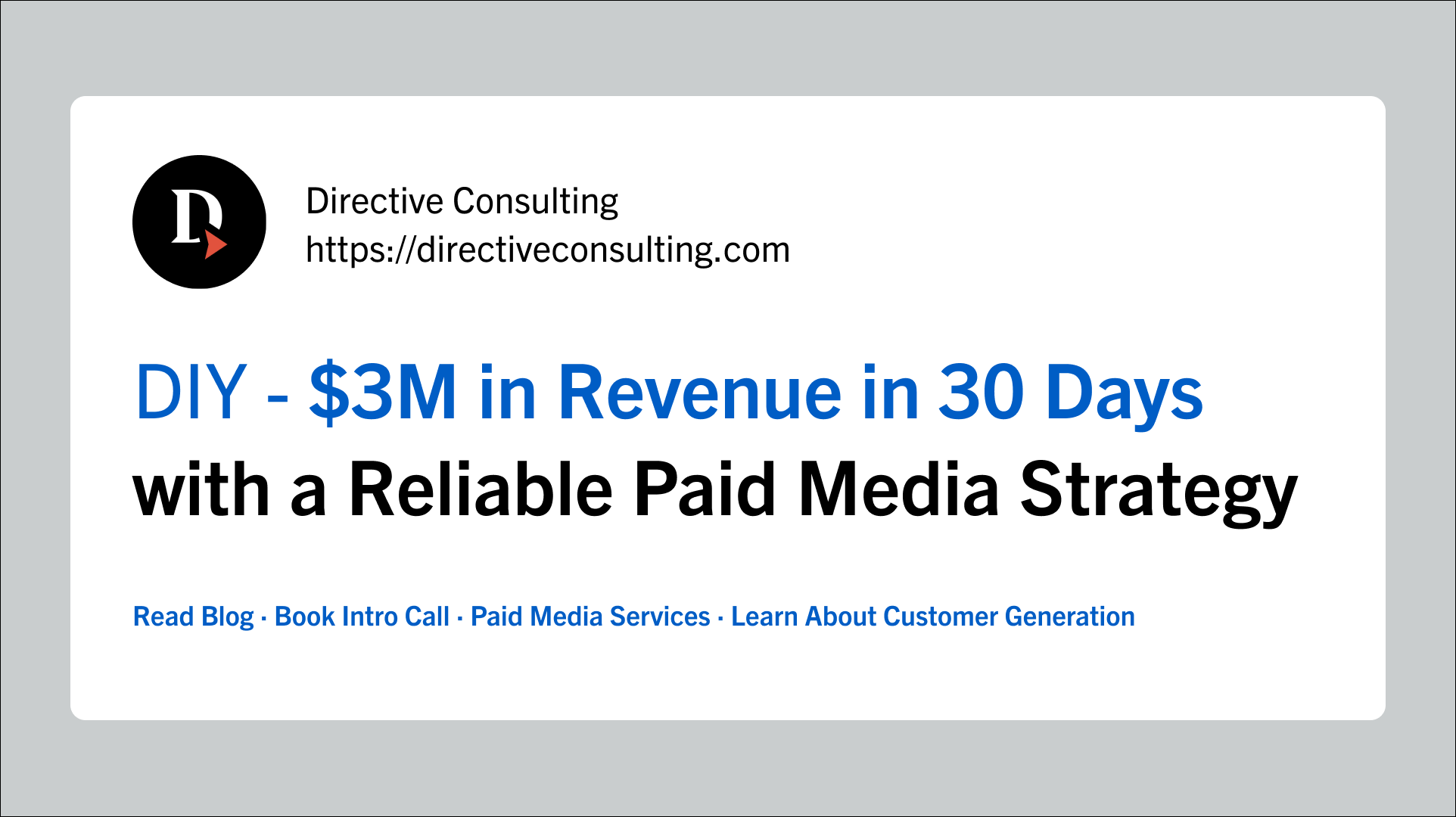 PPC
DIY: $3M in Revenue in 30 Days with a Reliable Paid Media Strategy
Social Media
Boost Your LinkedIn Engagement by 22% with These 3 Content Types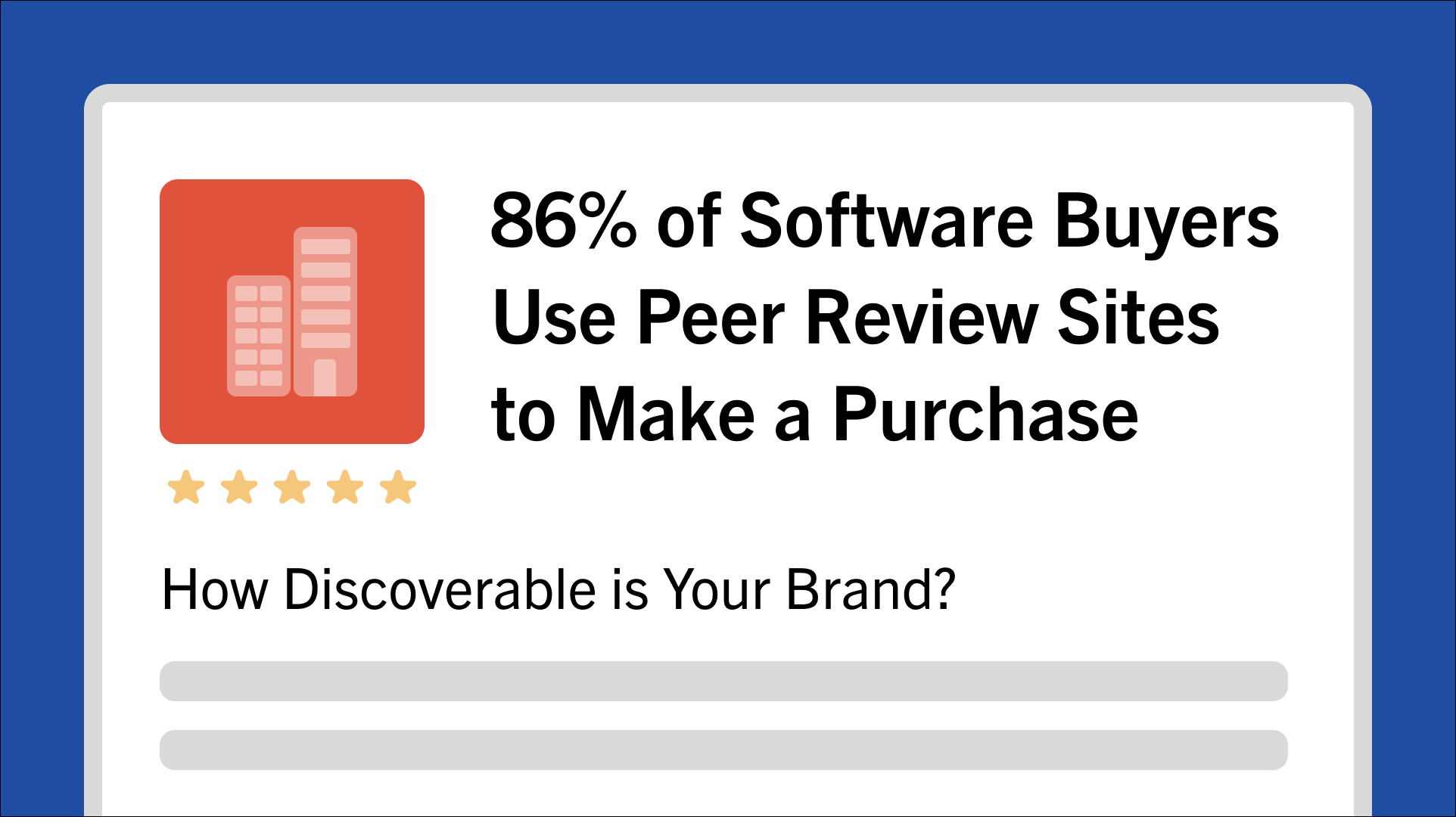 Sales
86% of Software Buyers Use Peer Review Sites to Make a Purchase. How Discoverable is Your Brand?