How to Choose the Best Digital Marketing Course for You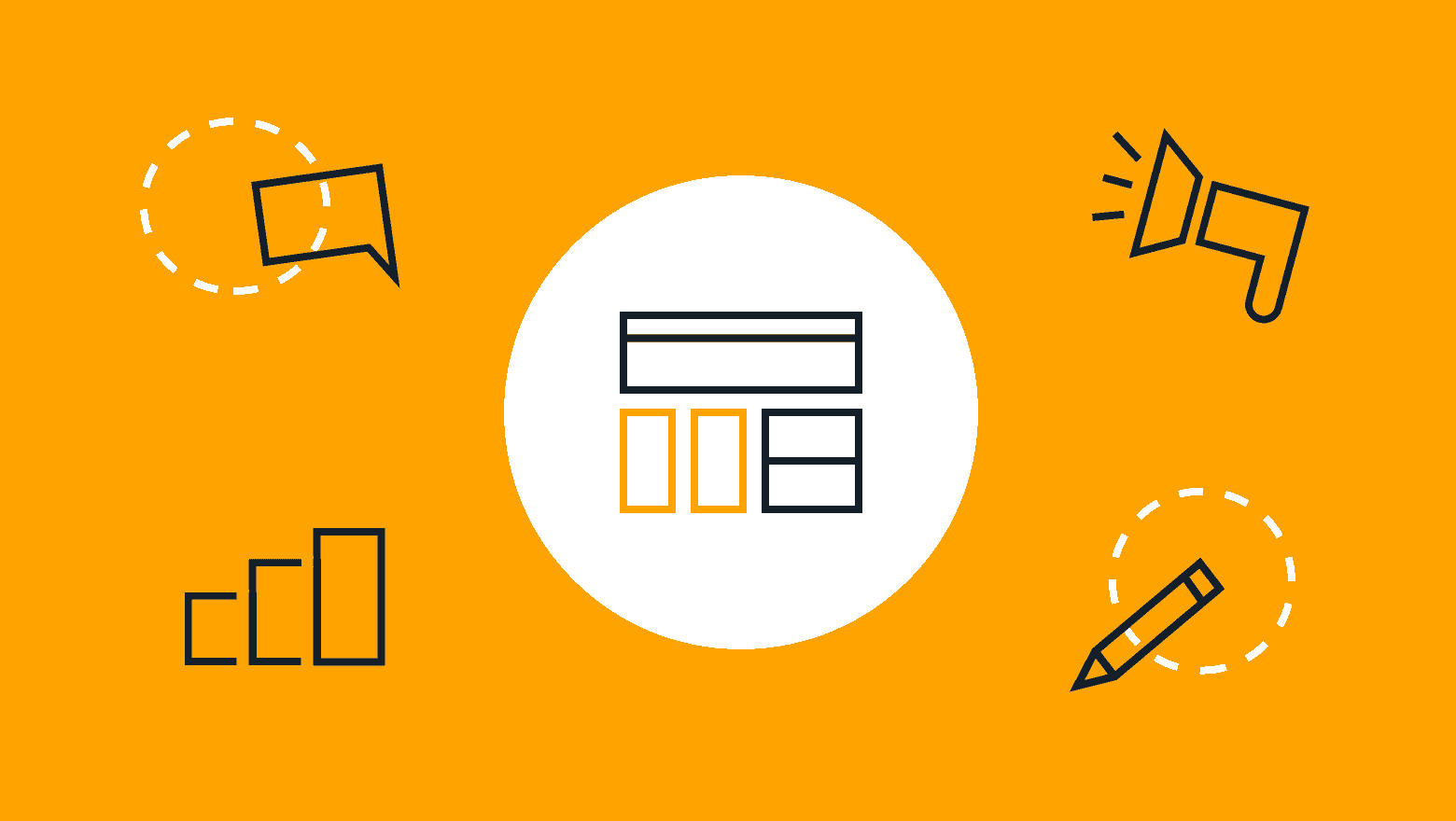 Looking for the best digital marketing course to help you launch a marketing career or promote your business online?
In 2020, digital advertising spending is expected to increase by 12.4% to a whopping $336 billion, accounting for 53% of total global ad spending. With so much money pouring into digital advertising, now is the best time to learn digital marketing and use it to promote your business online, start a career in freelancing, or land a job as an in-house or agency marketing professional.
A digital marketing course can help you learn valuable marketing skills and gain practical experience to help promote your business or kick-start your career in marketing – but how can you choose the best digital marketing course for you?
To make it easy, we've created this quick guide outlining a five-step process for evaluating your options and choosing the best digital marketing course that helps you achieve your goals.
How to Choose the Best Digital Marketing Course
Understanding Your Goals
The first step towards determining the best digital marketing course for you is to examine your underlying goals and motivations. What do you hope to gain by investing in a digital marketing course? How does digital marketing fit into your plans for the future? How will digital marketing make a positive impact on your life, or for your business?
A digital marketing course needs to be evaluated in terms of how well it helps you reach your goals, and that can be different for everybody. Some of the most common motivations for learning digital marketing include:
Preparing for a Career Change – A career in digital marketing is both challenging and rewarding. Digital marketers can operate as freelancers, join a marketing agency, or be part of an in-house marketing team at any business.
Advancing an Existing Career – If you already work in marketing, you may want to upgrade your skills, get certified, and add another line to your resume by completing a digital marketing course.
Promoting an In-person or Digital Business – If you're the solo entrepreneurial type, you may be searching for a digital marketing course that can help you promote your own digital or in-person business ventures.
Training Employees on Digital Marketing – If you're a business owner with employees, you may be searching for a training course that can help employees market more successfully using digital channels.
Figuring out which of these situations applies to you is a logical first step towards choosing the best digital marketing course for you.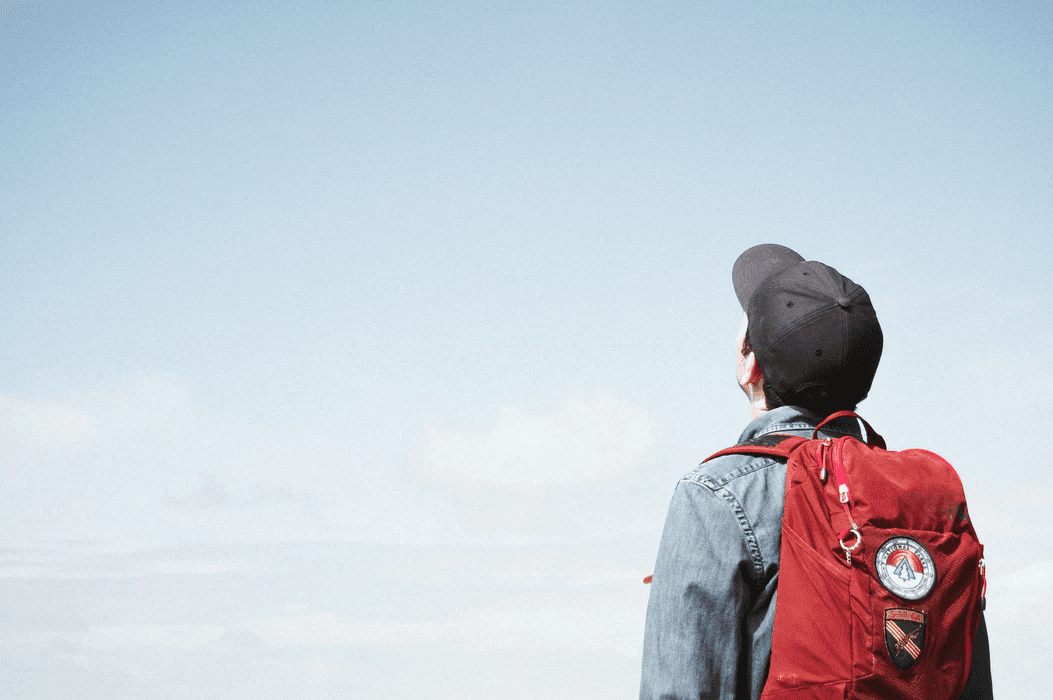 Image: When it comes to building your career in digital marketing, the sky's the limits. Where will your goals and aspirations take you?
Image Source: https://images.unsplash.com/photo-1491308056676-205b7c9a7dc1?ixlib=rb-1.2.1&ixid=eyJhcHBfaWQiOjEyMDd9&auto=format&fit=crop&w=1053&q=80
Understanding Your Needs
Once you have identified your goals and motivation for learning digital marketing, it is time to move towards a thorough understanding of what you need from a digital marketing course. The more specific you can be in your goal setting, the easier it will be to find the best digital marketing course that can help you launch that career change or teach you step-by-step how to market your own business.
When considering your course needs, ask yourself the following:
What new knowledge will I need to achieve my goals?
What new skills will I need to achieve my goals?
What is my experience level in digital marketing? Do I need a course for beginners, or for intermediate, or advanced marketers?
Do I need theoretical marketing knowledge or step-by-step processes?
Is certification or obtaining a certificate important to me?
Image: Which pathway are you taking through digital marketing? Where are you coming from and where are you going? What will it take to get there?
Think about the varying needs that digital marketing students have when they approach a marketing course with different goals and motivation:
Career Advancement Motivation – If you already work in marketing, a digital marketing course can help you upgrade your skills and expand your resume. If this is your motivation, your needs will include an intermediate-advanced level course that offers a certification you can present to employers.
Career Initiation Motivation – If you're trying to launch a career in marketing, you're probably less experienced than someone that already works in the marketing field. Certification is important for you, but you also need a course that helps you get practical experience in addition to theoretical knowledge, and that is accessible for beginners.
Business Promotion Motivation – If you're learning about digital marketing to promote your own business, you may not care about certification at all. You should be looking for a course that offers a step-by-step, proven process for getting real business results.
Analyzing Course Content
Now that you have thoroughly considered your needs for a digital marketing course, it makes sense to start comparing courses and reviewing their content to find the most promising options.
While you may not always be able to access a digital marketing course before purchasing it, many courses do offer a syllabus or table of contents and a "free sample" of the course content. Here's what you should focus on when analyzing the content of a course to determine if it's right for you.
Syllabus/Course Content
Take a look at the syllabus or table of contents for your digital marketing course. Is it comprehensive? Does it seem to cover all of the areas that you would expect?
A comprehensive digital marketing course should cover several different areas of digital marketing, including search engine optimization (SEO), pay-per-click advertising (PPC), and conversion rate optimization (CRO).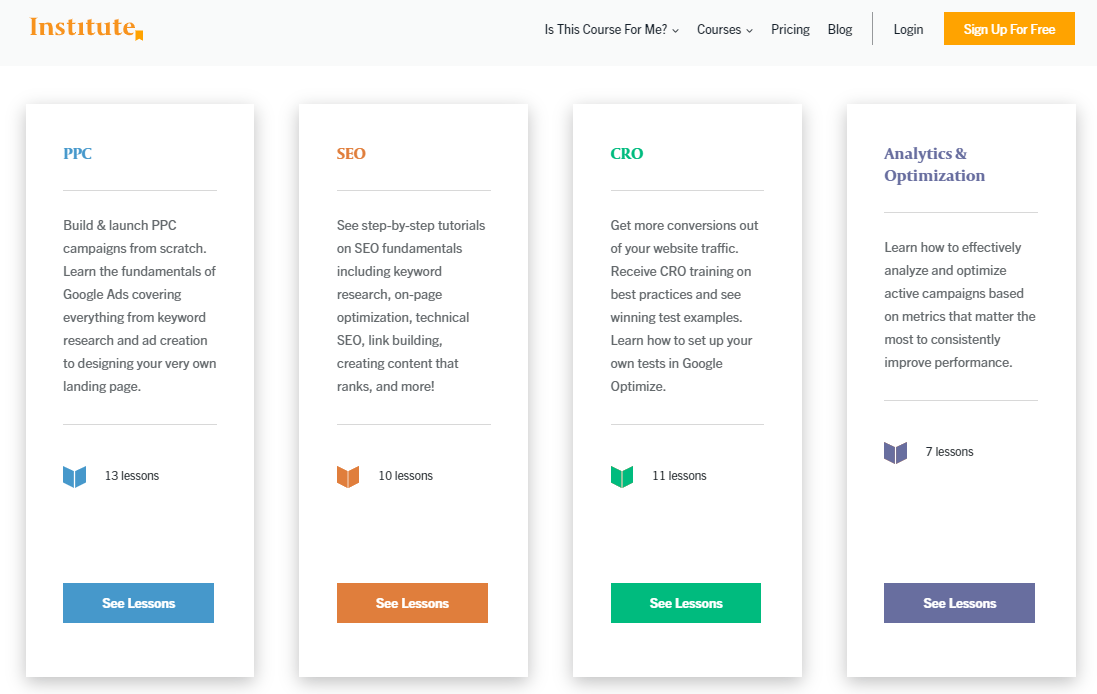 Image: At the Directive Institute, marketers can grow their skills in SEO, PPC, CRO, and Analytics & Optimization.
Courses may also include email marketing, social media marketing, content marketing, mobile marketing, or other sub-disciplines of digital marketing.
Difficulty
If you are completely new to digital marketing, course content that outlines specific processes without a strong theoretical component may leave you with more questions than answers. On the other hand, advanced marketers benefit most from courses that emphasize specific, process-based knowledge, and may learn very little from courses that are more theoretical in nature.
The best digital marketing course for you should offer content that is appropriately challenging based on your level of knowledge and experience.
Recency
Digital marketing is a rapidly changing arena, where new innovations and updates every year lead to changes in best practices and improved methods for achieving marketing success. As a result, online marketing courses that were created five or ten years ago may not be as relevant today as they were in the past.
Choosing a digital marketing course that was published fairly recently will help ensure that you get access to the most up-to-date information that is relevant in 2020.
Practicality
While reading through course content can help you gain theoretical knowledge, it won't help you develop real marketing skills and know-how. To develop those things, you will need practical experience building marketing campaigns using the most common tools of the digital marketing trade – things like SEO software, Google Ads, etc.
The best digital marketing courses go beyond theoretical knowledge and provide students with step-by-step, proven processes that they can use to generate real, measurable results. Our digital marketing course at the Directive Institute helps marketers develop practical skills they can use to hit the ground running when starting a new job in SEO or PPC.
Verifying Trust and Authority
Before you move ahead and purchase a digital marketing course, how can you be sure that the information in the course is reliable and trustworthy?
Wouldn't it be awful to spend your time learning from someone who really wasn't qualified to teach you in the first place?
Thankfully, there are a few ways you can verify the trustworthiness and authority behind a digital marketing course:
Verify Authorship – Make sure you can quickly determine who created the course. Take a deeper look into their background and history – was this course created by a company or an individual? Where else have they been mentioned online? What is their reputation in the community?
Look for Social Proof – Once you identify the company or person offering a course, look for social proof of their digital marketing reputation. If the course comes from a company that has successfully executed digital marketing campaigns for its clients, that is a good sign that you'll be getting great value for your money.


Image: Look for evidence of social proof to validate the trustworthiness and authority of a marketing organization before purchasing their digital marketing course.

Find Case Studies & Success Stories – Some companies go beyond social proof and publish case studies and success stories related to their marketing campaigns. Only trust case studies that are highly specific – they should mention the companies that were involved, the tactics that were used, and the end result that made the campaign a success.
Comparing Course Fees
The last thing you want to look at when choosing the best digital marketing course for you is pricing.
Beyond choosing a digital marketing course that falls in your price range, the best advice we can offer here is to choose a course where you pay a one-time fee. Some courses provide subscription-based access to course materials, but marketers are usually better off with courses that charge a one-time fee for unlimited lifetime access. Theses courses are cheaper in the long term, and digital marketing professionals can keep referring back to them to refresh their knowledge or rediscover content.
Summary
Thanks for checking out our guide on how to choose the best digital marketing course for you.
In this guide, we explained how to choose a digital marketing course by understanding your goals and motivations and identifying your most important course needs, then analyzing the content of competing courses, verifying their trustworthiness, and comparing costs.
We hope this guide helps you choose the best digital marketing course to help you achieve your goals.
Keep reading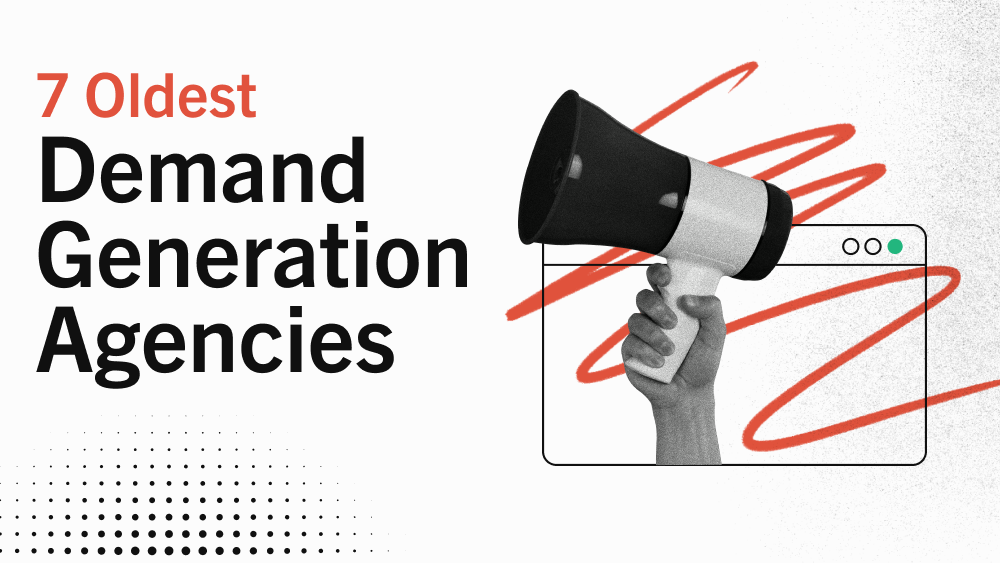 Agency Life
7 of the Oldest Demand Generation Agencies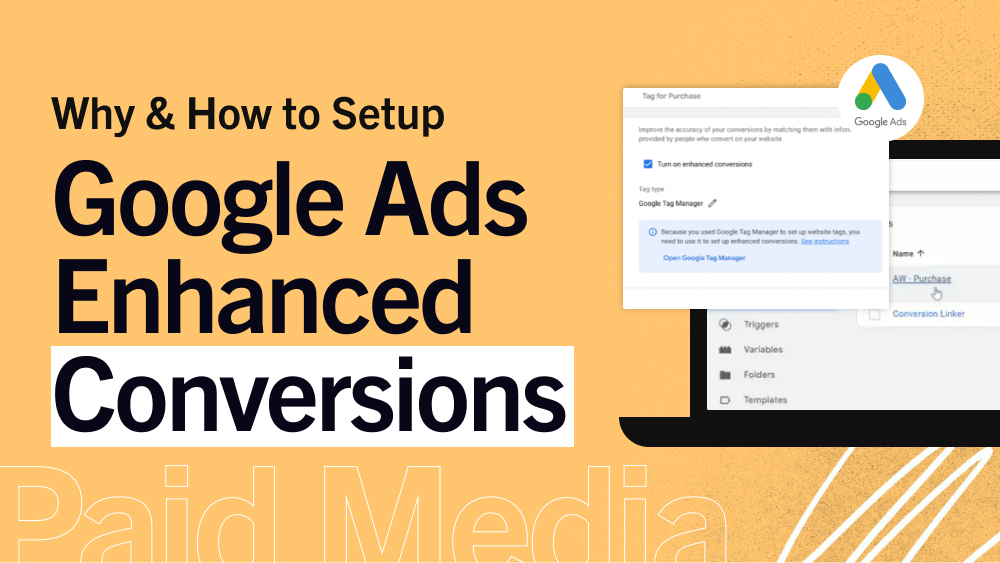 PPC
How to Setup Google Ads Enhanced Conversions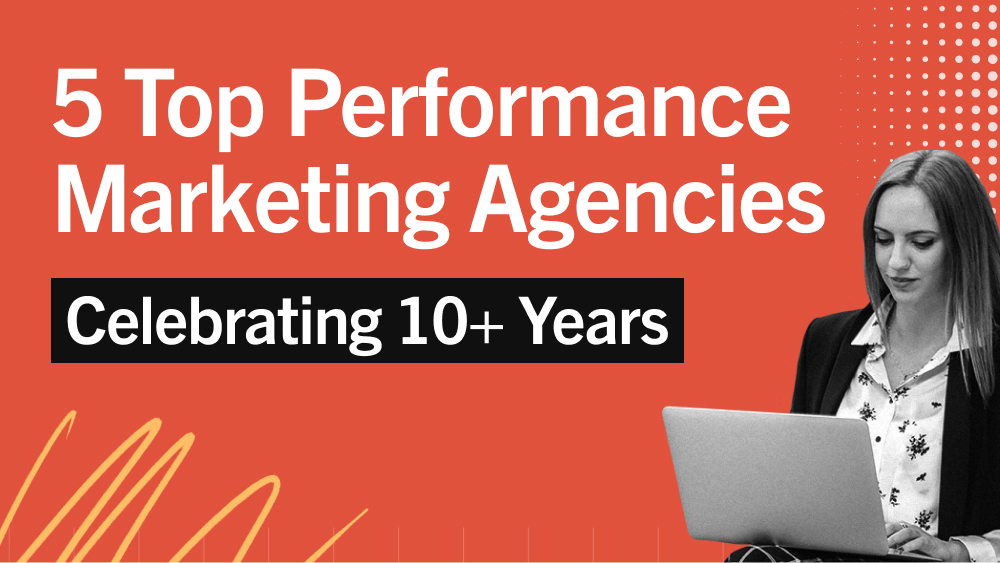 Agency Life
5 Top Performance Marketing Agencies Celebrating 10+ Years