10 Best Free Looker Studio Templates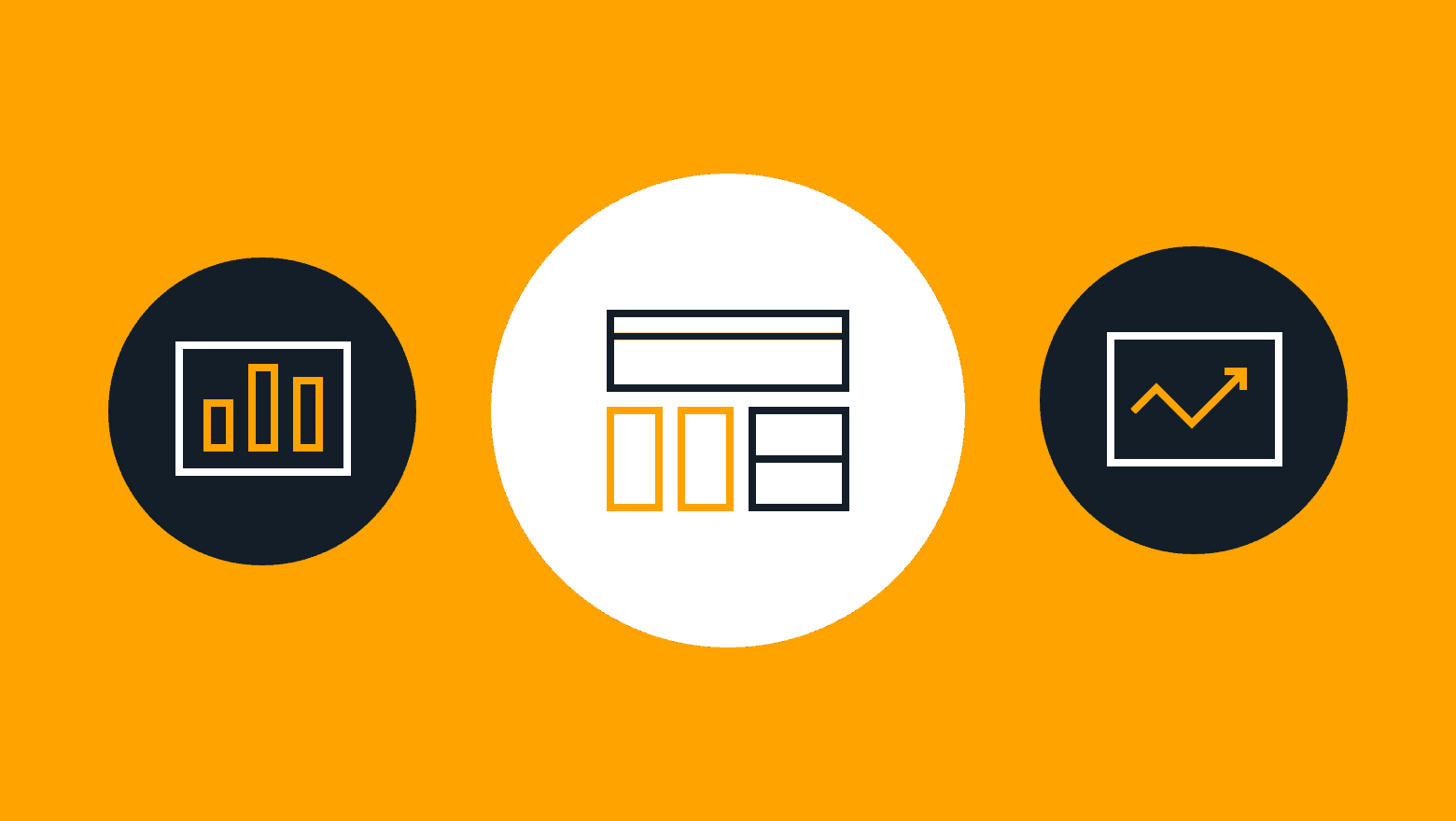 With Google's Looker Studio templates (formerly known as Google Data Studio, or GDS), you can start benefiting from deep marketing insights and clean data visualizations without having to dig through spreadsheets or manually build and update custom reports.
The best part is that there are hundreds of free Google Looker Studio templates available online for free.
To help you get started, we've curated this list of the 10 best free Looker templates you should download, copy, and start using for your own campaign marketing analytics.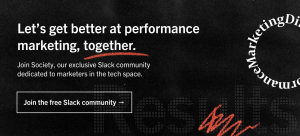 10 Best Free Looker Studio Templates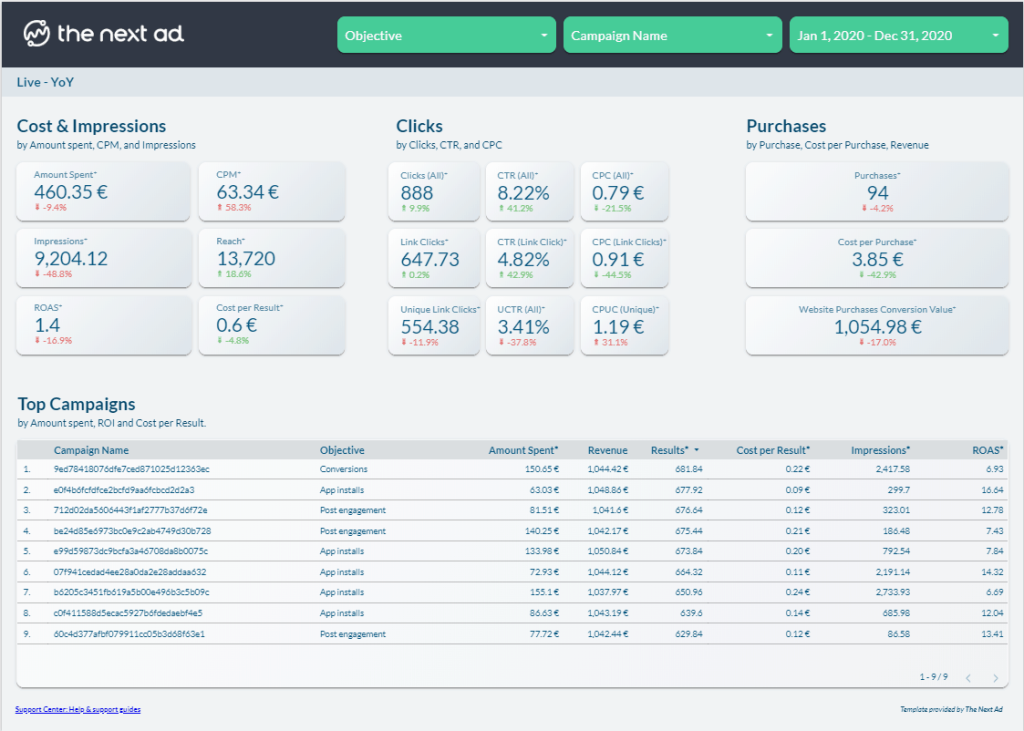 How it Works: Facebook is the second-largest digital ad platform in the world with approximately 20% of the total market share.
Digital marketers using Facebook to reach target audiences should consider deploying this Facebook Campaign Insights template created by The Next Ad. This dashboard offers a high-level performance overview for Facebook PPC campaigns and the flexibility to drill down and uncover deeper insights by changing the date range, or comparing the performance of individual ads.
Make sure to scroll through all 6 pages to see everything this template has to offer.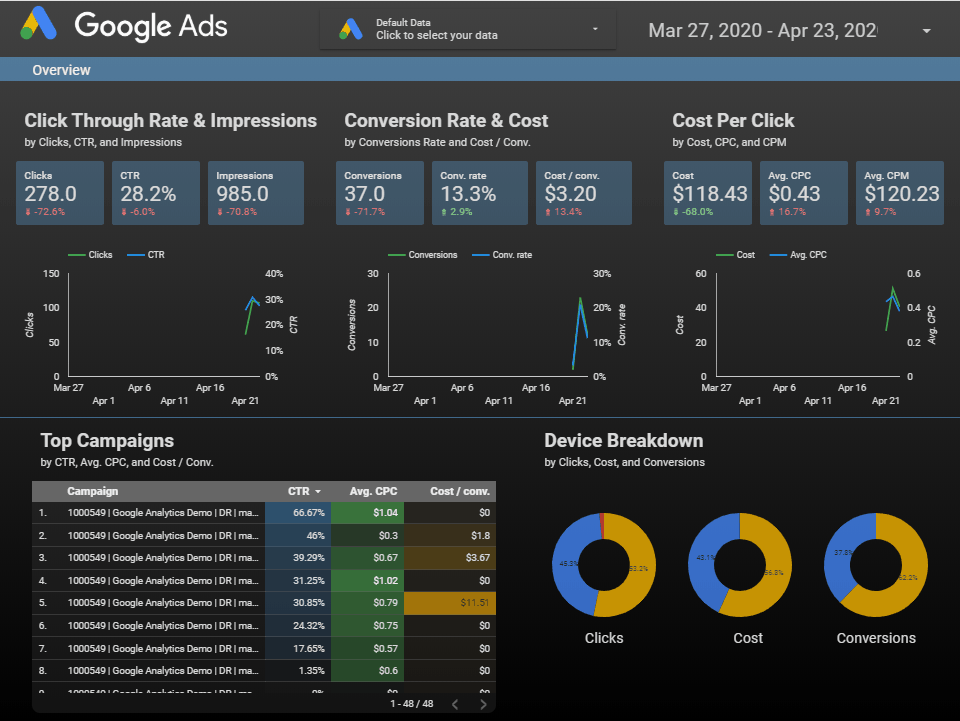 How it Works: Google Ads controls 40% of the digital PPC advertising market, making it the platform of focus for a majority of digital marketers. This simple one-page dashboard gives you a simple and accessible overview of your Google Ads account performance. You can track overall CTR, impressions, conversion rate, acquisition costs, average cost-per-click and see which of your campaigns is performing the best.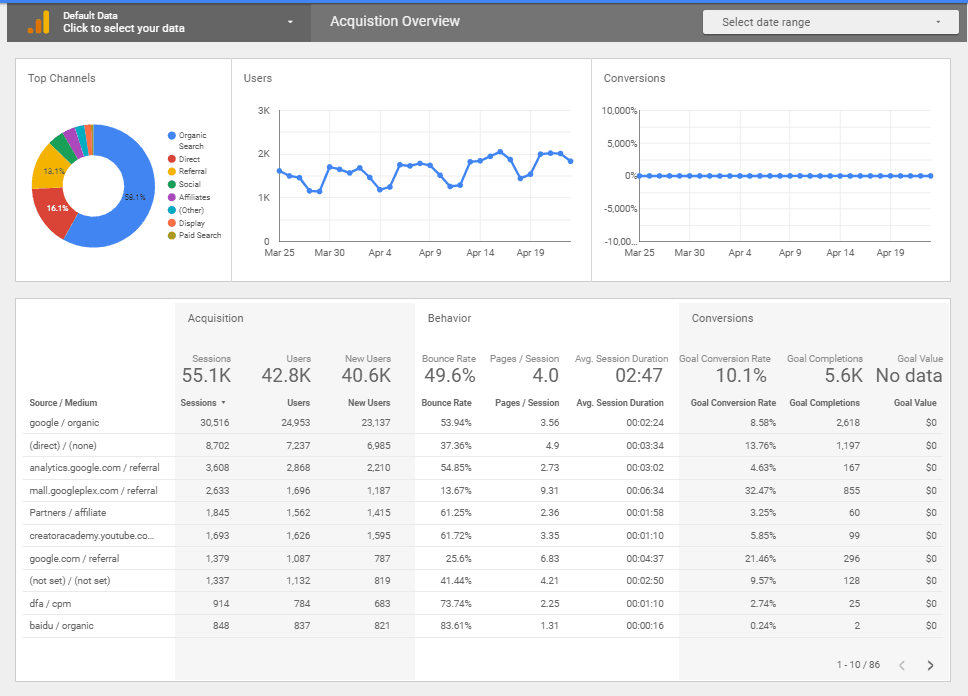 How it Works: This free Looker studio report template pulls in data from Google Analytics and turns it into visual displays and insights into your website performance. You'll be able to view a breakdown of all visitors to your website by channel and monitor changes in web traffic over time. The best part of this one-page Looker studio template is the comprehensive table that breaks down all of your acquisition, behavior and conversion metrics by channel, making it easy to see where you're generating the best results for your marketing efforts.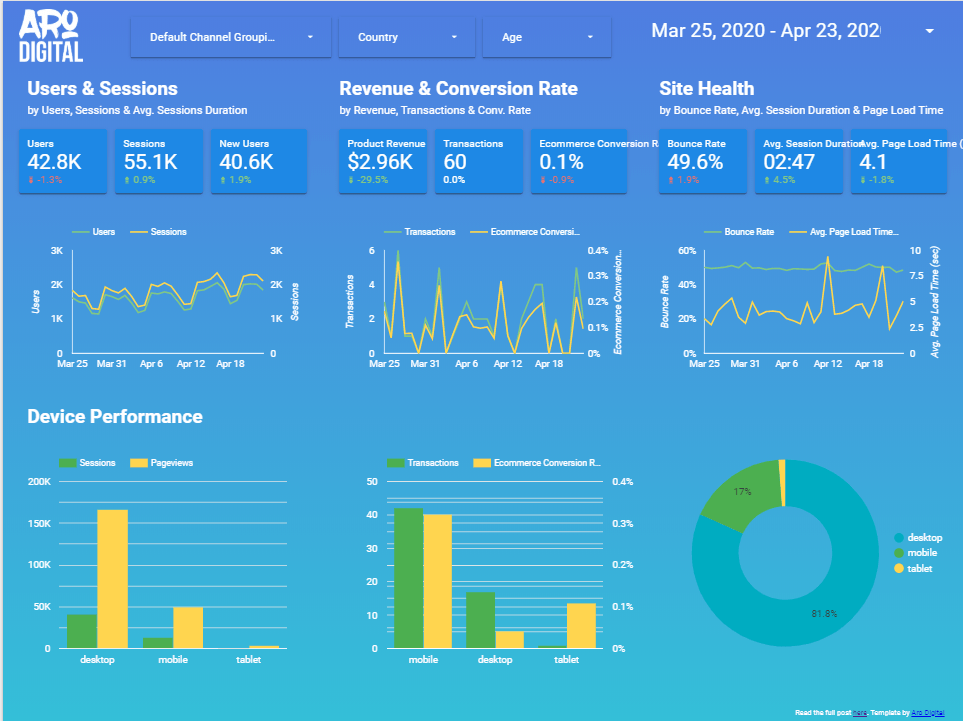 How it Works: This Google Looker studio template offers four pages of beautifully formatted reports that span a range of marketing activities. The first page pictured above covers basic Google Analytics data, including site health, users, revenue, and conversion rates and device performance. The second page combines purchasing data from multiple channels into a single functional dashboard. Page three gives an overview of Google Ads performance and the final page uses Google Search Console to deliver SEO and keyword performance insights.
This is a great combined dashboard for digital marketers driving traffic to a single website using multiple paid and organic channels.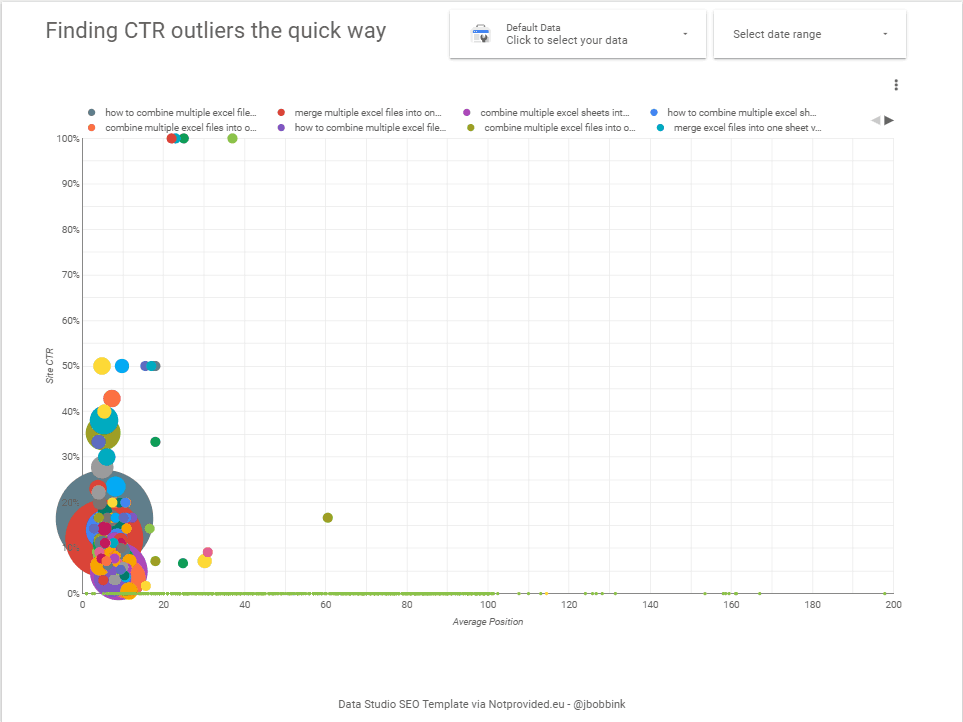 How it Works: Have you ever created a CTR curve for your website? This free Google Looker template will do that for you, it just requires a little bit of customization and input from data sources like Google Search Console. In the graph above, each dot represents a landing page and the size of the dot is the number of clicks that it gets. The X-axis is the average Google search ranking for that page and the Y-axis is the average CTR.
You'll need to apply some filters, but once you get it working you can easily identify under-performing pages that don't generate enough CTR and adjust your optimization strategy to target those pages. For more information on how to customize this dashboard, take a look here.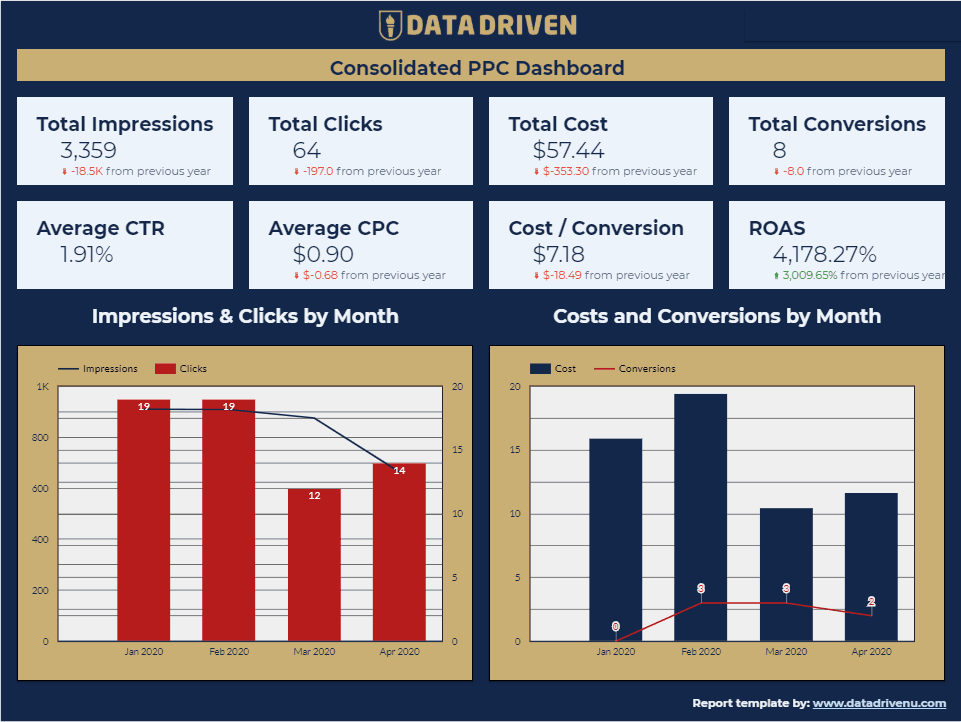 How it Works: This consolidated PPC dashboard solves one of the major issues faced by digital marketers who engage in paid search campaigns across multiple platforms, bringing all reporting into one convenient location. The four-page template has an overview page, then separate pages breaking down ad results for Bing, Facebook and Google. By pulling in data from all PPC campaigns into a single report, marketers get a complete and accurate picture of campaign performance.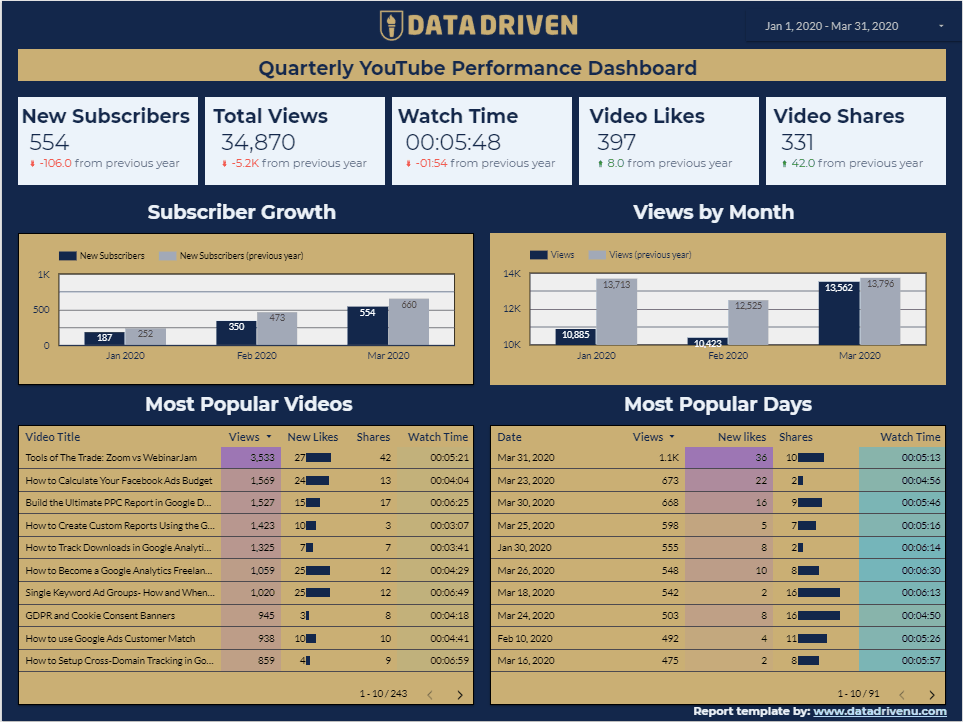 How it Works: This dashboard is specifically for digital marketers working in the video medium. This dashboard template is described as a quarterly report, but you'll notice the drop-down menu in the top right where you can adjust the date range and report on any time frame you choose. You can review your most popular videos, see which days your channel got the most traffic and track the growth of subscribers over time. This dashboard is a great alternative for users that have reported UI issues with the new YouTube analytics platform.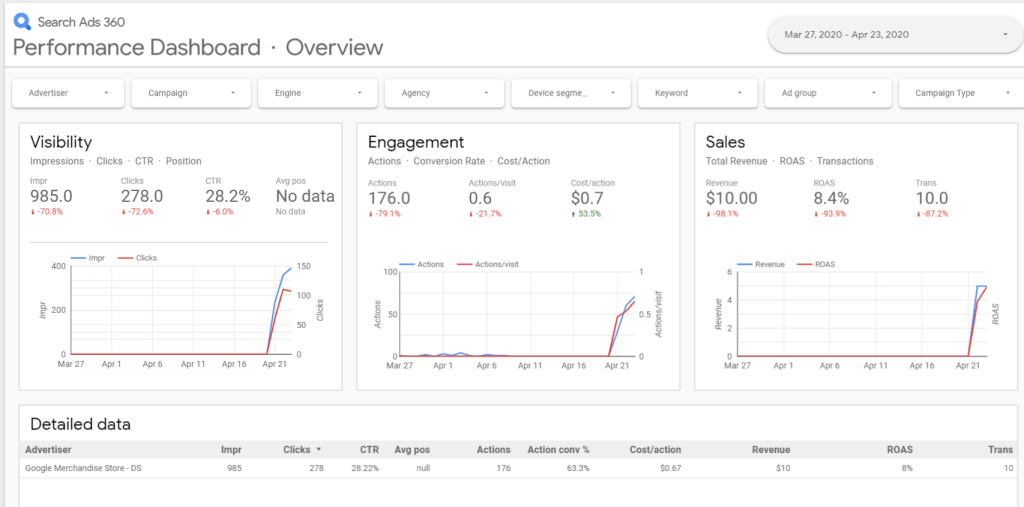 How it Works: This 4-page template is really four Google Looker Studio templates in one. The overview page shows general performance metrics for all search ad campaigns across several platforms. The device performance template breaks down performance metrics advertiser and then by user device. On the engine performance page, digital marketers that deploy search ads on more than one search engine can see which engine is delivering the best results. Finally, there's a campaign performance page that breaks down performance by campaign to offer a more granular perspective.
This dashboard is ideal for digital marketers that are deploying search ads on multiple search engines (Google, Bing, Yahoo!, etc.)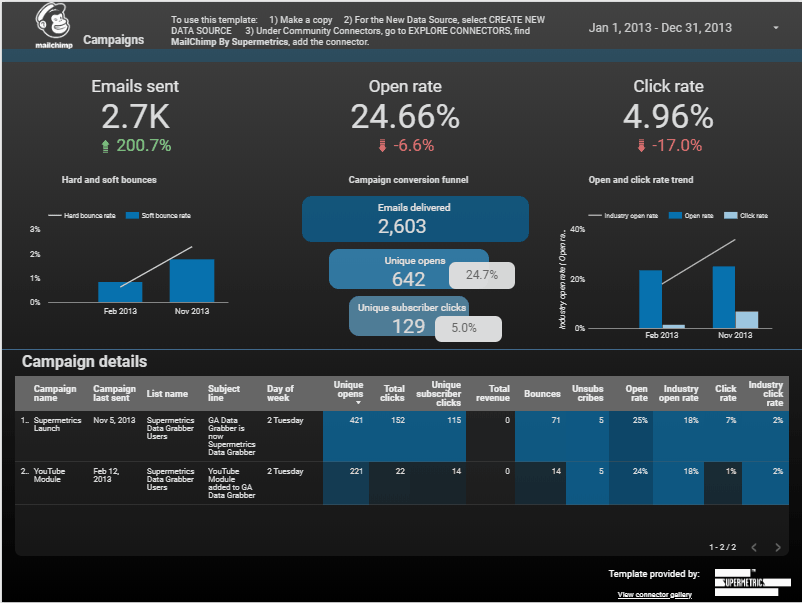 How it Works: This template uses the MailChimp data connector to pull in data from your email marketing campaigns and turn it into a performance report with valuable insights. Users can adjust the date range to measure campaign performance over a specified time period and there's a simple funnel visualization that points to the best campaign optimization opportunities.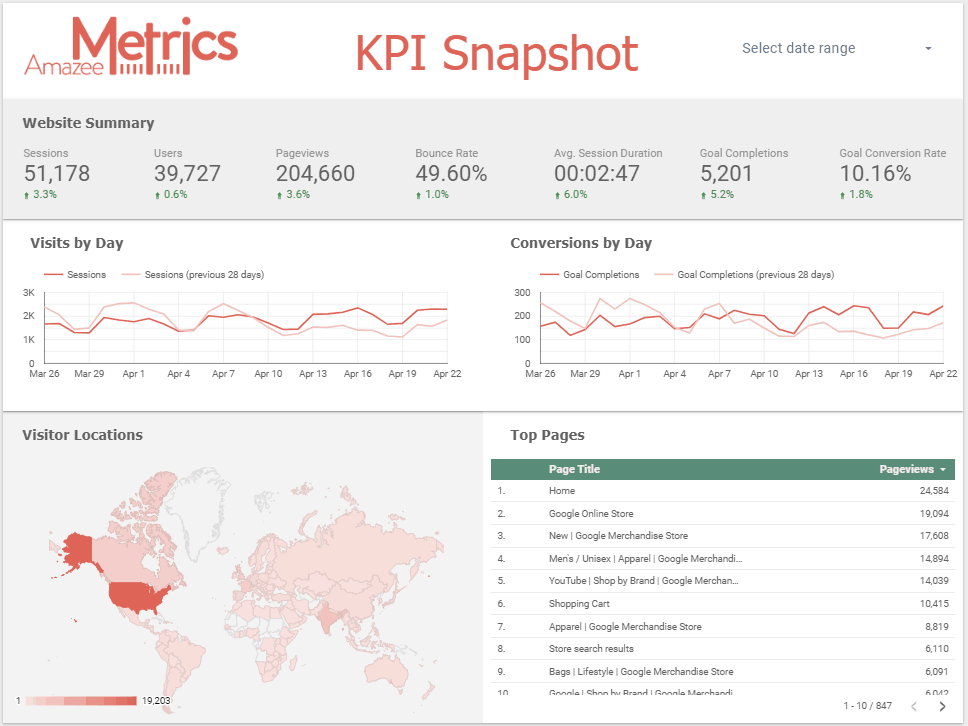 How it Works: To get this KPI dashboard working, you'll need to connect your Looker Studio account with data from Google Ads, Google Analytics and Google Search Console. Once you do, you'll have access to a two-page dashboard/report with a broad overview of your marketing performance. The first page will show all of your user acquisition, behavior and conversion metrics from Google Analytics, while the second page helps you identify your top-performing marketing channels, ad campaigns and search queries.
Summary
Data visualization is an essential aspect of performance marketing, and using the right tools can help you make sense of your tech company and drive actionable insights. Google Looker Studio is a powerful platform that allows businesses to create stunning data visualizations, but creating reports from scratch can be time-consuming and challenging. Fortunately, there are many free templates available that can help you get started quickly and easily. If you need help generating your own customized reports and dashboards, you can learn how to use Google Looker Studio in this lesson.
At Directive, we use our proven Customer Generation methodology to connect tech companies to their ideal customers and drive revenue growth. By leveraging 1st party data and financial modeling, our clients gain insights into their marketing performance so they can make data-driven decisions that drive results. If you're looking for a team of expert tech marketers to generate new insights into campaign performance and further optimize your marketing efforts, book a call with our team today.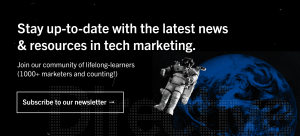 Keep reading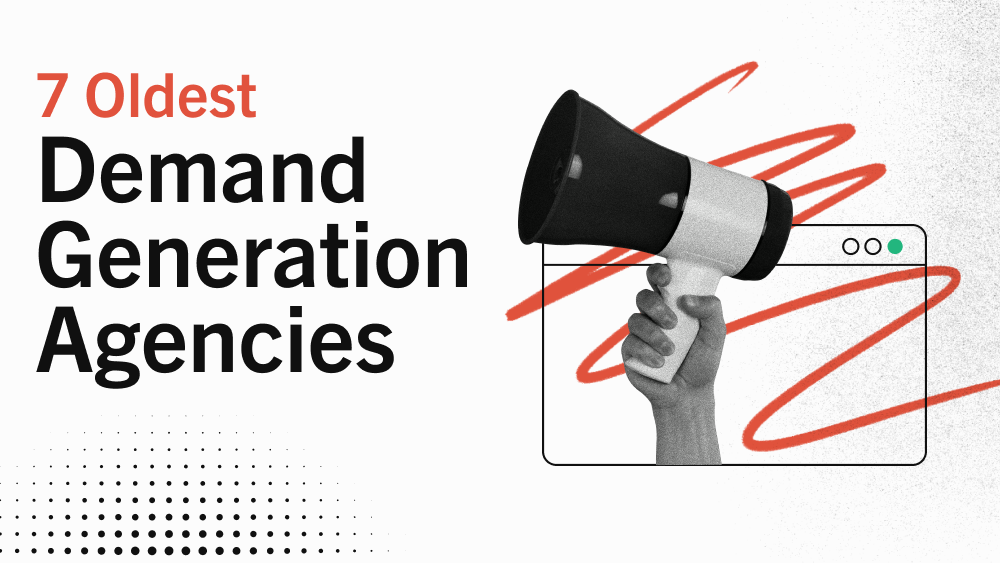 Agency Life
7 of the Oldest Demand Generation Agencies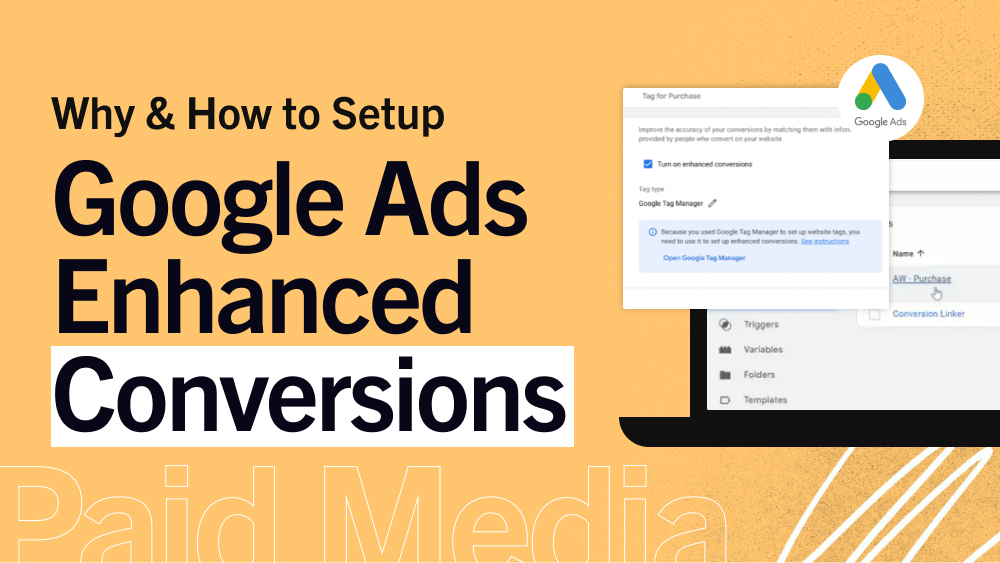 PPC
How to Setup Google Ads Enhanced Conversions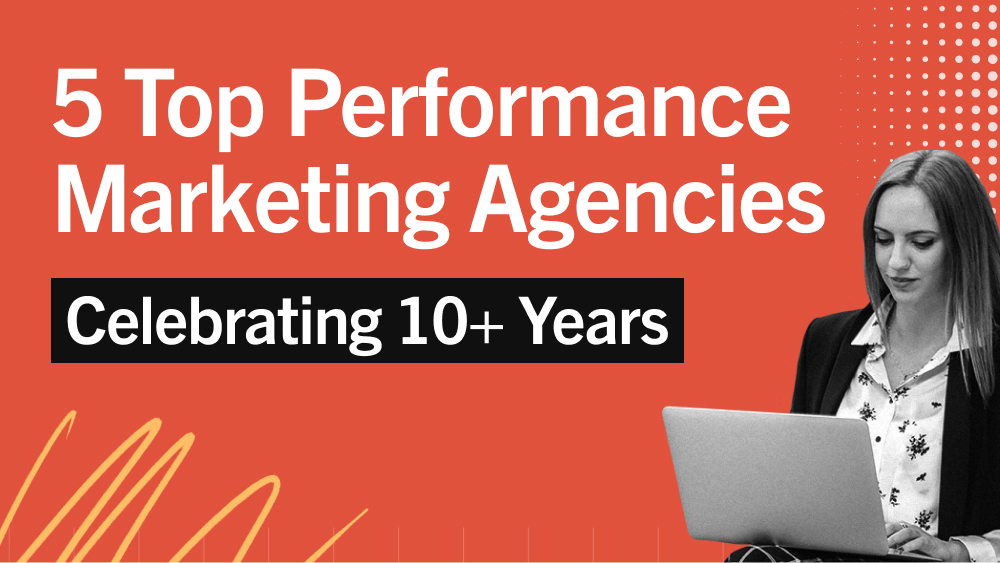 Agency Life
5 Top Performance Marketing Agencies Celebrating 10+ Years