Time to Start Leveraging Database Marketing for PPC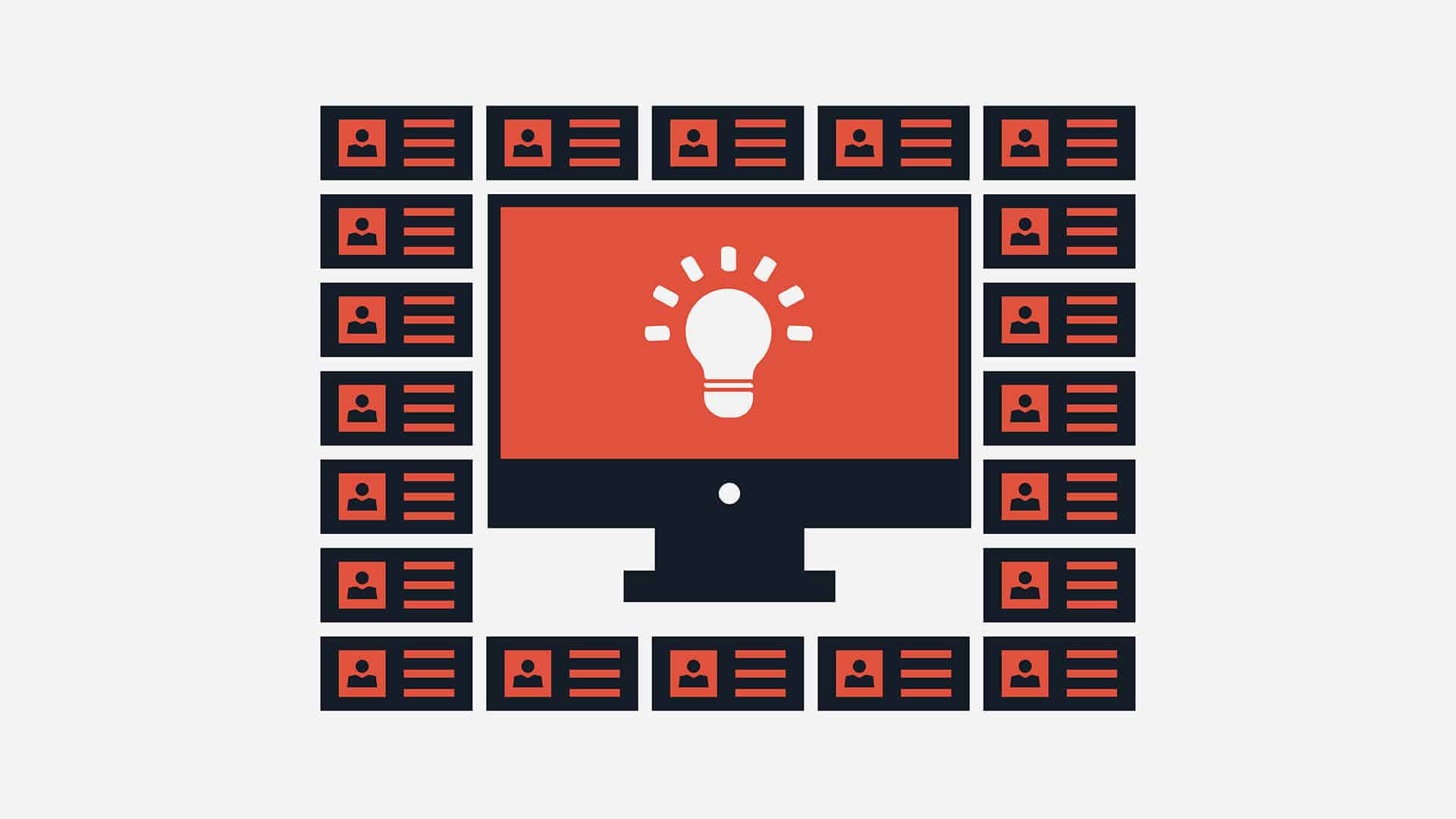 Let's face it. As marketers, there are a million and two initiatives we run at once, and it can get difficult to keep track of what is working and what the data is telling us. Enter database marketing.
Let's discuss what it is, and why it is the perfect strategy to incorporate into your next B2B pay-per-click (PPC) campaign. 
What is Database Marketing?
Database marketing is a methodical approach to the gathering and processing of consumer data that is stored and maintained in a company's database. It involves collecting consumer data such as names, email addresses, phone numbers, and other firmographic data. Strategically, in conjunction with PPC advertising platforms, this information can be analyzed and used to create a personalized experience for existing customers, as well as new prospects.
Internal Databases vs. External Databases
Databases can come from private internal resources, which may contain contact information on existing leads and customers. In many B2B companies, this information can be pulled from marketing automation platforms and customer relationship management (CRM) platforms.
External databases can be created or obtained from a variety of data providers. Many top B2B data providers not only deliver contact information to build lists but also provide predictive analytics on target accounts. At Directive, you can find our clients' favorite solutions to obtain these databases below: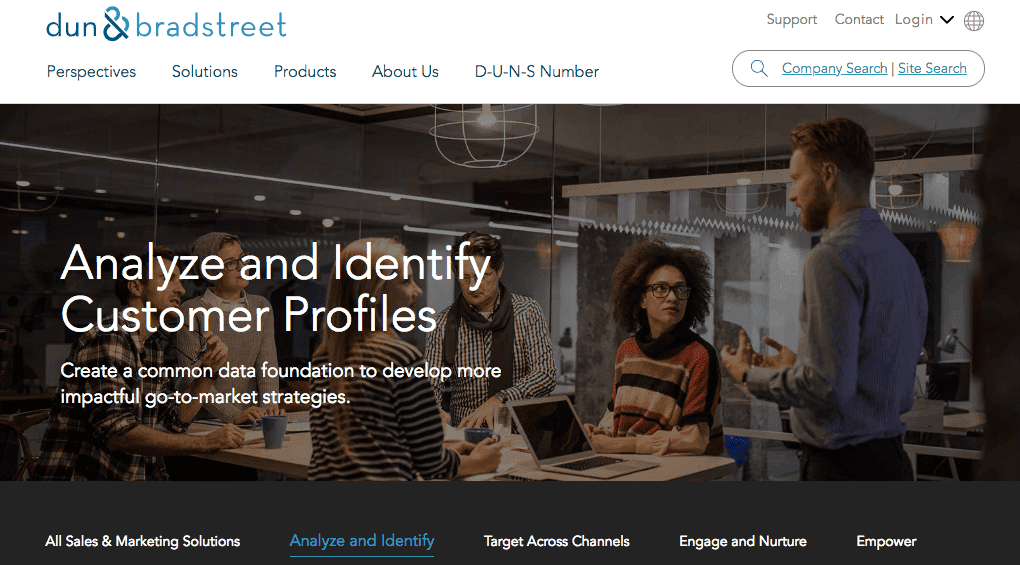 Obtaining the right database is a whole different beast. It requires a deep understanding of your target buyer's persona and what key characteristics help segment them from everyone else. After solidifying those characteristics, use the advanced data solutions above as a resource to begin building your ideal database.
How Does it Work With PPC?
There are a large variety of PPC ad platforms available that database marketing strategies can apply to. Uploading contact lists into an ad platform, to use in campaigns is a native targeting capability for most online ad platforms. Some notables include Google Ads, LinkedIn Ads, Facebook Ads, and Twitter Ads. Account-based marketing (ABM) platforms that include advertising solutions also share in this capability of uploading contact lists. Some of these include Terminus, RollWorks, 6Sense, DemandBase, and more!
In this article, we focus on tactics regarding Google Ads and LinkedIn Advertising, as they are two of the more prevalent solutions for most of our B2B clients. Similar strategies can be applied to other ad platforms and networks as well.
After you've obtained your database of contact information, you'll need to know how to upload it. Here's a step-by-step for each advertising platform:
Google Ads
Step 1:
Once you've logged in to your Google Ads account (assuming you have an existing account, if not, see these instructions: Creating a Google Ads account) locate the "Audience manager" under Tools:


Step 2:
Select the + symbol and select "Customer List."



Step 3:
Create a name for your audience, upload the data, and submit by selecting "UPLOAD AND CREATE LIST".
Then you're done! Now you can utilize this list in Google Search, YouTube, and Gmail campaigns.  
Linkedin Ads
Step 1:
Once you've logged in to your LinkedIn Ads Campaign Manager dashboard (assuming you have an existing account, if not, see these instructions: Creating a LinkedIn Ads account) locate "Matched Audiences" under "Account Assets":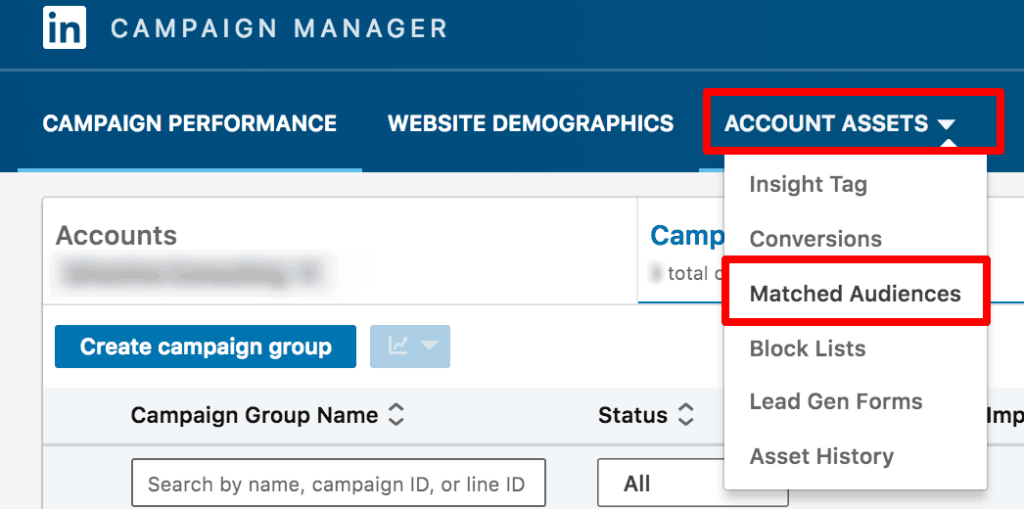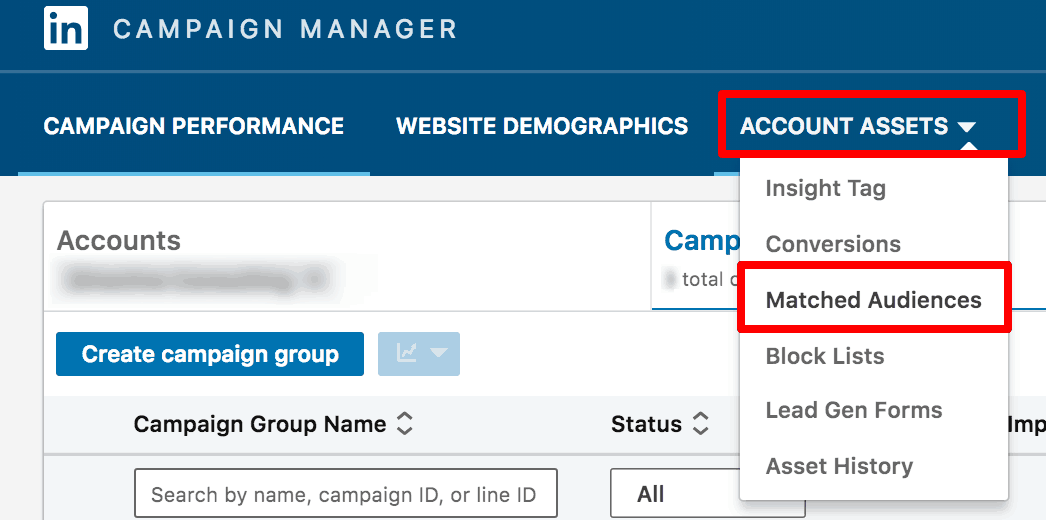 Step 2:
Select "Uploaded list audiences" and then choose your preferred upload method between "Connect to data integration" and "Upload a list". A great benefit to LinkedIn's platform is the capability of connecting with contact management platforms such as Marketo, Eloqua, LiveRamp, Zapier Acxiom, Salesforce Advertising Studio, and Pegasystems.

Step 3:
If you choose to upload your own list, follow the file guidelines and submit.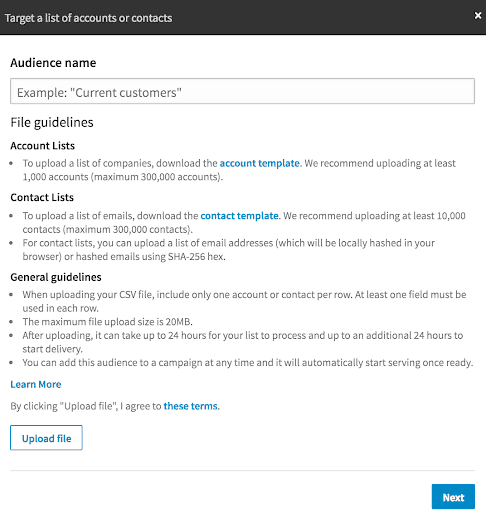 That's all it takes! After giving the platform a few days to fully process the data, you can begin incorporating these databases as targeting parameters in your campaigns.
Why is Database Marketing Important for ROI?
Today, marketers are finding it harder to consistently improve performance. In a recent study by Adstage, they found that average Google CPCs increased 117 percent year-over-year. As a result, to afford the same amount of clicks at the same conversion rates, PPC managers are having to pay more for every conversion and lead.


This trend isn't changing anytime soon. In the past few years, Google has introduced new automated bidding strategies including Maximize Conversions, Target Outranking Share, and Maximize Impression Share.
When used correctly, these bidding strategies can improve campaign performance by leveraging historical data to optimize ad positioning at a more efficient rate than manual bidding. However, as an effect of letting machines and automation control bids, average CPCs are bound to continue rising.
What do you think will happen when six of your competitors are utilizing the same maximize impression share bid strategy? Competitors will continue to outbid each other and push up CPC.
If expensive clicks aren't enough, B2B marketers typically battle complicated marketing funnels and long sales cycles. Proving ROI when top-of-funnel leads convert to sales-qualified opportunities in 30, 60, 90+ days can be challenging mountains to climb.
Check out this video to learn more about B2B decision making processes. See how to adapt your strategies to empower your marketing and have successful campaigns that generate a terrific return.
How Does Leveraging Databases Help Drive ROI?
When utilizing Google search campaigns, most companies rely solely on keyword targeting without audience targeting to generate their leads. This causes issues in lead quality when you can't filter the type of users that your ads are serving to.
Let's use an example of a B2B SaaS solution: CRM Software. One of your target keywords might be: "crm software". With this setup, you would serve ads to anyone searching with "crm software" in their search query. This means that your ad could serve to a business student searching for "crm software companies" to learn more about crm solutions for a sales management class. Without audience targeting layered with keyword targeting, you can't control who you're getting clicks from.
On many occasions, B2B companies are only trying to gain business from specific job titles at companies over a certain employee size. If keyword targeting is the only parameter used, you'll generate tons of unwanted contacts that lead to inefficient spend and decreased ROI. If a CRM company were casting a wide net targeting the keyword "crm software", there is a risk of generating high volumes of clicks from unwanted users.
When the suggested CPC for this keyword is estimated at $30.28 and average search volume is 74,000 searches (see image below), it is a powerful capability to limit your clicks to only your target audience.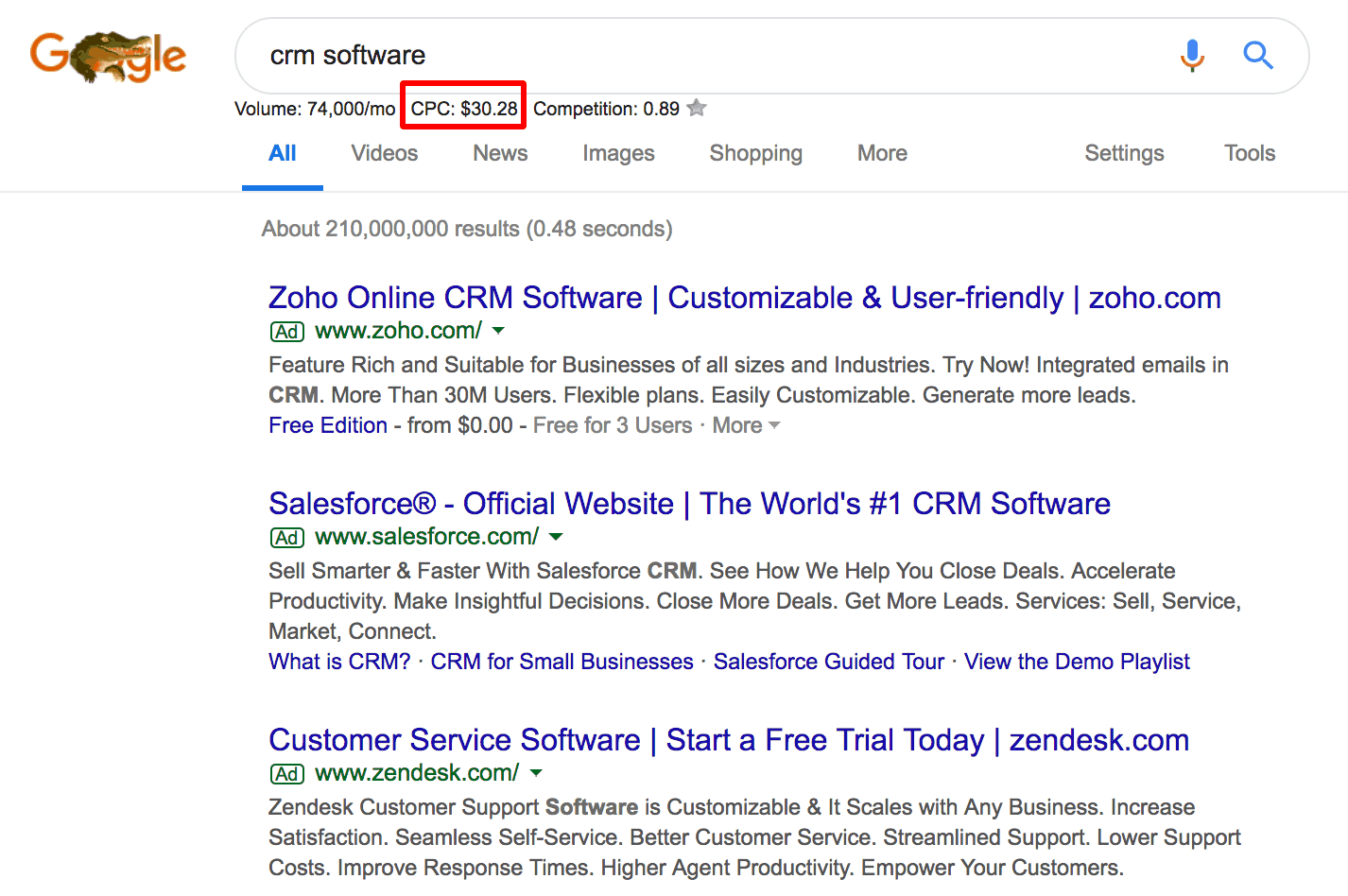 Utilizing internal and external databases can help ensure you are reaching the right people with your ads, by excluding everyone else that doesn't fit your target audience. Combining these two capabilities of targeting with the contacts searching for your solution is a winning formula.
Instead of targeting hundreds of millions of searchers, you can more effectively target a smaller amount of your most valuable contacts and target accounts…and start increasing the ROI you're looking for.
Now that we've discussed the necessity for databases in your PPC campaigns, where to craft your ideal target customer database, and how to upload them into two powerful ad platforms,  now comes the fun part.
Let's review how to execute specific strategies and campaigns.
Campaign Strategy: Attracting New Customers
Your target account list may never be fully complete. However, taking that leap to narrow your focus on generating more qualified contacts gives you an advantage over everyone else in the PPC game.
Let's dive into how you can show up for the right person when it matters.
New Customers: Using "Search" as Buyer Intent Signal
One of the primary principles of PPC strategy is serving text ads in search engines to users with buying intent. When someone is actively searching for a solution that aligns exactly with your core product values, it is critical you make a strong impression. Make them take action!
While most PPC managers already know the basics of building a search campaign in Google Ads, we've included a link to a Search Campaign Setup Guide to refresh or learn new insight.
For our purpose, let's assume you've already accomplished some of the following:
Uploaded your target contact list into Google Ads Audience Manager
Identified ideal buyer intent keywords
Produced a landing page with a compelling offer and CTA
Now, we've arrived to the fun part, which is personalizing your messaging to create an engaging experience for your target buyer. Before we jump into examples, let's review a few simple steps where you can implement the Google Ads audience that you created earlier from your database.
Selecting Audiences in Google Ads: Step by Step
Step 1:
After logging into your Google Ads account, select the campaign you'd like to implement the audience to under "Campaigns".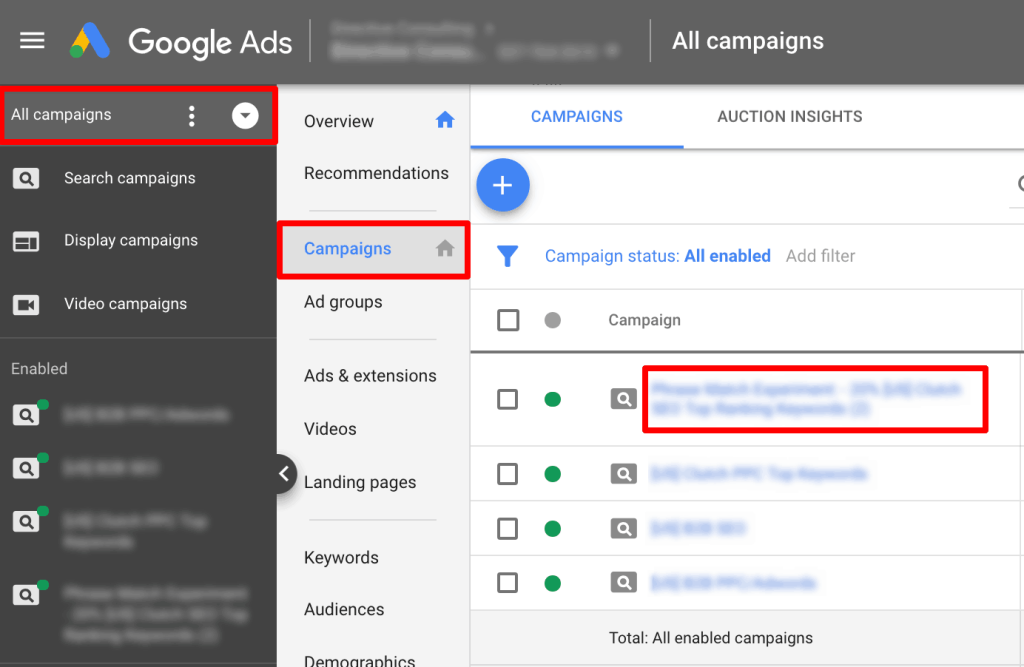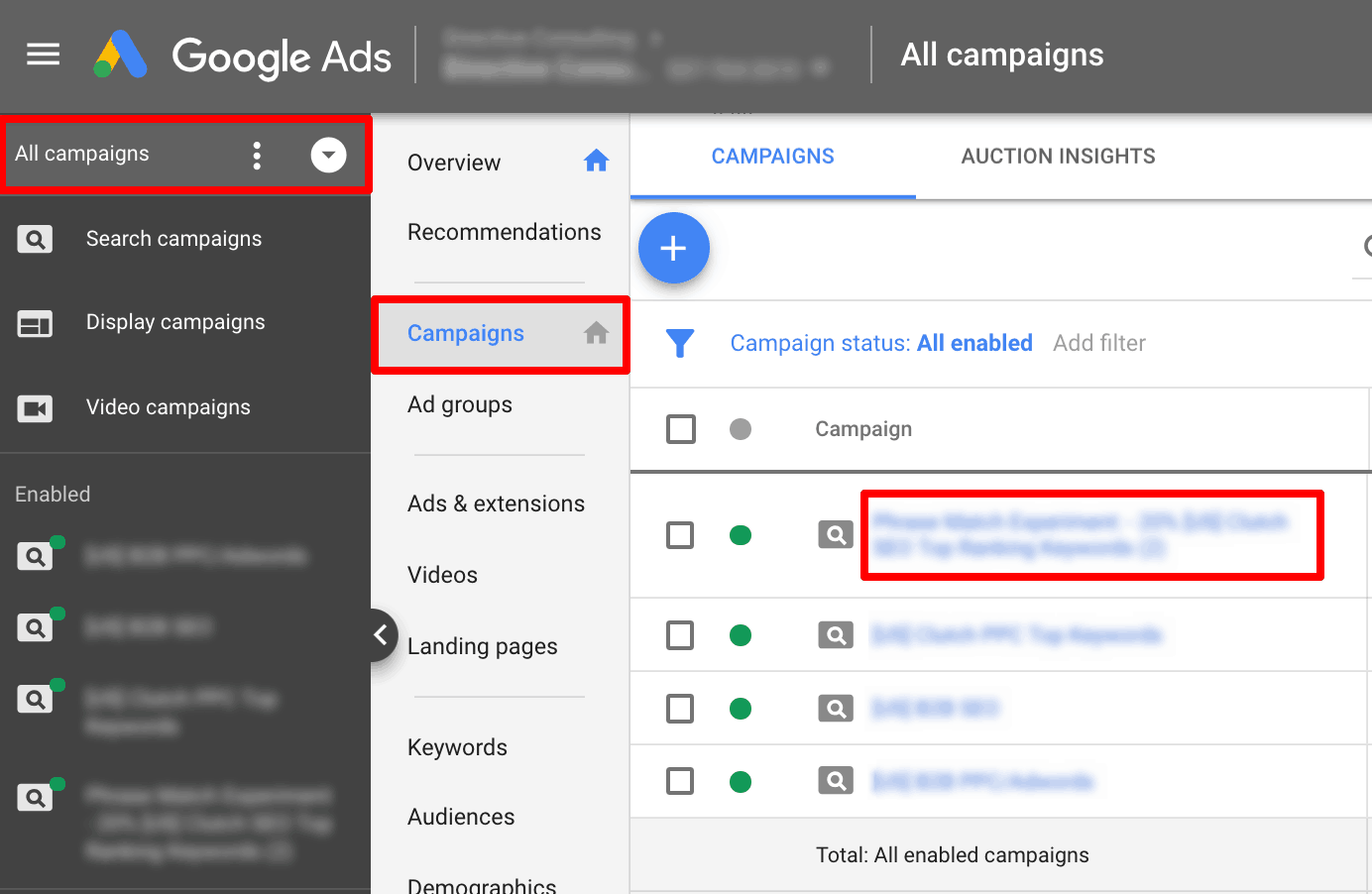 Step 2:
After entering into the campaign level of your desired campaign, select "Audiences".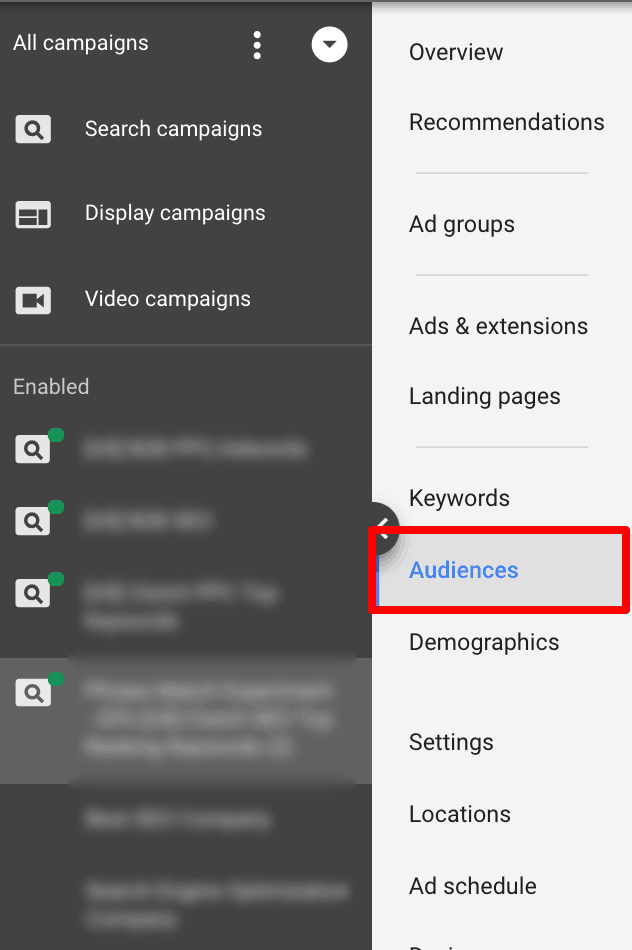 Step 3:
Click the blue pencil icon next to "Audiences" to select your desired audiences.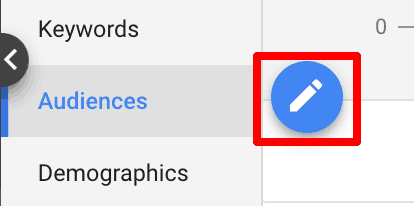 Step 4:
Select Add to "Campaign" and select "Targeting".


Step 5:
Search for your named audience and select it.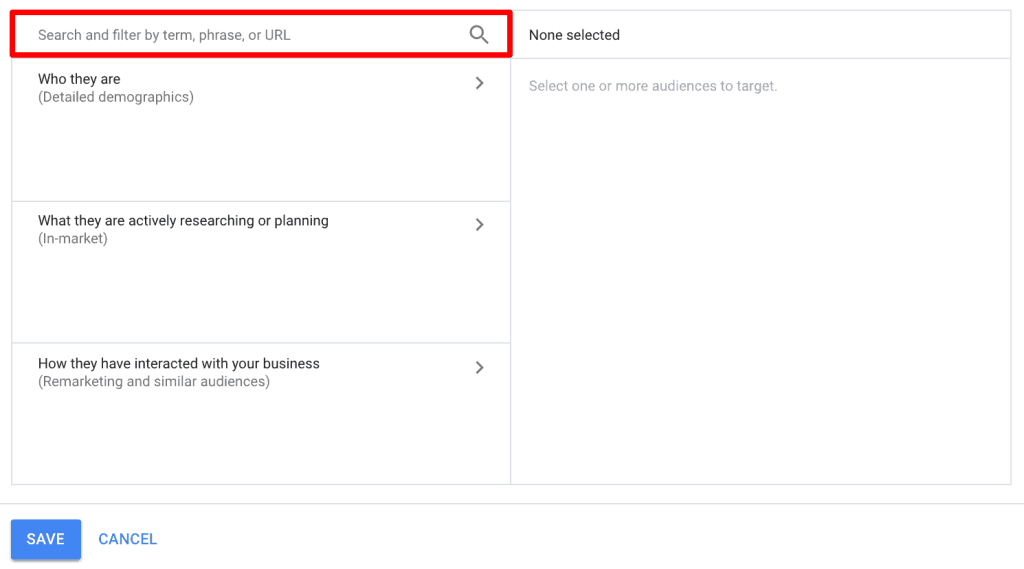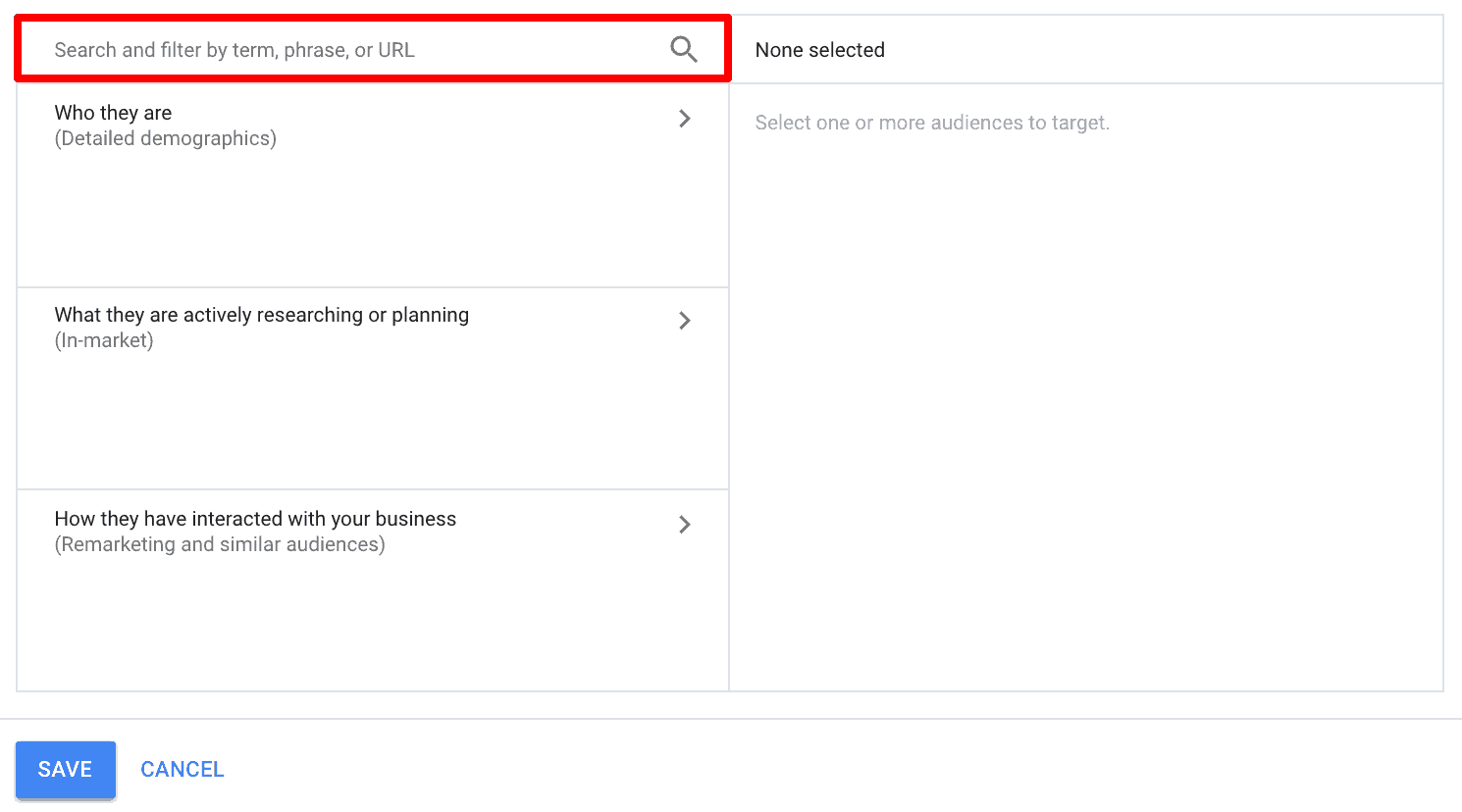 If it works better for your business goals, you can select "How they have interacted with your business" > "Customer Lists" > and then, choose your uploaded audience.
See below: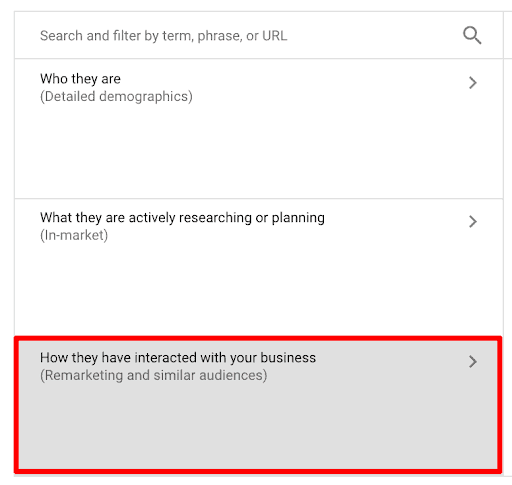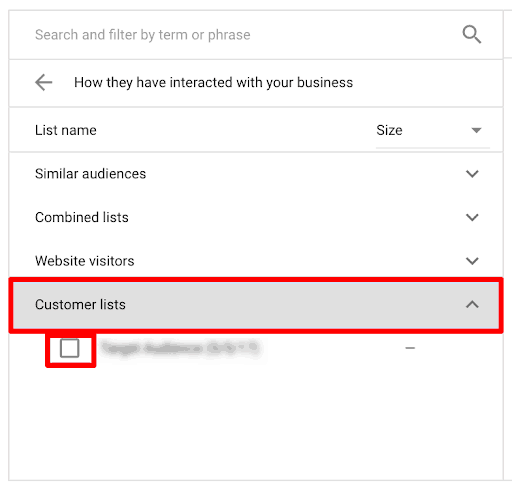 Step 6:
Click "Save" and you've arrived at the finish line. Congratulations! That wasn't so bad, was it?
Next steps involve:
Identifying Key Performance Indicators (KPI's) to Measure Success
Gathering Data
Analyzing Performance
Optimization and Testing
Analyzing lead lifecycle data for specific accounts in CRM systems to measure ROI for your campaign
Moving forward, let's outline an example campaign strategy that may spark modern ideas for your campaign personalization.
Example Campaign Targeting & Messaging Brief
Target Audience Details:
Industry: Electrical Contractors
Revenue Range: $50 million or More
Job Titles: Head of Operations, Operations Director, VP of Operations, COO
Key pain points:

Risk Mitigation
Connecting Field & Office communication
Spreadsheet overload
Generic (all industries) Messaging: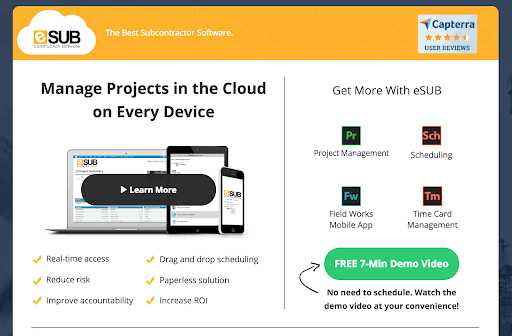 Industry Specific (Electrical) Messaging Updates: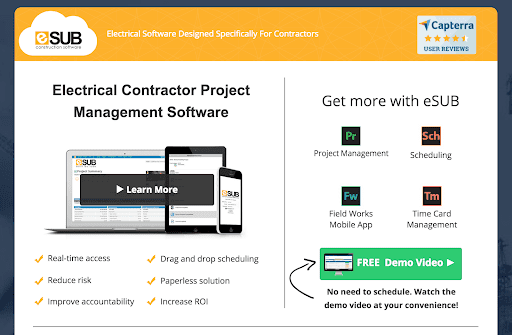 Combining a personalized ad experience to your target audience, when they're in the market for your solution, is a winning formula for driving ROI.
Campaign Strategy: Leveraging Existing Customer Databases
Some of the lowest hanging fruit for any business is driving new business from existing customers. Below, you'll find real examples of how to leverage your internal customer database to drive new deals.
Existing Customers: Renewals and Upsells
Many B2B products and solutions are based on subscription models that involve renewals. In addition, B2B products are often not isolated to one solution or capability, and the opportunity for upsells are available.
Utilizing PPC campaigns to promote to these customer databases gives you a massive advantage when trying to maintain business or increase customer lifetime value (LTV).
Renewal Strategy:
For example, let's say company X is one month away from their contract renewal date with your product. They're evaluating the value of your solution or service and may be considering ending their contract. This is critical timing for your company to proactively communicate why you are the best solution.
Why not create a LinkedIn Sponsored Content Campaign that promotes awards and achievements, case studies, new product feature releases, analyst reports, etc.? By exporting a contact database and implementing them into your campaign, you can increase your likelihood of renewals with valued customers.
It's as simple as following these four steps to create a database marketing driven LinkedIn campaign.  
Step 1:
After logging into your LinkedIn Ads account, select "Create Campaign".

Step 2:
Under the Sponsored Content option, click "Select".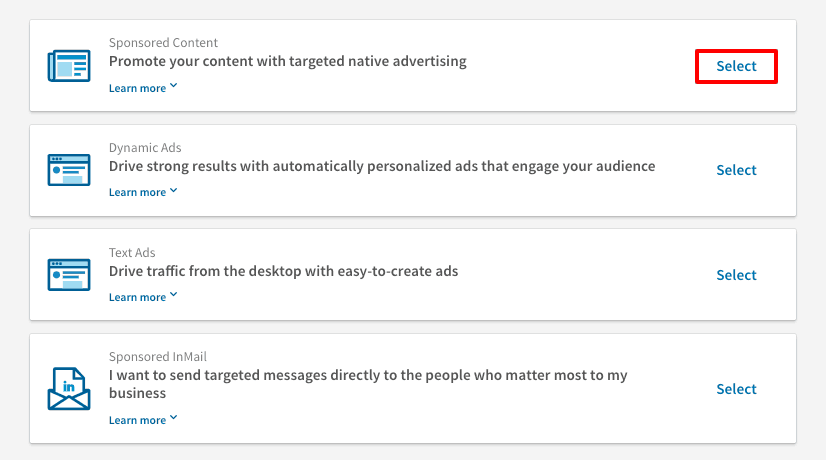 Step 3:
This third step can be broken down further into four smaller steps (LinkedIn Sponsored Content Overview):
     1. Name your campaign > Select your campaign group > Choose your objective > Select your desired ad format.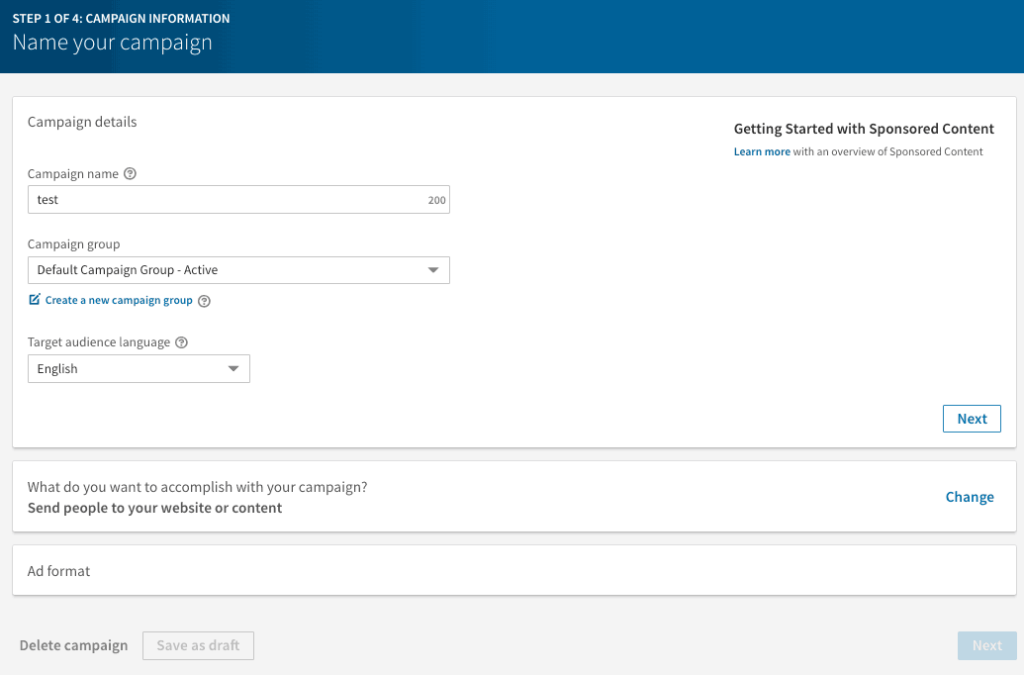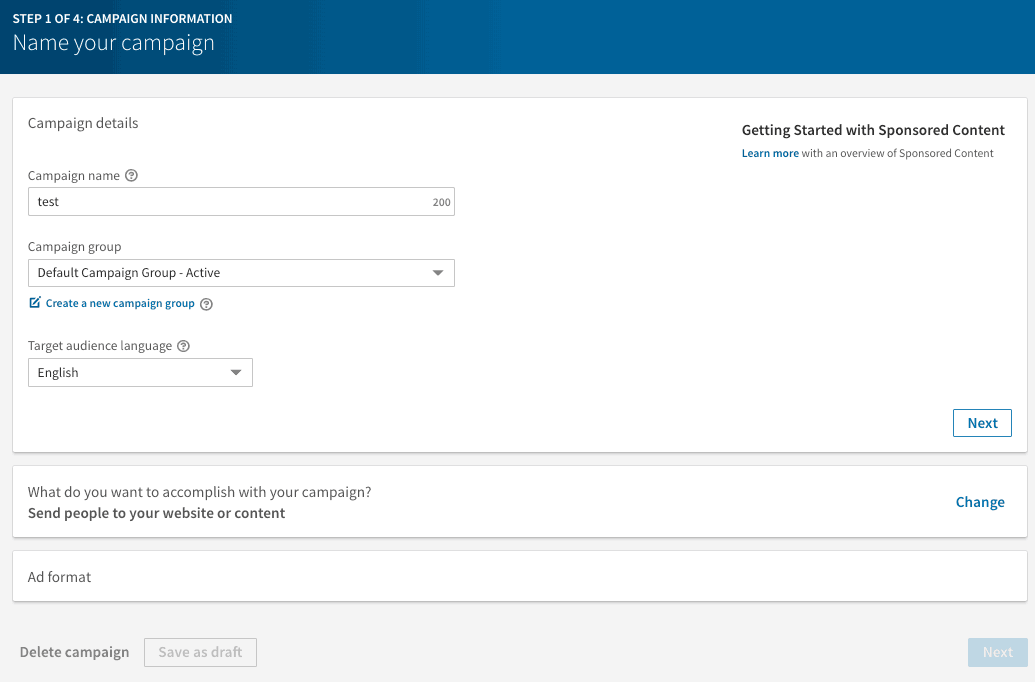 2. Build your ads. Depending on your existing creative assets or content, you will select "Create Sponsored Content" or select an existing post to sponsor.

      3. Create your Audience. This is the most important step when incorporating database marketing strategy. Remember that audience you built earlier in this post based on your CRM contact database? You finally get to use it!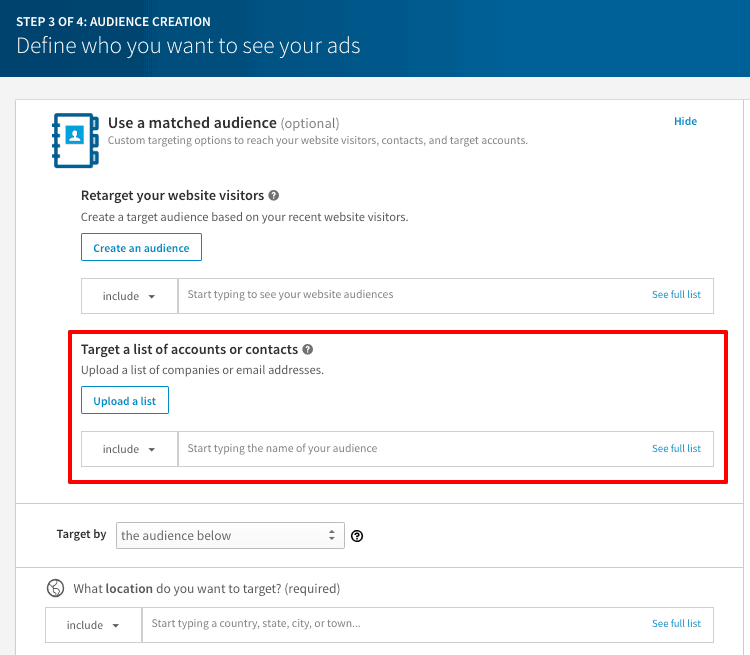 4. Choose your goal > Set up Conversions (IMPORTANT: Conversion Setup Guide) > Set your budget > Choose your bid type > Set your campaign schedule > Choose your ad rotation preference > select "LAUNCH".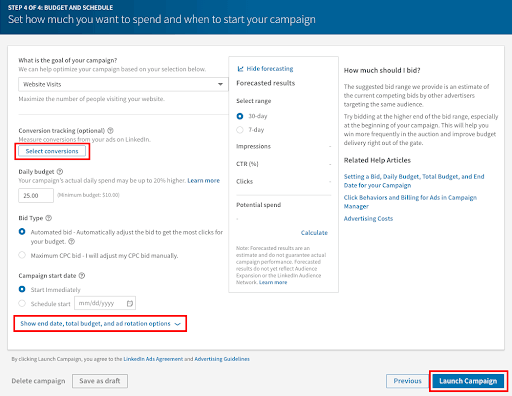 Step 4:
Congratulations! You've got a new campaign and potential opportunity to enhance your brand. Give it your best effort.
Next steps involve:
Identifying key performance indicators (KPI's) to measure success
Gathering data
Analyzing performance
Optimization and testing
Analyzing lead lifecycle data for specific accounts in CRM systems to measure ROI for your campaign
If you're having trouble coming up with creative ideas for your renewal marketing campaign, check out some examples of the unique creative we've helped our clients produce for LinkedIn:
Promotion Examples:
Gartner Analyst Reports
Forrester Wave Reports
G2Crowd Company Comparison Reports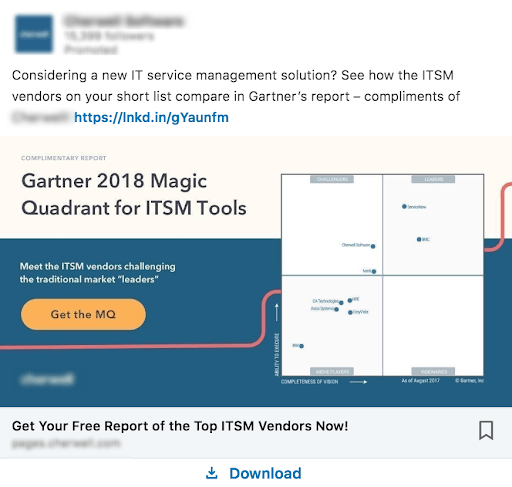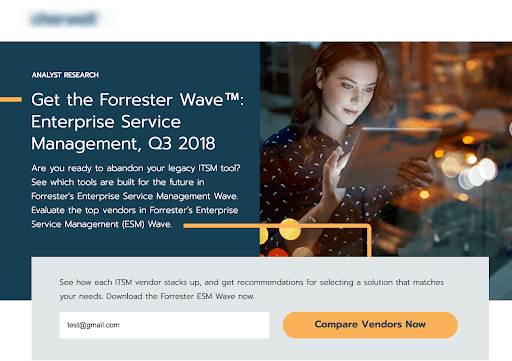 Upsell Strategy:
Now, you have seen step by step how to create an entire Sponsored Content campaign with database audience targeting, let's dive into how you can use it for upsells for your company.
It is common for B2B companies to provide various product suites and solutions that involve upsells. For companies to continue growing and meet new demand, new product launches are perfect opportunities to generate new revenue from existing customers.
By following the campaign setup instructions above, you should have the necessary tools to upload your database of existing customers that are prime for an upsell.
Here are some great marketing program strategies and assets that you can build off of for your campaign:
Promote a software demo video that visualizes the capabilities of your new product offering.
Boost press releases that generate buzz and social sharing around your new product announcement.
Host scheduled webinars that walk through specific features and benefits in a more informal setting.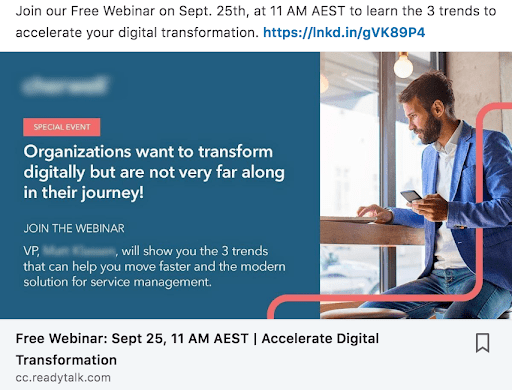 Your existing clients trust you and are more likely to engage with this content than new prospects. By testing some of these strategies, you can increase your probability of generating upsells and increasing the LTV of existing customers.
What's Next?
Search marketing is all about reaching the right audience at the right time. Leveraging databases and PPC campaigns are optimal solutions for effective demand generation.
The industry is evolving to Account Based Marketing (ABM) and persona-based marketing. Both of these strategies require strong customer databases.
Do you have the right database to support that? B2B marketers, this is something you must be sure of.
Testing new campaign strategies can be both scary and exciting. I hope that the examples included in this piece give you the confidence to leverage databases in your next PPC campaign.
Want to learn more about how to optimize your PPC campaigns? Read more here!  
More Resources:
Keep reading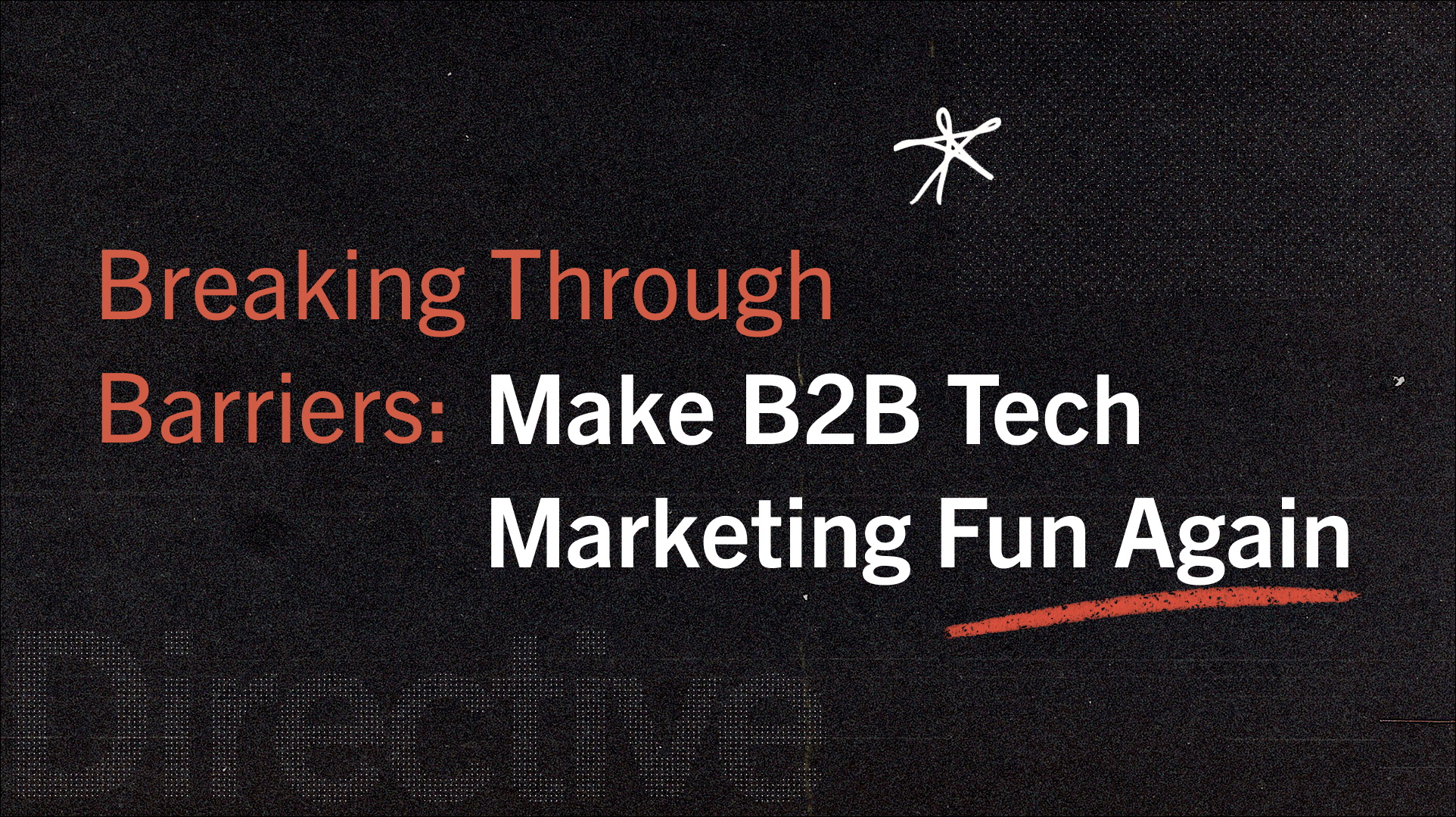 B2B
Breaking Through Barriers: Make B2B Tech Marketing Fun Again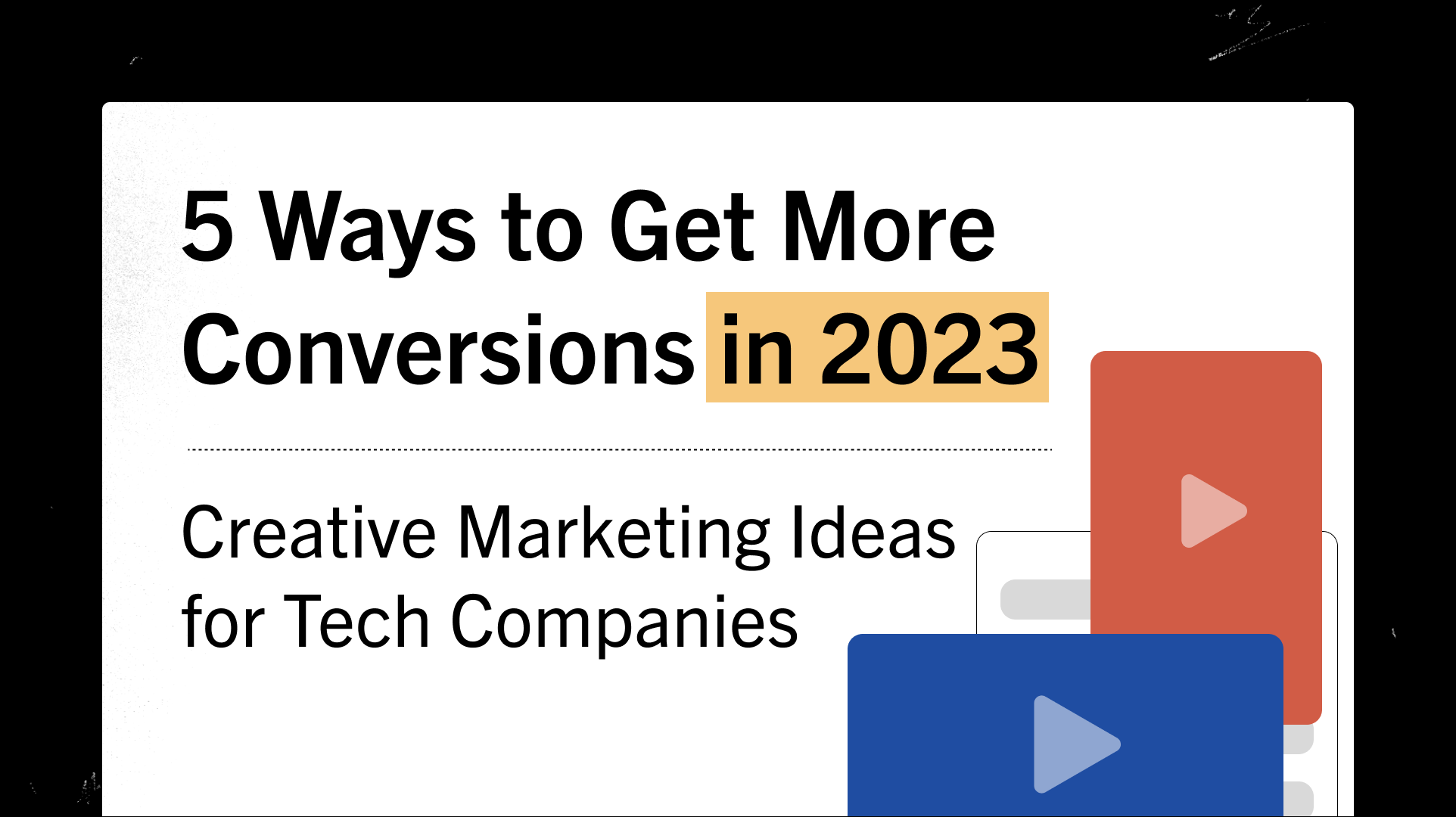 Content Marketing
5 Ways to Get More Conversions in 2023: Creative Marketing Ideas for Tech Companies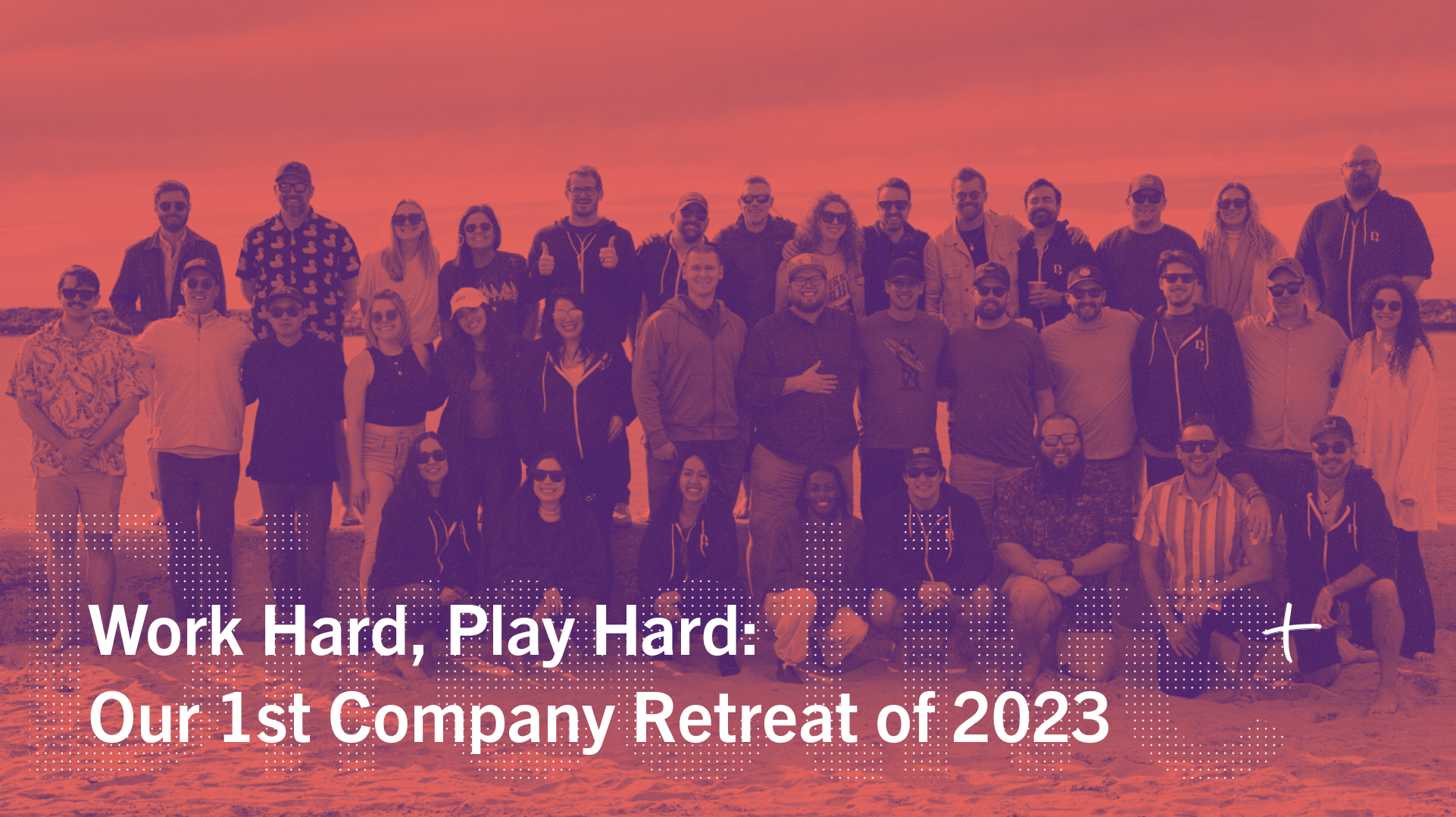 Events
How to Host Impactful Company Retreats as a Remote Team